Even though bikes fall into the gravel bike category, it does not necessarily mean that people are going to be riding on that surface. A gravel bike is another way of describing a multi-purpose bike, so people should look into getting the best tires for their personal use as possible.
Tires make a pretty big difference, and a tire that specifically tackles gravel is going to help those get through those roads that can be troublesome on other rides. These tires are great starting points, and can help on other surfaces as well.
Best Gravel Bike Tyres for Gravel Roads
Make sure to examine the patterns of the different tires below. A lot of times, that is the quickest way to understand expectations when facing an awesome gravel road.
1. Maxxis Rambler EXO TR

Maxxis is the only company to have two tires on the list of the best gravel tires (Amazon), and once they are closely examined, it will be easy to see why. The Rambler was their first option available to the masses, and they spent a lot of time making sure that they provided a choice that people could really count on when riding on gravel.
When looking at the specifications, the first thing people notice is just how light this is compared to other options out there. The tire weighs just 375 g, and it has a tread pattern that makes it feel very light in practical use as well.
Many companies have tried to match this lightness, but few have an able to provide such a solid all-around package for a gravel bike tire.
The tread pattern itself is a little low profile, but still good enough to provide grip in a few different conditions. Not only that, but the knobs on the shoulder of the tire do a great job of helping with cornering.
The best overall gravel situation for the Rambler is not too rocky. Since it is lightweight, people like that they can pick up some fairly good speed. If the surface is a bit too tough to handle, it might not be able to hold up like some of the others out there.
Pros
Very lightweight.
The casing is solid.
Handles cornering well.
Cons
A little undersized.
Difficult to handle some of the toughest gravel.
2. Maxxis Ravager Silk Shield TR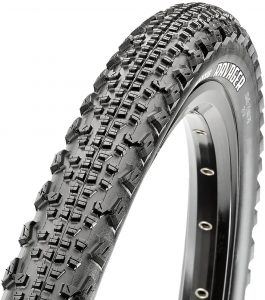 The Ravager (Amazon) is a bit bigger than the Rambler, jumping up to a 700 c x 40 mm size. This might not seem like that big of a difference for some, but it is a more aggressive type of gravel bike tire that people can use on different surfaces. The square knobs are a bit more raised, and that provides better traction when on rougher surfaces.
Like the Rambler, it has some great side knobs for cornering. This is what a lot of people are looking for out of gravel bike, because they do not want to feel like they are losing any type of control when they are out there on the bike. It can be a pretty overwhelming situation for some, especially deep into a trip.
Some people are going to be just fine with the Rambler, as it can pick up a little bit more speed and glide over the surface some. However, it is tough for certain people to navigate if they have more challenging trail ahead of them.
If between these two options, try to ask someone local if they have any recommendations on trails in the area. Most people have given tires like these a try at least once in their life, so they can give a better understanding on what option makes the most sense.
Pros
Allows for aggressive riding.
Handles many different surfaces well.
Excellent with cornering.
Cons
A little slower than the Rambler.
Does not have that lightweight advantage of the Rambler.
3. Specialized Trigger Pro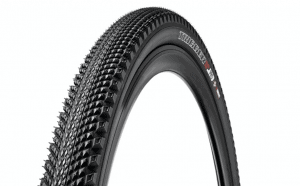 All it takes is one look at the tread pattern on the Specialized Trigger Pro to tell that this bike is built for speed. With a raised center strip and a very tight pattern overall, people can pick up some pretty good speed while still staying safe on the trails. It is definitely a bike worth investing in for those who are looking to go fast, but also stay safe on different types of gravel.
The knobs are diamond-shaped, and that does a good job of making sure that people can make some pretty sharp changes in direction went out on trails. Instead of having to slow down to make changes in a path, a person can just plow through and continue going at a fast pace.
Most tires that are a little faster than others tend to be prone to flats. This is not the most durable gravel bike tire a person can purchase, but it still scores very well and overall durability.
Barring any accidents, this tire should last a long time, and it makes it an excellent option for anyone trying to get their speed to a certain level. It is without question a gravel performance tire that many can benefit from.
Pros
Very fast.
Durable.
The center strip makes for a quiet ride.
Cons
A little heavy for flat protection purposes.
Some riders think the tires should be a little bigger.
4. WTB Riddler TCS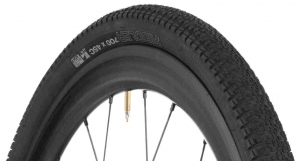 WTB has two gravel bike tire options that a lot of people seem to enjoy using in these types of conditions. It comes down to either the Resolute or the Riddler, and some people have preferences on either side. When testing both specifically for gravel surfaces, the Riddler gets the slight edge, although both are solid options.
Why does the Riddler score so well? It has some of the best grip a person can find, and it also handles just about any condition very well. It is designed as a particular type of tire that focuses on gravel first and foremost, but they have added technology to make sure that it can handle challenging surfaces in a pinch as well.
Ultimately, most people do not want to have a super-specialized bike tire, because there will be other surfaces on the trail.
Make sure to take proper measurements before purchasing this tire, since not all frames are going to fit it perfectly. It needs to be a pretty specific size so that people get the most out of the tire.
It is a fairly light tire for a strong durable as it is, weighing in and 431 g. It feels very light in large part because it smooths out bumpy rides, and is usually going to be a slight upgrade from the tire that was previously on a bike.
All in all, the Riddler does a great job with performance, Without having to sacrifice durability. It is worth checking out as it makes the shortlist for anyone who rides a lot on gravel.
Pros
Outstanding grip on gravel.
Smooths out a ride.
Lightweight.
Cons
Tough to find the right size for certain bikes.
Quite a bit of Rolling resistance on flat surfaces.
5. Kenda Flintridge Pro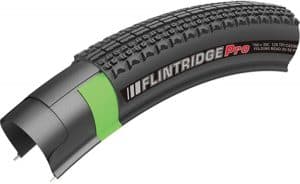 If a person is looking at the perfect balance of speed and durability, Kenda believes that the Flintridge Pro (Amazon)  provides exactly that. It is really good on gravel, but it can handle other surfaces as well so that people have versatility. With a very intense tread pattern capable of handling just about anything, people can ride with a lot of confidence.
Known as a dry condition tire, it struggles a little bit on standard pavement. However, it shines on gravel, and can be used in wet conditions from time to time as well. It has a solid set up as far as sidewalls are concerned, which cuts down on possibly coming down with a puncture or
flat. They use their Sidewall Casing Technology to make sure that everyone keeps as safe as possible, even if the gravel turns out to be a little tough to handle.
There are a few different sizes available, so people can get the right type of gravel tire that they are looking for. It is a little heavy at 512 g, but nothing that most people will notice when they are riding and taking advantage of the tread. This is ultimately what a person wants, as some of the more intense gravel paths can get tough to navigate through.
Pros
Very durable.
Good overall volume.
Tread pattern is great.
Cons
A little heavy at 512 g.
Does not do all that well on flat pavement.
Best Gravel Bike Tires for Road
Having a gravel bike prepares people for any type of surface. There might be quite a bit of riding off-road, but that does not mean that it is the only way people ride. In fact, some people end up riding more on the road with a gravel bike than anywhere else.
If that is the case, these tires are the best options for that. Some people might like the geometry of a gravel bike, and that is why they go with this option instead of something else. It makes sense in a lot of ways, as not everyone wants to be crouched into a position like they would with a road bike.
For those looking for something different other than the standard options that came with the gravel bike originally, these five tires all are built for speed on flat surfaces.
1. Rene Herse Juniper Ridge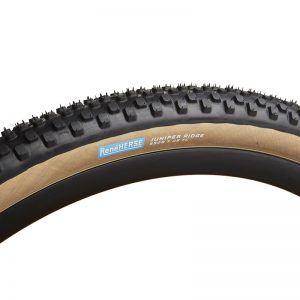 Riding mostly on the road means looking for the right type of tread pattern. There is a bit of knobbly build-up for this option, but it is designed on purpose to perform well on the road. It might not seem like that is the case right away, but people will usually be pleasantly surprised by how well it starts to roll.
Rene put a lot of money into making sure that this tire could live up to a pretty hefty price tag compared to some of its competitors. It has a lot of the advantages that a person might find with a mountain bike, but it works on the road so that people can keep up with others pretty easily.
The tread pattern is pretty simple, providing a good amount of grip when it needs to. When it just needs to be smoothed out to make the ride a lot easier overall, it can do that just fine as well. It is interesting to see how it performs, since it does not look like someone will be able to do so much and handle everything so well with its profile.
The feel of the tire is also hard to comprehend until a person goes on a ride for the first time. It has a very soft compound and a casing on the tire that feels a lot like a road bike tire. On top of everything else, it is very lightweight in use, which certainly comes in handy.
All in all, people should feel confident that this bike can be one of the fastest gravel bike tire options out there. If it is time to go off-road, it is just fine with that as well.
Pros
Very fast or condition tires.
Lightweight.
Soft compound with excellent casing.
Cons
Not built for long rides off-road.
A little prone to punctures.
2. Donnelly X'Plor MSO

Donnelly likes to advertise this tire as one of the most versatile gravel bike tire options out there. While it is true that you can go just about anywhere, it really seems to excel in building up speed on flat surfaces. For that reason, it makes this list, especially if the goal is only to ride off-road occasionally.
It is not the lightest as far as tires are concerned, and it might not seem packed with the same type of quality materials that others most, but it is hard to ignore the performance. These X'Plor MSO (Amazon) weighs 560 g, but it feels much lighter than that. It is easy to build up speed, while also having just enough grit to handle roads as they become a bit more uneven.
The tread pattern certainly helps, with a center that can allow people to accelerate at a quick pace. There is no lag whatsoever with this tire, meaning that people can keep up with bikes specifically made for road riding.
If there is one drawback to the bike, is that it is not as smooth of a ride as people would like. There are ways to make it smoother, including going with a tubeless setup. Since it has great puncture resistance, going tubeless is a smart decision for many.
Donnelly does not always get the credit they deserve as far as putting out quality gravel bike options that perform at the highest levels.
They have been perfecting a few models for quite some time now, and even though they are a little more expensive, it is worth trying out for getting speed. Factor in the amount of grip it provides and the overall durability, and this tire is worth the money to a lot of people.
Pros
Easy to install.
Accelerates quickly.
Very difficult to puncture.
Cons
A little heavy.
Comfort could be better.
3. Kenda Alluvium Pro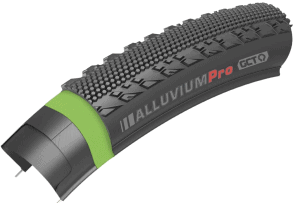 Not everyone is going to think that this bike does well on flat surfaces in the beginning, but its unique tread pattern actually makes it a very speedy option. Kenda knows that a lot of people will not grip with any type of gravel riding, but went on flat surfaces, people can pick up speed in a hurry.
This tire does not do particularly well in extremely challenging surfaces, but they can allow people to pick up speed and feel like they are getting from point A to point B in a hurry. This makes it an excellent commuter option for people who are mostly on the road anyway, but it is more than capable of going off-road on occasion.
It is often recommended to go with the tubeless set up with this tire, as it allows for a little bit lower of tire pressure and a more comfortable ride overall. People might want to bump up the tire pressure a bit so that they can pick up speed on flat surfaces, but most are going to be just fine with how it is currently set up.
All in all, Kenda understands that riders are looking for versatility with a lot of gravel bike tires. They do not want to necessarily have a bike that can't handle certain surfaces out there when in a pinch.
Pros
Very fast on flat surfaces.
Handles anything but mud well.
Tubeless-ready.
Cons
Hard to keep up with some other tires on non-flat surfaces.
Punctures a little easier than others in this price range.
4. Halo Twin Rail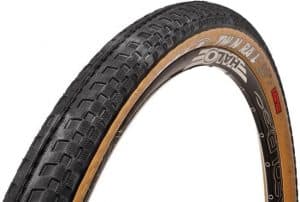 As one of the most affordable options out there, many riders are surprised with how much speed they can build up on the Halo Twin Rail. It is a perfect tire option for those who are planning on riding the gravel bike on flat surfaces most of the time, as it allows people to put less effort into speedy than ever before.
The main feature that makes this tire so fast is that it has two central rails running down the bike. When a person is going in a straight line, they can start to build up some speed very quickly without having to sacrifice grip. It is still a gravel bike tire at heart, so it can grip any type of surface pretty well and keep everything moving in the right direction.
Most lightweight tires built for speed are not exactly the most durable, but the puncture protection system on this bike is very good. Being able to trust that it will hold up, in the long run, is a lovely quality to have for those who might be a little worried about getting in sticky situations.
On top of everything, it is hard to beat the price of the tire. People sometimes spend two or three times as much money on something that has many of the same qualities. It is not the best tire in the world overall for a gravel bike, but it is certainly good enough for most people to give a try. Even if they do not like it, it can end up being a nice spare option if it ends up being a lot more with riding on flat surfaces.
Pros
Center rails help with speed.
Square blocks help with stability.
Excellent puncture protection system.
Cons
Material does not seem as durable as other options.
Limited color and size choices.
5. Surly Knard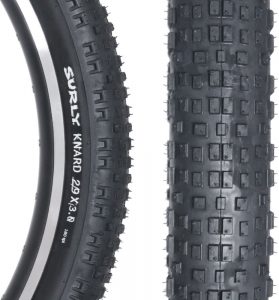 Thanks to a very close tread pattern on the entire tire, gravel bike owners can pick up a good amount of speed over any type of terrain. This works out well on the road, as people can feel a minimal amount of lag the entire time. While Surly has a few options for people to choose from, this is one of the best for a mostly flat ride every single day.
The square blocks on the tread pattern of the Knard (Amazon) are very aggressive, but the edge knobs help people stay on their bike and corner as efficiently as possible. The tire never feels like it is overwhelmed on the road, which can sometimes be tougher to find than some people understand.
There are so many different bikes out there that might not be able to handle everything without being able to dig into a surface, but this tired glides well and does not feel held up at all.
Since Surly is such a well-known brand, it should be no surprise that they offer plenty of size and width options for those who want to try this bike tire out. This is great for those who do not want to only stick with traditional tire sizes, as it can be frustrating for that to be the case.
Commuters and even racers will look at this as a value option that performs at a high-level. It might not be the fastest gravel bike tire out there on the road, but it certainly makes it pretty easy for people to get to where they want to be in a short amount of time.
What qualities make for a good gravel bike tire on the road?
A traditional tire built for the road is going to have tread in some sections, while being completely smooth in others. They are even some tires and have virtually no tread, and that allows for less resistance overall.
For gravel bike owners, going that route is simply impossible. After all, people want to make sure that they can still go off-road if they need to, and setting up a gravel bike tire for only the road defeats the purpose.
Some gravel bikes have smoothed out sections that certainly come in handy. This allows for speed build-up, but it is important to have some stability with grip in other areas as well.
Weight also plays a role, as every little bit counts on a bike. Having heavy wheels can make riding feel a little bit more sluggish, which no one wants to have when they are trying to build up speed as much as possible.
Finally, most people tend to go with a bigger bike tire if possible so that they can maximize their peddling and build up speed in that regard. Gravel bikes come in many different sizes, and frames will hold different tires as well. For the maximum amount of speed, it makes sense to go with a bike that has the size to cover more area with each rotation. A smaller tire means more effort.
Final Tips on Purchasing a Tire Specifically For Gravel Riding
Gravel bike riders are generally not going to be on the same type of surface all the time. What it really comes down to is figuring out the most common surface, and then going from there.
Some gravel is going to be very smooth and fast, while others might have a lot of ruts in them. That is why there are a few different patterns, and most will end up finding something that works for them.
The truth of the matter is, any of these options above are going to be solid choices overall for riders. Only those who are looking to push the pace and perform at a high-level are going to notice some of the subtle differences. It makes sense to go with a gravel bike that provides the most benefits for a particular surface, but do not overthink things too much.
It is more important to get a tire from a reputable company, and one that understands gravel bike riding in general. There are too many companies trying to capitalize on the trend, and putting out subpar products that either do not perform well, or do not have any durability. All of the offers above have both, and are worth putting on any type of bike out there if a person wants to give it a try.