One of the reasons why people invest in a gravel bike in the first place is to explore different areas locally, as well as around the world. There are plenty of fascinating places in North America to ride, and it makes sense to see areas differently while also getting exercise. That is why traveling with a bike, or renting one upon arrival, has turned into a smart move.
Most of the spots below are in the United States, but there is some interesting riding in Canada as well. No matter what type of challenge a person is up for, gravel bikes offer a unique way to handle different surfaces without ever feeling uncomfortable.
Click this link if you're also looking for some awesome MTB and Fat biking destinations!
Hastings, Michigan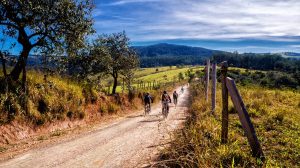 Hastings might not get too much publicity when people talk about cities in Michigan, but if it is one thing they are known for, it is gravel bike riding. In fact, they have the largest gravel road race in the world currently, taking place each April with thousands of riders coming in from all over.
The Founders Barry-Roubaix Killer Gravel Road Race is a challenge because of all the different terrains a riding is faced with. There are a lot of parts with gravel roads, but people need to deal with sand, mud, rocks, grass, and so much more.
More and more trails are also around the area for people to experience during all times of the year. It gets pretty cold in the winter, and there is a chance of snow during those months. Some gravel bike riders will trade their current set up in for a fat bike in that case.
Hastings has that small-time feel to it, with plenty of locals who are very happy to help out visitors as they explore the area. Michigan is one of the states that has fully embraced different types of bike riding in certain areas. Hastings has quickly evolved as a pretty big hub.
Crested Butte, Colorado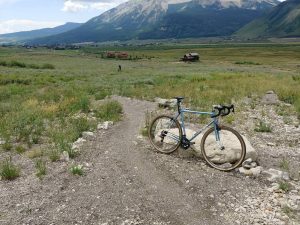 People are well aware of the mountain biking history in Crested Butte, Colorado, but there are plenty of people who are in investing in gravel bikes for certain trails as well. Whether it is the famous Trail 401, or other options like Strand Hill or Dyke Trail, there are plenty of beautiful spots in the area that are perfectly fine for a gravel bike tour.
Be aware that riding anywhere in Colorado is going to be a huge challenge due to the high altitude for those who have not done much training. It is best to start with a more flat option, or at least keep the miles down a little in the beginning. Some of the trails are a little too challenging for gravel bikes as well, especially if there is snow on the ground.
For views, it is hard to beat this area as a travel destination for any type of biking. A gravel bike allows for a lot of area to be covered with relative ease, and there is enough open space for people to feel very secluded as well.
If bike riding gets too monotonous, there are plenty of other outdoor activities in the area that are enjoyable as well. Most people love making a trip to this part of Colorado, regardless of the time of year.
Boulder, Colorado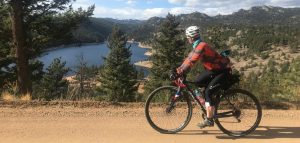 A lot of people would label Colorado as one of the major hubs for any type of bike riding, so they are the only state to get two locations on this list. Boulder is the home of the University of Colorado, and many students will use the gravel bike to get around the city. However, for a real challenge, taking advantage of the trails nearby certainly makes for an interesting time.
Great places to start include Valmont Bike Park, as well as Boulder Canyon Trail. There are so many places nearby that it can be a huge struggle for visitors to even scratch the surface of all the different options. The best thing is to simply sample a few of the best at first, and then save the rest for another time.
Boulder has grown over the years, but any rides that go into the city will allow people to take in the beauty that makes it stand out so much. In many ways, it is still a smaller town that continues to grow, but the community feeling is always there.
Asheville, North Carolina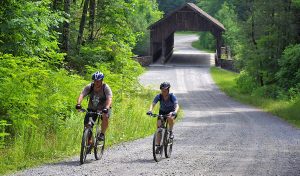 Asheville is one of the true hidden treasures of the eastern United States, and bike riders are really taking advantage of what the city has to offer. There is so much to do within the city as far as bike exploration is concerned, but there are just so many opportunities with trails just outside of the city limits as well.
One place to explore on a gravel bike is the Pisgah National Forest. There are over 500,000 acres in the forest, and there are plenty of spots for riding so many bikes. Bent Creek, Black Mountain, Bennett Gap, and others might be a bit of a challenge with so many different terrains, but gravel bike riders should not shy away from any of these options too much.
Within the city, Kolo Bike Park, Richmond Hill Park, and Carrier Park are all worth checking out. There is a lot of history in the city of Asheville, and a lot of it can be viewed from a bike on a nice day. Do not be afraid to go off the trails and explore part of the city as well. It is pretty bike-friendly compared to a lot of cities.
Moab, Utah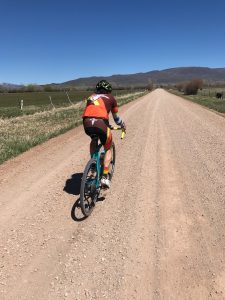 Known as one of the most beautiful places in the world for riding a bike, people have no problem making this trip if they are serious about seeing beauty in nature. Not far from the Colorado border, there are a lot of different types of bikes that find their way to the area. It is definitely worth exploring, especially if a person wants a challenge climbing or descending.
The Whole Enchilada is perhaps the most known bike ride right now in the area, and it involves a shuttle ride to specific starting points. The maximum distance is 35 miles, and although it is mostly descending, a person will still climb about 1500 vertical feet. If it seems easy on paper, it is anything but that.
It is a bit of a hassle to get to, but worth the trip for those who want to see a part of the country that is often overlooked. Colorado gets a lot of love from bike riders for valid reasons, but Utah has some spots worth checking out just as well.
Montpelier, Vermont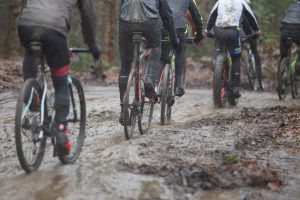 When it comes to bike exploration in the northeast, Montpelier Vermont Gravel Biking seems to be the easy choice for any type of riding. Gravel biking has fully embraced in the area, and it is just a matter of what a person is looking for the most. Out of all the locations, Burlington is probably the best place to start.
Home to the Muddy Onion Spring Classic, there are plenty of back roads to explore in central Vermont around the area. People come from all over the country for this ride every April, and it provides quite a bit of a challenge with climbs the total thousands of feet.
There are dedicated trails that do very well with gravel bikes, but people can explore their own way as well. As long as a person is willing to take some chances here and there, they will find something new to explore.
Not too far from Montpelier is Waitsfield and Warren. These are two towns that are huge in the gravel bike riding community as well.
A lot of people will take an opportunity to take the trail known as the Vermont Grand Fondo, also known as The Gaps. It is 100 miles of trail, which is the perfect challenge for those seasoned in riding gravel bikes.
San Marcos, California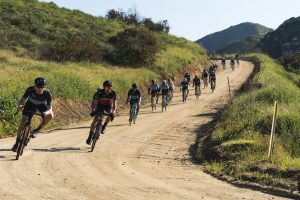 Between Los Angeles and San Diego is some beautiful scenery, and people with bikes are making the trek to take in some of those spots. It is a beautiful challenge in many ways, as the elevation goes up pretty high depending on the routes a person takes.
The most known ride in the area is the Belgian Waffle Ride, which takes place every May. A lot of people head to the area located on the West Coast, as they try to make it a fun and enjoyable experience that is a total of 133 miles. All levels of riders are welcomed, although it tends to attract those who have been in the sport for a while.
Amateurs will take advantage of some pretty good weather all year round, and of course, the growing area that seems to be adding new trails for people as well.
Santa Fe, New Mexico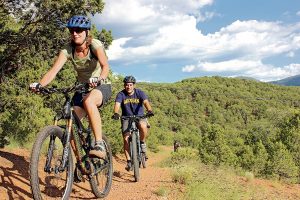 Steady climbs in another location on the West Coast? Santa Fe, New Mexico has a lot of climbing opportunities, but if a person searches long enough, they can find some flatter tracks as well.
The most popular trail network in the area is the Dale Ball trail, which goes through the Santa Fe National Forest. It is a very unique part of the country, and a place that some people do not really get much of an opportunity to explore. It is a bit of a hassle to get to, but nothing too crazy if a person is serious about riding somewhere new.
Even though Santa Fe has somewhat commercialized, one of the hidden treasures with riding in the area is finding those local food spots that get great reviews online. It is a great way to take a break during a long trip on a gravel bike expedition.
Vancouver, British Columbia, Canada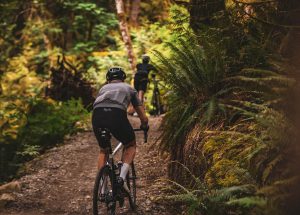 The west coast of Canada has Vancouver is a large hub for gravel bike riding. They have done a good job of creating new trail networks for all types of riding, and although a lot of people favor fat bikes, gravel bikes are pretty prevalent as well.
Riding near the coast is always a lot of fun, and spots like Champlain Heights, Fraser River and Pacific Spirit Regional Park all have trails with all types of riders exploring.
Rural northern Ontario, Canada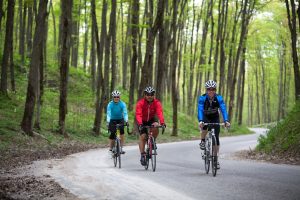 Toronto has a little bit of everything, and then includes some trails that are worth checking out for light riding inside and just outside of the city limits. However, the real challenge is to explore interesting parts Canada is a little north.
Two routes that stand out include the BT700, and the Simcoe County Loop. Neither of them are incredibly difficult, but it does need to be the right time of the year for gravel bike riding to be just fine.
Some people will need to use a fat bike with studs if the snow is a bit too much. It is definitely a challenge, but one that most people are ready to take on at some point.
Inside of Toronto, spots like Beltline trail and Betty Sutherland Trail Park are both solid choices for a bit more of an urban setting. Gravel bike riding is not going to be the exact same in the city, but on beautiful weather days, it is one of the best ways to take in all the city has to offer.
Why is it so intriguing to seek out different gravel riding destinations?
Riding locally is always fun, but there is something different about trying different parts of the globe. In North America alone, there are many kinds of challenges out there. If a person wants to tackle some mountains and a challenging course overall, heading west is one way to go.
There are still plenty of challenges on the East Coast as well, especially in the Northeast where riders in New England are fully embracing the hilly and mountainous ranges.
A gravel bike is capable of handling everything, whether a person finds himself having to riding on dirt, grass, or gravel. Exploration should be embraced in various ways, especially when the weather is nice.
The one drawback is that gravel bikes do not do particularly well in colder temperatures, or snow for that matter. For people who want to explore during that time, a fat bike might be the best way to go.
Can a gravel bike be used for general exploring in a city?
Bringing a gravel bike helps with challenging trails, but it can also work as a very easy commuter bike that helps people save money. There are bike-sharing programs in a lot of different cities these days, but when traveling, bringing a bike might be the easier way to go about it.