No matter what time of year, it is always recommended to invest in a pair of good cycling glasses. It not only helps with handling the sun, but it also protects the eyes from any damage from things that might kick up during a ride.
In the winter, sun might not always be the biggest problem, but there is still a need to have glasses on as much as possible. Finding specific lenses for this time of year can seem a little challenging, but there are some specific options out there that do well when the temperature drops.
These are the best cycling glasses for winter currently on the market today. They can be used during other times of the year as well, but they stand out for being able to deliver so much added assistance in colder temperatures.
1. Oakley Radar EV Advancer

Arguably the most well-known and trusted cycling sunglasses in the industry, Oakley has a style built specifically for hitting the pavement and riding during all months.
The Oakley Radar EV Advancers are a bit on the expensive side, but people understand that they are getting a very durable set up that provides so much coverage in a variety of ways.
These Oakleys are very durable when it comes to going out there and riding every day. People use these for all types of sports, and it makes sense with the way they are built.
They feel the lightest out of all the options on this list when on the face, and some people even forget they have them on at times. It might seem crazy to think that way, but Oakley has done so much to make sure that these can be tailored to anyone's face.
Pricing can vary quite a bit with the sunglasses, especially with the more popular colors. Be patient, search around, and there is an opportunity to find some pretty good pricing overall.
Pros
Very trusted name in the industry.
Customizable to fit any face.
Durable enough to handle the harshest of the winter days.
Cons
A little on the expensive side.
Switching out lenses can sometimes be challenging.
2. Rudy Project Defender
One of the most highly rated options online, the Rudy Project Defender sunglasses (Amazon) are a perfect option for people who want versatile style.
With options including standard lenses and photochromic lenses, people and get the type of assistance they need during any type of ride.
Not only are these built for ultimate comfort, but there is plenty of breathability during all times of the year. People are usually not sweating nearly as much during the winter months, but if there is a bit of moisture, that can get stuck in certain areas that could potentially fog lenses up.
The technology behind the Rudy Project Defenders keeps a person's eyesight clear at all times.
The photochromic lenses used on some of these sunglasses are super. They change tint very quickly, and a person can depend on very good definition no matter how they are being used.
It might not seem like that big of a deal to wait an extra few seconds with other brands, but it is hard to go back after using these.
The overall fit of these sunglasses is very versatile as well. With plenty of different adjustment solutions, people can find exactly what they need and feel very comfortable wearing them at all times.
All it takes is a few adjustments, which can actually be done by a person on their own, and everything is exactly how it should be.
Branding on sunglasses is a bit of a negative for some people, simply because they do plaster their name on the side and a logo on the front.
Since it is not as much of a well-known brand of some of the other companies out there, people might not always be crazy about advertising in that way.
However, as long as they continue to produce, they are going to have plenty of fans during the winter months as far as cyclists are concerned.
Pros
Very adaptable fit.
Photochromic lenses adjust quickly.
Durable.
Cons
Excessive branding.
Some color choices are hard to find in stock.
3. Bolle Shifter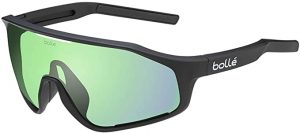 Some of the colors of the Bolle Shifter (Amazon) might not seem like they are built for the winter, but they still perform at a very high-level. With a modern design with a touch of retro as well, people love the ability to get these in regular or prescription lenses.
One of the signature looks is the fact that it is a single-piece lens that offers clarity during all months of the year. In the winter, it can brighten up low-level lighting, which definitely comes in handy when riding during dusk hours.
In the day, it can also help out with blocking those harsh sun-rays that can sometimes cause problems in the winter. It provides full coverage for just about any person out there, which ensures that a person never feels like they are in a very uncomfortable position.
Some people are not crazy about the thickness of the frame, as it can feel a little heavier than some of the other options out there.
If it is something that does not make that much of a difference as long as a person takes the time to get a proper fit. Throwing them on and not doing any adjustments whatsoever could be a way to make them feel pretty heavy.
The Bolle Shifter can work for all times a year, and they are priced pretty affordably for a brand-name. Shop around and see if there is a color choice that really stands out, and they can become a new go-to pair of cycling sunglasses.
Pros
Unique design.
Built for full coverage.
Variety of color choices.
Cons
A little heavy on face.
Peripheral vision is slightly limited.
4. Tifosi Crit

The Tifosi Crit (Amazon) are some of the best and most affordable priced photochromic lenses out there for people who are looking for adaptability in the winter.
They transition extremely quickly depending on the current weather, but their overall durability and fit make it one of the best options out there as well.
No matter what time of day, everything pops when using these sunglasses. People feel like they can see more clearly than ever before, which is always a positive when riding around.
Tifosi might not be a very well known name in the world of sunglasses, but they are getting a pretty nice following online because of their ability to be so affordable.
For under $100, people can find something that stacks up against other pairs that are twice as much. This is a huge bonus for people afraid of spending too much money on a pair of sunglasses that they are ultimately going to put through a ton of use.
Color choices might not be as plentiful as of the other companies out there, but all in all, it is a pair of sunglasses worth trying out.
Even if it is a second pair of sunglasses that some people will use in certain scenarios, they might be where they have an investment. They definitely are built for the ever-changing weather in the winter, but they can be worn 12 months of the year as well.
Pros
Very affordable.
Fast transition lenses.
Makes seeing during all times a day very clear.
Cons
Color choices are a bit limited.
Brand is A bit of an unknown.
5. Scicon Aerotech Photochromic SCN-XT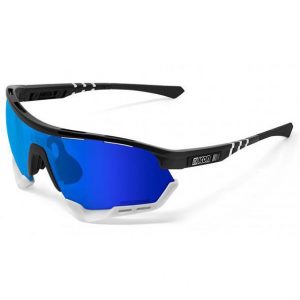 A high priced option for the winter that feels every bit its cost is the Scicon Aerotech Photochromic SCN-XT. A lot of cyclists have loved using these during our time of the year, and they really excel in the winter months.
Like a lot of the photochromic lenses, these are one of the fastest transitioning right now. They are so much more than just transition lenses, which is why they do carry a pretty premium price point. Not everyone is completely on board from the beginning, but it is worth losing into more and more.
The first standout feature is that they have UV 400 protection, which means that a person will get 100% coverage against harmful rays.
Those who might live in sunnier locations during the summer will need to make sure that they have all the protection they need no matter when they go out on a ride. There are a lot of companies that do not provide this type of UV protection, so it is a nice bonus.
These are also the most durable of the bunch as far as wear and tear is concerned. It is going to be very hard for people to break these down anytime soon, as everything from the frame to the lenses are built for a lot of rugged use.
It makes a lot of sense to make sure that something like this is very durable, since a person spending quite a bit of money upfront.
Is it ultimately worth the premium price compared to much cheaper options? Not everyone agrees, especially when looking at some of the very well-known brands that offer something just as good for less.
There is a decent following of these classes, but it is a hard pill to swallow when spending that amount of money on protection.
Pros
Excellent photochromic lenses that act quickly.
Very durable.
UV 400 protection.
Cons
Expensive.
Limited color choices.
Winter Cycling Glasses Buying Tips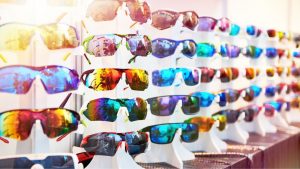 All the options above are built specifically to handle winter conditions, so people should be able to customize things as much as possible. These extra tips will help in ensuring that everything works as it should.
Lenses for all light conditions
It gets darker in the winter faster, and that means handling a variety of conditions. If there is low light, a person needs the right lenses to see things as clearly as possible.
On the other hand, there can still be some very bright sunshine during the winter. Being able to quickly adjust lenses to fit the time makes a lot of sense.
Do not ever underestimate the power of sun blaring off of snow or ice during the winter. In many ways, this can be more intense in any type of sun in the summer.
There are a lot of people who think that the winter means that they do not need any protection from the sun, but eyes are still very sensitive during the daylight hours.
If a person does not wanna feel like they are constantly switching out lenses, they can go with photochromic lenses instead. This is a way to transition in a few seconds to handle any type of weather situation.
They usually cost a little bit more money overall, but those go on longer rides might feel like it is a necessary investment.
UV Protection
The vast majority of quality cycling glasses out there these days have plenty of protection against ultraviolet rays. Make sure to understand that every pair of glasses has that protection before settling in.
Full Coverage
Riders tend to prefer full coverage around the eyes no matter what time of year. In the winter, it does not make too much of a difference, but there are more things on the ground that could potentially kick up and get in a person's eye.
Having full coverage protects the most vulnerable area of the face, and people can feel a lot more comfortable overall.
When it comes to protecting against the sun, it is nice for no leakage causing potential problems as well. Some people get distracted if their glasses do not provide a full amount of coverage. The next thing they know, they are fighting against the sun and the glasses at the same time.
Comfort and Feel
Wearing a pair of sunglasses for potentially hours of time can really start to frustrate people if they do not have the right fit. It is important to take the extra time to make sure the things do fit, and make adjustments if necessary.
There are so many people out there who do not take the time to adjust a little bit here and there, and they can start doing quite a bit of damage to themselves.
It might not seem like much, but poorly fitting sunglasses can cause headaches, put creases in a person's face, and more. Maybe this is not a huge issue for some people, but others are going to be much more satisfied to find something that works for them.
Counting on Quality Sunglasses in the Winter
It might not be the number one essential when it comes to riding, but everyone should have a nice pair of sunglasses for all times the year.
Do not forget about them in the winter, even if it does seem like a fairly overcast day. Not only can the weather change, but there still a lot of positives to come out of wearing them on each and every ride.
Getting the right pair of sunglasses might seem like a bit of an investment, but it is ultimately worth keeping a person's vision as sharp as ever.