For the perfect set up while riding, people want to make sure that they cover all the different components. That is why even smaller parts of the bike like the saddle can make a pretty big difference. After all, going on long rides means having the right geometry on the bike at all times.
A standard road bike saddle might seem like a good option, but the problem with that is it does not provide the proper upright position. People are looking for comfort, as well as some speed with gravel bikes.
These options below are all solid choices for people wanting to upgrade what they currently have on their bike.
1. WTB Rocket Steel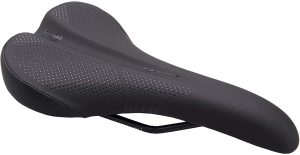 There are certainly some expensive options on this list, but sometimes people need a cheaper option that still gets the job done when it matters most.
If a lot of riding on the gravel bike is done out of the saddle anyway, investing in an option that costs hundreds of dollars might not be the smartest move.
Instead, the WTB Rocket Steel (Amazon) is the best of the budget models out there, and it is even hard for some riders to tell the difference between this and an expensive option.
WTB produces quite a few different saddles, and this is one of their best sellers for off-road experiences. People can get sizing that works specifically for gravel riding, and it provides a good amount of support for the price.
It is not going to have top of the line materials that some of the other saddles have, but it is still something worth looking into when it is all said and done.
The steel rails do a much better job than most people think of cutting down the amount of rattling over rough areas. People can redistribute their weight quite a bit when riding so that they never feel like they are in a tough situation on short or long rides.
Pros
Very affordable.
Good amount of support in the right areas.
Steel rails dampen vibration quite a bit.
Cons
Low budget materials.
A bit bulky for some.
2. Terry Butterfly Carbon Saddle

If the above option is considered extremely budget-friendly, the Terry Butterfly Carbon Saddle (Amazon) is a premium option that gravel bike riders can get a lot of use out of. It is light, designed for longer rides, and even looks like a premium option that can help boost the overall build of any gravel bike.
To start with, the first thing that catches many people's eyes with the saddle before even installing it is the embossed leather. It is not only very comfortable, but it looks great when on the bike.
It has a skinny silhouette overall, which keeps people speeding right along and not worrying about the bike dragging or feeling too cumbersome.
Do not mistake a thin silhouette as something that is uncomfortable. With foam injected into the seat, it keeps a low profile while still being incredibly supportive. They have mapped out how people sit when they ride on this saddle, so there are no pressure issues whatsoever the entire time.
It is one of the lightest saddles a person can find, even though it is the second lightest on this list. It is a bit of a premium option for a lot of people, but those who are looking to reach top speed and count on comfort at the same time should look into this saddle upgrade.
Pros
Beautiful leather exterior.
Thin silhouette.
Strategic padding in the right pressure areas.
Cons
It is the most expensive saddle on this list.
The leather exterior is not the most durable.
3. Fabric's Scoop Pro Saddle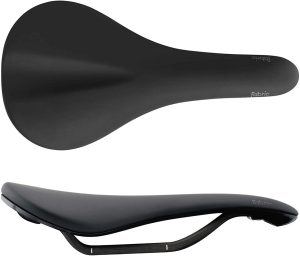 Whether it is riding on the road or riding on gravel paths, Fabric has put together a saddle that has a riding as comfortable as possible with the Scoop Pro Saddle (Amazon).
With a combination of quite a bit of carbon fiber and some padding, people can feel like they are capable of riding forever without feeling any pain in the seat area.
The carbon fiber is expensive, but it is used with the base and the rails to make one of the lightest designs out there. It is about 198 g, and it can provide comfort for an entire day of riding.
To get the perfect fit, they have multiple shapes, and riders should make sure that they take pelvic measurements and have an understanding of what works for them before ultimately make a purchase.
It would be nice if it had a little bit better pressure relief like some of the other saddles out there for this price, but other than that, it is a great performance option to consider.
A lot of high-level saddles for gravel bikes are not usually this comfortable, so it shows that people can have a bit of both when they are looking for an upgrade.
Pros
Very lightweight.
Carbon fiber in the base and on the rails.
Multiple size options for a great fit.
Cons
Expensive.
Lacks quality pressure relief in some areas.
4. Prologo Scratch 2 Pas.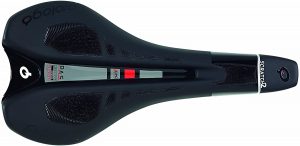 Going on a longer ride as a gravel bike enthusiast means looking for something very comfortable. The Prologo Scratch 2 Pas. (Amazon) is one of the best options for comfort out there right now, and all the different features go into making sure that people feel confident when they are riding around.
The first standout feature is that they use their patented system to eliminate as much pressure and tension as possible on all the different contact areas. It is something that a lot of road bike saddles can start to make problematic, but a saddle specifically for gravel riding might not have an issue.
Inside the saddle is a decent amount of light foam, but it is the microfiber cover that helps with the comfort level quite a bit. Not only is it very soft and adaptable to the touch, but it is completely waterproof to hold up during those tough weather rides.
Prologo understands that different riders will need different sizes, so they have two different widths available. This is another way to get a more customized fit that might not be available off of the shelves.
With so many customizable options, there is quite a bit of difficulty to find what it does not do well. Maybe it could use a bit more airflow, but most people will sacrifice that for everything else it brings as far as comfort is concerned. They are even different shapes so that writers of all sizes can find what works for them.
Pros
The base is injected with carbon fiber.
Very comfortable microfiber cover.
Different sizes and shapes for a customized fit.
Cons
Ventilation is not the best.
Failure to get the right fit will cause chaffing.
5. SDG Bellair 2.0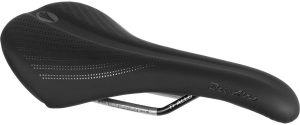 If comfort is the number one priority for a rider, the Bel Air 2.0 (Amazon) is one of the best a person can find. It is a very supportive saddle that will help eliminate any type of pain that people usually have been riding her bike. It might not last as long as some of the competition out there, but its unique design is what makes it so comfortable.
Instead of packing the seat with as much padding as possible, the comfort comes in the shape. It has a rear rise platform that helps for climbing and handling any bumps along the way.
The curved nose is perfect for allowing as much pelvic movement as a person wants. The padding might not be that much overall, but the focus is on those areas that are most vulnerable. All in all, SDG focused on making a smarter saddle, not necessarily the best of the best.
The nylon fiber on the outside of the seat is good, but not great. It would be nice to see it be a little more vulnerable the next time they release a new saddle, but that is about the only thing the company got wrong with this option.
People who are looking for a saddle that they can ride comfortably in every single day will get enough use out of this until it wears down. It is affordable enough that some people feel like it is well worth the investment, even if others last longer.
Pros
Great overall fit for comfort.
Padding is strategically placed in the right areas.
Many different colors to choose from.
Cons
Not that durable.
Installing the seat is sometimes more difficult than people think.
6. Ergon SM Saddle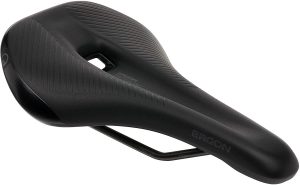 For the women out there who need even more special fitting help for a good ride, the Ergon SM Saddle (Amazon) is definitely an option to look into.
It has a center cut out that makes it perfect for women to sit in the right position, while also offering plenty of ventilation. Is one of the most comfortable saddles a person can find, which makes it great for longer rides as well as those shorter ones.
For as soft and comfortable as it is, a huge selling point is the fact that it is a very durable option for women to count on. It has orthopedic foam padding inside so that all contact parts are as comfortable as possible. The nylon composite outer is very durable, capable of holding up against any type of abuse throughout time.
Buying specifically for a woman might not seem like something that needs to be done, but it is worth trying out just to see the difference overall.
Most women have never even considered looking into a different type of saddle, but there are no more options than ever. This company has done an excellent job at creating the sizes for women to count on when it matters most.
Pros
Cutouts specifically for women.
Very comfortable foam padding.
 Affordable.
Cons
Take some getting used to after moving from others.
Limited color options.
What makes a saddle built for gravel bikes?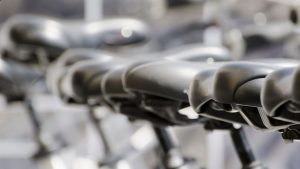 Even though gravel bikes are becoming a catch all term for those in-between mountain and road bikes, a specific saddle for this type of riding has a few distinct features.
Not everyone is going to end up liking a saddle that has all these qualities, so make sure to try different options out if possible.
Even if the goal is not to purchase a saddle from a local bike shop, it is probably fine to go in there and test a few out. There is only so much a person can gather from searching online, so sometimes it helps to actually examine some of these features.
Saddle nose
A gravel bike has a long tapered nose that makes it a pretty distinctive feature overall. The saddle becomes aerodynamic when this is the case, and the nose helps with body alignment overall.
If a person is aligned properly, they are less likely to injure themselves over time simply by not riding correctly.
Rear
The rear of a saddle for a gravel bike should be raised a little, and on the lighter side.
This comes in handy when trying to tackle different elevations. It also helps with overall alignment, which some people struggle with as they first start with gravel bikes.
Cut out or no cut out?
Some riders insist on having a cut out no matter what type of bike they ride. It might not make the most sense on a gravel bike, as most people will opt for a center group channel instead.
This airflow channel will be a little more comfortable, and that is what most people are looking for with a gravel bike.
Is it worth upgrading the saddle on a gravel bike?
There are many different reasons to buy a new saddle for a gravel bike. Some might not love the set up of the bike that they purchased from the very beginning.
Maybe it never felt right, or it did not provide any type of advantage as far as building up speed is concerned. If that is the case, any kind of new gravel bike saddle is going to help out.
Some find that their initial saddle starts to wear out a little too quickly. Instead of making some quick fixes, the better option is to upgrade the entire thing. It might be the upgrade that gets people back into gravel bike riding, since it is so much more comfortable.
Finally, a quality saddle can help out a person's health if they are falling into bad habits as far as posture is concerned. It should be a very relaxed riding position on a gravel bike, and too many people do not fit themselves properly before jumping on. Taking the time to get everything just right can pay off huge in the end.