When exploring the world on a mountain bike, people like to bring certain accessories along for the ride. Whether it is clothing, food, hydration, or a repair kit, one of the easiest ways to carry everything is to invest in a good mountain biking backpack.
Yes, other options such as bags attached to the bike itself exist, but some prefer to have everything they need strapped to their back. To pull this off and make it feel comfortable at the same time, getting the right mountain biking backpack makes all the difference in the world.
All the choices below are great overall options that give people everything they need. Storage matters quite a bit, but making sure the hydration is taken care of is crucial as well.
Depending on what the person puts into the bag, it can feel pretty lightweight even during extended rides with the right fit.
1. Camelbak Fourteener 24 L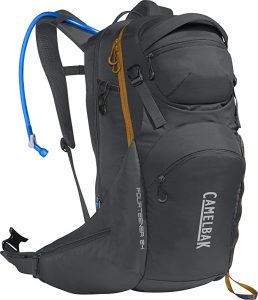 One of the first brands that always come up with mountain biking backpacks is Camelbak (Amazon). They have been in the game for quite a while, and they put out quality products that fit into different budgets. Although this is one of the premium options, it is worth the investment for those who rise of the bases.
For starters, 24 L of space is going to be plenty for those who plan on carrying a lot with them. This is more for longer rides, as some people will not need as much space. There is enough space for 3 L of water, and it is very easy to access while on any ride as well.
A lot of people love the hip belt and the way it is designed as part of the backpack. This makes it pretty easy to access specific items, and it takes some weight off of the back and shoulders as well.
The more that the weight is dispersed on a rider, the easier it is for people to handle. It is very streamlined overall, which is one of the reasons why it is a bit on the expensive side.
Anyone who enjoys ultimate organization will love the design of the backpack as well. Some out there that do not provide a ton of great organization with limited pockets, but there is space for just about anything on this backpack.
This is great for people who want to make sure that certain items stay away from others, as it can sometimes become a problem.
Pros
Large amounts of space that is evenly distributed to take weight off.
Outstanding organization.
Ample water capacity.
Cons
A little too bulky for shorter rides.
Expensive.
2. Dakine Syncline 16 L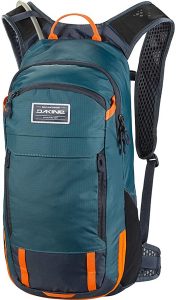 Not everyone needs a super expensive, complicated backpack to handle when riding on a mountain bike. Those who want a simple set up that has some fun designs to make things interesting, Dakine Syncline 16 L (Amazon) might be exactly what a person needs. As loud as the design and colors might appear, it is one of the most simplistic options overall.
At first glance, this backpack is not designed for everyone. Those who want to stay a little more neutral might decide to go a different option, but there is nothing wrong with having a little bit of fun with the design of a backpack.
Once the person starts to break down the backpack from a functional standpoint, they will notice that there are a lot of positives.
It has a surprising amount of capacity at 16 L, and that is with a water capacity of 3 L. This means that if a person really wants to, they can go on a pretty long ride without ever having to stop.
Another benefit of the hydration bladder in the backpack is that it sits very low. This takes some stress off of the back that a person does not have to deal with. Some are not designed nearly as well, and it can be frustrating for certain riders out there.
It might seem like the perfect option for a lot of people, but there is a slight negative that might frustrate some. The hose that connects to the water can only go on the left side, which can be a bit problematic for people who do not feel that comfortable using it that way.
It is a slight change that some people will accept, while others will need to look elsewhere to find something that works for them.
Pros
Hydration bladder is spread out to help with weight distribution.
Durable and compact.
Minimalist feel at an affordable price.
Cons
Color options might not be for everyone.
Hose is only available on the left side.
3. Evoc Trail Builder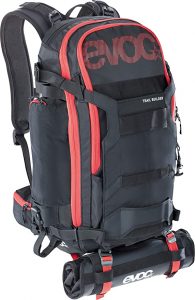 Some people do not really want to make any compromises when they are traveling on a mountain bike. They want to make sure that they bring every single thing with them that they might need, and maybe they are packing for a multi-day trip as well.
If a person is planning on going somewhere for multiple days, having the right capacity on their back makes all the difference in the world.
The Evoke Trail Builder (Amazon) is storage that a lot of people will fall in love with. Everything has a spot on the backpack, which really comes in handy for people who do not want to feel like they are carrying too much. It is bigger than most bags with three layers of capacity, but it does not feel that heavy when it is on.
Known as a very durable option, the premium fabric used for the backpack is certainly something to keep an eye on. There are a lot of people who might feel like they are too weighed down with that extra bit of weight because of the fabric, but it makes all the difference in the world as far as durability is concerned. This backpack will last a long time, even if it is filled to capacity more often than not.
Another added feature is that there is a roll for tools at the bottom of the backpack that does not take up any capacity. It is strategically placed so that it really does not feel that much heavier, and people can utilize it whenever they need to.
When shopping for any backpack that has a design for long trips, having enough separation between different departments makes a big difference.
One big example is separating wet things from dry things, as no one wants to have their entire backpack soaked after use. There are separate pockets for wet clothes and other items, and there is no leakage in between that can frustrate people.
All in all, people know what they are getting into when they invest in a backpack like this. They know that it is never going to be the most lightweight option in the world, especially if it is filled.
With that said, there are not many options out there better than this for people who are going on longer trips. Do not be afraid to see how much can actually go on the back without feeling too heavy.
Pros
Outstanding, quality fabric.
Tool roll that helps with additional storage.
Great separation with different compartments.
Cons
Feels a little too bulky for some people.
Hydration bladder is a bit tricky to use.
4. Camelbak K.U.D.U. Protector 20L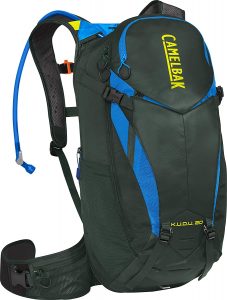 Yet another option from Camelbak, this is a pretty big bag that does not have quite the capacity of the one above, but still works for all types of adventures.
The K.U.D.U. Protector (Amazon) not only stores everything a person needs, but it provides a built-in spine protector so that people are a little safer on the trails. In fact, if a person really wants just to use the protector itself, They can take the straps off of the rest of the backpack and lighten the load.
As for the backpack itself, there are plenty of pockets to keep everything organized. That is always a pretty big calling card from Camelbak, as they want to make sure the people have the space to put things wherever they want. The capacity is 20 L, and it comes with a standard water capacity of 3 L.
It really seems like one of the more technologically advanced backpacks out there right now. It shows just how far companies have come to provide people with the type of support they are really looking for.
Little things like a rain cover and other levels of protection make this a backpack that can go just about anywhere and not feel like it is weighing a person down.
If there is any need for additional storage, a tool roll is available. This can come in handy for people who want to make sure that they are as protected as possible when they are out on the trail.
Having to carry something that is a little bulky will take up valuable space in a 20 L backpack, which is why the roll helps with that.
Pros
Spine protector works very well.
Tool roll adds space.
Slim fit despite the storage size.
Cons
Can feel a little heavy when riding long distances.
Some people will find a 20 L size too small.
5. Arvano Mountain Bike Backpack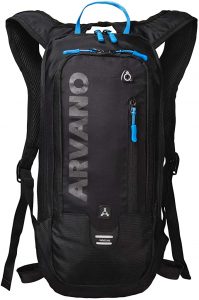 Known as one of the most affordable, highly rated options available today, Arvano (Amazon) has found a way to offer a great starter backpack for mountain bike riders.
It might not have all the features that some people would like out of a mountain bike backpack, but some people will be perfectly fine with a smaller option.
The first thing people notice with this backpack is that it is relatively small compared to other options. This might not be a bad thing for some, as mountain bike backpacks are a little overkill with size on occasion. It is easy for certain people to reduce just how much they carry with them, which can make a ride a little more comfortable as well.
A smaller backpack means that it only has space for a 2 L bladder for people who want to put one in. A person can go without a bladder if they want, but most people will opt for some water option so that they have to make fewer stops.
Versatility with this bag is something that can be a huge selling factor for a lot of people. Some will actually use his backpack for other uses beyond riding a mountain bike, and it can store just about anything pretty safely.
It is very comfortable to wear during long periods of time, as it has an airflow system that helps with ventilation and temperature control.
For the price, it is a great option for those who do not want to spend a lot of money and only use a mountain bike backpack on occasion. It is not going to be the best for a long ride, and it is also not bringing the same level of durability that some people count on.
All in all, it is worth checking out for people who are investing for the very first time, but do not expect to be absolutely blown away when making a direct comparison with this option compared to the others on the list.
Pros
Extremely affordable.
Slim and lightweight.
Excellent airflow and ventilation.
Cons
Limited size.
Lacks outstanding durability.
6. Ultimate Direction Fastpack 25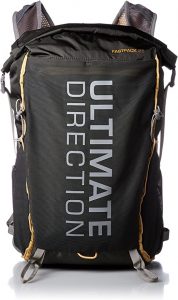 Most of the backpacks highlighted in this article have focused on durable options that have a lot of the same features, and work just about the same as well.
The Ultimate Direction Fastpack 25 (Amazon) is a slightly different option, as it is built for minimalist riding. This means that the bag itself is very light, but it might lack some of the features that people want when they are on a gravel bike.
To start with a positive, this is still a high end, durable pack that people will be able to bring with them just about anywhere. It has a capacity of 25 L, Which means that people do not need to keep things at home.
Most people tend not to fill it up all the way, because they want to take advantage of some of the lightweight feel that this bag has.
As far as missing features are concerned, the biggest one is that there is no reservoir included. This could be a dealbreaker for some shoppers, but others might not use it nearly as much. It helps to save a lot of weight that a person does not want to carry around with them.
Another negative is that there are not as many compartments for people to take advantage of. If a person is looking to put everything they want in compartments and keep the organization at a high-level, they might look for a different bag as well.
There are definitely some negatives, but people gravitate towards this for a reason. It does have huge pockets, and people can put most of what they need in the bag without any issues whatsoever.
It might not have the look and feel of other backpacks out there, but there are still a lot of people who love using this for sure adventures.
Pros
Very lightweight.
Easy to make adjustments for the perfect fit.
Riders stay cooler with this backpack on.
Cons
Not as many compartments for storage.
Reservoir not included.
7. Vaude Splash 20+5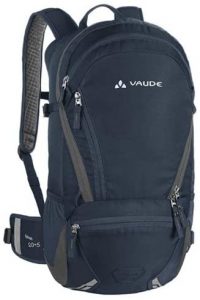 Having a versatile backpack to ride with can make a pretty big difference for a lot of people out there. On some days, having extra capacity makes all the difference in the world, but it can bog people down if it is not being used on that particular day.
Beyond the ability to expand, there is a lot to like about this bag in general. It is a very sleek looking option that is bigger than most people realize. With just one pull of a zipper, there is an additional 5 L of capacity, expanding to 25 L.
The backpack (Amazon) uses a harness system that is perfect for a really close fit. The closer a person gets to a true fit, the more comfortable it will be on any ride.
If a person wants to put a 3 L bladder inside the bag, they can. There is no reservoir included, but that is not too much of an issue for some people.
If it is an issue, there are plenty of other options that might make more sense, but the Vaude Splash 20+5 is definitely one to look out for that seems to hit a lot of the selling points people are looking for.
Pros
Capacity can be expanded.
Multiple pockets for great separation.
Sleek design.
Cons
No internal bladder.
Water capacity is slightly limited.
Key Factors When Shopping For a Mountain Bike Backpack
After taking a look at some of the top mountain biking backpacks available right now, there are a few common themes that many companies keep in mind.
With all that being said, there are different options for a reason, and what one person needs might be different than the next.
Before making a final decision, consider a few of these major selling points to make a final decision. This is especially important for those who are shopping online, because it is a little more difficult to find exactly what is needed in making the right decision the first time.
Water Capacity
Most mountain bike backpacks out there are going to have a water capacity of 3 L. If a company is looking to offer a slightly slimmer option, they might drop down a bit with their bladder.
For those who might not drink as much water when they are riding (See how much water you should drink while mtn biking), they can save a little bit of weight and space by going in that direction as well.
Unless a person is going on extremely long rides, they do not need anything more than 3 L of water. Even on long rides, there are almost always going to be opportunities to stop for water and refill the existing bladder.
3 L is going to be sufficient for virtually everyone, but if the focus is on shorter rides, look for bags that might offer slightly smaller bladders to make things lighter.
Protection
A lot of modern backpacks have protection built in to protect the rider, as well as what is inside the bag. Having multiple layers of protection is going to make a person feel safer, and also add durability with a bag.
The most important level of protection that is offered by a lot of bags these days is a spine protector. This can help if there are any crash issues whatsoever, as no one wants to be in a vulnerable situation where they are in desperate need for help. A spine protector does a lot of good, and can make a big difference between a serious injury and a minor issue.
Protecting what is inside a bag is also very important for a lot of riders, because they do not want to be in a situation where they are putting some of the most important items at risk.
Things such as protection against rain, extra padding, great fabric, and more can all make a difference. Some people obviously want to keep things as light as possible, but there is a necessary weight that needs to be added from time to time.
Fit Adjustment Options
A bag can be as modern and lightweight as possible, but if a person can't get the right fit, they are never going to be able to maximize its efficiency. There are multiple ways to get the right fit for any rider out there, and it starts with a quality harness that provides so much.
It is well worth the time and effort to make some adjustments here and there in the beginning so that a person gets the right fit. Failure to do so is going to make a person feel pretty negative about a bag in the beginning.
It might take a few adjustments here and there, but eventually, a person gets something that fits correctly and does not feel like it is going to make the body overheat at all.
Ventilation is important when using any type of bag, because it is going to be on the back for hours and hours at a time. It is one thing to get a backpack that rides up very close to the body, but if it is too close, it might do more harm than good.
Organization
Failure to have a bag that is organized is going to cause a lot of headache out on the trails. When mountain biking, a person must find what they need in a short amount of time.
It is usually comes down to a person knowing exactly where everything is, and they can reach into it at times without stopping.
Organization is a pretty big deal if people want to make sure that everything stays as clean as possible. There are times in which a person is storing something wet, right next to something dry.
Having compartments that can separate those two things can make a pretty big difference. Clothing, in particular, is something that nobody wants to get wet if they plan on using it at another time.
A Final Look At Mountain Biking Backpacks
Anyone who goes on mountain biking rides consistently should look into making a backpack purchase. Even if a person does like to have bags on the frame of their bike, sometimes the backpack makes more sense. Investing in a quality one means that a person will not have to worry about getting anything else for several years after the fact.
Some options cost a few hundred dollars, but most people will be able to find something that fits into nearly any budget. Make sure to take any measurements provided by a company to visualize how the backpack will work in person. This is one of the best ways for people to understand what they are purchasing before it arrives.