Despite the reputation of not needing much air filled in the tire every single ride, there is still a need for a fat bike air pump. Tires should be checked for proper inflation before every single long ride, and at minimum, once a week.
At one point or another, a person is going to have to deal with a flat as well. Having a mini pump readily available is very helpful in that situation.
Most people who ride a bike have at least two air pumps that they count on consistently. Below is a look at both options, and a few to possibly check out for those making a purchase.
Fat bike Floor Air Pump
The easiest way to fill any type of bike tire up at home before a ride is to use some type of floor pump. These pumps are very easy to use, can be stored without taking up very much space, and has the valve options available for any type of tire.
Some people run into pumps that only fit Presta or only fit Schrader valves, but virtually every floor fat tire pump is going to have the ability to do both.
What do people expect out of a great floor pump that they purchase? It should read clearly and accurately to get the right type of air pressure. Specifically for fat bikes, there needs to be a way to measure in small increments.
A road bike air pump does not need a super accurate reading, because people are consistently going over 100 psi for that. With fat bikes, every increment of psi can make a pretty big difference, so accurate readings work best.
Flexibility is also a huge factor when searching for different pump options. It needs to have the ability to reach pretty far away so a person doesn't have to move the pump all that much necessarily.
It also helps to have some flexibility so that it can pump up other types of tires as well. Most people don't want to have multiple floor pumps for every type of bike.
What Are the Best Fat Bike Floor Air Pump Options?
1. Topeak Joe Blow Fat Tire Pump

The majority of shoppers are looking for simplicity, and Topeak brings that to the table with this fat bike tire pump. The pump has a capacity of 30 psi, which is more than enough for fat bike riders. It offers a twin head to fit Presta and Schrader valves, a durable release button, padded handles and a thick, long hose.
The biggest difference between this air pump and others out there is just how well put together it is. There are not going to be any special features on a pump like this, but people want to get a pump that will last a long time.
There is no doubt that as long as no major accidents happen, this pump will last for years and years. Every single time, it delivers with a very accurate PSI measurement.
Click Here to find out why people love the Topeak Joe Bow Fat Tire Pump so much from Amazon!
2. Lezyne Micro Floor Drive Bike Pump

For a very elegant looking floor pump that fits any type of bike, Lezyne definitely delivers with this option. Even though it is a floor pump, it takes up virtually no room whatsoever.
A low profile that folds up, people can easily store this way without worrying about anything.
As for performance, it has 35 psi, extremely solid aluminum construction, both types of valves and more. It looks like a very high-quality pump right out of the box, and durability allows it to stay looking good even after extended use.
Find out why so many people love this pump on Amazon!
3. Vibrelli Performance Bike Floor Pump with Gauge and Glueless Puncture Kit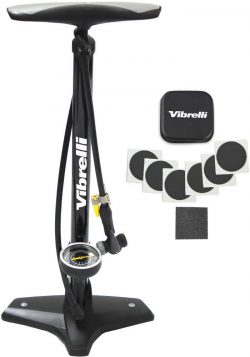 Do a simple search for bike floor pumps online, and this one will pop up pretty early. It has amazing reviews online, and many people believe it very well could be the best value out there right now. For one low price, a person gets so much to help with tire pressure and overall bike health.
The pump itself works very well and has everything a person should expect. Its maximum inflation is 160 psi, so it can be used for any type of bike as well. All it takes is a switch between valves to use either a Presta or Shrader.
What really puts this pump over the top is the inclusion of the glueless puncture repair kit. This is a nice safety net for people who don't want to be stuck somewhere inconvenient with a flat tire.
This kit fits easily into a pocket, and there is no additional glue needed. Having that added value is certainly beneficial for anyone, even if they never end up using it. Having something to rely on at a tough time definitely makes people feel confident.
Click to see why this pump is one of the cheapest and top-selling floor pump from Amazon!
4. BV Bicycle Ergonomic Bike Floor Pump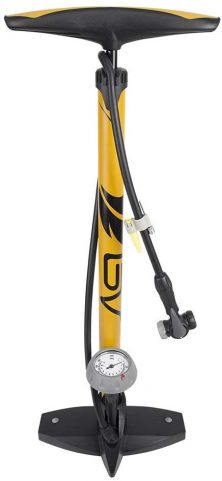 The final recommended option in this category is perfect for those people on a tight budget. It is one of the most inexpensive floor pumps out there that has a solid reputation from past users.
It might not be made of the same high-quality materials as the first two on this list, but for about 40% less, people feel like they are willing to make that sacrifice.
Perhaps the only drawback with this option is that it is not specifically made for fat bikes, so it's a bit hard to get a 100% accurate reading on very low psi targets.
Those people get the hang of it after a bit of trial and error, but just be aware that it takes a bit of a hit from the usability standpoint in that regard.
Take a second to view the thousands of reviews this pump has on Amazon! 
Best Mini or Portable Pump
While the floor pump certainly comes in handy at home, it can't exactly go with a person when they are riding on the trails. For those adjustments on the go, a much more portable bike pump is needed. Some people will go with a very small pump that fits into a pocket, while others will find one that mounts to the frame.
These pumps tend to be a little cheaper, but the drawback is that they do not have as many capabilities. Most of the time, people will try to travel as lightly as possible, so they will have a pump with just one type of valve. It also might not have the same level of accuracy as psi measurement, so keep that in mind.
Nonetheless, these pumps are equally as important. Solo riders especially need something like this, but those right in the group need to make sure that at least one person has one as well.
1. Crank Brothers Gem Bike Hand Pump

This hand pump measures just 7.5 inches tall, and it's so lightweight that most people don't even realize they have it with them. Some will mount it to their bike, while others will throw it into a bag to use when needed.
The beauty of this pump is that it is just so easy to use in a matter of seconds. It's so easy to use that some people can do it one-handed, and the ability to convert from Presta or Schrader valves certainly helps as well.
With a maximum of 100 psi, this is a powerful pump that people don't need to use too much effort to get it to work properly. Mounting the pump is very easy as well, and it doesn't do any damage to the bike itself.
Overall, it is a great value, and with three different colors to choose from, a person can find one that fits the color of their bike.
Find out why the Crank Brothers Bike Pump is such a great buy from Amazon!
2. Vibrelli Mini Bike Pump and Glueless Puncture Repair Kit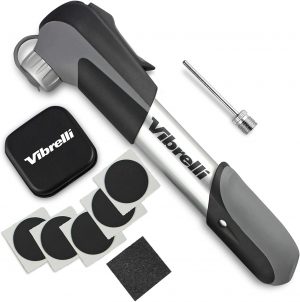 Much like their floor pump, Vibrelli does a great job providing excellent value with their mini bike pump as well. Fat bike riders will enjoy having something like this that is very easy to use if some type of adjustment is needed. There is no need to change any valves or use any adapters, as people can switch between the two at a moment's notice.
It is very easy to mount this pump, as it comes with all the tools necessary. The mount is very sturdy, and that makes a difference when a person is constantly taking it on and off. The last thing a person wants to do is see their mount snap off for one reason or another.
The added bonus of getting a glueless puncture repair kit comes in handy for those who are out on the trail. It can be scary to be caught in certain situations when there is a puncture or flat tire. These are very easy to use, and it comes in a case that fits into any pocket.
People who enjoy using the floor pump from this brand will certainly like the mini pump as well. This combination will allow people to be set with their air pump needs for years to come.
Find out why this pump is currently a #1 Best Seller on Amazon!
3. Pro Bike Tool Bike Pump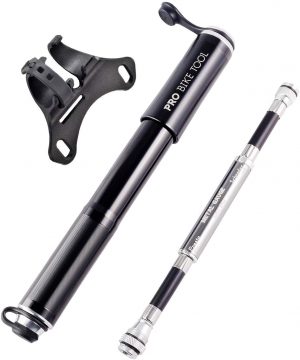 Getting an accurate read with a mini bike pump can sometimes be difficult for certain people. It is important to get the proper reading with a fat bike tire because every psi makes a difference. That is why so many riders will spend a little bit of extra money to go with a perfect option from Pro Bike Tool.
This pump is very easy to travel with, and it only takes a few seconds to make adjustments. The Presta and Schrader valves extend enough for people to get just the right angle for easy air pumping as well. It only takes a few moments from start to finish to adjust.
One bonus to the set up they use is that there will be no type of pump rattling or lost pumps whatsoever. It has one of the most secure mounts in the industry, including an extra security strap that keeps everything in place.
Just about every fat bike owner will notice that there are pre-drilled holes in the bike frame, and the mount will use those holes to their advantage.
For people worried about matching their pump with their bike, there are four different colors of this pump. It makes sense to get one that fits properly and also looks good when not in use.
Click for current pricing from Amazon!
4. Topeak Mountain TT Twin Turbo Pump

Although initially developed for mountain bikes, this turbo pump works for any type of bike out there. Many people who have a fat bike like how durable it is, and how quickly it fills up tires that need additional air pressure.
Many pumps can sometimes be pretty frustrating to operate since they do not have the same capacity as a floor pump. Because of that, people can occasionally get frustrated with putting in so much effort.
This turbo pump is a step up from an efficiency standpoint. The pump is also capable of handling Presta, Schrader, and even Dunlop valves.
It runs a little heavier than the average pump out there, but people feel like it is a positive trade-off overall. That is because this pump is built to last for a long time, and will even hold up on the toughest trails out there. It is a rugged pump that fat bike users have come to really appreciate.
Find out why this is a great Budget-Friendly Bike Pump on Amazon!
Are CO2 Cartridges Worth it For Fat Bikes?
A lot of bike riders will carry CO2 cartridges with them when they are going on long rides. These cans filled with pressurized carbon dioxide gas are great to fill up a tire very quickly and easily when compared to a manual pump.
When used for fat bikes, some people feel like they just simply aren't worth the added expense. This is because fat bikes don't need the same type of psi as mountain bikes or road bikes. It takes quite a bit of time to fill up a road bike tire, but even a simple mini pump can take care of a fat bike.
Another reason why some people stay away from CO2 cartridges with fat bikes is that not every option has the ability to control the flow of the gas. Without control, it is harder to get everything perfect when working on inflation.
Some people still swear by CO2 cartridges, while others have simply gone with a mini air pump on their fat bike ride. There is no right or wrong answer as far as these are concerned, but just keep in mind that lower psi makes filling up tires not as difficult.
Trusting Air Pumps on Trails
There is an increasing number of air pump options on popular trails around the world. Installing these come with good intentions, but people should not be all that trusting of them in general. The reason being is that these pumps are often used by people who don't really know all that much about taking proper care of everything.
It might seem super convenient to use an air pump on the go that is by the side of the trail, but if it is not working at the time, a person is out of luck. All of a sudden, there is no backup plan to turn to either. It is worth the extra bit of effort to just go ahead and bring a pump along for the ride. Until there is a way to make these pumps a little more trustworthy, staying away makes lost sense.
Final Thoughts On Air Pumps
Every good fat bike ride starts with the proper air pressure in the tires. It is not a complicated step, but a necessary one to do proper measurements before leaving each time. Don't be afraid
to spend a little bit of money on a pump that is of high quality, because they should last for years if treated properly.
Remember that a basic mini pump can be very beneficial when riding on different trails. It certainly beats having to call somebody or flag another rider down to help out with a flat tire. No one wants to be in that predicament, and the best way to avoid it is to always prepare for the worst.