Smartphones can do so many different things to help people in the modern world. Some apps help with many different types of exercises, and navigation has been a huge selling point for smartphones as well. That is why it makes perfect sense to find not just any cycling app, but the best one for riding out there.
People ride bikes for different reasons, so there is no one solution for everyone. However, with all the options listed below, there are bound to be a few choices that stick out to individuals. All of the apps listed are available on both Android and iPhone, so people don't have to worry about checking beforehand.
1. Strava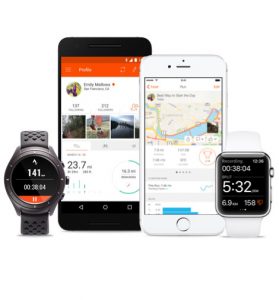 The first application to make a list is probably one that most are familiar with already. Strava is constantly rated as one of the best overall tracking applications for any type of bike riding out there. The company has been around for a very long time, and they have shown that they are more than dedicated to keeping up with the competitors as much as possible.
As a free download, people will be able to track every single one of their rides. It gives feedback such as speed, time, and distance, and that can be viewed throughout the session.
In the end, even more statistics are properly calculated like the number of calories burned, elevation for the ride, and any personal records that might be set.
Above all else, Strava gets a lot right by not trying to do too much. They are some apps that clutter things up and try to make measuring rides more complicated than it needs to be. The simplicity of the app is one of the major points many people make and reviews.
Along with being able to track rides, other cardio activities like running or skating can also be measured with the same app. It is nice to have one option for everything, and it separates everything as well so that the data does not spill into each other.
Premium Upgrades
The free option is a no brainer to try out for those who are cycling pretty regularly. There is a reason why it has so many great reviews online, and it is going to continue to stand out as they pour more and more money into the little things.
There are in-app purchases that become a little trickier for people to justify. It comes down to whether or not a person is going to benefit from them. Strava Summit has a few different pack options that give people more opportunities to get what they want out of the app. They offer three packs right now, and they all serve plenty of purposes.
Training Pack
Users can customize goals a bit more, while also setting up training plans to stay on track. The performance data that is tracked is more in-depth, and information like race and pace analysis is also available.
Analysis Pack
When using some devices out there, Strava can help provide even more information on an individual. Additional riding data is available, and so is monitoring heart rate and other body measurements.
Safety Pack
Exercising alone, or even in small packs, can sometimes be a little scary when in unfamiliar areas. One way to stay safe is to use the Safety Pack, which provides a live location that people can use to track someone down if need be.
It also provides different heat maps to sift through that helps with better overall knowledge from each ride.
Is Strava Premium worth the money?
The free option is definitely worth the money, and so is the three month trial of free packs. Out of the three packs, the training pack is the one that is most worth it.
The extra bit of information is certainly beneficial, keeping people motivated as well. The other two packs are more for specific uses that may or may not make sense for individuals.
2. Training Peaks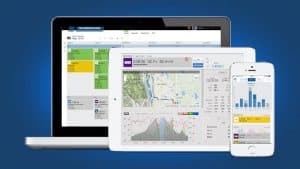 If the goal of riding is to track training as much as possible and see just how much improvement a person can make, this app is definitely one to try out. Not only do individuals use these to motivate themselves, but it is a tool that coaches have been relying on for a while now. In many ways, it is like a built-in coach with a smartphone, and the amount of data available for free is amazing.
The basic platform is going to provide a lot of different information, but when it really comes to life is when a person also uses the desktop application. This makes it a little easier to set up a training schedule, add comments, and more without having to do everything on the phone.
The breakdown of the information is very clear-cut, and no one will have any trouble reading what is provided. It takes care of all the heavy lifting while a person is riding, which keep things about as simple as possible. On top of all that, there are ways to get information during a ride without having to stop.
Premium Upgrades
As great as the free app is, it is a bit limiting when trying to go to the next level with analysis and scheduling certain activities. They offer a premium version of the app, which runs people roughly $10 a month. This opens up a lot more information that is actually useful, so most people who are not satisfied will find spending extra money pretty useful.
Another option that is available for people who want to take their training to the next level is to work directly with a coach from Training Peaks.
They have some packages that end up costing quite a bit, but it is still pretty inexpensive compared to all of the individual coaches a person might look into hiring locally. They will have the ability to put everything into the application and streamline everything, which some people really appreciate.
Is Training Peaks Worth the Money?
Even without paying a penny, the free version of the app is worth it for those who are taking training very seriously. There are a lot of apps out there that provide information, but keeping on
target is always challenging. It is very easy to quit and give up, which is why people seek out training and tracking that training as much as possible.
The premium features on the app or a little expensive, so it is more of a niche option for those who are getting serious. The tracking is worth it if those numbers mean something to individuals, and being able to plan well ahead is also a perfect way for people to stay on track. There are other ways to do this that might be cheaper, but having everything integrated into the app certainly helps.
As for the coaching, this is also something that only a few people might get value out of as far as percentages go. Not everyone is looking to spend a ton of money on a cycling app, and they might not need the coaching that goes on with it.
It is an expensive investment, so some people will use it for a few months and then go about things their own. It is cheaper than hiring a coach more traditionally, so do not blow it off completely.
3. Busby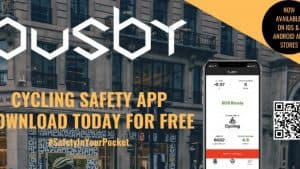 As a relatively new app, Busby brings something different to the table. More people than ever are trying to do whatever possible to stay safe on the road, and this app helps a lot with that.
It is a free option to download, and it will offer features such as incident detection, incident prevention, near-miss reporting, and more. If a person is involved in some kind of accident, it will take care of everything itself as well.
No matter where a person travels, medical attention can be sent with a near-exact location. This comes in handy no matter how serious the incident is. Some people will be unconscious, while others might just need assistance while still being able to read. It automatically displays steps to stay as safe as possible before medical assistance arise.
Since the app is still in its infancy, there are plenty of features that they plan on building out to keep the momentum going. One cool feature that is really new is the Road Radar.
It gives commercial drivers an audible warning if a user is near, which can help keep everyone safe. One of the main causes of accidents is the fact that visibility is not always the best with bike riders, but this app helps to stop that.
Premium Upgrades
There are limited premium upgrades with this app, but a person can spend a few dollars a month to add more emergency contacts to their profile. This is good for people who might be traveling to different locations, or they just want to make sure that they get attention from friends and family as quickly as possible.
Down the road, there might be additional add-ons that people pay for, but it is still a very evolving application at this point. They are the leaders as far as safety is concerned right now, and it will be interesting to see where this app sets a year or two from now.
4. Komoot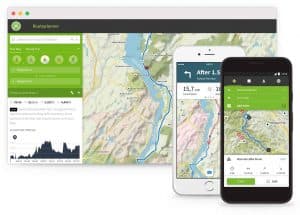 A lot of cyclists will debate between weather Komoot or Training Peaks is better at what they do. Komoot is a little bit better with the planning process, especially when trying to figure out new routes. Other than that, it does offer a lot of similar features, so the best way to compare the two is to try the free versions out first.
With the free version, Komoot also has a desktop version that helps with the planning process. Millions of users have submitted information to help other cyclists out there, and that is good news for people no matter what type of biking they like to do. It keeps things very fresh by having so many different types of rides, and there is also the ability to enter information as an individual.
Not everyone is riding to set a new fastest time, so they are options for more casual rides as well. This comes in handy if a person is exploring a bit and trying to find something new in the area. There are ways to track for restaurant recommendations, bike shops nearby, or anything else the person can think of.
The app is very snappy despite providing all this information at once. This is very beneficial for those who are on the go. Too many apps get overloaded with information in today's world, and they start to slow down when a person needs it most. Not only that, but they eat up a lot of battery, which is a massive no-no for long rides.
Premium Upgrades
Every single user can use the app and the website for free at first. If a person wants to use premium features, they have the option to upgrade depending on just how much they want access to. They have added a lot of premium features over the years, and there are a lot of people who think they are worth it.
The most popular upgrades people are willing to pay for our voice navigation, offline map options, and map updates. Having the ability to pay for these upgrades certainly helps, as individuals want to make sure that they are in a good situation overall.
Is Komoot Worth the Money?
Planners are going to love all the free options that Komoot offers to its users. It can seem like it is hard to justify spending the extra money for upgrades, but it is clear that the company is not just adding upgrades as pure money grabs. They might not be beneficial to everyone, but it certainly helps to have these added features.
Riders who are really looking to explore are going to benefit greatly from offline maps. It might not seem like a good investment at all for a computer in a major city, but it comes in handy when there is no internet.
Training Peaks gets the slight edge at this point, but Komoot is definitely worth checking out. Some people end up liking the interface a bit more, and so they stick with that option instead.
5. Map My Ride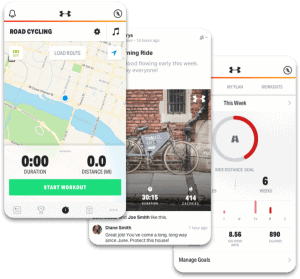 As one of the first tracking applications that really hit it big, the company has done anything but just sit around and watch the competition pass them by. They may not be the only game in town, but they are worth checking out for those who like simplicity. It compares a lot of Strava, with a few subtle features that may sway a person in one direction or the other.
All the standard information is free to track at all times, so people will have their distance, speed, elevation, and the map of where they been right at their fingertips. They have added upgrades now that makes for a more hands-free ride if that is what a person wants, which definitely comes in handy.
They do a better job of integrating with their website so that people can check the progress there as well. Strava is a lot more based on the app itself, which definitely makes sense for certain riders. It is really a matter of personal preference, as some people might just find it easier to track a bunch of numbers on a standard computer.
Where Map My Ride takes a bit of a hit is that their overall layout and look seem a bit outdated. It is hard to tell them to fix something that still works well, but it does not look as snappy as some of the newer options popping up.
Everything from timed sections and other recommendations come with the app as well. Riders will find that they encourage people to share with other users as much as possible, and gain knowledge as far as riding is concerned.
There have been people who have met some interesting individuals through the app after finding out other locals who use it. A lot of people like this community feel to the entire set up.
Premium Upgrades
The premium upgrade are mostly reserved for people who want to take their training to another level. Maybe they want to crunch the numbers, or they just want to have a better idea of what is working for them and what is not.
For better or worse, Map My Ride gave a lot of information away for free in the beginning. They still offer a lot of that information, Which is why they find it a little difficult to get people to spend the extra money for a premium version. Some loyal people still do this, but others have blown off that opportunity.
Is Map My Ride Worth the Price?
Before committing to Strava, Map My Ride is a simplistic version to try out as well. People either love the interface, or they think that it is a bit outdated.
The Map My Ride premium upgrades do not really provide the same amount of value that others out there do. It can be frustrating to say the least, as most individuals are looking for something that just makes sense for them.
6. Trailforks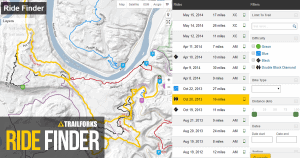 This app is a little bit different, as many riders all around the globe are looking for ways to discover new options. It can get a little tiring traveling the same areas all the time, so having this application ready to go can unlock many new adventures.
Some people use this app locally, while others open it up every time they are somewhere new. It is very much crowdsourced, so a person can also contribute as much as they want.
The discovery process is pretty simple, as certain trails and the type of bike needed is provided in every section. There are close to 200,000 individual trails right now in the app, with new additions all the time. There is a lot of information about the trail, such as safety, elevation, current status, weather, and more.
Unlike some other competition, the information is fact checked a lot and moderated so that people only get information that matters at the time.
There are a lot of apps out there that seem to miss that mark, and it is frustrating because people are trying to find new pieces of information. Since they leave it up to the individuals, they can pretty much add what they want and take over the app with poor information in some ways.
Premium Options
There are a few in-app purchases available, and those who want to have the full luxury of trails and offline options will need to pay a little bit each month.
It is a perfectly functional application even without the premium options, but some people want the simplicity of not having to always be online. Not only are there areas where online availability is not there, but it can drain the battery pretty fast if it is always connected.
They do a good job of keeping the in-app purchases pretty inexpensive, so they do get a decent amount of subscribers.
Is Trailfork Worth the Money?
For discovery purposes alone, this app is well worth in space on the phone. People can get hundreds of thousands of detailed trails, and routes that are easy to follow in one app instead of opening up multiple options at once. Having up-to-date information can allow people to make smart decisions on whether to head to an area or not.
The premium features are good for those who might feel like they are going to adventure into areas that do not have the same amount of connection all the time. It can be a struggle for some, which is why it makes sense to spend a little extra money and avoid those issues.
Disadvantages of Using a Bike App?
For as much good as bike apps provide, some people find themselves getting frustrated with certain aspects. The biggest issue most people have with any of these apps is that it burns through battery life pretty quickly.
Companies have done a lot on making sure that this issue is minimized as much as possible, but some functions just have to use the battery to survive.
Location services are the biggest culprit, as it takes a lot of battery power to make sure that everything is tracked properly. If a person can do without having location services on, the battery life will significantly increase. Just understand that it will limit a lot of features from some of these apps.
Do Bike Apps Take Up a Lot Of Space On The Phone?
Battery life might be drained with location services on, but bike apps do not take up a lot of space on smartphones because of it. The only time in which bike apps need a lot of space is if there is a lot of offline downloading.
Storing all those maps permanently on the phone can take up some space, but companies still do a pretty good job of minimizing their size as well.
It is entirely feasible for a person to download multiple bike apps at once, and then try them out before ultimately deciding on one. That is a big reason why so many of them offer their app for free. They will make money on advertisements, and also off of premium subscriptions.
Final Thoughts
Bike apps are definitely worth looking into, as they can help a person work out more smartly. No matter what type of bike riding a person enjoys, there is an app out there that helps.