No piece of equipment is more important for any cyclist out there than a helmet. With that said, it is fairly easy to go way over budget trying to buy the best of the best out there. Everybody wants protection, but they want it at an affordable price.
The good news is that there are plenty of options that are under $100 and more than capable of holding up by providing ultimate protection. A few of the best are listed below, with reviews on how they work and perform.
1. Mavic Aksium Elite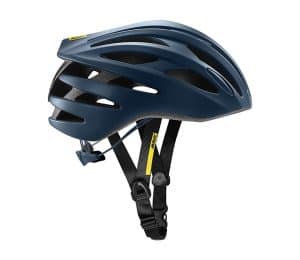 For people who are looking for a great all-around cycling helmet, this option from Mavic is definitely one of the most popular out there. It has so many different features for people to take advantage of, and it looks stylish right out of the box.
With a total of six different colors to choose from, men and women can benefit from the design of the helmet. There are plenty of vents to keep people cool, and it also helps to keep the weight down considerably. It weighs in at just 245 grams, which makes it one of the latest budget options out there.
Getting the right fit is important, and the retention system on the helmet works perfectly. There is strategic cushioning throughout as well, and even a way to block mosquitoes when going on longer rides in the middle of the forest.
This company might not be known to everyone, but it has built a strong reputation online as a leader in budget helmets. Some might end up upgrading at some point, but it is a perfect starter helmet for any cyclist.
Pros
Very lightweight.
Outstanding ventilation.
The retention system allows for a perfect fit.
Cons
The company is not that well-known.
Mosquito mesh does not work as well as one might think.
Click for the Current Price from Amazon!
2. Kask Rapido
There are certain helmet styles out there that people enjoy, and that Italian look and feel is an all-time classic. This cycling helmet fits neatly into that category, blending an old-school look with modern technology.
For many years, Kask has been putting out some very dependable road cycling helmets. Their cradle system is very well-known, and it is a major reason why so many people love investing in them.
Their helmets will mold to a head shape very easily, and it moves with the rider so that if you are adjustments need to be made.
It can feel like nothing is actually on top of the head at times, as Kask was able to get the weight down to 224 grams. There are a few colors to choose from, and overall, people continue to rave about what they bring to the table. It is definitely a helmet worth checking out for riders who enjoy that particular aesthetic.
Pros
Italian style helmet.
Excellent cradle system for superb comfort.
Lightweight.
Cons
Certain colors sell out fast.
Shipping takes a while in certain parts of the world.
Click for the Current price for the Kask Rapido from Amazon!
3. Livall BH60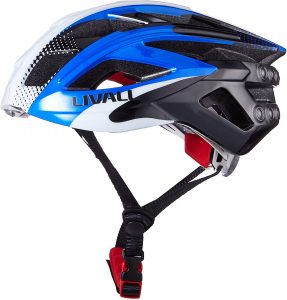 A lot of companies are trying innovative things with smart helmets these days, but it usually ends up costing quite a bit of money to see those features.
As technology improves, some of these options are starting to trickle down into this price range. Livall has been able to put out a smart helmet that has a few features people love, and it is at an affordable price.
What makes it a smart helmet? For starters, there are Bluetooth speakers and a microphone on the helmet, so people can take calls or listen to music while they ride. It is often recommended to only do this if a person is a veteran rider because it is easy to get distracted if not.
A huge safety feature is the addition of LED turn signals on the helmet, which are operated by a remote on the handlebar. This can help out at all times during the day, freeing up the hands and communicating with other people sharing the road or trail.
As for the helmet itself, it is a very solid option that holds up for the most part. It seems to break a little easier than some of the other helmets that do not have any smart features, but there has to be some compromise to get the price down this low. It might be a helmet that is more for casual riders, but still worth checking out.
Pros
Bluetooth speakers and a microphone.
LED turn signals.
It offers the ability to take photos during a ride.
Cons
A little heavy.
Cracks slightly easier than other helmets in this price range.
Click Here for the current price for the Livall BH60 from Amazon.
4. Cannondale CAAD MIPS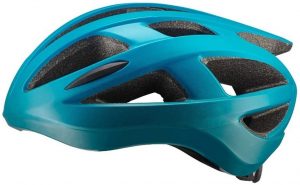 A lot of people have trusted Cannondale for years, and they put our products that last a long time. This helmet is no different, as men and women love how fast they can go on a road bike with a helmet that offers superior protection.
As soon as a person puts the helmet on and fits it for the first time, they realize that there are a lot of subtle features that make this one of the best sellers. It is exceptionally aerodynamic, thanks to ventilation slots in just the right areas.
The multi-directional impact protection system is something they spent a lot of time on, and it helps to reduce the risk of head injuries severely. It is one of the most recommended helmets out there by doctors, as they have gone through their own tests and examined data to see what it brings to the table.
Tracking down different colors is a little difficult at times, but the standard blue with white accents matches up with a lot of different bikes. There are two base sizes to choose from, and that allows people to then customize their fit with the retention system in the back.
Pros
Aerodynamic.
Outstanding ventilation.
Sizes for all people.
Cons
Only one color available at times
No premium features
Click Here for Current pricing for the Cannondale CAAD MIPS on Amazon!
5. Giro Register Bike Helmet with MIPS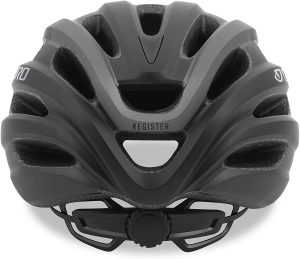 A very affordable option from a well-known helmet company in Giro is their Register bike helmet. It comes with a lot of protection for any type of riding, and it is light enough that cyclists will have no issues whatsoever.
Right away, this helmet looks like a more premium version of other bike helmets out there. It has some of the best ventilation in this price range, and getting the right fit is pretty easy as well.
Having the ability to wear the same helmet for all different types of riding is also very beneficial for those who do not have a lot of money to spend.
Some people will go ahead and purchase this helmet strictly to ride on a road bike, and that is perfectly fine. It has a weight that is pretty similar to others, and it just performs at a very high-level. A polycarbonate outer shell means that it will hold up even in a major impact accident.
Pros
Versatile helmet for any type of riding.
Outstanding ventilation.
Multiple colors.
Cons
Slightly heavier than other road bike helmets.
The removable visor is not the best.
Click the Link for the Current Price for Giro Register From Amazon.
6. Specialized Max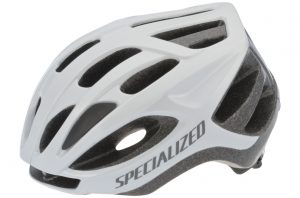 Specialize offers quite a few helmets, and some of them are under the $100 threshold. However, for this list, one that stands out is the Specialized Max.
This is an affordable helmet for those people who struggle to get their head into a lot of traditional helmets. Anybody who has a head up to 64 cm around will not have any issues, which is perfect for those struggling.
Just like any helmet from Specialized, there is an adjustable dial on the back that allows people to get a good fit. The helmet comes in three different colors and offers all the same protection and aerodynamic feel that people love from this brand.
All in all, this is exactly what many people have been looking for instead of having to cram themselves into something that is not meant for them.
It only encourages people not to wear helmets if they can't find one that fits properly. This solves that problem, and comes from one of the most reputable brands out there.
Pros
Designed specifically for larger heads
Three different colors
Comes with an additional clip-on visor
Cons
Fluctuates in and out of stock
People with larger heads have to pay a slight premium
7. Schwinn Thrasher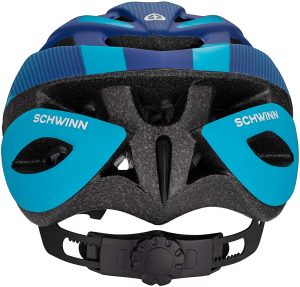 The final helmet on this list is a little different than the rest. It is by far the cheapest option out there, and even though it is roughly $20, it can perform at a pretty high level overall.
What makes the Schwinn Thrasher different than some of the other very cheap options is that it has some of those features that have trickled down from more expensive models.
It has 360 degrees of comfort, thanks in large part to the dial-adjustable fit system that is located on the back. With a combination of the system and strategic padding, people feel very comfortable wearing this for hours at a time.
The air vents make this helmet feel pretty light way, although it is obviously not going to compete with some of the higher-end models on this list.
This is a budget option for the beginner, and it should be viewed as such. No one should be spending a lot of money if they are only casually riding once in a while, so this could be the perfect option that really does not make too much of a difference.
If an accident does happen, this helmet grades very well in that category. The three-piece micro-shell is very durable and reduces the risk of major injury considerably. With so many different color choices to choose from, it seems like a perfect helmet for beginners or a backup helmet for those who can never be too safe.
Pros
Extremely affordable.
Many different colors.
Grades well in crash performance.
Cons
A little heavy.
The visor is a bit cheap.
Click to see Why this Helmet is Currently a Number One Seller from Amazon!
Buying Tips To Consider
Are you still trying to figure out what the best cycling helmet is to buy? Here are a few buying tips on how to make the best selection, while still staying under budget.
A combination of price and safety
A common misconception is that a more expensive helmet is going to provide better protection than something that is more budget.
While that can sometimes be the case, there are certain safety standards that helmet manufacturers need to live up to in order to sell their products. That means any helmet that is approved is going to offer pretty much the same level of protection overall.
The differences will come with not only to look at the helmet, but the materials used, how much it weighs, and more. From a protection standpoint, there are some pretty easy ways to stay under budget and not worry about wasting too much money.
Fit
The top reason why so many people will invest a little extra money into a helmet is the overall fit. Not only is it nice to have a comfortable helmet for a long ride, but there are ways to make adjustments on the fly as well.
There are times when people need to make slight tweaks so that they not only are fully protected but feel like they are as comfortable as can be.
Things can get pretty hot, especially during the summer months. Having proper ventilation with the helmet also helps quite a bit with comfort.
Finally, the weight of the helmets and how it is distributed is going to have an impact. You don't want to be carrying around a heavy helmet that overheats way too often.
Straps and retention system
A combination of a retention system and straps will allow people to get a pretty safe, effective fit. Of course, a person does need to start with the right overall size, but this is how things become a little more tailored.
A simple system is going to be much more manageable for the average person. No one wants to be trying to figure out many different buttons and dials while they are riding. It can end up being a bit too distracting.
Take the time to make initial adjustments before taking off. The ride should only involve some tweaks here and there.
Style
After everything is said and done, most people want to try at least to match with their current bike. That means getting a helmet that fits the color and style, making people feel a lot more confident.
There is a saying that in order to perform well, a person needs to be confident in their look. It also means that a person is less likely to leave their helmet at home if they do not like how it looks on a short ride.
Those short rides run the risk of injury just as much as longer rides, so having a helmet that a person feels comfortable in at all times is essential.