If a person feels like they are wanting to go on a cycling trip during the winter months, they are most likely going to need a few layers to make that work.
Even if a person is going very fast on their bike and pushing the limit as much as possible, there is still the part of staying warm when the temperature drops.
What are some of the most beneficial winter jackets out there right now? Most people are looking for something very specific that is not going to hold them back in any way. After all, riding a bike still requires being able to have a bit of movement, and any type of restriction is very frustrating.
Top Softshell Cycling Winter Jackets
Soft shell cycling winter jackets are perfect for those layering up, or those who live in pretty dry conditions and don't need a hardshell option.
They are a little bulky in most ways, but that is because they are providing a good amount of warmth. Some of the top options are pretty expensive, but there are some affordable choices worth checking as well.
1. Costelli Alpha ROS Jacket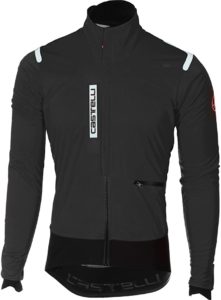 The Costelli Alpha ROS soft cell winter cycling jacket (Amazon) is built for pros, and although it is a little costly, people love what it brings to the table. It has everything a person needs to stay warm in the very cold temperatures.
With its ability to act in a lot of ways like a hardshell with the flexibility of a soft shell, it is one that people are willing to invest in.
The jacket has plenty of pockets, is very tailored for riding in particular, and comes in a variety of colors. People love the fact that they can have quite a bit of protection from the rain, even if it is not technically billed as a rain jacket.
There is enough separation between the layers and the jacket that keeps a person very insulated, but also capable of keeping the body properly ventilated.
If there is any sweat building up underneath, a person can get rid of that sweat without letting in cooler temperatures from the outside.
Make sure to get the right fit, as a great fit in a cycling winter jacket makes all the difference in the world. There is no flapping around or moving parts when it is fitting correctly, allowing people to still get optimal speed and feel like they are wearing minimal layers overall.
Pros
Acts in a lot of ways like a hard shell.
Quality build all around.
Tailored for cycling.
Cons
A little expensive.
Female version has slightly challenging sizing.
2. ARSUXEO 15-K Winter Warm Up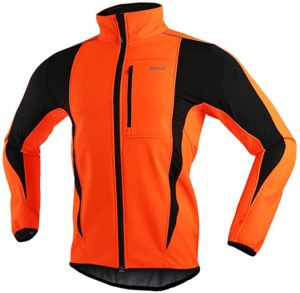 Those who are not wanting to spend a ton of money can look for a cheaper option here with a soft shell that has all the premium feel of something much more expensive.
The ARSUXEO 15-K Winter Warm Up (Amazon) is made up of a combination of polyester and spandex, this is an excellent version of a cycling jacket that people can truly get behind.
With a strategic set up, the layers of the jacket make it very safe for people to enjoy. There is one layer that focuses on taking care of moisture, while a second layer is a waterproof breathable membrane film. Finally, a third layer of fleece keeps a person warm like any soft shell option should.
This jacket is perfect by itself, or it could be worn with a very warm base layer or a hard shell over it. It is going to last a pretty long time, especially compared to all the other jacket options out there that are in this price range.
With that said, for such a cheap price, even if it is not as durable as some of the more expensive options, it only needs to survive for a little bit to still be worth the price.
Maybe it is not the lightest soft shell jacket for riders, but most are not going to notice a little bit of difference. It is still versatile enough and fits comfortably that those who worry about spending too much money will not have any worries whatsoever.
Pros
Very flexible.
Inexpensive.
Full coverage in the wrist area.
Cons
Zippers do not seem that durable.
Color choices are limited.
3. PEARL IZUMI Versa Quilted Hoodie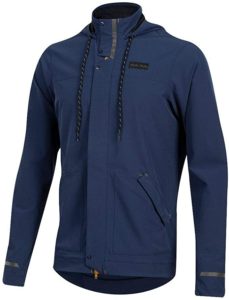 For people who want a truly warm fleece that survives all types of riding conditions, it does not work much better than the PEARL IZUMI Versa Quilted Hoodie (Amazon).
It might seem a little expensive for the average rider, but it is something that will last a long time and can even be used off the bike in certain situations.
This is a jacket that certainly does not look like a typical bicycle jacket. This is something that could be worn casually just about anywhere, and it is technically well-built as well.
One standout feature that a lot of people do not really realize until they start using it around is that the polyester is wrinkle free. That means that the jacket can be abused pretty much, and it will look and feel great.
This is great news for people who do not want to necessarily baby their jacket, instead of taking it on and off when they feel it is necessary.
With a lot of different pockets for all kinds of storage, people can get what they need at a time when it matters most. Do not worry about staying incredibly stylish, as this jacket takes care of those little things.
There is still a need for some layers underneath so the person truly stays warm, but it is one of the better options out there for people who do not want to necessarily look like a cyclist all the time when they are wearing something warm.
Pros
Plenty of pocket options.
Very breathable.
Warm enough to be worn as a standalone jacket layer.
Cons
A little on the expensive side.
Sleeves are slightly short.
Best Hardshell Winter Jackets for Cycling
The softshell winter jackets for cycling might get all the attention, but there is something to be said for having a good hardshell option as well.
Although it might seem like they are bulky options, hardshell solutions are built to make sure that a person is protected from the outside elements. This means anything that might cause some discomfort, or anything else for that matter.
These three options below are great for those who just want something that works. It is important to not mess around too much with a hardshell winter jacket for cycling, as they are a technical part of the puzzle first and foremost.
1. Gore Men C3 GTX Active jacket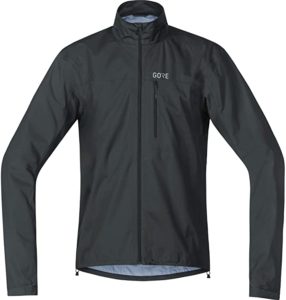 A lot of people are looking for versatility when it comes to a hardshell winter jacket. It might not always be needed, but when the weather turns south, the Gore Men C3 GTX (Amazon) can be thrown on pretty quickly.
This is where having something very foldable and packable like this option comes in handy. This might not seem like that big of a deal, but being able to quickly unfold this jacket and use it right away can save a person from getting absolutely soaked with moisture.
It is a very lightweight hardshell option for those who want a little bit of added layer for warmth as well. It is not going to do much by itself, but it will provide a good amount of coverage so that moisture stays away from the skin altogether.
Maybe it is not the most robust option out there, but a lot of people will be very satisfied with what it brings to the table. As long as a person knows that they are sacrificing a little bit of protection for packability, it is not going to be that big of a deal.
Available in both men and women sizing, it is a great option for those who need that extra layer and find themselves constantly caught in some pretty poor weather conditions overall.
No one wants to be in that situation at any point, and a jacket that performs well during that time makes sense.
2. Showers Pass Elite 2.1 Waterproof Cycling Jacket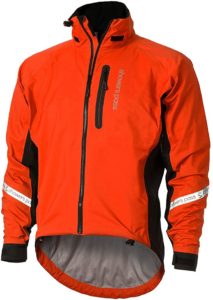 Pound for pound, the Showers Pass Elite 2.1 (Amazon)  might be the best hardshell rain jacket on the market today. Those who live in pretty cold and rain conditions are definitely going to gravitate towards something like this.
It is made of elite fabric, performs like a professional option, and provides the amount of reflective trim so the person can ride in any situation.
The shape of the jacket is ideal for people who want to make sure that their body is perfectly fine and feeling like a perfect fit overall.
It seems to really contort a person's body, and that is great news for people who feel like they are sometimes finding it very difficult to get in the right type of shape.
The ventilation is strong for people who want to wear this during all types of weather, as this can be used in the summer as well.
It is light enough that it is not going to completely overwhelm a person as far as temperature is concerned, which is great news for those who might have some kind of concern as far as that goes.
It's not quite as packable as the option above, but it is still very high on the list. It is a must for people who want a hardshell option while they are riding, as no one wants to be stuck in the rain and dealing with any situation like that.
Pros
Very packable and easy to put into any bag.
Ventilation is strong enough for any type of temperature.
Large pockets for bigger items.
Cons
Runs a little expensive compared to other options.
Reflective trim is a little too obnoxious for casualwear.
3. BALEAF Hardshell Cycling Jacket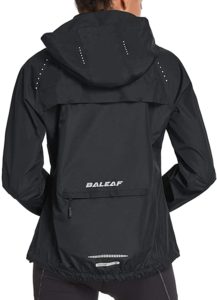 Much like with the soft shell options, the final version to make this list is another budget solution. BALEAF has put together a very solid overall cycling jacket that is well under $50 with the BALEAF Hardshell Cycling Jacket (Amazon).
Made of 100% polyester, it is a waterproof and windproof option that has a great amount of protection overall. While it might lack a little bit with breathability, it is a small sacrifice for someone who wants to save money while also getting the protection they need.
BALEAF has built a few solutions for people who are trying to stay comfortable in the cycling world. They have seemed to turn into one of the more go-to options as far as affordable solutions are concerned.
They do not seem to worry too much about profit margins, focusing on giving customers what they need at a price that undercuts a lot of the bigger companies out there.
Everything is packed nicely into a self-contained bundle that can be thrown into just about anything for when it is actually needed.
Once unfolded, a person will notice that there are a total of five pockets, which comes in handy if there is a lot to carry around. It is a little tough to get it out and start to unpack completely, but a lot of people believe it is worth it so that everything works as it should.
Pros
Very affordable.
Does a great job waterproofing and windproofing a person's body.
Fit is solid.
Cons
A little tough to unpack.
Not as durable as more expensive options.
What to Consider When Purchasing a Winter Cycling Jacket
For those who might still be undecided on what winter cycling jacket works best for them, These are some common buying tips to keep in mind. Most of them are pretty self-explanatory, but it can help to narrow down the selection process just a bit.
Softshell or hardshell Jacket For Cycling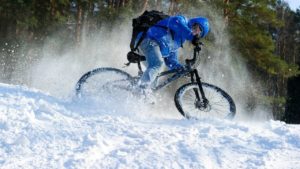 Picking out the type of cycling jacket a person wants is a big first step. Should a person go with a more durable and stronger hardshell option to help keep him safe? Or should they go with a lighter soft shell or even fleece option?
A hardshell cycling jacket is going to be the outer layer for the winter. They are completely waterproof, windproof, and at least a little bit breathable.
It is meant to shield the body as much as possible so that the rain and wind does not cause uncomfortable body temperatures. They are not necessarily warm by themselves, but they act as protection.
For those who just need some added warmth without protection from the elements, a soft shell or fleece is the better way to go. It is an insulating layer in a lot of ways, keeping a person warm first and foremost.
There might be some protection from the elements, but not enough that a person will be able to withstand a harsh storm that comes their way.
For the ultimate protection when cycling during the winter months, a combination of a soft shell and a hardshell jacket makes the most sense.
In fact, these are just two of four layers that are recommended. There is a base layer and a jersey underneath the soft shell at the very least. In the end, putting on a waterproof hard shell keeps a person as safe as possible.
Trying On the Jacket
People do not like to stop and waste a lot of time when they are on a long bike ride. In fact, the most ideal situation would be having the ability to put layers on and take them off without ever having to get off the bike. That might not always be possible, but a style that works that way should come in handy.
The ideal way for that to happen is to have plenty of zippers that allow for easy access. Anything that has to go over the head can be problematic when trying to also navigate the bike.
A person also needs to make sure they are getting the right fit for them, so anything too tight or too loose could get in the way as well.
Price
It is easy to spend a decent amount of money on a quality cycle jacket, but keep in mind that it needs to be durable and versatile.
A person is going to more than likely put the jacket through a lot of abuse when going on long rides. It needs to be able to live on and provide value for quite some time in order for everything to work as it should.
Most cycling jackets are versatile enough that they will work in other situations as well. If it is a little pricier, make sure that it can work and other scenarios that make sense.
This is going to be an ideal situation for a lot of individuals who exercise in different ways. Why not also use the jacket for running or exercising in the cold?
Color Choice
The color choice of a cycling jacket can make more of a difference than some people might realize initially. There are a lot of factors to consider when shopping for the right color, and there really is no right or wrong answer overall.
It is generally recommended to stay away from super dark colors, simply because of a visibility issue. With that said, every cycling jacket now comes with reflection tape and other tricks to make sure that a person is always seen, so the base color might not make as much of a difference.
At the same time, most people want to have a jacket that is neutral enough that it will match different outfits. As bright as it might be to have a yellow or electric green jacket, it does not exactly blend in with everything else the person usually wears.
Finally, anything too light is going to show quite a bit of dirt and grime. People might find it a lot more difficult to keep it clean on a consistent basis, as a cycle jacket is likely to take a lot of abuse.
Getting something that is white is nearly impossible to keep clean for too long, which is why those are rarely seen.
Why Every Cyclist Needs at Least One Winter Jacket
Even in warm temperatures, a winter ride can get chilly to the point that a jacket is needed. Do not let slightly colder temperatures change the opportunity to go out there and ride around.
A lot of people really enjoy riding in all different types of weather, and there is so much to see and do in certain parts of the world.
It might take a little bit of convenient packing to make sure that all temperatures are probably handle. After that, a person can really settle in and do the same type of cycling and exploring that they are used to in the first place.
That is good news for people who want to keep on going and push themselves and in different ways no matter what the temperature is trying to say.