Electric fat bikes are becoming more popular than ever. While standard peddling is still very enjoyable, sometimes there is a need for some added assistance. This is especially true when found in some pretty tough situations that might be difficult to power through.
Fortunately, there are a lot of fat tire electric bikes popping up from some pretty well-known companies. They are certainly not cheap, but there are some budget options out there for people who are just starting. However, someone looking for the best of the best will have to pay quite a bit of money to get out there and ride consistently.
Below is a look at some of the best out there right now on the market. Shopping can be a little tough for those doing everything from home, so try to get out to a local bike shop if they have any for sale in person first. Keep in mind that a lot of the companies will allow for returns if it just does not work out, but go ahead and try as many as possible to save on some of the headaches.
1. Wildcat by Emojo Fat Tire Electric Bike
Click for the current price for the Wildcat E-Fat Bike From Amazon.
At first glance, this looks like a pretty simple bike that can handle the basics of getting around, plus any type of trail riding one can think of. What people find the more they ride is that this is one of the most comfortable options out there that have some hidden high-performance features that make it a top option today.
To start with, it is a rigid mountain bike frame at its core. The motor included is a 500 watt brushless DC, and it helps people when they might be struggling to get through certain parts of the ride. The motor can get up to some pretty good speeds, but it is the performance of the bike itself that really makes it a worthwhile investment.
The disc brakes are great on this bike, allowing people to stop on a dime when needed. The Shimano gearing is pretty solid as well, giving riders seven speeds to work with so that they can do some powerful writing even without the motor.
Easy to use and perfect for those people who want to try out an electric fat bike, this is definitely one that is high on the list. There are three different colors for people to choose from, so find what fits and go from there.
Pros
Dual disc brakes.
Very minimalist look for an E-bike.
Shimano gears work very well.
Cons
Not as many features as other E-bikes out there.
Only 25 miles per charge.
2. DJ Fat Bike 750 Watt Power Electric Bicycle by DJ Bikes
Click for the current price for the DJ Electric Fat Fike from Amazon.
This is another bike that does not necessarily impress upon first look, but people are really surprised by what it brings to the table. It has some strong power that reaches 1000 watts at peak, allowing people to really get to where they need to go even with some very tough incline battles.
Most people when shopping for an electric bike, just want something that really acts as an aid when needed most. There are plenty of ways to get the most out of this extra bit of power, and it is one of the most durable options out there as well.
Even though it weighs 57 pounds, it feels like a much lower perception weight. A lot of that has to do with the layout and geometry of the bike. It never feels too cumbersome even with the added battery to the frame.
Even if this was not an electric bike, the components would stack up against some very high-quality options. It has Shimano seven gears, outstanding rims, premium disc brakes, and more.
To top it all off, DJ Bikes offers a one year warranty, which is about the standard in the electrified bike world. It is a smaller company that focuses on building high-quality options for people at the lowest price possible. It continues to get great reviews online and is definitely one of the best out there for people to consider.
Pros
High-quality parts.
One year warranty.
Feels very lightweight.
Cons
Gets a little loud.
Doesn't feel that powerful compared to others.
3. ECOTRIC Powerful Fat Tire Electric Bicycle 1000 W 48 V/13 AH
Click for the current price for the Ecotric from Amazon.
This company has pretty much been one of the standards for affordable, entry-level electric fat bikes online for the last few years. This bike, in particular, continues to score very highly in online reviews, and they are willing to do whatever possible to make customers feel delighted with their purchase.
Like some of the other options at this price point, the 1000 Watt rear motor certainly provides plenty of power. The battery lasts long enough to go about 25 to 30 miles, which is pretty impressive considering it is virtually hidden on the bike compared to a lot of other companies.
Instead of putting the battery where a water bottle usually goes, they decided to have the battery attached to the rear of the frame. It almost disappears some and makes the bike seem a bit more lightweight.
Features that make this a pretty good fat bike even without the electric assist include some outstanding disc brakes, a suspension fork that performs really well, a frame that is lightweight and capable of handling some pretty heavy people, and more.
It is built for those people who were thinking about maybe getting an electric bike, but did not really know where to start. Instead of taking a subpar option, this one needs all the demands of a typical rider.
Pros
Very powerful.
Strategic battery placement.
Built to last.
Cons
More power than some need.
Expensive.
4. ECOTRIC Fat Tire Electric Bike 500 W 37 V/12 AH
Click for the current price for the Ecotric 500w from Amazon.
The 1000 watt option might not be for everyone, especially those who are trying to stay under a certain budget. Another option to go with is the 500-watt option, which provides plenty of power for people just the same.
There really is not too much of a difference between the two options, other than the added power with the first one. What people really like is that they can get full pedal assist, while still feeling like they are putting in a good amount of work. The bike above does a little bit more work for people, so they might not feel like they are getting a good amount of exercise.
What makes this bike worth it is that they did not compromise the tires at all. They work very well and should last a long time under typical use. They have a great gearing system to work with as well, making this a fat bike that is perfect for people who want to ride even if they do not look at it as a true electric fat bike.
Pros
Strong, durable tires.
Powerful enough for most.
Inexpensive.
Cons
The battery might not last long enough for some
Tough to maneuver quickly
5. Addmotor Motan 750W
Click for the current pricing from Amazon.
A lot of people look at this fat bike as one of the best overall options out there for people who want some added power to their ride. It handles just about any type of terrain, has a long battery life, reaches some impressive top speeds, and does so many other things very well.
To start things off, everything is about performance with this fat bike. You can reach up to 23 mph, and it has some of the best parts a person can find. The battery is powerful enough to last a long time, and it has a very good recharging rate so the people can get back on the road quickly.
The 750 W rear hub engine is pretty impressive for a bike that is so lightweight. This is a lot of power so that people can ride regardless of weight. It holds up to 350 pounds, and a person can get over 50 miles per charge if they want.
If there is a drawback, it, of course, is the price tag. Some people do not have the budget to spend a lot of money on something like this, but it is one that someone usually sticks with for a long time. There might be better options that come out down the road, but this is one that people can turn to every step of the way.
Pros
Great top speed.
Premium parts.
Very comfortable ride for anyone to get used to.
Cons
Expensive.
Not built for beginners.
6. Addmotor HITHOT 500 W
Another option from Addmotor (Amazon), this is a slightly more affordable option for those who want all the benefits, without having to make a huge investment overall. It is not going to be quite as powerful, which is perfectly fine for most, since they will not need to be reaching any faster than 20 mph anyway.
The tires it comes with are perfect for fat bike riding, and there will be a little need to switch them out for something else. The frame is very lightweight, and what sets it apart is that it has a design that many people think is good and bad.
The low down design helps with maneuverability a bit and even stance, but it might not be the most comfortable ride that some are looking for. If possible, try this out first, because it does sit a little bit differently.
As far as usage, the battery should last a long time without that much charging to keep things going. If it seems good enough, do not waste the extra money on getting something a little too powerful in the end.
Pros
Affordable compared to other options for the manufacturer.
Designed for great maneuverability.
Great tires.
Cons
Takes a while to get used to.
Some components for your a little cheap.
7. Cyrusher XF660 500W
Not every fat bike comes with full suspension like this option, but people love the fact that we can get a very comfortable ride without having to spend a ton of money. This Cyrusher XF660 (Amazon) has a 500 W engine that is powerful enough for most people, and the lightweight feel of the bike makes some people think that it is not even electric.
This is a common option that is recommended to people who are looking for an electric fat bike for the first time. It is not only very comfortable, but it has some dependable brakes, a lightweight feel, tires that provide ultimate traction, and more.
Battery life could be a little better on this frame, but people should still expect a decent range of about 35 miles before they need charging again. For those who are looking to take longer rides, they might want to go for a bike that offers a little bit better range.
Think of this is a nice commuter bike for those who might have a bit of a difficult ride to their work on a normal basis. Having the extra with a tire is certainly beneficial so that people never feel like they are not having a stable ride. Simply going over any type of surface is as easy as ever, and it will last long enough that no one will ever need to do a repair soon.
Pros
Very comfortable
Excellent components
Lightweight
Cons
Battery life is not great
Instructions are a little troublesome
8. NAKTO 26" Fat Tire Electric Bike 300 W
People should look at this electric bike as another great option that allows people to get to where they want, without having to break the bank. The Nakto (Amazon) is a sturdy bike that has a premium look to it when placed together. People can count on Shimano gearing to get to where they need, as well as 26-inch wheels that are perfect for any type of surface.
With speeds that can get above 20 mph, most people Will get around 30 miles per charge. That might not seem as much as some of the other options, but that is about normal for an engine that is 300 W.
Weight for the bike it is a little high at 70 pounds, and that is somewhat of an issue when people are riding without electric assistance. Some people find it a little more difficult to move around, and that can limit some people when they are trying to go on inclines.
What this bike does is a lot of great things, but not many outstanding things. It is a good budget bike for people who do not want to spend a lot of money right out of the gate, but do not expect it to be the best of the best. The good news is that it will be fairly easy to trade up if a person wishes, and go with a better fat bike down the road.
Pros
Affordable.
Support up to 300 pounds.
Premium look.
Cons
A little heavy.
Tough to maneuver at times.
Are E-Fat Bikes Worth It?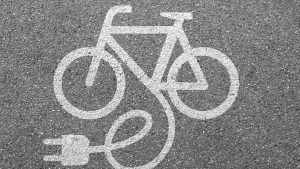 While there are always going to be some people who are firmly against any type of Electric bike, they do serve a pretty good purpose. They help people move around when they need some assistance, speed up travel time, and allow people just to enjoy fat bike riding in the way they want.
It does affect price, as any fat bike is going to be a little more expensive when there is a motor added to it. Do not be suckered into getting a very cheap electric bike, because that usually means that the components on the bike itself are not that great. Even if the motor does a good job, people still want a solid bike underneath everything.
There are do-it-yourself kits for anyone who wants to add a motor to their fat bike at a later time. With that said, most agree that it is smarter to buy an electric bike already made so that it has fewer complications down the road. Adding a motor, later on, can sometimes not work properly, if not installed correctly.