The best way to make pedaling a bit more efficient with any type of bike is to purchase clip on shoes. There are plenty of options out there, and learning the process is fairly easy as well.
Gravel bike riders will notice a difference right away with a clip on style over other options. In order to maximize the use of a clip on set up, the right shoes are important.
What shoes work best and hold up with the most intense type of gravel bike riding? All these options below are definitely in the discussion.
1. Triban RC 520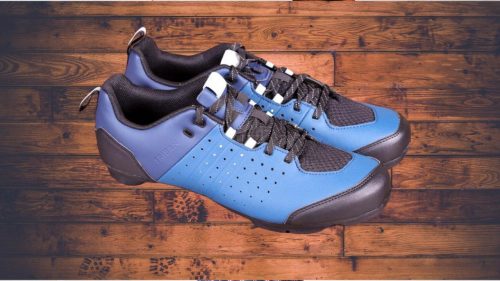 The first shoe to make this list is by far the most affordable. Many people are going to initially have some shock as far as how much gravel bike shoes cost, but this is at least a reasonable solution.
The problem is, so many people will gravitate towards anything with a good price, but some of these are cheap for a reason. The RC 520 is the exception to the rule, as this simple shoe is trusted by many people who simply like the fit and feel from the very beginning.
The goal of the design was to make a shoe that was simple and efficient. Triban knows that some people just want something very functional without having to break the bank. Available in a few different colors, the shoes are not going to win any style awards, but they do provide a comfortable fit for any distance.
One of the reasons why they fit so well is that there are adjustment options to make everything tailored to the rider completely. Some shoes do not have any additional adjustments, so it would be very hard to get a fit that seems like it is right.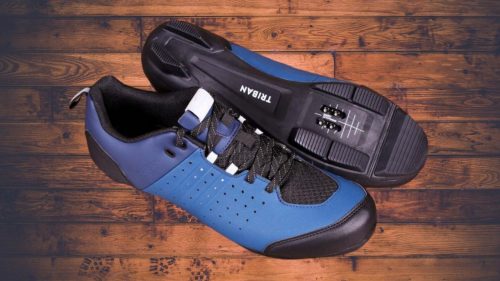 There are some drawbacks to getting a cheaper pair, and maybe the most noticeable is the fact that they are fairly heavy. That is why they are not necessarily recommended for people who are going to be spending a lot of time on the road, or if the goal is to try to be as fast as possible.
They can be very frustrating to try to power through tough stretches, as they will start to feel heavy. This is especially true if it starts to feel like sweat, mud, snow, or anything else people might pick up is seeping through.
Pros
Very affordable.
Simplistic design.
Plenty of opportunity to adjust for the right fit.
Cons
Bulky.
Materials can look a little cheap compared to other options.
2. Lake MX1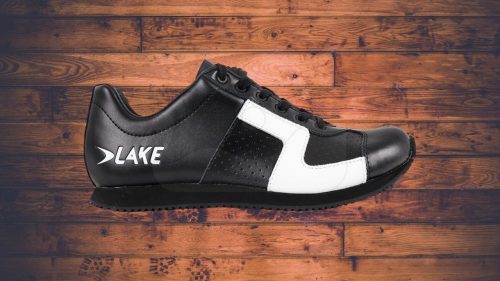 The next option is yet another gravel bikes shoe that has more of a focus on functionality than overall looks and design.
It provides perhaps the most support a person can find when trying to go on a gravel ride, but people swear by them because of its price. It has a very distinct low-key look as well, and most of all, the comfort level to keep them in the discussion.
A very professional looking leather covers the outer of this shoe, but it is anything but a shoe that is incapable of getting a little dirty.
Some people will push the limits with a shoe, going off-road and not having any cares on durability. It is built to last, and surprisingly stays in very good shape even after consistent use.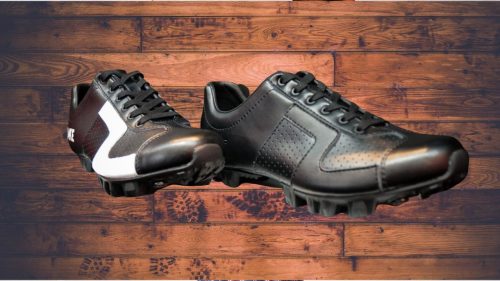 Another advantage is that not everyone has the same style of foot, and finding wide shoes that are for clip on options can sometimes be very difficult.
Having so many different sizes is certainly a huge selling point, and some people will go with this company simply because they can't get the same level of fit and comfort from any other company.
Pros
Neat, professional look.
Very rugged sole.
Wide options available for those who need it.
Cons
A bit basic.
Not particularly light.
3. Shimano XC5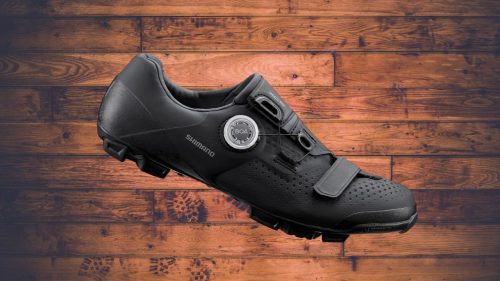 Shimano has quite a few different shoes that people have used for riding bikes over the years. They might be a little more popular in road bike circles, but some people go off-road and enjoy the shoes they produce as well.
The Shimano XC5 is not solely a gravel bike shoe, but a lot of people use it so that they have a durable option that holds up when not in the best of conditions.
Built more for mountain biking, that is actually an advantage for many gravel bike riders. Paying a little bit extra allows for one of the most durable outsoles out there, not to mention comfort from toe to heel.
Fatigue is a problem that many people deal with when riding on gravel bikes for a long time, but this is not really an issue at all with the shoe.
The reason why is that it has a lot of cushioning throughout, plus a carbon reinforced midsole that feels perfectly placed.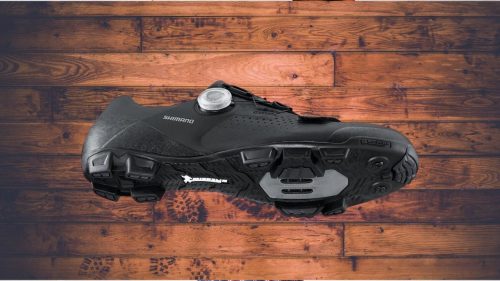 The walking aspect of a clip on shoe is something that a lot of people do not pay all that much attention to, but it does matter to a certain degree.
There is not too much walking done for people who ride bikes, but it is nice to have something that feels comfortable even when that time comes.
Pros
Very durable outsole.
Lace closure for a good fit.
Carbon in the midsole.
Cons
More of a mountain bike shoes than a gravel bike shoe.
Lace closure means it is impossible to adjust on the fly.
4. Giro Privateer Lace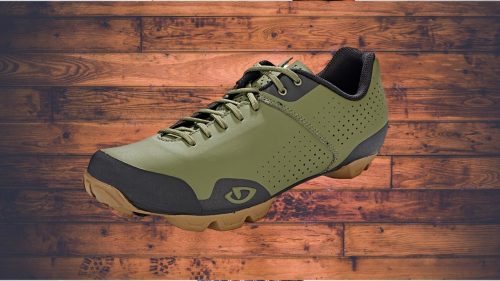 The shoe is technically designed for mountain biking, but it fits in nicely for those who want to hop on a gravel bike as well.
It is comfortable and lightweight enough to allow for plenty of speed, but it also has the durability in case a person is going off-road consistently.
When someone tries on the shoe, the first noticeable thing is that the sizing is a little bit off. For a tight fit, a person might need to go down a half size, but some people will prefer a more roomy fit.
Other than a tricky fit, it is a great looking shoe out of the box that is ready to take on a lot of wear and tear if needed.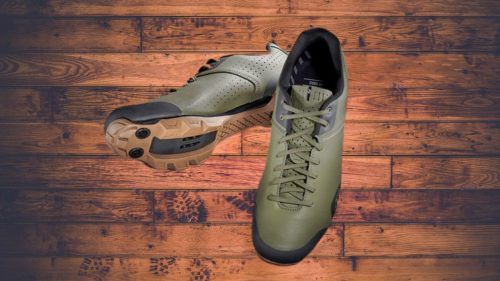 It is a comfortable shoe to walk around in, and it becomes more comfortable when clipped into a bike. There is enough cushioning for people to feel very confident when they are forced to stand, and it is pretty easy to walk around in when that is the case.
Giro is known as one of the most affordable options out there that still put out high-quality products, so it makes sense in a way that these are one of the best values out there for gravel bike riders looking for shoes.
Not everyone is going to like the more outdoorsy look that the shoes have, but make no mistake: they are light and efficient as well. If the goal is to go very fast on the trails or the road, these shoes will perform well.
Pros
Very comfortable with zero pressure points.
Affordable price for the technology.
Provides a unique look.
Cons
Sizing is tricky.
Does not give a fast type of vibe.
5. Specialized S-Works Recon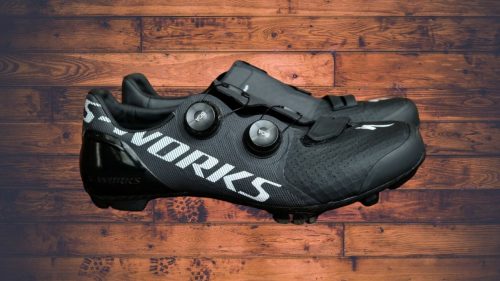 The final shoe to make this list is going to cause some serious sticker shock to some people. Yes, Specialized is only marketing to a select type of riders who wants the ultimate performance with this model, but they actually do live up to the price tag.
There are other shoes a fall in his premium range, but Specialized does the best job of providing value that makes a lot of sense.
First, a look at getting the shoes on the feet. Just picking them up allows people to tell just how lightweight they are. It almost feels like there the lightest running shoes a person can find, but they are still extremely strong and stable for long rides.
Getting the shoes on is a little tricky for those who are not used to using BOA dials or straps in the toe area, but it does provide a very good fit. Not only that, but they can all be adjusted while a person is writing so that they never have to stop.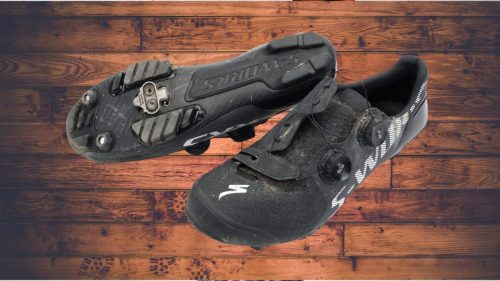 Once a person is clipped in, they provide the type of value that people are looking for when spending this type of money. The carbon sole is very stiff and provides quite a bit of grip.
It also just feels so lightweight. They are extremely efficient in every way, and allow people to feel like they are in control of everything when clipped in.
Pros
BOA dials really come in handy for fitting.
Weigh just 665 grams.
Carbon sole.
Cons
Price tag is too much for some to swallow.
Strap can feel a little flimsy.
Advantages of Clipless Pedals on Gravel Bikes?
Ask a person who rides with clip on pedals, and they will gladly talk about all the reasons why they do it. Sometimes people begin to tune out simply because they are talking way too much about why they love them.
However, there are some real advantages to using clip on pedals, and it is backed by plenty of studies and simple science as well.
Climbing
There have been numerous studies done to show that creating a constant power rate on steep hills can make a big difference in performance.
Clip on systems are very beneficial and that they can offer a person the ability to have a firm upstroke with their legs, preventing the bike from ever losing acceleration. If if a steep climb comes out of nowhere, this can prove to be beneficial.
Some bikers also find it difficult to ride without clips when going over rougher terrain while also climbing. Just having that extra upstroke can keep the momentum going and allow people to not feel like giving up nearly as quickly.
Quickness
Not a lot of people talk about quickness on a gravel bike, so what exactly does that mean? Quickness is another way to say short bursts of power to get through some tough situations.
For those who ride off road, there are bound to be a few different situations that are tricky at best. Whether it is sand, mud, or any other type of hazard, clip on pedals can allow people to be quick and powerful through that situation.
Without clips, a person might end up deaccelerating to the point that they need to stop in the middle of a tough situation. Sure, sometimes stopping makes the most sense, but it should be avoided if there are ways to power through.
Safety, body health, and stability
The final advantage that sticks out as far as gravel bikes are concerned comes down to simply staying safe when riding. Safety can refer to preventing injury from accidents, as well as preventing injuries from not using the bike the right way.
Clip on pedals are going to automatically keep the feet positioned in the right spot every single time the bike issues. This might not seem like that big of a deal, but something as simple as foot positioning could cause injury after peddling the wrong way over and over.
It can also cause issues outside of the foot, as everything in the body is connected to the repetitive motion. If just one thing is off in the chain, it can cause some health issues that might not pop up right away. Eventually, it will catch up to everyone, which is why getting the technique down is so important.
Stability also makes a difference, as poor weather could make people slip and fall at times if they are not clipped in. It does not make much sense to not have shoes that can't fit the right way on the pedal. Not only can this cause a health concern with the way the body is moving, but it can mess with the ability that could lead to accidents.
Disadvantages to clip on pedals on gravel bikes?
Investing in a pair of gravel bike shoes seems perfect in a lot of ways, but there are some disadvantages to using clip on pedals that people do need to be aware of.
Price
Even the cheapest option above is still an extra expense. There are so many different add-ons that people need to purchase that it might seem like overkill for some. Casual riders might not buy into getting dedicated shoes for the bike.
Learning the clip on pedal process
Learning how to clip in and clip out of pedals is essential for using them on any type of bike. Gravel bike riders might find it difficult at first, and they may even have an awkward fall.
Most people eventually figure it out, but it does prevent some people from jumping onto the trend sooner than they should.
Final thoughts
Even though there are some small inconveniences with clip on shoes and pedals, the truth of the matter is, nothing is perfect. There are bound to be a few things that go wrong from time to time when riding, and clip on pedals are going to do more good than harm for the majority of riders.
It takes some getting used to, but it is worth putting in the effort in the end. Those people who end up going with clip on shoe options hardly ever go back. For the ultimate performance, it just makes sense to clip in.