Anyone who enjoys riding in the winter months on ice understands that traction is extremely important. If a fat bike doesn't have the right amount of traction, it's going to be a very painful experience trying to ride and stay upright the entire time.
Some people can get away with using normal fat bike tires that are under-inflated, but it's recommended for avid riders on frozen lakes and icy roads to go with a dependable studded bicycle tire. They can be purchased ready to go, or a person can make their own studded tire so that it is completely customized for their riding conditions.
Are Studded Tires For Ice Riding Actually Needed?
People all around the world love the versatility of a fat bike, but if there is one thing that a normal set up struggles with, it is icy conditions. That's to be expected, because anything with normal wheels or tires is prone to slipping on the slippery surface.
The more a person rides in the winter off-road, the more important studded tires are. Maybe every single ride won't include a lot of snow, ice and frozen bodies of water, but it's worth the investment to have at least one studded tire to switch in when needed.
Best Studs for a Fat Tire Bike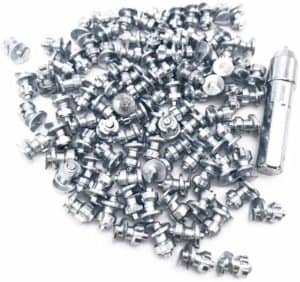 Nokian
Anyone looking to buy fat bike tires has a few solid options to turn to. The premium option for those people wanting the best of the best should look at Nokian (Amazon).
They are a trusted brand based out of Finland, and they have different tire options for different sized bikes. They tend to be on the high side of studs on each tire, but what stands out is their quality.
Dillinger
Dillinger (Amazon) is another brand that offers a high-quality tire with durable studs, low rolling resistance and more. What sticks out the most from them is just how smooth the ride feels on different surfaces.
They have the best tires for people who want the added traction, without feeling for a second that they are using a tire with over 250 studs installed.
Vee Tire Co.
Finally, a more affordable brand option is to go with the Vee Tire Co. (Amazon) Their tires provide a very crisp turn every single time, and they even use a compound on the tire itself that helps with traction in poor weather conditions.
It's a great starter option for people who might not be willing to commit to the expensive tires above, but still want a quality option without having to install studs themselves.
How Many Studs Per Fat Bike Tire are Ideal?
When purchasing studded fat bike tires, There is a decent amount of variation on stud count. The range tends to be anywhere from 150 on the low end, to just under 300 on the high end. It really depends on personal preference, just how much maneuverability is needed and more. The most popular options tend to be on the high side of the range.
No matter how many studs are used, a good fat bike tire is going to have densely spaced studs in the center, and dependable studs on the sides. This will provide minimal rolling resistance, allowing people to maintain fast speeds when going straight forward. The studs are not truly activated until they are needed for extra grip.
If a person decides to make their own studded tires, they can lower the count or increase the count if they wish. A lower amount of studs will reduce the weight and feel slightly more normal, but it might not provide the type of grip a person truly wants.
DIY Studded Tires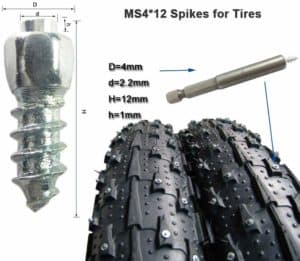 For people who are a little adventurous, there's always the option to make studded tires at home. This is the cheapest option, but also something that takes some time. A person must be a little bit handy, as it involves installing screws from the inside without causing any damage.
Besides saving money, homemade studded tires can be customized for whatever a person is looking for. Maybe a person wants a longer stud on the tire. Maybe only the front tire needs studded.
It is a great way to test out whether or not riding on a studded tire is comfortable. Just be aware that the very first time, they will probably be some struggles to get it close to commercial options.
Marrkey Studs (Amazon) is one trusted brand that makes a variety of studs for people to install themselves in fat bikes, shoes, boots, and more. They are affordably priced, and can be purchased in bulk for those people who want to have spares around at all times. Installation is fairly easy, and it allows people to really experiment in different ways.
Axis Studs (Amazon) also offers some pretty basic tire studs for people to try out. They are made of durable steel with tungsten carbide tips, so they will last a good amount of time even under heavy use. They come with instructions on how to install them properly, and what to do if any fall out.
Final Thoughts
Studded fat bike tires just make sense for anyone who rides on slippery winter surfaces. There is no reason to risk injury on simple turns. A good set of studded tires will feel pretty normal for the most part, but they provide that extra amount of grip that is so necessary at just the right times.
Even if a person wants to start out with just a single studded front tire, it is a good start to get a feel for how it works. Some people will be fine with just a little bit of added protection when making sharp turns.
Anyone looking to stay active on their bike in the winter months needs studs on at least one of their tires so they are ready to tackle anything snowy or icy trail they might find. Take good care of them, and the tires can last just as long as regular fat bike tires. Stay away from wearing them down for no reason on hard pavement and similar surfaces.