The Cannondale Fat CAAD 1 bike has been around for a few years, and the 2021 version seems to be trending in the right direction. They made a few adjustments to enhance this bike a little bit more, and first impressions are that it still rides and feels as fast as ever.
Those wanting to pick up big speed on a fat bike without sacrificing all the comfort and versatility that comes in this package will like what Cannondale brings to the table. Is it worth the upgrade from previous versions? This is a more in-depth look at what one should expect out of this latest option.
Fat CAAD 2021 Stand Out Features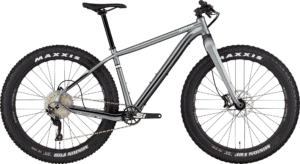 Before jumping into all of the major features with this bike, there are three, in particular, that stand out to those who are shopping.
The company has made sure that they provide a bike that is fast for different types of riders, with the focus on those just starting out on fat bikes. While it is not going to perform as high as some of the best options out there, it is still very good at what it does.
SmartForm C1 Alloy frame with Fatty Fat Rigid Fork
It is a bit of a mouthful, but the frame and fork combination on this bike is upgraded from previous years. The frame feels a little bit lighter, yet stronger.
As for the fork, it does a great job at its price point. The rigid fork is perfect for any type of riding condition, and it makes riders feel very comfortable from the first mile to the last.
At this price point, it is going to be very hard to find any alloy frame that is as lightweight and as comfortable as this one. In fact, some people are surprised that it is not made of a lower level carbon instead of an alloy. It provides that level of feedback that people love.
As great as it would be to have something that is made of carbon, that is not going to be completely feasible at this price point. The good news is that the alloy frame feels a lot like an affordable version of a carbon fiber option.
Those who have never had a full carbon bike in the past will still feel this to be a really big upgrade overall. Cannondale does a great job making sure that they get the right type of alloy that works specifically for this type of riding.
They switch up the formula a bit with other bikes that they offer as well.
What exactly are people getting out of the Fatty Fat Rigid Fork? The most noticeable change in feel is that a person will have a livelier, more precise type of steering.
This is great news for people who are just learning how to navigate with a fat bike, because it can sometimes feel a little complicated. It does not have to be a chore to move around with the bike when it is set up in this way.
Most people who are investing in this fat bike know that they are paying a little bit extra for a fork that is good enough without needing a replacement itself.
There are some cheaper fat bike options out there, but it usually means having to pay for a new fork and spending a lot of money after the fact.
Shimano SLX 11-speed drivetrain with hydraulic disc brakes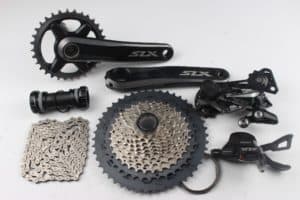 The combination of an 11-speed drivetrain from Shimano and hydraulic disc brakes makes this a very dependable option for people to count on every single time they go on a ride.
Having a trusted drivetrain certainly helps for people who are just starting out, and Shimano is one of the best in the business at what they do. A lot of people are instantly drawn to the name, but this is a high-quality option from them in particular.
As for the brakes, it does not get much better than hydraulic at this price point. They work as they should, and allow people to stop when they need pinpoint accuracy.
It is one of the best brake systems at this price point, which is always a plus with fat bikes in general.
For those who never use hydraulic brakes before, there are a few advantages that really make a difference for people out there. Maybe the biggest advantage is that it just takes less effort to keep things running smoothly overall.
They automatically suffer just as they were going to wear down, which extends the life of the brakes as well. There is also less that can go wrong in most cases, which is always nice when in the middle of a longer ride.
Sun Ringle Mulefüt 80 SL rims and Maxxis Minion 3.8" tires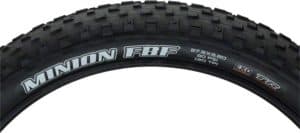 The final stand out feature might be a true fan favorite. Cannondale once again comes back with quality rims and tires to make this a very fast ride overall.
The 80 SL rims are very solid, allowing people to get the right amount of sturdiness and flexibility on any type of rides. They are very durable, are seamless to work with, and feel great overall.
As for the tires, it is always a nice thing to see a fat bike that comes with tires that do not need instantly replaced. These are some high-quality tires that a lot of other companies can learn from.
The Maxxis Minion options are a little on the small side, but that is what people are expecting when they are trying to get a faster fat bike overall.
If a person wants a fat bike that is more on the comfort and overall feel side of things, they might go with a thicker tire.
There will always be some people who believe that a true fat bike is not going to have tires that are that skinny. For those people who insist on that thinking, this might indeed feel a little too hybrid for some people.
It is still going to be very beneficial for a lot of riders, and makes the transition a bit smoother. Instead of learning to ride with a tire that is significantly thicker than ever before, it is just that much easier to go with the solution instead.
If the old way of how Cannondale bikes tend to work relates to this version, the tires are going to last a very long time.
Unless there is some type of wreck or crash that compromises them, they should be able to last through just about anything. They are very durable and strong enough to withstand any type of minor issues that might occur.
How the Fat CAAD 1 Performs on Different Surfaces
The beauty of a fat bike is that it can perform well on just about any surface out there. This bike is built for speed, but is it great when compared to all the other options out there?
For people who are looking for a well-rounded option, it is a very good idea to check this one out. It brings so much to the table, and people are blown away with the feel from the very beginning.
Snow
The bike can handle light snow very well. It has no problem finding its grip, and a person will only have to slow down a little bit on turns to feel comfortable.
A lot of that comes down to the quality of the tires that come with the bike, and beginners will not find it to be that much of a challenge.
Heavier snow is maybe the one weakness of this option, simply because it does not have the thickness of tire that a lot of others do.
Since it is built more for speed, it is not going to handle heavy amounts of snow particularly well. Yes, if the plan is to ride in heavier amounts of snow, it might make more sense to go with something a little thicker with the tire than standard sizing.
There is no 3.8-inch tire that is going to handle heavy snow as well as one that is between 4 and 5 inches.
Dirt/Mud
This is a very enjoyable ride for people who are going to mostly be on dirt. Since most dirt is not going to get too tough to handle, it is perfect for a fat bike tire that is not particularly thick.
A person can still pick up the speed with these tires in particular, and they do not have to worry about losing comfort to get that level of speed.
Even when it rains quite a bit, it is so pretty easy to use this as a bike on dirt trails. The grip of the tires makes this possible, as the grooves are deep enough that they are going to withstand a little bit of mud.
It is going to slow down the ride overall, but people are still going to feel pretty safe.
Pavement
Fat bikes are perfectly fine to ride on flat surfaces, but they are not going to be able to go as fast as other bike options out there.
The good news with this faster Cannondale option is that people can keep up to a certain degree on the road. It is nice to have a fat bike that does not feel very heavy and tough to maneuver at times.
It seems like for a while, fat bikes were getting bigger and bigger, but now they are slimming down as a way to give riders some different looks.
Is this going to replace a road bike or even a hybrid bike? Most likely not, but it is a lot better than using some of the more intense fat bikes out there. In a pinch, it is going to perform well enough that a person is not going to get too frustrated.
Comparing This Fat Bike to Other Options from Top Companies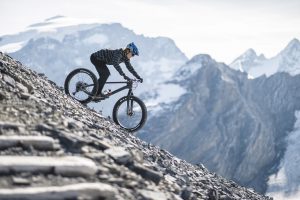 All the major players in the fat bike industry have bikes that stack up to this Cannondale Fat CAAD 1 2021.
The two that are most like this bike happen to be the Trek Farley 7 and the Giant Yukon 1. Some variations of these options have been around for several years, and they make updates just the same.
There is a little bit different geometry and the feeling might be slightly different, but a person can't go wrong with either fat bike from those companies as well.
Cannondale seems to be a little bit more affordable with the new release in 2021, and that is something to keep under consideration.
The biggest benefit for the other bikes, especially the Trek option, is that they are usually a bit easy to find locally. This helps when initially making the purchase, and getting any repairs done as well.
Cannondale seems to be very popular in certain parts of the world, while others completely ignore it. For some people, they will find Cannondale bikes out on just about any trail out there, and that is usually a good reason to buy one locally.
If it seems like there are not many around, it might be a little more difficult to find quick fixes. There are always ways to order components online, but not everyone is a huge fan of doing that when they are pressed to get something fixed as quickly as possible.
It just becomes a little complicated overall, and people usually do not want too deal with that when up against the clock.
Is the Cannondale Fat CAAD 1 Upgradable?
There are some options to upgrade this bike if a person really wants to. For example, some of the components could work a little bit better with an upgrade, but most people are not going to complain.
This is an entry-level, budget-friendly bike that most people are going to eventually graduate from if they ride enough.
Maybe the biggest upgrade is eventually going with better and better pedals. It might not seem like it would make a huge difference, but pedals matter at the end of the day.
Getting the right fit, for the right type of riding, will give a rider a little more confidence going up and coming down on trails.
Colors, Customization, and More
Cannondale keeps things pretty simple with color, as the new version comes in a pretty standard grey. There are a total of four different sizes, which allow people to get a bike that works for them.
Once they purchase a bike, they can then start to make some adjustments as far as additional sizing is concerned. It is always important to make the little tweaks necessary to feel like the bike truly operates as it should.
The color of the bike might seem a little mundane, but it is really good at not showing a lot of wear and tear overall. Some people really like that out of the fat bike, because they are planning on using it and riding it around pretty consistently. No one wants to be on a bike that can't take a lot of wear and tear consistently.
Making different adjustments on the fly is pretty easy, which is good for those who are traveling and do not want to completely dismount.
While a person should limit the number of changes they make to the sizing overall when they are moving, it does not hurt to change position a bit so that each pedal is as efficient as possible.
Fat CAAD 1 Fat Bike Pricing
Cannondale bikes sometimes have a pretty high premium, but it is like they avoided that altogether with this option in 2021.
It is one of the best values in this price range at the time, and the components make people feel very confident that they are getting something that can last a while.
To get something that is lightweight, with quality components and tires that do not need to be upgraded, it usually costs well over $2000. To get it at a bit of a discount, it is certainly one that makes a shortlist for any person out there.
Final Thoughts
Most people are just looking for dependability out of their first fat bike, and that is exactly what they get from Cannondale.
It is a fat bike with plenty of nice specs on it for the price, and there is even an option to upgrade if a person really wants to. All in all, people looking to get into fat bike riding should give this a try in 2021.