Rocky Mountain Blizzard fat bikes are one of the most well-respected options out there right now. A lot of people have started to get into fat biking recently for the first time in their life, and they have options for beginners as well as seasoned pros.
With so many people out there shopping, they might not know exactly what works best. Is there a true option or two that makes sense? The good news is that with Rocky Mountain and their Blizzard line, multiple options stand out.
All four of the main bikes have positives and negatives, and they are built for specific types of riders. Depending on a person's budget and experience, they can get what they need when they want it.
Even the highest-priced options are still very aggressively priced for the components, making these a very economical choice for those wanting to spend their money wisely.
Rocky Mountain Blizzard 10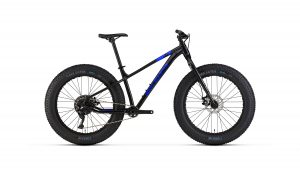 The Rocky Mountain Blizzard 10 is currently the cheapest option offered by the company. With a standard price that is amongst the cheapest out there for fat bikes, the company puts a lot of technology in the setup.
It is not going to be the best overall performer by any means, but it is a great starter option for those who are trying to get into fat bike riding for the first time in their life.
Blizzard 10 Pros
With the 2021 model, Rocky Mountain has made a few changes that a lot of people will love. The components have seen a few upgrades here and there, and the bike rides smoother overall.
Geometry stayed relatively the same, but there are some changes that have allowed people to get a slightly more customized ride. This is great news, since one of the previous complaints was the bike feeling a bit too stiff when riding for too long in the past.
The bike is also upgradable, which is not always the case when going with a budget option. There are people who are going to make some slight upgrades so that they can hold onto it for the longer, which is a way to get the most bang out of the buck.
With a 2021 model, some of the upgrades will already be on there, so it reduces the opportunity to make changes as well. For one example, the shifters and derailleurs are both much better than in the past. The Shimano Deore version really comes in handy on a budget bike like this.
Blizzard 10 Cons
The bike is a bit limiting for riders out there who have a decent amount of experience on fat bikes in the past. It is tough to get a rhythm as a bike rider when the option is a little heavy, does not have top-end parts, and struggles in really tough terrain.
This fat bike is meant to operate on pretty well-groomed trails overall. If the goal is to go out there and go on a bunch of tough rides every single day, this might not be the option.
Not only is it a little more challenging to pick up speed, but the wheels are not quite as tough as some of the upgraded models. That is not to say that it is fragile by any means, but it is something to consider.
Overall Recommendation
One of the biggest limitations to fat bike riding in the past has been finding an affordable option. There are so many people who have been turned off as a sport, simply because they could not find something that fits in their budget.
The 2021 Rocky Mountain Blizzard 10 pushes the limit once again as far as what can be available on a budget option.
Instead of feeling forced to settle, getting a bike option that does feel a little flexible for riders gaining experience extends the life of the fat bike.
When it does come time to upgrade, these fat bikes should hold value well since their components last a solid amount of time.
Rocky Mountain Blizzard 20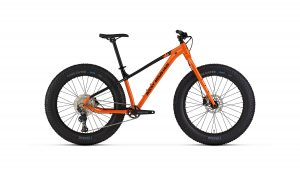 At a pretty good price point and with plenty of upgraded features compared to the 10, a lot of people view the Rocky Mountain Blizzard 20 as the best bang for the buck.
It is certainly the most versatile, built for so many different types of riders. Should it be the purchase of choice?
Blizzard 20 Pros
Not only can beginners hop on this and have a good amount of fun, but those who have gone on a few fat bike rides in the past will not feel like they are being held back too much.
Sometimes, this is the best option to go with for people who ride only when they get the opportunity to. There are very few people who truly treat fat bike riding incredibly serious, so spending hundreds of dollars more for slight upgrades might not seem like a wise use of money.
The newest version of the Rocky Mountain Blizzard 20 comes with a different color scheme, upgraded parts, and a slightly more versatile geometry.
It still has a lot of upgrades for a little bit more money than the 10, and riders are happy that they have trimmed a little bit of weight off of the previous version.
People love the fact that the Blizzard 20 is affordable for the components. It does its best with downhill performance, but it is also able to climb pretty well.
Having confidence going both ways helps tremendously, as people can really start to develop into solid riders. There is a way to never feel limited by certain trails, as entry-level fat bikes struggle with anything too challenging.
Blizzard 20 Cons
There will always be some people who feel like they are settling a bit with the Rocky Mountain Blizzard 20. It is true that it does a lot of things better than the Rocky Mountain Blizzard 10, but at the same time, there is a way to go up a bit and try out the Rocky Mountain Blizzard 30 as well. Since it sits in the middle, it might never seem like a perfectly fine option overall.
It is hard to complain too much about stock tires, but it would be nice to see an upgraded option on this version of the Rocky Mountain Blizzard in the future.
They are a little too close to exactly what is offered on the entry-level option, which can be frustrating. The only way to get upgraded bike tires is to jump up to the higher price version, but there are enough options out there to make a slight upgrade if they really wanted to. It is a small problem to have, especially if a person is trying to ride on a specific type of terrain.
Sizing adjustments can feel a little limiting, but he will just need to mess around with certain settings and see what works for them. It is very important to get proper settings because this bike will feel very uncomfortable if it is not sized properly.
For additional assistance, going to a bike shop might be the best way to go. Pedaling efficiently and sitting in the right position is going to make a world of difference, but it seems like they make it more challenging to get to that happy spot compared to others.
When looking at upgrades over the years, it seems like this has been lacking a bit with the Rocky Mountain Blizzard 20. While other bikes are starting to close the gaps, this one seems to be stuck in mediocrity.
There is no telling if Rocky Mountain Blizzard plans on shrinking their blueprint in the future and going down to three different options, but it certainly seems like they are blending a bit.
There might not be enough standout features for people to upgrade to the 20 from the 10, and the 30 might be a more justifiable jump.
Overall Recommendation
For all of the questioning some might have between the Rocky Mountain 10 and the 20, the truth of the matter is that this is still a worthy upgrade.
In fact, even beginners should highly consider the Rocky Mountain 20 as the best first fat bike. It is still very user-friendly and allows for more growth and longer life in general.
Is it the perfect option? Most likely, this is not going to be the fat bike that lives on for an extremely long time. Most will upgrade it at some point, as they start to reach limitations overall.
For something that is still well under $2000, shopping for fat bike value does not get much better than the Rocky Mountain 20.
Rocky Mountain Blizzard 30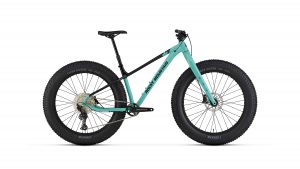 Whenever a fat bike goes over $2000, people expect quite a bit of return. Investing in the Rocky Mountain 30 is a positive experience overall for a lot of people, especially if they want to take the sport a little more seriously.
Blizzard 30 Pros
Going on longer rides, having the versatility to go on different terrains, and more bonus features have a lot of people loving what the Rocky Mountain Blizzard 30 brings to the table.
For the newest version, it is great for those people who are going from casually riding and wanting to change things to another level.
Fat bikes must handle a lot of different qualities for them to be at their best. Having a more attentive, aggressive positioning may not seem all that comfortable at first, but riders get used to it.
There are many people who are going to try to make the proper adjustments so that they are having efficient pedals every single time.
This ensures that it is much easier to pick up speed, handle treacherous conditions, and feel like they are really going somewhere for the most part.
One of the beauties of the Rocky Mountain Blizzard 30 is that riders get a good idea of what they can accomplish simply by shifting how their body is controlled.
There are a lot of cheaper fat bikes out there that do not give that type of feedback. Riders can sway around a bit and really see what works best for them, and those subtle changes are a great addition.
If the number one goal is to ride on snow, an entry-level fat bike is going to be a little difficult once a person starts to get the hang of everything.
It is frustrating to pick up speed, especially if there is a little bit of depth to the snow overall. With a way more sporty and aggressive geometry set up like on the Rocky Mountain 30, and the Rocky Mountain 50 below, many believe it is worth paying the extra money.
There are some subtle changes to help make this bike easier to go on longer rides. It may not seem like much, but a change to the main triangle of the frame, adding cage mounts, and having strong components all make a difference.
The bigger triangle gives more storage space, which is never going to be a bad thing for the longest of rides. Cage mounts on the fork are great options for comfortably storing items as well.
Higher quality components mean fewer stops, and it also means that there is less of a worry of anything breaking down. Think of it as a way of simplifying the fat bike riding process and making everyone feel as comfortable as possible.
Blizzard 30 Cons
For a fat bike at this level of price, it probably should come with better stock tires. It is not that they are terrible, but they do not provide the same type of top-end speed that a lot of people would like to see.
They are built for comfort and durability for the most part, and most people sacrifice a little bit to get something that can move significantly quicker.
It will sometimes feel like the bike is just sinking into snow or sand, and people might be left behind when they think that they can keep up.
Downhill riding is probably fine, but climbing is still just a little clunky on steeper grades. Maybe it has to do with the size of the tires, or the fact that there are no gears to really feel comfortable without getting out of the saddle and digging deep.
Seasoned riders are not going to care that much about having to do something like this, but it can be frustrating to not get as much speed as a person might want by sitting and relaxing somewhat.
Finally, the sizing and adjustment options do have some limits that are frustrating for riders who might not be the traditional size.
Anyone who is particularly small, or particularly large is going to have a hard time getting a setup that works for them. Even though there are a few sizes, the adjustment options are not as wide range as some would like. This makes the fat bike very clunky for those who stray too much from the norm.
As fat bike riding becomes more and more popular, a lot of brands are becoming more accommodating for shorter and taller riders.
If possible, make sure to sample a fat bike from Rocky Mountain before purchasing. This is especially true for those who might feel like they are on one side of the spectrum a little too much.
Overall Recommendation
This is the first serious performance fat bike from the Rocky Mountain Blizzard line. It is not that the other two fail to perform at a decently high level, but there is a jump that is very noticeable from the 20 to 30.
At the same time, a person does not necessarily have to spend as much money as they need to get to the 50, so it is a nice compromise in that regard.
No, it will never be perfect for the most particular rider, but it does a good job as it is. It has the type of base that makes it perfect for upgrading as well, so getting closer to the Rocky Mountain 50 without having to buy a brand new bike is possible.
That means people can start with this slightly lower price option, and then gradually move their way up by upgrading themselves.
Rocky Mountain Blizzard 50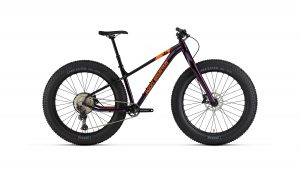 The Rocky Mountain Blizzard 50 is the cream of the crop as far as fat bikes are concerned from the company. It is something that is going to cost a decent amount of money, but people are not forced to make upgrades often at all.
Coming in either a 26-inch or 27.5-inch wheel size, a person can actually upgrade to a 29+ option as well. This makes it better than most versatile frames out there, but it is much more than that.
Blizzard 50 Pros
There will always be some people out there who like having the opportunity to make adjustments to the current bike and upgrade along the way.
For others, they want to buy something right away that is able to perform at a high-level, and the fewer the amount of adjustments, the better.
This is definitely for those who want a hands-off experience, as Rocky Mountain 50 comes with everything a person could ask for.
When it looks lighter on paper compared to the other options, it truly lives up to the billing when riding around as well.
The weight distribution is noticeable, as it is so much easier to handle the same type of hills when compared to the Rocky Mountain Blizzard 30. It is almost night and day when compared to the Rocky Mountain Blizzard 10 and 20, which should come as no surprise.
Rocky Mountain took no shortcuts with what they bring to the table as far as overall components are concerned. With a Blizzard 50, every single rider is getting a very solid set of overall.
It all starts with the Rocky Mountain 6061 SL Series alloy, which is a perfect frame for all types of conditions. The Rocky Mountain carbon fat fork smooths out the ride in an outstanding way.
There are some people who might not realize how much of a difference a quality carbon fork makes, compared to something that is just thrown on there.
Even if a person goes extremely off-road and is dealing with the most challenging conditions, they will find stability, maneuverability, and even speed.
Tires are sometimes a complaint with the Rocky Mountain Blizzard line, but those who spend the most money upfront are going to get high-quality options.
This is good news for those who do not want to go ahead and spend an extra amount of money on better tires at the end of the day.
The tires are built to stay extremely durable, and they are also lightweight in every way possible. They have made sure that the wheels and rims on the tire can stay as aerodynamic as possible, which does make a difference.
All in all, it seems like as soon as a person gets a taste of the Rocky Mountain Blizzard 50, they understand why it costs what it does.
It might be a hard pill to swallow to spend that amount of money on a bike and then abuse it on some pretty tough trails, but it is a way to stay safe and still travel a fast pace.
There are way too many people who ride subpar bikes, and it can put them at risk if they are pushing the limits. This bike is built for pros and can handle any type of challenge that might be out there.
Blizzard 50 Cons
Even at the highest level, Rocky Mountain Blizzard fat bike options are still just a little heavy compared to the competition.
It made that seem like that big of a deal when on the bike itself, but it is slightly noticeable. The longer a person plans on riding each and every time, the more of an impact something like this can make.
Components across the board should be robust when paying this amount of money for a fat bike. They are for the most part, but some people will not be satisfied completely and feel like they need to make upgrades.
There are certainly opportunities to do that, but the bike quickly becomes priced over $3000. In fact, when everybody is done with certain changes, it can become a $4000 or more bike.
There will always be some people who believe that they need to be constantly tinkering with a bike. For others, this becomes an unhealthy habit where they are constantly trying to find the next big thing.
The Rocky Mountain Blizzard 50 is a great bike as it is, and people should not be too caught up in trying to keep up with the latest technology all the time.
There are a lot of people fanatical about their fat bikes at this level, but Rocky Mountain tries to do a lot for people so they do not have to worry.
Overall Recommendation
There is really no need for a certain demographic to buy something this expensive as a fat bike. They are going to notice the differences, and there is a chance that they will never reach that point.
Only those who have experience in the past should look at something like this, as it will provide a new challenge and unlock other trails that might seem impossible to handle with a more entry-level option.
The sticker price sounds expensive, but this is actually on par with some of the other similar high-end fat bikes from different companies.
In fact, many view what Rocky Mountain has been able to accomplish as pretty remarkable. For under $3000, a person can get very high-end parts and a bike that is good enough for professional riders.
They may need a few tweaks here and there like everything else, but it should live up to the billing for most riders.
Wrapping Up the Rocky Mountain Blizzard Line
No matter what option a person ultimately chooses, Rocky Mountain is known for quality customer service, affordability, and innovation.
They are always trying to push the limits as far as fat biking is concerned, and they seem to be one of the true passionate companies in the riding world.
As long as a person does a decent amount of shopping around, they should find a fat bike that works for them best. It might seem a little challenging to do everything online, but there are alternatives out there.
For example, finding a local retailer for Rocky Mountain bikes could be a way to sample them all. They are also more detailed reviews in video form that might help out better for people who want to make smart decisions.
Make sure to remain honest with the overall experience, as well as how much riding is planned. In the end, something should stand out and ultimately work.
All the bikes hold value, as the newest 2021 versions have upgrades to keep them current. That means that even if a person only holds onto a fat bike for a couple of years, they should be able to get a decent amount of money to then use towards an upgrade.
Rocky Mountain deserves mention as one of the best brands in the fat bike industry, and the four options above all have a high number of satisfied customers.
It is worth joining the crew and ultimately enjoying fat bike riding from a company that knows exactly what it is they are doing.
The 2021 versions are all nice, affordable upgrades that many riders should be excited about as the company keeps up with the competition