As one of the more popular fat bikes that both beginners and seasons riders enjoy, the Surly Pugsley line definitely has a strong fan base. That is why it was a little shocking to see that for 2021, there are no plans to launch a new version.
There will be no brand new Surly Pugsley 2021, but that does not mean that the sales will stop completely. It will still be available through different outlets in 2021 with a slightly dated model. With no new changes, is it still worth the investment in 2021?
A lot of fat bike riders still recommend the Surly Pugsley, even if it is the same option that has been out for a while. Its ability to be one of the best in off-road exploration and touring, while also being affordably priced, is always intriguing. Here is a closer look at why this bike is as popular as it is right now.
Initial Impression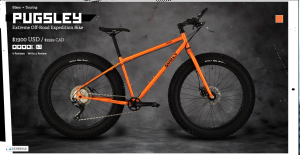 Whether it is a person's first fat bike or an upgrade from a previous model, the first thought might not be the most positive. It is a pretty heavy bike overall, as it is a steel-framed option with gigantic tires, even for a fat bike.
If a person is looking for a lightweight option to get started with fat bike riding, this is not the best choice by any means.
It is not all negative though, as it feels heavy picking up, but it is easy to get going. The tires are very grippy, but the rolling resistance is not too bad. There is a way to get a little bit of coasting action from time to time, which is always nice on longer rides for a bit of a pedaling break.
Comfort is something that Surly gets right with this model, as people can get on right away and feel a difference. Having the ability to adjust the settings a bit here and there can also be very beneficial.
The Pugsley is one of those bikes that can fit just about any type of rider out there, making fat bike riding in general much more accessible.
Versatility On Any Surface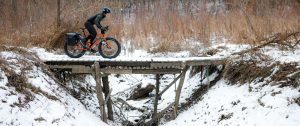 One of the major selling points of the Pugsley is that this bike is designed for all types of riders. A person does not have to use it for the snow or the sand necessarily.
It can fully replace a mountain bike in many cases, and that is exactly what people are looking for at this price point. A lot of people invest in a mountain bike, but do not really use it for off-road riding because it does not feel stable enough for them.
Being able to roll pretty well on any surface makes it a versatile option that can be the only bike a person owns if they want to.
It might not be the best to commute on the pavement every single day, but it can be done and people do it all the time with a bike like this. Having the chance to hit the trails and using it for fat bike specific situations certainly help.
Out of all of the various fat bike surfaces, it probably does the best on snow. Its ability to really dig in and handle different types of snow will make it beneficial for people who live in colder climates.
It has tires to come with the bike that do very well on keeping the bike stable and ready to go in any scenario. It is a great learner's bike for people who have never gone on long rides in the snow before, as people will start to gain a little bit of confidence as soon as they get on and keep going.
Focusing On What It Gets Right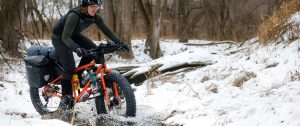 The Surly Pugsley does not try to be something that it is not. Instead of trying to be a completely versatile option that will work for beginners and people looking to set time records on a course, the Pugsley stays as a strong, middle of the road option. That means there are truly no weaknesses with the bike, but it will also not stand out.
Surely understands that there are a lot of people who are intrigued by fat bikes, but turned away by the price tag. While a bike that is still over $1500 is not exactly the most inexpensive option in the world, it is one of the cheaper fat bikes a person can buy.
Having a chance to get into the game with a little less money, while also getting a bike that should last for a while, is intriguing for many riders.
Another Better Fat Bike In 2021?
With the Pugsley going without an update in 2021, some people will be just fine with the slightly older model that might come at a discount as the year goes on.
Others will want to look at others from the company, including the likes of the Moon Lander, Wednesday, Big Fat Dummy, Ice Cream Truck, and more.
There might also be something up the sleeve of Surly bikes in general, since they have not made any formal announcement about what will replace the Pugsley line.
With its popularity, it would be crazy to think that they will not at least come up with something to replace that option in that price point. Some bikes come close to the overall frame setup, but not the exact same.
Difference Between Surly Pugsley 2020 & 2021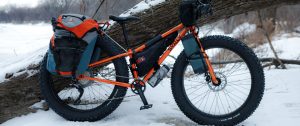 The biggest change from the previous model is that there is a bit more tire clearance overall. This is done to make sure that the bike can go on expeditions and make the most out of a trip. Some people will not really notice any type of difference with this increased tire clearance, but others will feel like it as a welcome change overall.
Pugsley has always been a great bike to try different tires on so that everything seems to work as it should. There are many people out there who might be a little bit afraid about making a few changes with the bike overall, but it is always worth trying out a few things to see what fits.
Other than that, some necessary upgrades as far as components are concerned make this a pretty modern option. It is still going to very much feel like a top-of-the-line choice for a bike at this price range, but getting a brand new 2021 version is just not in the works right now.
Is The Surly Pugsley Worth It?
When this line first launched, the Surly Pugsley was known as an expedition fat bike. Having the ability to interchange the front and rear wheels gave people versatility. It has always been priced inexpensive enough for people to enjoy as a beginner or someone who has been on fat bikes for a long time.
Maybe the Pugsley line will come back another time, but for 2021, living with a slightly older model does have some benefits. Some outlets will end up discounting the bike a bit, while there is something to be said for having a lot of data out there as far as ride testers are concerned. Many people loved what they did with the bike in 2020, so if it is not broken, why fix it?
There has always been a bit of a loyal following with the Surly Pugsley bike throughout the years. Ask a person who has been riding for a while, and they had nothing but great things to say about the setup.
Maybe people will eventually graduate to something bigger and better, but this is a great way to get into fat bike riding and really start to enjoy things.
This is very much still recommended as one of the top choices going into 2021 for fat bikes. While it is not a perfect option, it is about the best value one can find for under $2000.
Having the opportunity to work well on many different surfaces certainly helps, and people know they are getting a trusted brand that stands behind their product. There are many companies out there trying to get into the fat bike riding world, but not all of them can live up to expectations.
A final bit of recommendation for buying a Surly Pugsley is to make sure that all adjustments are made to get the perfect fit. Some people might initially complain about how the bike feels, but it comes down to doing the little things to make sure that everything is adjusted correctly.
Too many people go with the stock setup, and then they complain that they are not getting the type of fit they are hoping for. That is just not going to work when a person is investing in a fat bike at this price point.
Tinker with the adjustable settings a bit, and the ride will feel significantly different in the end. This can easily make the ride feel great for years to come.