As more and more people get into downhill biking, the demand seems to be there for lower-priced options. A person still wants to get something capable of performing at a high-level and keeping a person safe, but they might not want to spend thousands and thousands of dollars doing that.
What are the best downhill bike options right now on a budget? Not all the companies will be as well-known as the huge mainstays in the industry, but they are growing just the same. The smaller Direct to Seller companies can cut costs in a few different ways, still providing quality without forcing people to make a sizable investment.
1. YT Industries Tues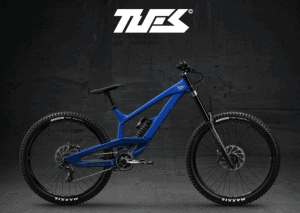 It will always be a more affordable solution to go with direct sales only brand compared to other companies. YT Industries tried to change things up when they first launched the new bike, and they wanted to make sure that they could compete with the very best in the world.
Thanks to having a few top athletes, they have been able to take the sport by storm with the YT Industries Tues leading the way.
This is a bike that is a very solid option for people who want to ride every single day. The affordable option is made of a very comfortable aluminum frame that many people feel is more than sufficient. It feels comfortable on all types of terrain, and maneuverability is enough to work for even the best riders out there.
There are some technical aspects of the bike that help out as people give it a try. Components like a solid, yet flexible when needed fork, very dependable brakes, and a suitable drivetrain all make this one of the best bargains out there.
Maybe the only downfall of this bike is that it is too popular for its own good. As more and more people get into downhill biking, it is becoming very hard to find it in stock.
So many people are trying to invest in this bike and use it for their own good, and it can be very tough to get the bike shipped out.
To make matters worse, the sizing is a little bit off, so people have a hard time finding well that fits them the way it should. Taller riders might have to spend a little bit more money to get the extra-large sizing. It is not a huge hassle, but a bit of an added expense.
Pros
Built from the ground up for unique performance.
Handles challenges on trails well.
Excellent components.
Cons
Not always in stock.
Sizing is hard to get right online.
2. Canyon Sender

This is another company that does direct sales only, and the Canyon Sender has a price that reflects that. People will get one of the best bikes out there because they can offer great components that can stack up against race options without charging people an arm and a leg.
The aluminum models are made the same way as the carbon options, giving people that geometry that is comfortable and geared toward performance.
Speed is always going to be the name of the game with the Canyon Sender's set up. A 27.5-inch wheel size and four different frame sizes allow people to get just the right fit.
They can take on any trail and really start to see a difference in performance right away. It is a bike that feels very comfortable when going downhill, as a person always feels like they are in control the entire time.
Maybe the best thing about the entire Sender line is that a rider always feels like they are in control. Those who might not be entirely comfortable riding downhill just yet help tremendously to have that extra bit of control.
The steering is phenomenal, the way that the tires grip the ground is great, and it is built to handle a lot of different things thrown away so that the bike stays durable as possible.
Suspension on the bike is one of the best out there, and people will notice just how great it feels from the very beginning. It is too bad that it is nearly impossible to test ride this downhill bike because many people would fall in love with it in person. Take the chance and order online, and it will be great as well.
Pros
Versatility in sizing and options.
Built to last.
Easy shipping.
Cons
Tough to purchase without ever trying in person.
The carbon option gets very expensive.
3. Commencal Supreme Park

Commence has done a very good job of providing an affordable downhill biking option that allows people to pick up quite a bit of speed.
It is built for many different types of riding, and a lot of people love the fact that they can go on long rides without having to worry about whether or not it is going to hold up or not. It is a great training bike for people who have a more expensive option, or an all-around option for just getting into the sport.
Thanks to the lightweight feel and overall flexibility of the bike, people can try all the stunts they want to see how things go. Whether it is pulling off jumps, going sideways, drifting, or anything else, it is very easy to pull off different moves when going downhill.
They can keep prices down because they are not exactly the biggest brand, and they use slight shortcuts like a 7005 alloy frame, fairly common wheels, and more.
It will not leave people thinking that they are not safe as they are riding their bike, but it is something to consider if a person only wants to have the best of the best.
This bike probably will not last as long as some of the higher-end options, but the price is what will keep people coming back. It will still hold up if something does go wrong, but the bike could start to wear down a little faster and force people to buy a replacement.
Finding the Supreme Park bike is a little harder than it used to be these days, which is a negative for people looking for a great price. When it does become available, they are very expensive, but some of the more popular sizes are hard to find.
When it becomes a little too tedious, some people will go in a different direction, but it is always worth keeping an eye on things to see when they might show up.
Pros
Very lightweight for the cost.
Easy to pull off tricks and push the limits.
Feel safe.
Cons
Tough to find in stock at times.
Components could use a bit of an upgrade.
4. Rose SOUL FIRE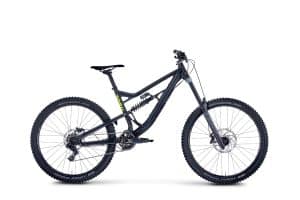 Rose bikes have a few options for people to check out, but the Soul Fire might be the best value out there. It is a downhill bike with a few different models, with a base option being very affordable.
They have been able to keep things pretty cheap overall, and this is all possible without having to take away any components people love to count on.
The first thing that people notice with the Soul Fire is that the linkage ratio is slightly different from many of the other bikes in this price range.
There is a lower spring rate overall, which takes some stress off the suspension hardware and dampener. This is done to increase the rider experience, and positive feedback has already been achieved.
A slightly more tapered head tube is also great for people who love flexibility like this. Having the ability also to adjust the chainstay means that a person can get just the right fit for them with so many different adjustable options.
Since it is a small company, finding this bike in stock is a little difficult, like some others on this list. They come and go at times, but the positive reviews make it a very popular option.
For a lot of people, this is the first downhill bike they have ever purchased, and they want to get things right by going with this option.
Pros
Positive tweaks to previous models.
Comes in an upgrade option for people who want better components.
Adjustable for just the right fit.
Cons
Tough to find at times in stock.
Weighs slightly heavier than what the competition provides.
5. Dissent 290 Comp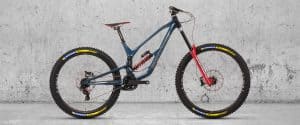 At first glance, this might not seem like the type of bike that is truly affordable, but this is a great value overall in comparison to other downhill bikes.
The Dissent 290 Comp is a great way to get into fat bike riding without having to spend a ton of money. It is still a sizable investment, but this is also one that should be lasting for a very long time.
In every sense, this is a bike that covers many different types of riders. Beginners will find it comfortable enough to get into things without having to deal with too much of a learning curve.
Riders who have a decent amount of experience will be able to also feel like they are pushing the limits with it. All it takes is a few adjustments here and there, and a person can get exactly the type of feel they want.
Compared to previous models, the Dissent has taken a little bit of weight off without compromising anything. A lot of that comes down to the much better Nukeproof frame that they provide.
It is a little bit stiffer overall, and that is going to help with handling and responsiveness. They also made a few other tweaks to the frame, but nothing is too crazy that people will love it or hate it.
This bike is also perfectly upgradable if a person wants to do that. Some people get their fat bike, ride it for a while, and then realize that they want something slightly better.
Instead of dropping a few thousand dollars more, it is much better to just stick with what is already in possession, and switch things out from a component perspective.
It seems like this will be one of the best value picks out there for people for the next year. As long as someone knows that there are still a few limitations here and there, it is a great bike to count on overall.
People will have an opportunity to participate in downhill biking and feel like they have something secure enough that they can use all the time.
Pros
Works for all types of riders.
Improved frame.
Better layout overall.
Cons
A little expensive for a budget option.
Shipping can add to the cost.
Is It Worth Going Inexpensive On A Downhill Bike?
As people notice with this article, downhill bikes are not exactly affordable compared to standard bikes. Even the cheapest options are still pretty expensive, and they come with high-end component parts. This is done for a reason, as no one wants to be going downhill on tough terrain without having some level of stability.
Since no company is really cheaping out on the bike's components, it is probably fine to go with an inexpensive option. Some people will spend a huge amount of money on a downhill bike, but they are pretty inexperienced.
That means they will not benefit from why this bike is so expensive, and they run the risk of doing some pretty hefty damage.
Staying in the affordable price range is a great way to be first introduced to the sport. There are so many people out there interested in downhill biking, but they just do not want to invest in a bike specifically for this discipline. Once the prices start to go down a bit, it becomes more and more feasible for people to pull this off.
Even the low end for downhill bikes are going to be very stable and easy to ride around. Only a few companies are even put out bike options like this, so there is no competition to go with something potentially risky.
All the bikes listed above are excellent to use any skill level, and the only difference will be that top-end riders will be able to get more performance out of more expensive options.
Final Thoughts
There are plenty of reasons to get into downhill biking, and it becomes that much more enjoyable when going on a bike built for that type of riding instead of using a more basic option.
Some people have been hesitant to drop the amount of money necessary to make this all work, but people who enjoy downhill riding over everything else will benefit greatly.