Downhill biking is becoming more and more popular with each passing year. That is great news for those who are looking to get into the sport, or wanting to upgrade what they currently have to something bigger and better.
There are plenty of 2022 downhill bike models already on the market today, and only more are coming down the road. As of right now, these are some of the best options for all types of riders.
1. YT Industries Tues 29
Direct sales brands in certain business sectors have a bad reputation. YT Industries helped to change how people thought of direct sales brands in the downhill biking history, and they have not looked back in the last few years.
They have shown that a person does not have to necessarily spend a ton of money to get a quality downhill bike that can perform at the highest levels.
It is true that some of their team has had success on the world stage, and customers have a chance to get the same exact bike that is used out there.
Whether a person opts for the Pro or the Pro Race, both have outstanding value. It is built for people who want to really get into downhill biking to the point that they are going out on nearly a daily basis.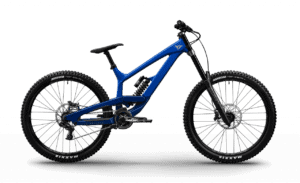 Riders can really start to get used to what their bike brings to the table, and they can make some slight adjustments here and there along the way.
The frame comes in four different sizes, and the carbon fiber used stacks up well against the best of the best. The only downfall that comes with the 2021 model is that they continue to only offer the 29-inch wheel size for this bike.
That does not mean that a person can't purchase a 27.5-inch wheel size from YT Industries, but the Tues 29 only works with this set up.
Pros
Very affordable for the specs.
Suitable for multiple rides a week.
Highly customizable.
Cons
The delay can be a little annoying with shipping.
This option only comes with 29-inch wheels.
2. Canyon Sender CFR
The Canyon Sender CFR is one of the most affordable high-performance carbon fiber downhill bikes that a person can shop for. They did a complete overhaul of this bike in 2021, which is creating a lot of buzz around the industry.
One of the biggest changes is making the chain stay length and reach extremely adjustable. There are a lot of new practical features on the bike as well, which is perfect for those who want to have a truly unique experience. Not only do racers enjoy this new set up, but the mechanics are enjoying it as well.
Those who do not want to spend a lot of time customizing their own bike will love the fact the Sender CFR model is completely race-ready for shoppers.
They do not have to do a lot of changes to the bike in order to get everything ready for a long ride. That is great news for those who are sometimes overwhelmed with all the different changes that they might have to make.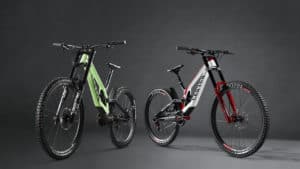 Canyon has definitely evolved into a favorite amongst downhill riders for everything they have brought to the world. They have reworked their carbon frame to make it lighter and faster than ever, and a lot of that comes down to the improved geometry.
The technology used is also better, which provides a responsive ride that riders of all levels really enjoy.
All in all, this continues to be an outstanding value for first-time riders, or even seasoned veterans. It is definitely a high-quality option that can last a long time if treated the right way.
Many have Canyon bikes that have been around for a long time, and the quality has not fallen off at all.
Pros
Completely reworked set up in 2021.
Customization options are available.
Much easier to maintain than ever before.
Cons
Unable to purchase as a frame-only option.
Can sometimes be difficult to get help from Canyon the company.
3. Specialized Demo
No matter what type of riding a person does currently, they have no doubt heard of Specialized at one point or another. This is a company that has been around for a very long time, and they know exactly what they were doing when putting together all types of bikes.
Downhill bikers are very loyal to certain brands, but it seems like the Specialized Demos win a lot of people over. This is just another version in the Demo series, and with some professional riders putting up wins with the bike, it definitely gets a lot of notoriety.
In 2021, the Demo does not really look that much different. There is a bit of a change to the geometry, as well as a bit more stability, but, indeed, those who just recently upgraded probably do not need to in 2021.
That being said, those who have a slightly older bike and looking for something that is fairly well priced can get the budget or race model and go from there.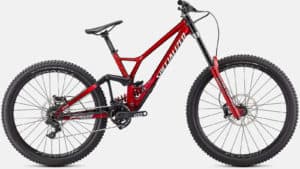 The Race model raises the price tag for sure, but all the components are top-of-the-line. There are fewer upgrades needed when going with that more expensive option, as Specialized takes care of everything for the shopper beforehand.
Specialized used to be known in some biking disciplines as a pretty expensive brand overall. They are mid-tier in the eyes of many when it comes to downhill biking.
In fact, some people believe that the Specialized Demo is one of the best bangs for your buck in today's market. It certainly provides a championship quality bike at a price that is a lot more affordable than some of the other companies out there.
That is great news for people who want to take their riding up to another level, but do not want to break the bank. Just remember that the standard frame material is aluminum, which is part of the reason why the price can stay down.
Pros
Stays true to its roots.
Works best with 27.5-inch rear wheels.
The race model comes with excellent components.
Cons
An aluminum frame is not for everyone.
Some would like to see more changes in 2021.
4. Atherton Bikes DH Bike
It was a bit of a surprise to people in the industry that the Atherton family decided that they would start making their own downhill bikes. While they have had success in the industry, taking on a full bike seems to be an entirely different challenge altogether.
What has resulted is one of the better options out there in 2021 for downhill bikers. With frames made of titanium and carbon, shoppers can get just the right size for them so that the bike feels custom-made from top to bottom.
One of the unique things about the bike from the company is that they can change the frame's geometry much faster than other companies.
That is why a bike can fit whatever wheel size a rider desires. They really did not start selling bikes to the general public until 2020, but they seem to be really embracing this new passion. The company is working hard to make its bikes more and more available to the masses.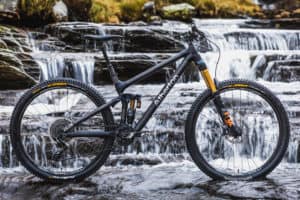 There are limited bike slots, which can be pretty challenging for those who want to get started right away. People need to submit their personal specs, and from there, they take care of the rest.
It is definitely for people who are patient enough to wait, but those who have something else to use to pass the time will feel it is well worth the wait.
Pros
Completely customizable geometry fit.
Very strong frame material.
Outstanding reviews from early adopters.
Cons
Takes time to receive the bike.
Can get pretty costly depending on the customization.
5. Santa Cruz V10 MX
A lot of people throughout the years have used the Santa Cruz downhill bike. The V10 MX model is definitely one of the most popular options in the history of downhill racing, and plenty of competitors at the highest level have used it to pull off amazing feats.
The 2021 version looks to build off of that legendary status and does quite a bit to keep people as engaged as possible. The carbon fiber frame comes in three different sizes, and a person can pick between 27.5 inches, and 29 inches for the wheel size.
Included with a new bike include some small fine-tuning that will surely get riders excited. There is better suspension performance with this option, and many of the components have received slight upgrades to make it the best performing bike out there in the downhill industry.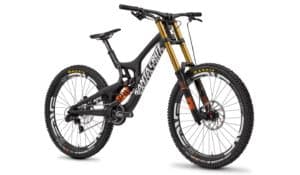 To get people even more excited, it is performing at the highest levels in the professional ranks. It is hard to argue with all the success that competitors have had with this bike, and they have shown that they can have success with a 27.5-inch or 29-inch wheel as well.
Pros
Stays true to the Santa Cruz line.
The resale value stays high after use.
Plenty of customization options.
Cons
Prices continue to go up for this model.
Those who owned previous versions might not feel the need to upgrade.
6. Scott Gambler 900 Tuned
Anyone who follows downhill biking at the highest level knows that the Scott Gambler 900 Tuned is the downhill bike of choice of Marine Cabirou.
She has been able to have a good amount of success in World Cup downhill racing, but it is a good option to have for a lot of people who are just joining the sport and taking it to another level as well.
The company offers a carbon fiber frame in four different sizes, and as well as 27.5-inches and 29-inches for wheel size. This is great for people who want to get something to put exactly what they need, and having the right geometry with a bike can really make a big difference on how comfortable it is in general.
There are plenty of great things to like about the Gambler 900. There is a front fender mudguard, plenty of frame protection, and a pretty unique handlebar and stem configuration.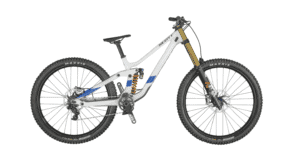 There are a lot of special touches to the bike that make it stand out, and it justifies the higher price tag as well.
When people buy the Scott Gambler 900, they are making an investment that is going to hold its value. Even if a person decides to upgrade down the road, they should be able to get a good amount of money back with this bike.
It is definitely not for the beginner due to the price, but those who are looking to upgrade right now can put this on the shortlist for 2021.
Pros
Geometry is completely customizable.
Frame protection keeps everything looking nice.
Very light and fast.
Cons
Priced too much for beginners.
Certain parts of the world can't purchase easily.
7. Vitus Dominer
The Vitus Dominer is one of the best value downhill bikes out there for all types of riders. This is a company that has focused a lot on getting prices affordable for all types of riders, but they impress with some pretty good specs as well.
This bike is ready to go out of the box to race competitively. It has outstanding geometry, and most riders do not need to make any upgrades to components early on.
Maybe as time goes on they will make some slight upgrades here and there, but it is a great starting point for those who might just be getting into the sport and do not want to do too much themselves.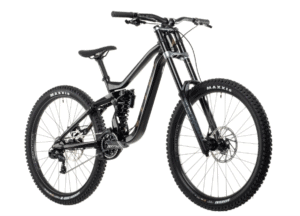 Overall, the look is pretty simple with the Dominar, but most are only worried about performance. It is not going to have all the bells and whistles of some of the other options out there, but it is still worthy of a look in 2021.
Pros
Very affordable.
Outstanding, high-quality components for the price.
Excellent geometry.
Cons
Feels a little heavier than some other options out there.
The colors and design are a little dull.
What to Look for in a Downhill Bike in 2021?
Shopping for a downhill bike in today's climate can be exciting, but also a little bit daunting. All of the options in this article are great to turn to, but there are some other buying factors to keep in mind.
Once a person narrows down which works best for them, they should begin coming up with a few choices.
Frame
The top-end downhill models are almost always going to have some carbon in them, but aluminum also performs pretty well.
With carbon, riders are going to get added lightness and stiffness, but it is definitely more expensive. Aluminum frames are much more affordable, and those just starting out might not notice a difference at all.
The geometry of a frame also makes a pretty big difference with a downhill bike. The bike needs to be stable at a certain speed, so looking for something that is longer and slacker is usually better.
More specifically, look for a head angle right around 63 °, and a bottom bracket height that is close to or exactly at 350 mm. Also, the wheelbase should be around 1250 mm.
Suspension
Suspension matters quite a bit in downhill mountain biking. Most want to make sure they have plenty of suspension in the front and the rear.
For forks, riders want double crown forks that are built for a massive amount of impact. On the shock side of things, coil and air shock options are available.
Without proper suspension, downhill biking is not going to be an enjoyable experience. Skimping in this department is usually not a recipe for success.
Wheels
Wheels for downhill bikes are almost always 27.5-inches or 29-inches. Riders have success with either option, and it comes down to personal preference more than anything.
There are even some people who will use both wheel sizes on the same bike in what is called the mullet set up.
Wheel size is important, but the right tires also make a pretty big difference. There are options to go fatter or skinnier depending on the course. Also, make sure to pay attention to the compounds used to see just how durable the tires will be.
Direct-to-consumer shopping or a commercial brand?
There are a good amount of direct-to-consumer companies that work in the downhill biking industry. Just as two examples, YT Industries, and Canyon are really making a name for themselves for what they are able to provide shoppers.
They do a great job offering top-end parts and the best type of frames while cutting costs as much as possible.
The downside is that shops are going to be a little less familiar with fixing anything that goes wrong as time goes on.
While there are some shops that are becoming very familiar with the most popular direct-to-consumer options, they are still going to lack a little bit of knowledge overall.
The delays are a little more prevalent with the direct-to-consumer companies in today's climate as well, as a lot of factories are still trying to catch up after COVID-19.
Price
Finally, setting a budget for a downhill bike is still the most important thing when shopping for a downhill bike in 2021. The last thing a person wants to do is spend thousands and thousands of dollars, only to find out that it is not the right bike for them.
It is best when starting out to shop for something that is fairly affordable, yet offers room to grow. As time goes on, people can start to shop for more specific options that might be a little higher in price. Since they know they enjoy the sport, they do not need to worry about wasting money.
It is very easy for upgrades here and there to make the downhill bike very expensive. By setting a hard budget, people can avoid falling into those traps.
Why It's The Best Time to Buy a Downhill Bike
All in all, as the world, opens up after the pandemic, 2021 figures to be a big year for downhill biking. Companies have faced some struggles selling their newest models at times, but a lot of consumers are ready to go as far as getting out there and enjoying life once again.
Downhill biking is one of the fastest-growing industries on two wheels, and it could be a lot of fun seeing what happens in the next few years