A good set of gravel bike wheels can make all the difference in the world when riding. There is a significant difference between not only the weight of the wheels, but the stiffness, width, and overall compatibility can change the difficulty as well.
It always is worth investing in a good pair of wheels that come with the bike itself, but others might look in a different direction.
For example, buying gravel bike wheels to put on later might be an added expense, but one that many are fine taking on if it improves the quality of their ride overall.
Below is a look at some of the very best right now. No matter what type of actual riding on gravel you're looking to do, these all will increase your overall level of riding.
1. Reynolds ATR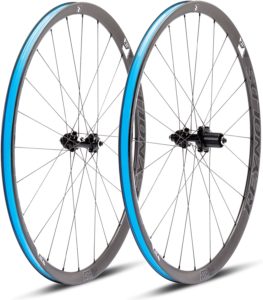 A nice carbon fiber wheel (Amazon) worth looking into for heavy-duty gravel riding is the Reynolds ATR. This is an all-terrain road wheel that can handle quite a bit of abuse without showing much wear and tear at all.
The company sells the wheels in 700c and 650b sizes, allowing people to find exactly what they need to fit their style of riding.
It might not seem like that big of a difference, but heavy-duty hoops are very hard to find in such a lightweight. They weigh just 1685 grams each, which is pretty impressive for those who want to build up speed when they are out on trails.
If you want to ride tubeless, everything is set up and ready to go with these wheels. There are a bunch of safety features in place to make sure that the wheels stay strong, and the tires, once they go on, can stay inflated and ready to go.
People who can afford it and what that extra bit of speed should look into a wheelset like this. The rims are going to provide a level of comfort and lightness that is hard to find anywhere else.
To make it all just even better, the fact that a person does not have to worry too much about damages whatsoever makes sense as well.
Pros
Very lightweight.
A good amount of stiffness.
Inexpensive compared to similar options.
Cons
Not compatible with all types of bikes.
A bit of a hassle to claim a replacement after a crash or damage.
2. Roval Terra CLX EVO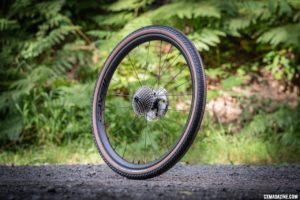 These Roval Terra CLX EVO might not be for everyone, but it is hard to pass up just how incredible they are as a replacement option. They not only perform at a super high level, but they look beautiful when installed.
Many people who take gravel bike riding extremely seriously will mess around with different tires, but this might be one of the best options available.
First, these wheels are designed for going on the tarmac, gravel, or even a single track ride. This type of versatility makes it a pretty good investment because people can say they use it for different kinds of rides.
A technicality is that these tires are not 100% made for gravel. They combine a few different factors to create a truly unique experience.
There is a lightweight performance of the wheel that is very reminiscent of a road wheel. There is cornering precision for off-road riding, and people can feel very stable on an unstable type of surface.
The final factor is that these wheels have a pretty wide rim so that a person could put a wide, grippy tire on it. This really comes in handy for gravel bike riders in particular, because if not for that extra width, these wheels might not be able to hold up.
It does not matter that they are made of a material that can withstand just about anything, but if the width is too skinny, a rider would constantly be losing their grip.
All in all, these tires are ready to perform at a high level without breaking down. They are so durable that a person will not even notice much cosmetic damage at all even after heavy use.
This might be a pretty big investment, but the good news is that a person will not have to buy any new tires for the gravel bike in the near future.
Pros
High-quality, durable wheels.
Provides a wide enough rim for a perfect set of gravel tires.
Built with speed in mind.
Cons
Expensive.
Can be damaged if left in a vulnerable area.
3. Stan's no tubes grail mk3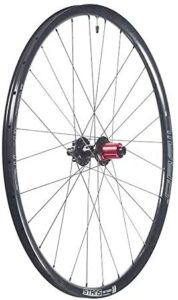 A tubeless tire setup is something that is pretty much the envy of any gravel bike rider out there. They love the fact that they can be a little freer with their set up, and the drop in weight as well.
If a person's gravel bike does not come with those wheels right away out of the box, there is a way to upgrade without breaking the bank.
Stan's no tubes grail mk3 (Amazon) is a pretty simple set up for people to do on their own. The wheels are pretty lightweight and ready to perform at a high level, all while only costing a person a few hundred dollars.
There really is not anything too crazy about these wheels, other than the fact that they get dirty and down to work consistently all the time. People feel very comfortable when they are on the wheel, and they can go on just about any challenge.
Pros
Very comfortable.
Easy to use for tubeless tires.
Simplistic solution.
Cons
Wheels flex a little too easily.
Might not be high-quality enough to replace current tires.
4. Mavic Allroad Pro Disc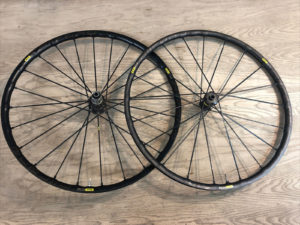 For a complete wheel and tire set that is bound to be an upgrade, the Mavic Allroad pro disc might be the way to go.
It is one of the most durable overall options out there for people who are very rugged with their bike, and it is great for those who do not want to have to worry about anything.
These are not the lightest wheels in the world, but people are looking for something that can hold up against just about any challenge.
These perform well while also being nearly indestructible. As long as a person is satisfied with these wheels, they should last for years without any real issues whatsoever.
The wheels are made of alloy, with a carbon hub shell at the front. In use, it feels like it is very light, and a lot of that comes down to the deep channels that cut into the rubber of the tires.
It seems like it might be a little heavy, but once a person gets going, they feel as light as many other more expensive options.
These are the cheapest wheels for people to consider if they are trying to upgrade, but they are not something that is going to send a person back too much either.
As long as someone is ready to make some noticeable improvements for the ride, they should be worth taking a chance on.
Pros
Very durable.
Easy setup.
Very responsive.
Cons
Pretty expensive.
650b only comes in carbon.
5. Hunt 30 carbon gravel disc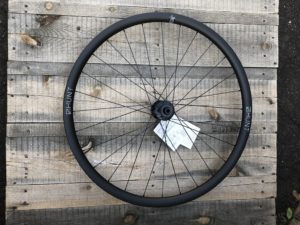 One of the best overall gravel bike wheels out there happens to come from Hunt. These are very lightweight and made of carbon, and people are willing to overlook not knowing the name that much since they have such great reviews.
What makes them such a great option for money? It comes down to the level of performance in its price range. The wheel supports a wide range of tires, and they can be completely tubeless if a person wants to go in that direction.
There is a lot of different ways a person can customize their wheels so that they fit exactly how they want.
They also do a great job of holding up over time, as there is a lot of high-quality material to go into these rims to fight off against the usual problems.
The investment is somewhat high, but if a person can get years out of them while still looking almost brand new, it is a risk worth taking.
The only people who seem not to be crazy about these wheels are bigger and heavier riders. When cornering, the wheel does not quite seem as strong as it should, and it can make any rider feel a little less confident while they are riding.
Pros
Very lightweight.
Outstanding performance.
TG resin helps hold up against heat.
Cons
Some flex is noticeable with cornering.
The brand is not that well-known.
What to Consider With Gravel Bike Wheels
It might not seem like a huge decision, especially if a person already buys a decent gravel bike. However, wheels can significantly change the way a bike works, and those who are doing something specific with a gravel bike should get wheels that fit what they want to do.
A lot of people should be looking for rims that are ready for tubeless tires if needed. With these tubeless tires, they are just easier to use overall. Along with that consideration, there are several other reasons to go in the direction of certain types of wheels.
Sizing
The two standard sizes of gravel bike wheels are either 700c or 650b. There are reasons why people will go with either one and depending on the type of riding, it might make sense to do research.
650b wheels can allow for a slightly fatter tire, giving a person a bigger footprint overall. It is going to allow for some to feel a little more like they have a fat bike, and that can improve the comfort level.
A 700c wheel is skinnier, which provides less rolling resistance and a better performing tire overall. It is not to say that a person can't go fast with either tire, but most are going to offer the seller see wheels if they want maximum feel.
If the gravel is a bit on the smoother side, 700c seems like the best way to go riders. If the gravel is going to be a bit tougher to navigate, 650b might be the better option overall.
Width and Depth
It seems like a lot of people are gravitating towards wider gravel wheels overall. A typical gravel wheel tends to hover around 21 mm, but there is a bit of leeway as far as that is concerned.
One important thing to look at is the inner rim width, as it will provide the type of tire a person can use on the wheel. The external rim width is more about aerodynamics, so it is not as crucial to pay attention to.
Material
Should you invest in carbon gravel bike wheels? That seems to be the biggest choice many makes when finding new wheels to ride on.
People think that carbon wheels are automatically superior, and in some ways they are. However, overlooking high-quality wheels is a big mistake that a lot of gravel bike riders make without giving them a fair try.
Carbon wheels are designed to be stiff, and that means a somewhat harsh ride quality overall. This can be especially true on some of the rougher road surfaces out there. Some people like that feel, while others might want to ask for an alloy rim instead.
Alloy wheels are not as strong, and that means they are capable of bending a bit. In some cases, that is actually beneficial for gravel bike riders.
It just depends on how everything feels to a person when they are riding around, and if it will continue to stack up against the competition.
Price
Everyone would love to get the best gravel bike wheels possible, but there is a specific budget a person needs to stay with him. It is one of the best upgrades a person can look for, so that does matter to some degree. That said, there is a tipping point for everyone, especially if they are looking to ride in a certain way.
If the price seems like it is too much and bordering on just upgrading to a new bike in general, it is probably the best way to go.
Try to invest in a fat bike that has excellent wheels without having to make any upgrades, and it will save a person time and energy.
Some people get lost in trying to make too many upgrades to a gravel bike when they would be better off buying a new one instead of itemizing everything. Do not fall into that trap, as it can end up being frustrating in the end.