When COVID-19 became a worldwide pandemic, many people were looking for ways to still go cycling as much as possible. There are many limitations still out there to this day, and while things are slowly returning back to normal, there are people still hoping to stay as safe as possible.
For cycling, it is a sport that is pretty naturally good for athletes to practice social distancing. That means riders can go about their life the same as always. However, many have still turned to masks to wear to provide the most amount of protection overall.
What are the best cycling face masks on the market right now? While there are plenty of options to pick from to the point that the market is a bit saturated, these options seem like the best of the best.
Best Face Mask For Winter Cycling! 
1. Under Armour Adult Sports Mask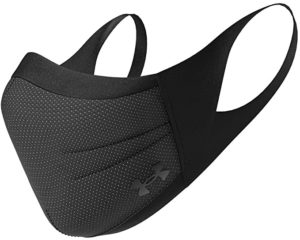 The Under Armour Adult Sports Mask (Amazon) instantly became a huge hit shortly after the mask mandate started to spread in different parts of the world.
Under Armour has a pretty simple sports mask available, but it performs extremely well. Great reviews started pouring in, and once the company ramped up production, more and more people found out the beauty of the option.
For cyclists, they are going to find it to be one of the best ways to stay as cool as possible on the bike. It is very common for people to complain about being overheated when wearing a mask, but this one does a great job of cooling things down.
It is also a very breathable option, as there is enough space for air to pass through in specific areas.
On the outside, users get the opportunity to take advantage of a water-resistant mask. The inner layer is covered with antimicrobial treatment, which is going to keep people as safe as possible.
It is very easy to clean and is meant to last a long time, which is always a positive when purchasing any type of accessory that is a bit of an investment.
It is certainly one of the more expensive options, and part of that comes down to paying for that Under Armour premium price.
However, it might be the only mask a person needs for all their athletic activities. Although it does not look too much different from other options out there, it continues to stand out quite a bit.
Pros
Very cool.
Extremely breathable.
The water-resistant outside layer is perfect for cyclists.
Cons
Expensive.
Sometimes goes in and out of stock.
2. Specialized Face Mask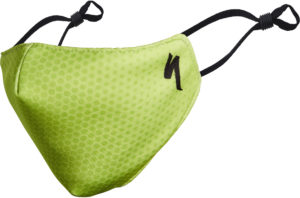 Whether a person rides a Specialized bike or not, their face mask is pretty hard to ignore. Not only did they come very aggressive with a cheap price point, but it is high-quality as well. The outer layer is made of a soft, yet durable cotton, while the inner layer combines polyester and spandex.
At this price, it is a bit unrealistic to think that it is going to last nearly as long as some of the more expensive options. The good news is that people can stock up and switch them out when needed.
Some hold onto a mask for too long anyway, which can start to cause some germ issues. With these, they are not too much more than disposable options, but they are still high-quality enough to withstand the toughest of rides.
Pros
Very inexpensive.
Comfortable.
Many different styles to choose from.
Cons
Not that durable.
Water seems to damage the outer layer.
3. Chrome Industries Citizen Chrome Masks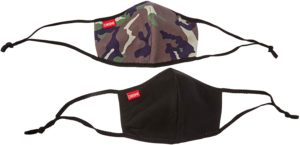 With adjustable ear loops, cotton canvas material, and multiple sizes to choose from, comfort is a huge selling point for anyone shopping for these Citizen Chrome Masks (Amazon).
As a company that has always been big in developing commuter apparel and bags, they are now putting out some of the best masks for all types of cyclists.
This might not be as performance-based as some would like who are racing for time, but it is perfect for those who are commuting to and from work or school.
They are very easy to throw on, last a long time, and are about as comfortable as one could ask for.
Take the extra amount of time, in the beginning, to get the perfect fit so it does not move around. There are many people who do not realize just how great it is to have adjustable ear loops.
It is a huge difference-maker when fitting a mask and trying to feel as comfortable as possible while riding.
Pros
Very comfortable.
Adjustable ear loops work well.
Different sizes ensure the best fit.
Cons
Not the best design for competitive cycling.
Takes a little bit of time to set up properly.
4. Kitsbow Face Mask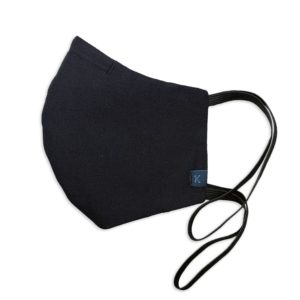 A lot of cyclists have heard of the apparel company Kitsbow, and when the pandemic hit, they put out one of the best face masks on the market. It continues to hold up well, and many have been counting on their option for quite a while.
First, they do deserve quite a bit of praise for manufacturing a lot of different masks for essential workers when there was a shortage.
Now, cyclists can take advantage of those same options, as the reusable cloth masks are comfortable, easy to adjust for the proper size, and durable enough to hold up after several washes.
They are slightly on the higher side when it comes to pricing, but they last much longer than cheaper options out there. The only way to justify the cost is if they are made of high-quality materials, and that is exactly what people will get from Kitsbow.
Their masks have helped so many people that their company as a whole has seen a bit of a boost.
Pros
Very comfortable cloth.
Multiple color choices.
Interior pocket for a HEPA filter.
Cons
A bit on the expensive side.
Not the best at wicking away moisture.
5. Outdoor Research Essential Face Mask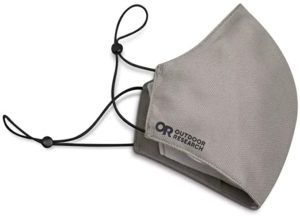 The Outdoor Research Essential Face Mask (Amazon) is designed for virtually any outdoor activity, but a lot of cyclists have adopted it as an option that they feel is pretty amazing.
Not only can they get a great fit with adjustable earloops and a nose wire, but it is one of the most durable options as well.
They really thought of everything, with the only drawback being that it feels a little bulkier than a lot of the other face masks out there.
If a person wants ultimate protection, it does not get much better than a thick polyester mask. There are pouches available for filters to be installed if a person wants that.
This can help some cyclists who wish to have the best breathability possible. Others are just fine without the filters, and the mask is going to hold up just fine.
It takes a little bit of time to get that perfect fit, but most people are more than happy to make some adjustments and see how it all plays out.
The best thing is, this mask will be just fine for hiking, running, or just about any other activity a person can think of.
It is one of the highest quality options that have hit the market in the last year. Despite its bulkiness, it does not feel heavy by any means.
Pros
Adjustable ear loops
Nose wire ensures a perfect fit
Multiple pouches for filters
Cons
A little bulky.
Hard to find in certain sizes.
6. Athleta Activate Face Mask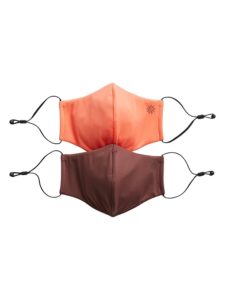 The sports brand from Gap released some very good sports face masks right when the pandemic started to shut people down.
They quickly gained the reputation of being one of the most lightweight options out there, and having great breathability and moisture-wicking qualities certainly helps as well.
Another reason why people are willing to pay the premium price is that it starts to mold to a person's face very well.
This is perfect for cyclists who do not want to be messing with a mask at all once they put it on. There are way too many people who are wearing less than stellar options, and they are constantly making adjustments as they ride along.
Pros
Very lightweight.
Moisture-wicking keeps riders dry.
Breathable material.
Cons
Some color choices do not age well.
Shipment delays have popped up occasionally.
7. Buff Standard Coolnet UV+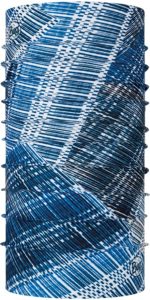 Although the Buff Standard Coolnet UV+ (Amazon) is not technically a face mask, plenty of riders count on this as either a scarf, headband, or maybe even a liner underneath their helmet.
They can also be used as a face covering when in a pinch, as their level of flexibility is certainly something that a lot of people seem to enjoy.
This polyester microfiber is very comfortable, stretches to fit virtually any face, and will be put to use after the pandemic passes. That is one reason why people are willing to pay a little bit of a premium for an option like this.
As the name suggests, another added bonus is that this provides UV protection. Those who are riding for hours and hours at a time should always be prepared with some level of protection overall.
UV rays can certainly cause some trouble for frequent riders, and the face is particularly vulnerable. This is very easy to slide on and off, so a person feels less restricted overall.
Pros
Versatile option for riders.
Very stretchy, comfortable material.
UV protection.
Cons
Not a true face mask.
The customizable fit is not quite there.
What Makes a Quality Face Mask For Cycling?
Every single option that makes this list has been picked because it works well in a cycling environment. Although they might not be explicitly designed for cycling, they meet all the requirements that a person could ask for.
Keep these tips in mind when shopping either between the options above, or something else that pops up. This will cut down on the chances of a poor overall purchase.
Multiple Layers Make a Difference
It might be tempting to go with a single-layer face mask when doing an athletic activity, but it is not going to provide a good enough level of protection when fighting against COVID-19.
Not only that, but they tend to be a little flimsy overall, so they might not last that long.
Look for at least two layers of fabric that is washable and breathable. In addition, the mask should feel pretty sturdy when a person picks it up.
Fit
So many people do not get the proper fit when they are shopping for a face mask. It can be the best face mask in the world, but if it is not going to fit a person's face properly, it is not going to do an adequate job.
A mask needs to completely cover the nose and mouth, but also fit snugly against a person's face. The fewer gaps, the better.
It is important not to feel restricted when riding and wearing something like this on the face, but at the same time, something that has too much space is going to be moving around way too much.
Shy Away From Vinyl Masks
There is a time and place for some vinyl masks, but they should not be used for cycling. It just makes things way too hard as far as breathing is concerned.
Those who are doing any type of athletic exercise should opt for something much more breathable.
Nose Shaping Helps
Some masks do not have a way to shape things around the nose, but it helps quite a bit for cyclists.
This is because air can sometimes leak out of the top of the mask if a person does not mold their mask to their face completely.
Darker Colors Hold Up Better
Most of the masks that make this list are available in dark colors, and that should come as no surprise. They are going to hold up better and not look nearly as ragged after a few uses.
It is very hard to keep something white clean when it is right up against a person's face when they are exercising.
How The Right Face Mask Can Help Cyclists Get Through The Pandemic
It might seem like a pretty simple accessory, but the right face mask can make all the difference in the world for those who have had trouble getting through the pandemic.
Cycling is something that people count on as a physical activity every single day. In some ways, that was taken away from them when COVID-19 first started to take over the world.
While a lot of places are beginning to open up, it is still important to wear a face mask in certain scenarios.
The right face mask can reduce the amount of frustration some have had in feeling like everything is back to normal.
Ideally, the sign of a great face mask is to seem like it is not even there in the first place. While that might not be feasible in many scenarios, at least the top options will reduce frustration a bit.