Any guess why a fat tire bike is recently skyrocketing the list of the adventure aficionados? Step back a few years, and nobody ever thought these bikes will be soaring so much with their popularity for thrill-seeking expeditions, beach cruising or mountain biking. It's probably their wide-and-bulky frames, stark versatility, and softness of drive what makes these commutes the turn-key solutions for adventures of any size! Want to take your fat bike for a wild ride? Here is why and where they would be good for commuting.
Are fat bikes good for commuting? Most of the time it is not a good commuting bike. This would be a good type a bicycle for you if you can only afford one bicycle and you live in an area where you would be trecking snowy streets to get to work a few months a year. Another great reason would be if you're going through very rough terrain on a daily basis.
Why Fat Bikes are a Good Commuter Bike?
Twice the size of the standard mountain bike tires, the fatbike tires come with a wide width, and a low-pressure mechanism, which let them deliver an outstanding performance on any surface type. No matter, it's a soft terrain, marshy land, sandy surface or even snow-clad glacier, these bikes will never leave you disappointed.
In short, these bikes pack quite a punches what make them the best commuting solutions everywhere from the wooden bridges to the toughest rocky trails.
So, let's take a quick look at some of their stunning features…
Versatility
Did you know, fat bikes were exclusively designed for riding over Alaskan snow? But continuous innovations and improvements in their designs and structures have gradually transformed them into an all-weather favorite.
Equipped with a semi-air ride facility, they also have the maneuverability of a race car. Take the fat bike World Championships in Colorado, for example.
Wondering how to get enough of your fatty? Use these versatile bicycles for your regular mountain biking, fitness goals, summer trailing or seasonal spots rides. And the list is endless!
Ease of ride
If the question is about the hardship of riding, these fatty bikes are everything easy. Snowy conditions or sand, high or low tire pressure, these bikes can keep you floating on the toughest of surfaces where normal bikes will sink.
With the added balance and extra control of their large tires, these bikes are great for both first-timers and Pro bikers.
Comfort
Be in your own comfort of biking when you are riding a fat bike. These vehicles are made comfortable with a huge volume of shock-absorbing, low-pressure and flexible tires that work equally great for Driftless riders.
There is also room to add a front suspension for additional comfort and shock absorption if you chose to take your fatty out on some downhill mountain bike trails!
The larger tires are specially designed to absorb a lot of vibration. This will have you less stressed on the hands and at the back with comfortable pressure adjustments. You can set these adjustments to match your riding conditions and comfort level.
Lowest Pressure
It's only the fat bike tires that will let you run at the lowest possible end. Guess what, you will have an awesome floating or rolling experience without having to waste time in choosing your bike's PSI.
Most riding conditions will have your tires between 4 and 8 PSI so you won't have a lot to play with regarding tire pressure.
Fun
Fat bikes are super fun! If you consider the Q factor (source), basically the distance between a bike's pedal joints, your fat bike has it bigger than any other bike on this planet. And this means you will have an edge-of-the-seat experience every time you get out on a bike ride.
Exciting and stimulating
With their increased stability, fine balance and elevated control, these rural commuter bikes will keep you thrilled everywhere from pavements to manhole covers to the rough roads. Recreations or retreats, you will be able to whip and drive your bike in both the fast and the slow modes with no extra effort.
Fat bikes offer an absolute limit off-road for your perfect "Cruz tells Bicycling"!
So now that you know how these bikes can help you add value to your commute of all sizes, let's find out the areas where they can perform their best.
Best Types Of Terrains For a Fat Bike Commuter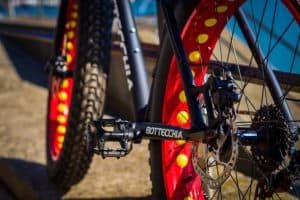 Snow
A snow-packed area like the Nordic ski trail is just the best place for a bike of this type. Even at the maximum snow density, it will not sink like the other bikes, but keep you effortlessly floating.
Of course, they work much better on snow-packed roads or trails. Riding a fat bike shortly after a heavy snowfall (12 inch+) will prove tricky as your tires will most likely sink through the fresh snow.
Glacier
Have you ever experienced riding on the edge? This is certainly on my bucket list and will definitely have an article full of pictures when I get the chance!
Take your fat tire bicycle on top of a glacier and enjoy the thrills of riding on the walls of ice. But never lose your attention, a single careless drive could bring you fatal consequence, that's why!
Studded tires would be a must-have if you're attempting to ride on any type of icy surfaces. I don't think I need to elaborate on this one.
Rocks
Wide tires and low air pressure makes any fatty a superb high altitude player. In fact, these bikes roll way better than the mountain bikes as the latter will be the first to create speed knocks or even skidding hazards on a rocky trail.
Once you're ready to go downhill on a rocky surf you'll soon discover just how fast these types of bikes really go, they will pick up speed where most mountain bikes would lose speed when trecking over larger rocks.
Large Roots
With a heavy-duty bike of this type, you don't need to worry about passing through roots and stumps. Those extra side tires with the lowest set pressure can handle all of that.
Sand
Did you just say a sandy beach? With a perfect measurement of 4-5 inch, your fat bike could create an impression like no other. It's the smooth shift between wide and low pressures of the tires, which gives you a somewhat easy trip even on the loose sand surfaces.
It will ride much easier on the wet sand along the shoreline but beware, bicycle components and saltwater does not go together really well. Make sure to thoroughly wash your bike after it comes into contact with seawater. Also, use a wet grease (Amazon) on your components if you're going to get into the habit of bringing your fatty to the beach!
However, there are still some places that might not be as good for commuting with your fat tire bike. For example, light, fluffy snow as I mentioned above might challenge your bike tire and come in the way of its smooth performance.
Also, smushy tires and the relatively lower velocity in a fat bike make them less resistant to wooden tracks. In other words, with a bike of this type, you can't simply achieve a hairpin turn on a single track. But the rest you can do with your fat bicycles is enough to make you a story of a lifetime.
The Takeback
In a nutshell, if you are looking for a free-moving bike, a fat bike may be just the right thing to consider! No matter, you are a beginner cyclist or a seasoned biker, these all-rounder specialty bicycles will keep you in great riding shape with their soft tires and slower speed.
Of course, if you live in an urban area this might not be the best commuter bike for you. If you live in a rural setting having to ride through rough conditions then a fat bike might be something to consider.
From staying active to exploring extreme terrains, they are just setting a never-ending impression everywhere, which is here to stay. So, get out on your fat bike now and bring out the adventurer in you. Stay throttled.