ffFor anyone who loves to ride on a fat bike in the winter, Canada is the place to be. There are spots throughout the country for people to check out, and the sport is exploding in general.
It gets pretty cold in the winter, but fat bikes are built for a lot of snow. It is one of the best ways to get around, and with some pretty well-groomed trails, having a really good time is easier than ever.
With so many options, it is hard to narrow down the best fat biking destinations for winter riding in the snow. However, these eight locations are definitely on any list for Canadians.
Some people from the United States even migrate to Canada to take advantage of these trails and see all the beauty in nature that goes with it.
1. Kouchibouguac National Park in New Brunswick
This National Park is beautiful to visit 12 months out of the year, but the winter brings a different type of fat bike rider out. There is about 12 km of trails to explore that are kept in pretty good shape even during the coldest months.
The trails are a little windy and challenging on certain stretches, but they provide some beautiful views of the Acadian Forest.
It is a bit of a hike for people for a lot of people, even in New Brunswick, but it is worth the trip for those who want to explore a bit. Be prepared for some pretty chilly weather at times, but the snow is usually just right for a perfect ride.
2. Millennium Trail in Yukon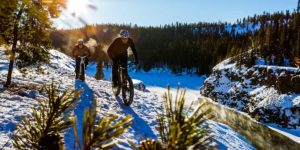 It is pretty remarkable to see the town of Whitehorse, as they have built a Millennium Trail that provides some overall views.
People can ride right along the Yukon River, getting a chance to take advantage of the snowy trail while also staying in a fairly urban area.
Most people start in the city, as the area takes fat bike riding pretty seriously. There are a lot of locals who are more than willing to share insider information on how to get the most out of the trails.
It is a multi-use path, so be aware that there will be other riders and other types of winter sports using the same area.
It is definitely a pretty secluded area for non-locals, so people will plan a trip there to explore other areas as well.
Those not from the area at all will likely include a stop in Juneau, Alaska, and there are some fat bike riding opportunities here and there between Whitehorse and the capital of Alaska.
It is a very underappreciated region of Canada, and there might not be a better time to explore than during the winter with a fat bike to get around.
3. The Horseshoe Resort in Ontario
For people who live in Toronto, it is a pretty easy drive to get to The Horseshoe Resort. It is known for a lot of fun during the winter months, and fat bike riders are flocking to it as a place that has a perfect trail to explore.
A lot of people like to take walks, as well as explore in other ways when looking at the entire area. They have started doing a very good job of prepping the trail so that people can enjoy it whenever they wish. There are skiing options, as well as snow tubing, snowshoeing, and more.
Most people believe that it is a pretty affordable trip, and anyone in the area can spend just a few days up there if they want.
In fact, some people in Toronto go over there and just spend a day where are you around for coming back. For a perfect experience, make sure to call ahead so that there is some assurance that the trails are just right.
4. Gatineau Park in Quebec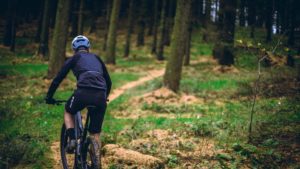 Here we have another trendy spot in Quebec for people to enjoy many different types of snow activities. Gatineau Park has some of the longest trails in not only Canada, but all of North America.
There is a total of 30.5 km for people to explore, and while the trail is filled with snowshoers as well, most fat bike riders will not find it to be too much of a hassle.
This trail system is definitely for somebody who wants to explore a lot without seeing the same type of stuff all the time.
They understand that their system is pretty long, so they have some ways to take a break along the trail. It can get pretty secluded in the park, but the views are always nice.
Anyone who lives in the city of Ottawa can get to this park very easily. It is a great oasis for anyone who is stuck in an urban area and can't get out as much as they would like.
While there are some fat bike riding opportunities in the Ottawa area, this is one of the best options the person can think of that is not right in the city.
5. La Mauricie National Park
Just to the west of Quebec City is La Mauricie National Park, which has plenty of activities for people to take advantage of. Once fat bike riding started to takeoff, the trails became a bit more filled with riders instead of only snowshoers.
The trail does need to be shared between the two activities, but it is worth the trade-off for bikers who want to see the winter landscape at that time of the year.
There are some great views for people to take in if they are not from the area and do not quite appreciate the overall beauty. It weaves in and out of some pretty beautiful areas, which normally are not seen by people who are just going on regular hikes.
Since fat bike riding has started to take off as an activity, more and more people are taking care of the tracks so that they are really safe and easy to use.
As long as other riders take good care of the track, they have nothing to worry about whatsoever. In fact, the community there is really trying to grow in general as they bring more and more people in who really like riding during the winter months.
6. Silverstar Mountain Resort in British Columbia
For those who have never been to Silver Star Mountain resort, it is a place people can enjoy many different activities during the winter months.
It really started first to gain a great reputation for skiing, snowboarding, and horse sleighing. More recently, they have fully embraced different types of skiing options like night skiing and cross country skiing, as well as fat bike riding.
Anyone who visits will find over 15 km of fully groomed trails for people to try out. They also offer rental bikes for those who want to try things out and not worry about any issues whatsoever.
That is because they have a lot of people on site who actually are more than willing to help people become a little bit more proficient when it comes to riding for the first time.
The trail is not incredibly difficult, but people still get something out of it for the most part.
7. Panorama Mountain Resort in British Columbia
Panorama Mountain Resort is another very popular skiing resort in British Columbia, and they have added fat biking to the mix.
They rent out some pretty nice fat bikes for people to use, but of course some people are going to bring their own so that they can really enjoy everything that the area has to offer.
The one drawback to this location is that they are still trying to figure out the best times to ride when it comes to using a fat bike.
The terrain needs to be a certain level of firmness so that they do not tear up the Nordic ski trails. If the trails are not firm enough, fat bike riders will have to use the roads near the resort instead.
It is a bit of a drawback for some, but people go there for more than just fat bike riding at this point. The good news is the community is really growing there, and the views are tough to beat. Do not be surprised to see additional trails pop up in this area down the road.
8. Banff in Alberta
Banff's resort town has fully embraced fat bike riding, as they already have four different trails that are perfect for this type of winter workout.
Maybe the most popular of them all is the Goat Creek Trail, which is around 19 km long and goes from Banff to Canmore. It is nice to have a destination as a target, instead of just riding around without much of a purpose.
For a more beginner-friendly option, there are some trails near Tunnel Mountain that are pretty easy to handle. It is still a beautiful location to explore, but even beginners should be able to handle this just fine.
The Growing Number of Fat Bike Trail Options
It seems like every passing year, people see additional trails pop up in Canada. A lot of these trails are available during the summer as well, but these were picked specifically for the winter months.
Not only do they put the proper care in to make sure that everything stays as perfect as possible, but some locals are focused on growing the sport.
As more people learn about how they can ride bikes during the winter instead of storing them away, many are finding out that they can see a lot more in a short amount of time.
It is safer than some of the other winter exercising activities out there, and there are new areas of Canada to explore all the time.
There is a reason why the country is a hotbed for fat bike riding, and people continue to see it grow at a very fast rate.