Trail riding is something that many find extremely enjoyable during all times of the year. There are always going to be some who have a summer preference, while others like riding in the winter.
Bike riding is generally considered a summer activity, except when it comes to fat bikes. In fact, some think that fat bikes only work well in the winter months.
For destinations that are great for riding without needing snow on the ground, a few spots in the United States are better than others. Here are the best fat bike destinations for trail riding in all of the United States. No matter where a person is located, there is a relatively close destination.
1. East Burke, Vermont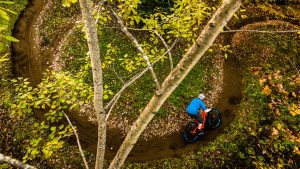 In the summer, East Burke has built up a reputation as being one of the mountain biking centers of the United States. That has carried over to fat bike riding, especially on the Kingdom Trails.
People love that they can have a bit more flexibility with a fat bike, and they are fully embracing the new movement as well.
The fat bike riders love when visiting that there are so many different paths to choose within an extensive network. It gets fairly crowded during peak times, but nothing too crazy that people can't find time to ride.
They take amazing care of all the trails throughout the year, so riders never feeling like they have to rough it too much. This can allow for some pretty fast riding if that is what a person wishes.
The scenery is beautiful, the overall vibe is great, and there are a lot of people around with very similar interests. The best part is, if people really do enjoy riding in East Burke in the summer, they can turn around and come back in the winter as well.
This is still an area that does a slightly better job with trail riding without snow on the ground, but they are doing whatever they can to make themselves a premier stop 12 months out of the year.
2. Cache Creek in Jackson, Wyoming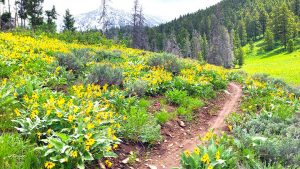 As a host of a major global fat bike summit, Cache Creek is quickly turning into one of the hotspots for fat bike riding in general.
They are making a conscious effort to ensure that the trails are great in the winter, but they bring in riders 12 months out of the year as well. There are still likely more mountain bikes on the trail than fat bikes when the weather is warm, but it is slowly evolving in the area.
The Jackson area has a few different bike trails out there for people to try, but Cache Creek is the one the tops them all. They do an excellent job of grooming the trail at all times, so people never feel like they are roughing it out there too much.
Having the ability to explore a system of trails that have been in use for a while is simply spectacular. The area is very beautiful overall, and the goal has always been to turn it into something bigger and better.
This is another friendly area that seems to have nothing but pleasant people visiting and enjoying riding on a fat bike.
It is filled with a few trails that are not overwhelming at all for those just starting out. There are also some challenging paths to go down if that is what a person wants to go through.
Getting to the area might seem a little difficult, but it is not too far from Idaho Falls, or even bigger cities like Salt Lake City and Denver.
It is becoming a very popular destination for anyone on the West Coast looking for something a little bit different. Wyoming is not always the most visited state, but people are generally surprised by just how much there is to do in the area once there.
3. Vail Valley, Colorado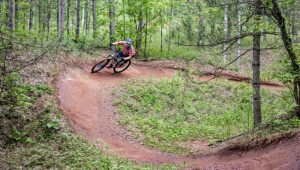 There are certainly plenty of locations in Colorado that are fat like friendly, but they all seem to do a great job of offering diversity during all parts of the year. The Vail Valley area certainly has a strong reputation for winter fun, but the summer is bringing in visitors as well.
Fat bike riding makes a lot of sense in the mountains, especially when looking for a challenge. The wheels can handle sand, dirt, grass, mud, and more, and the ride feels pretty cushioned overall compared to using a mountain bike.
Don't have a bike? Since Vail Valley relies quite a bit on tourists, there is no issue renting a bike in the area. This is great for those visiting who want to try fat bike riding out for the first time without actually buying one.
4. Marquette, Michigan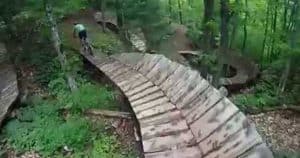 Marquette is known as a pretty fun place to visit in the winter, but fat bike riders also enjoy all the different trails during the summer.
It is surprisingly gorgeous during the summer months, and there are a ton of tracks for fat biking in this one small little area of Upper Michigan.
The best of the best as far as trails are concerned is the 12-mile bike route system on the south side of town. This is specifically where Freak n Nature offers some outstanding challenges for people.
Since this city has really embraced fat bike riding so much, it is not really that much of an issue for people to get where they want to without also getting in the way of other trail users.
The community is so into fat bike riding that people are well aware of their surroundings, meaning that there is less time spent stopping because someone is blocking the trail.
5. Anywhere on the coast of Oregon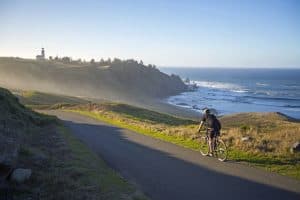 Fat bike riding is pretty popular in Oregon, and the coast is the place to be during the summer months. This is where people get the challenge of riding on sand, and also some pretty spas to take in as a whole.
Since the entire coast can be turned into one trail, for the most part, people can be found fat bike riding during the summer just about anywhere.
This type of riding is pretty difficult for anyone else to pull off, simply because the sand is a little bit too difficult for mountain bikers. There are the occasional people who do try it. Most end up investing in fat bikes so that they can glide over the sand a little easier.
Plenty of people hike this coast, but riding a fat bike is a much faster way to see everything. There might not be as many hills to provide a challenge as heading to a mountainous area, but people still find themselves very satisfied.
Making this a destination trip? Head to Banyan State Park for a chance to see things like sea caves and rock arches.
There are miles and miles and places to explore, and there are even some coastal dunes as well. The weather is usually pretty mild so that people are not finding it too difficult to ride long-distance distances.
6. Florida beaches
For a long time, the beach cruiser has been a popular bike option for people who want to ride around a state that has some long coastlines for people to explore.
With fat bikes becoming more and more popular, the beach cruiser is starting to fall out of style. It might be great for that casual ride, but those who want a little bit more of a work out can turn to a fat bike and see a lot more.
Using a fat bike means right around and being smarter, not working harder necessarily. It can handle even the finest sand, and they are usually perfectly fine to ride in most locations.
Riding without having to put in as much effort also means that a person can stay relatively cool in Florida.
It is warm all year round in most areas and can be particularly tough to handle in the summer. Having the ability to escape to some of the more laid-back parts of beaches is certainly beneficial.
7. Chequamegon National Forest in Wisconsin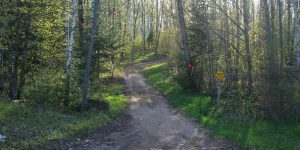 When there is snow on the ground, people travel from all over the region to Hayward, Wisconsin. This is where they can find about 300 miles of trails groomed pretty well.
In the summer, there are more riding opportunities than ever, and there is less of a need for everything to be groomed perfectly as well.
The specific area is a 12-mile trail for fat bike riders who really want to have everything as perfect as possible. For those who simply want to explore everything in the area, there are plenty of trails that fat bikes will be able to handle.
It stays relatively cool in this area during the summer, so people usually do not get too worked up as far as that is concerned. Do not be afraid to see some of the more interesting parts of the region while also testing things a bit by writing.
Those who want a different experience can come back in the winter and enjoy the national forest as well. They are doing as much as possible to embrace the fat bike community, as more and more people are investing in the area.
8. Duluth, Minnesota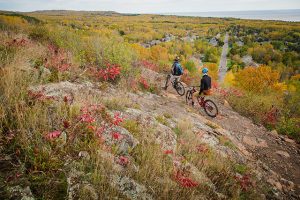 One of the hotspots for riding fat bikes in the entire world is the state of Minnesota, and Duluth has certainly built up a pretty robust trail system. Whether it is the winter or summer, there are some pretty nice places close by that are easy to explore.
Not only that, but just across the border are some nice places in Canada as well. Some people will start in the Duluth area, and then go to some smaller areas if they want a different type of ride. This is perfect for locals who do not want to do the same thing all the time, but visitors will make the track as well.
As a winter getaway, most people are going to have a great time in Duluth. Mountain bike riders, as well as fat bike riders, really enjoy all the trails that are groomed specifically for them.
The summer is actually a great time to visit as well because it is much less crowded. This means an opportunity for riders to go in different areas without getting in the way of other winter sports enthusiasts.
Is riding a fat bike in the summer fun?
It might seem like a fat bike is not really needed during the summer months, but a lot of people love being able to go just about anywhere without issue.
The stereotype is that they are only for riding in the snow, but fat bikes work very well on other surfaces as well. In particular, it does an outstanding job on sand.
When people look at things from afar, it is easy actually to compare sand and snow. A bike similarly handles both surfaces, and fat bike tires do such a great job overall with both.
Some people are so surprised with riding fat bikes on different terrain that they feel like they have a secret that no one else is allowed to have.
Not only is it easier to move around, but it is very user-friendly for beginners as well. With more surface area, there is less of a chance of wrecking, and people like just how comfortable it is to ride as well.
If there is a drawback, is that fat bikes might not be able to go quite as fast as a top-level mountain bike. However, they have closed the gap in a lot of ways, and they even make up for lack of suspension by having such comfortable tires.
Overall, the popularity of fat bikes will only continue to go up as time goes on, and they become more and more affordable. They take a lot of the best-selling features of not only mountain bikes, but beach cruisers as well. With some great places to explore the natural beauty of the United States, many are falling in love with their ride.