In order for bike riders to feel comfortable on the road, control is important. Having control with the handlebars means investing in some great handlebar tape that provides comfort and superior grip. It takes more for most people than to just use the tape already supplied on the bike from the factory.
Finding tape that performs well is sometimes a trial and error process, but it is always great to have a place to start. Here is a look at some of the best tapes out there, as well as some of the most common aspects of handlebar tape that people consider when purchasing.
1. Deda Elementi Bar Tape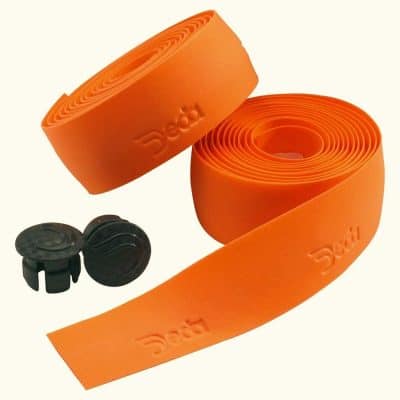 Over the years, certain tapes have been able to take off in popularity thanks to the internet. This is a perfect example of that, as the company has capitalized on very great reviews online to turn into one of the most trusted handlebar tapes out there. They offer a very affordable option that just gets the job done, and most people can appreciate that.
Anyone looking for a pretty smooth grip that provides a good amount of comfort and is easy to clean off will like this tape from the very beginning. It is made of synthetic leather, and it has enough perforation to absorb any moisture fairly quickly. This keeps the surface dry and helps to preserve the tape for as long as possible.
The fact that the company offers several different colors is also a huge selling point for this tape. No matter what a person wants to go with, there is an option for a unique color. They are cheap enough that people can switch them out pretty easily as well.
This is not going to be the most durable tape, the most cushioned option, or anything like that. It is a solid all-around option that is affordable on nearly any budget, and that is good enough for most people. Maybe it needs replacing a little more frequently, but at such an affordable price, people do not have that much of an issue doing that.
Pros
Solid all-around option
Many color choices
Minimal branding
Cons
Wears down a little quickly
Cushioning could be a little better
Click Here for the current price for the Deda Elementi from Amazon!
2. Specialized Body Geometry Bar Phat with Tape
Riders who are looking for a bit of cushioning with their tape might want to go in the direction of the Specialized Bar Phat. This is not only a tape, but an option that comes with gel pads that go on underneath. That means there is going to be some added bulk to the grip, but most are going to be very happy with the overall comfort.
The first thing to do with these pads is to stick them to the handlebar to create a base for cushioning. These pads only go on the tops and drops, so there is not that much added bulk as some of the other options out there. Some people even trim the pads so that more bulk is cut down.
The group itself is very durable, as we expected from something like Specialized. The tape is designed for people who ride off a smooth trail, but it is versatile enough that it can be used for many different types of bikes.
A lot of people love the fact that they do not have to continually make adjustments with their grip, simply adding it and allowing the pads to do a lot of the work. The pads can hold up over a long period of time, so make sure to keep them around and reuse them when necessary.
Pros
Pads are durable, reusable, and comfortable
Tape performs well under all conditions
Trusted brand
Cons
Patty might still be too bulky for some
Some colors can be expensive
3. Supacaz Super Sticky Kush Classic
A lot of tapes out there claim to be amazing, but one of the most well-rounded options is the Supacaz Super Sticky Kush Classic. It is a 3-millimeter wrap that a lot of people use for road bikes, but it can go on just about any bike out there if a person wants. It has the ability to last a very long time, and the grip stays strong even after some heavy use.
The right amount of cushioning definitely makes a big deal for those who are struggling to find something that works for them. It is not compromised at all after a lot of sweating, so that is a positive as well.
One underrated feature of this tape is that it comes with some outstanding bar plugs that work very well. They screw in and stay put, which is sometimes difficult to count on every single day.
All in all, most people are fine with spending a bit more money with this handlebar tape. It looks like a premium tape, and it can hold up under all weather conditions.
Pros
Very tacky
Lasts a long time
Has a premium look to it
Cons
Expensive
Sometimes hard to find all colors in stock
Click Here for current pricing for the Supacaz from Amazon!
4. Fizik Tempo Bondcush Soft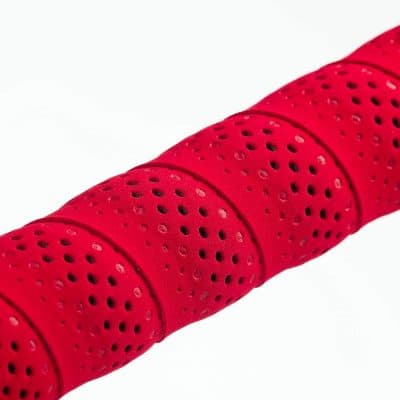 Riders can get pretty frustrated when they have to switch out continually. Sometimes, a handlebar tape starts to flake away, and it just gets too slippery to really work.
A long-lasting option that just works is the Tempo Bondcuch Soft. It comes in at right around 3 millimeters, which allows for quite a bit of padding, so people feel comfortable riding. People feel great during long rides, even without having gloves on. The polymer foam adds to the quality all-around, and the premium price so many people might be scared of initially.
Moisture absorption is at a high level, so people have no issues whatsoever using this during the summer months. It is a great all-around option, but might not provide the same level of tact that some people want. The colors are pretty basic, and cover most of the spectrum as long as people aren't too picky.
Pros
Relatively thin
Absorbs moisture very well
Last a very long time
Cons
Does not have the greatest tact
Limited color choices
Click Here for the current price for the Fizik from Amazon!
5. Cinelli Cork Handlebar Tape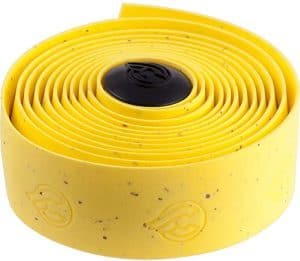 Some bike riders very strongly support going the cork route when it comes to handlebar tape. If that is the case, it does not get much better than this option.
It is a very firm, functional group that does its job and provides people with a consistent ride every single time. It does a great job handling vibrations that can go through the entire body, and sweat absorption is at a high-level.
Some riders feel like cork is the best at cutting down on blisters, so it is worth trying out if that is an issue for some riders out there.
It seems like there are still some people hesitant to use cork as an option, but it has been around for a while, and will not be going away anytime soon. Try it out and see if the switch is worth it. Just be careful in case it gets too wet, because it can alter the look a bit.
Pros
Very inexpensive
Minimalist look
Best cork tape on the market
Cons
Take some getting used to compare to other materials.
plugs do not stay in that well.
Click the link for the current price for the Cinelli from Amazon!
6. Lizard Skins Tape and Plugs Bike Tape
There is no doubt that Lizard Skins has grown as a company, offering one of the best all-around options out there for people looking to have great grip. Whether it is riding a bike, swinging a baseball bat, or anything in between, athletes are using Lizard Skins as a way to feel very comfortable.
Be prepared to spend a decent amount of money for this bike grip, but it is a high-quality option worth that investment. There are different levels of thickness, but it is a very lightweight option for those who are trying to keep everything as light as possible. With perfect cushioning comfort, people can feel like they are able to ride for a long time without any type of handlebar fatigue.
Since Lizard Skins has grown so much as a company, they have plenty of colors for people to choose from. That just allows for more customization than ever before, which is always a good thing.
Every type of handlebar tape out there is perfectly fine to attach without needing a professional but make sure not to stretch out the Lizard Skins tape. If it is attached correctly, it is going to last a very long time, so it is important to get it right.
There are too many people who do not take that extra bit of time, and then they ultimately pay the price by needing to replace a little quicker.
All in all, this is one of the only grips worth investing a lot of money in. Even though it has a pretty high upfront cost, it does not end up costing that much more in the long run when everything else is considered.
Pros
Best high-quality handlebar tape on the market.
Many different colors.
Varying thickness options.
Cons
Expensive.
A little tricky to put on correctly.
Click the link for the current price for Lizard Skin from Amazon!
Buying Factors to Consider
It is a struggle at times to figure out which direction to go with bar tape, so think about what is most important. These are some of the top aspects of bar tape to consider.
Tape Material
Certain bike riders are going to like different types of material. A synthetic grip is usually the most durable option, and they can also make them feel pretty tacky if grip is a huge issue.
Synthetic grips tend to use material such as polyurethane, silicone, foam, or gel. Companies are always coming up with new formulas to try to get the best grip possible.
Leather has always been a very traditional material used for all types of tape in different sports. People love the fact that it is a soft type of grip that also looks like a premium option. There are
those who complain about the lack of cushioning, but there are ways to get around that. Some will actually use a tape underneath a leather option and then finish with leather to have that softness.
Cork is definitely one that is soft and comfortable, and it can absorb sweat pretty well. The only real issue with cork is that it is not particularly durable for some, even though it is on the thicker side. They can start to show its age pretty quickly, and also flake off at times.
Thickness
This is the other major thing to consider when purchasing by tape. Ideally, people want to size their hands and take a look at how big the handlebar is without any tape on it whatsoever. Building up a handlebar too much is going to get in the way pretty quickly. A very thick handlebar is going to be tougher to control, so that is when thinner tape is needed.
To have the most control, strip down the current handlebar as much as possible. However, if that is not an option, the better way is just to see how much more of the handlebar can be built up before making a decision. There might be a need to only think about thinner tapes that solely add 1 or 2 millimeters to the current grip.
Keep in mind that the thicker the tape, the better it will be with sweat absorption. It also helps to absorb any of the issues when it comes to riding over bumpy terrain. That extra layer of comfort certainly helps people who might otherwise be struggling with bumps.
How long does typical handlebar tape last?
Several factors go into the length of time handlebar tape holds up. The material plays a factor, as well as maintenance and even putting on the tape in the first place. Even the cheapest options out there should still hold up for about 50 hours or so of fairly heavy use.
It is generally recommended that people who ride consistently should change their tape up about once each season. Those who only ride a time or two each week ca get away with using the same tape for six months or even a year.
However, keep in mind that bikes not touched will start to age with their grip depending on where it is stored.
When in doubt, a fresh tape setup can make a person feel very comfortable with their bike. It is worth splurging on, as even the most expensive tapes are going to cost less than $50. Considering how important tape ends up being, it is a small investment.