For many mountain bike riders, having a good set of gloves is just as essential as any other piece of equipment. Not only does it help with grip, but it adds a layer of protection against the elements and falls. Without wearing a pair of gloves, a person can find themselves in a pretty vulnerable situation that they instantly regret.
As one might expect, there are a ton of mountain bike glove options out there for people to consider. Some of them are extremely affordable, and it could be tough to not at least give them a try. However, the vast majority of quality options are going to cost a little bit more money, but last longer as well.
The good news is that even the most expensive mountain bike gloves are still not out of this world expensive, so most will invest in a few before settling on the perfect solution.
For those who want to cut out the subpar options and jump right to the best of the best, all of the gloves that make this list are of very high-quality. People will notice a much better ride on a mountain bike right away.
1. Fox Ranger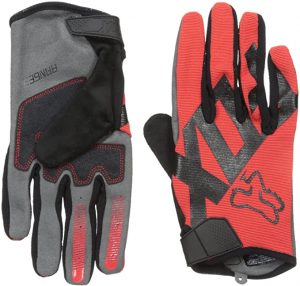 The Fox Ranger gloves (Amazon) are perfect for people who might not own a pair of mountain bike gloves right now, but they want to try something out that is very affordable.
They are going to get the job done for a lot of people and show some of the promise that gloves can provide, but it could leave some people wanting more. However, they can always be used as a backup option even if a person decides to upgrade.
A very lightweight, versatile glove that works in many different conditions, The Fox Ranger acts like a second layer of skin for a lot of people. It is made up of a very comfortable polyester that has a good
amount of grip in just the right area. A person can use any touchscreen device with a glove on, and they are pretty comfortable in any conditions. They are going to provide a ton of warmth, so keep that in mind if riding is usually done in cold conditions.
Another drawback to these gloves is that a person will not find too much padding at all. This is meant more for people who need more, and they are very easy to pack in case they are needed during a ride.
Available in a few different sizes so that men and women can get the right fit, try out the Fox Ranger gloves to enhance the riding experience. Maybe they will not be the best of the best, but it is always nice to have an affordable option around that a person can turn to when they need them.
Pros
Minimalist design.
Very lightweight.
Affordable.
Cons
No padding.
Does not help with warmth.
2. Giro DND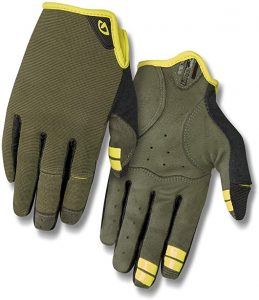 Another great option from Giro is the DND (Amazon), which is one of their more inexpensive options out there. Despite being very inexpensive, it has a lot of premium qualities that make it an excellent value.
The gloves have been around for a while, and Giro has made sure that they have not changed it up too much. A lot of people love how simple it is, yet a person can get the perfect combination of fit, cushioning, and overall protection.
The materials used on a glove are not the highest quality, but they certainly outperform what is usually found in this price range.
Overall, Giro tries to keep everything very minimalist so that a person does not feel like they are too bogged down. They come in a few different sizes, which is perfect for individuals who are trying to make sure they get the best fit.
One of the worst things we invest in any glove is not getting a perfect fit, as that can hurt the effectiveness overall.
With plenty of colors and other options, people can find exactly what they need without having to spend a ton of money. It might not be the best at any one thing, but it has a good fit, great breathability, and padding that is sufficient for more casual riders.
As long as a person does not worry too much about getting in a huge accident, this can be a sufficient solution.
3. 100% Cognito D30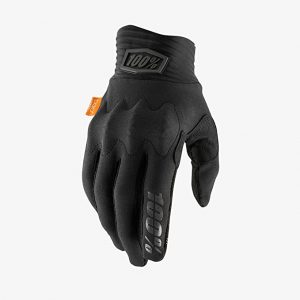 Protection matters for people who like to take risks out on a mountain bike. The 100% Cognito D30 (Amazon) is designed exactly for that type of rider, as there is protection in all the right places. Whether it is a nasty fall on the bike or a crash into something that does not move, the hands will stay protected pretty well.
The most noticeable feature here is the D30 knuckle pads. These pads work very well for people who might suffer from impact when they least expect it.
A person has a good chance of escaping without much damage or even a scratch in many scenarios and being able to have a fully functioning hand still makes a difference as well.
Breathability is sometimes a concern with highly padded gloves, but a person will notice that they feel very well and comfortable at all times.
Nobody should ever feel like their gloves are not comfortable, and it can be frustrating for a lot of people if they try to go that way.
With so many working parts with these gloves, it is important to get the right fit. People should measure to make sure they get the right sizing and feel comfortable overall. If the pads are not in the right place, it might not provide the same type of protection a person really wants.
Pros
Outstanding knuckle pads.
Very comfortable overall fit.
Has pretty good pretty breathability.
Cons
Lacks some of the special features like a nose wipe.
Sizing needs to be perfect to get all the benefits.
4. 100% Ridecamp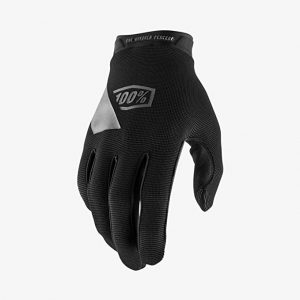 Another affordable, minimalist option that a lot of people love is the 100% Ridecamps (Amazon). They are a very flexible solution for people who want excellent versatility with their gloves. They can get a fit that is perfect in a lot of ways, and the fabric starts to mold to a person's hand so that there is no wasted space.
Since this is a minimalist glove, a person will not get the best protection out there, but that does not mean that a person is completely vulnerable either.
These hold up very well in crashes and spills, giving a person a fair amount of protection so that they minimize any cuts or bruises. The fabric is pretty durable, and a person will not have to worry about having to replace them even if they are used daily.
The overall look of the gloves is a little busy for some people who care about design, but other than that, they are one of the best entry-level options available.
For just a small amount of money, a person has a great option for minimalist gloves or a backup pair. A person does not have to feel guilty about abusing these gloves and seeing what happens.
Pros
Fits very closely to a person's hand thanks to the materials used.
Easy to use on a touchscreen.
Great amount of protection for the price.
Cons
A little tough to get a perfect fit with the sizing online.
Design is a bit busy.
5. Specialized Deflect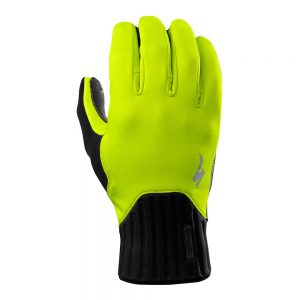 If a person is constantly riding their mountain bike in cold conditions, the Specialized Deflect (Amazon) might be the way to go. They are one of the best options out there for people who need some added warmth while wanting plenty of protection as well.
The way they can provide warmth is a bit different than some of the other companies out there, and that benefits them very well.
It can be a little tricky for some companies to figure out the way to provide warmth, but Specialized has done so by providing a windproof option for people to use.
Instead of focusing only on insulation, windproofing can cut some of the bulk away while also adding breathability. It is something that a lot of mountain bike riders enjoy because they do not have to feel like they are wearing something that is very cumbersome.
Protection beyond the elements is also very important for Specialized, and they are focused on providing cushioning in the right areas. These will not be the most protective gloves in the world, but they do add quite a bit of help for people who are worried about taking a crash or two.
It can be frustrating for people to get gloves that are great at one thing, but not everything. Fortunately, Specialized has done a great job with their Deflect option.
Above all else, these gloves are still pretty affordable compared to a lot of options out there. Many love this as a default solution that can match the brand of their bike as well.
Anyone who is a fan of Specialized and all the different things they bring to the table can try these gloves out and be pretty satisfied as well.
Pros
Excellent at keeping riders warm.
Lightweight fit despite added bulk.
Premium materials.
Cons
Padding is not the best.
Using a touchscreen is challenging.
6. POC Resistance Pro DH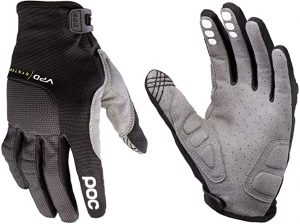 For some riders, it all comes down to having the proper amount of protection if a crash occurs. That means there needs to be a lot of padding, a lot of protection all around the hands, and a good amount of grip so that the chance of a crash is reduced. The POC Resistance Pro DH (Amazon) provides all of that, even if it is at a bit of a premium.
Anyone who has shopped POC as a brand knows that they have some pretty expensive options available to customers. They justify their prices because they can provide quality solutions with some of the best material out there as well.
A lot of people are surprised by what they bring to the table, but they have been doing this for quite a long time.
At first glance, these gloves do look a little bit bigger and heavier than most, but they are surprisingly lightweight for all the protection they offer.
They can pull this off because they use high-quality materials, but they also put the padding in the right areas. A person's hands never feel restricted when they are using the gloves, that is great news for people who want to make sure that they do not sacrifice anything from that regard.
It may very well be the best glove on the market right now for people who want to have the ultimate amount of protection if something does go wrong.
These gloves can hold up through multiple crashes, and they even work if a person ends up hitting their knuckles while still on the bike against a hard surface. A lot of different injuries can occur when riding a mountain bike, and having protection will allow people to take a few more chances and feel safer overall.
Pros
Very high-quality materials.
Padding is in the right areas for great flexibility.
Excellent durability.
Cons
Expensive.
Touchscreen functionality is not the best.
7. Giro Remedy X2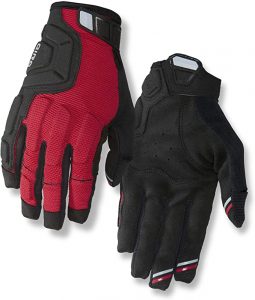 Much like their helmets and other pieces of equipment, Giro is a company that focuses on high-quality solutions at affordable prices.
The Giro Remedy X2 (Amazon) might be the best bang for the buck out there right now as far as mountain bike gloves are concerned, as they offer just about anything a person could ask for.
First things first, Giro mostly focuses on offering gloves that have great protection first and foremost. That means that a person will not be at risk when they are riding around, and they can feel comfortable using them as well.
The padding is put in great positions, and the fabric used for the gloves make sure that there is plenty of breathability as well.
Grip is also important with his class, as people will find it very easy not to lose a handle when they are riding in any conditions. It works well in wet weather as well as wet, sweaty hands, as people will feel locked in at all times.
For the price, a person can look past a bit of a durability issue as far as crashes are concerned. Out there, but that does not mean that they are extremely vulnerable by any means.
As long as the person does not go through anything too tough, they will be able to get a few crashes out of them without needing to make any placements. That is a great value for the price.
Pros
Excellent protection.
Fabric has great breathability.
Great value for the price.
Cons
Durability is not the absolute best.
Sizing is a bit tricky.
Shopping Tips For Mountain Bike Gloves
A simple search online will show plenty of options beyond just a few that are highlighted above. While these are all fantastic starting points for the vast majority of riders, it can still be tricky to find the perfect option.
Consider these tips when shopping for mountain bike gloves. By knowing a little bit more about all the different gloves offered and what will work best for certain scenarios, it can lead to smarter decisions when making the final purchase.
Fit
Almost everyone is going to be looking for mountain bike gloves that have a near-perfect fit. A person wants to feel like they barely have gloves on, refusing to sacrifice the overall feel when controlling a bike.
Gloves that are too big are not going to allow people to have that touch that they want, and it could potentially put a rider in vulnerable situations where they are not able to control where they are going.
At the same time, gloves that are too small are going to be stretched a bit too much and might not have padding that lined up correctly.
Make sure to take as many measurements as possible before starting with an order, and then go from there. Most people will be very happy with the gloves they ultimately end up choosing.
If a person is in between sizes, try to go with the smaller one. Most gloves will start to stretch out a little bit, as the fabric is designed to do that. It might be a tight fit at first, but it starts to form to the hand.
Type Of Protection
Gloves offer many different levels of protection for mountain bike riders. Some people need to worry about the weather first and foremost, and that is why they will invest in gloves that provide warmth. Others are more worried about protecting themselves against crashes, and that is also very important.
It can be a little tough to wear a lot of padding in the hands during particularly warm weather, which is why there are some lightweight options available as well.
Usually, most people have to make some sacrifice when they decide on gloves for a particular ride. That is why it is always nice to have a few pairs to cycle through depending on the situation.
Additional Features
Not everyone will feel the need to have added features such as nose wipes, touchscreen compatibility, and more. However, it does come in handy if a person feels like they are constantly wishing they had these features in gloves.
Wiping the nose is a constant habit for some mountain bike riders, and it just makes sense to have a way to do that with gloves on. Some companies offer these solutions, and they work very well for individuals. Others do not initially seem to care all that much, as it mostly comes down to personal preference and habits.
If gloves do have a nose wipe, it is located on the thumb. They are almost always made of a softer material like fleece or even terry cloth. It does a good job of taking a fair amount of moisture, or anything that comes out of a nose.
Why Investing In MTN Bike Gloves Makes Sense
No one should ever have a mountain bike without at least one set of gloves to count on. Even if a person does not plan on wearing them for shorter rides, they are always worth having in case something goes wrong.
There are way too many people who will be out on a longer trail, and they will need gloves at some point. Whether it is a temperature change or the weather turns foul, it is always worth having something ready to go when needed.
Maybe the most expensive options are not necessary, but a good pair of gloves will help keep the hands in great shape. Shop around and see what is out there before making a final decision.