A downhill bike needs to excel in going downhill to be a truly popular choice for riders. It seems simple enough, but certain companies do a better job with this than others.
Shoppers have a lot to consider when looking for the right downhill bike, and it can be anything from total cost to geometry.
What companies put out the best downhill bikes in today's world? There are plenty of choices out there for people to sift through, but these are the best brands offering the most.
1. Trek
There is no way a person could go wrong with a Trek bike with any discipline out there. They put out bikes for any riding, and their downhill bike selection is perfect as well.
Even though it is a trusted and well-known name, their bikes still stay pretty affordable for the most part. On top of everything else, they are easy to find, and can be repaired locally just about anywhere.
They seem to focus more on the lightweight side of things when it comes to downhill bikes. For example, the Trek Session line of downhill bikes can weigh right around 35 pounds, which will feel very lightweight compared to the competition.
They achieve this weight by using the best component possible, and they spread out the weight to make it feel even lighter.
Trek is without question one of the smarter companies merely because they have been doing everything for a long time.
Some might think that they are spreading themselves too thin and not focusing enough on the downhill bike discipline, but they borrow different qualities from other bikes to put good options together. This makes for a high-quality bike that people can benefit from as a beginner or a seasoned veteran.
2. Specialized
A lot of what is said about Trek above can be also said about Specialized. They are not exactly known for being a downhill bike company, but that is because they do just about everything possible with bikes.
A lot of local bike shops will cover Specialized bikes, and that is always nice for people who need to get repairs in a hurry.
The most well-known high-end Specialized downhill bike is the Demo Expert. They continue to make sure that this is one of the most high-quality options available in downhill biking.
They use that four-bar design for the suspension that everyone recognizes with Specialized, but the components are what make this bike pretty unique.
The one drawback with Specialized is that most of their downhill bikes tend to be a little expensive. They do not have much for people looking for a truly entry-level option, so a person might need to start with a lesser-known brand in the beginning.
Once a person is willing to graduate to something a little more intense, this is where Specialized comes into play.
3. Nukeproof
Nukeproof has a reputation for keeping their downhill bikes extremely affordable for any type of riders. Their Dissent line of downhill bikes are remarkably affordable, and a person can find a high-quality option for much less than a competition.
Considering they continue to push industry standards and stay competitive and downhill biking, it makes it one of the better brands overall.
The cachet might not be there for Nukeproof as there is for more well-known brands across all types of disciplines, but the downhill community likes the components that come with their bikes from the beginning.
They make sure to go with quality options only in the most important part of the bike, and with easy upgrade options, it is not hard at all to customize any of their options either.
4. Marin
Whether a person is looking for a 29-inch dropper or a 27.5 inch fixed, Marin has plenty of options for downhill biking enthusiasts. They are always focused on putting out quality options at a price that is hard to beat, and people continue to gravitate towards all that they offer.
Staying on a budget is sometimes easier said than done with downhill biking. A lot goes into these bikes, and it makes sense to get high-quality parts considering the risk people are taking. After all, no one wants to ride down a huge hill, only not to trust the bike they are on.
Maren is not afraid to take a few chances here and there. For example, they feel like they put out one of the best hardtail options out there in the San Quentin One. For those who just want a more traditional option that is a good starter bike for any downhill rider, the Alpine Trail line is always worth checking out.
The bikes put out by Marin are a little plain for some, but that is part of the brand identity. They are more about giving people a quality option and keeping costs down over everything else.
5. Orbea
The best options from Orbea are carbon fiber, high-quality downhill bikes. As one might expect, this means that they are a bit on the higher side with price, but most find it worth it if they are serious about their overall ride.
The Rallon line of downhill bikes is the way that they make their name currently. Whether it is the M team or the M 20, both are outstanding quality options for people of all levels.
As far as a carbon fiber bike is concerned, the M 20 is one of the best values a person can find. It is not the cheapest downhill bike out there by any means, but compared to other carbon fiber options, it certainly stands near the top.
It goes beyond the frame material for the company as well. They do not skimp on components, and they design every bike with an overall skill level in mind.
Speed will always be a bit of a premium for people investing in a carbon fiber bike, but those who have trouble with a lot of bumping around on trails will find it to be worth it as well.
6. Yeti
Yeti Bikes is known for providing a bit of unique style for downhill bike riders. Those wanting to take risks and be a bit extreme will check out many of the options for the company.
They are all about providing different options for all types of riders, but people seem to particularly gravitate towards their 27.5-inch wheel options.
This means that those who are trying to have fun and pull off stance will think of yeti a bit higher than those looking for a traditional 29-inch model.
Extreme riding is usually only recommended for people who have a lot of seasoning in downhill biking, but it can be a lot of fun for many.
The most important thing to remember is that it is worth investing in a bike that will hold up. Taking a lot of risks on a bike that might not be made of high-quality parts is a recipe for disaster.
Yeti ensures that riders are as safe as possible with any options one goes with. They put in the extra work and include components built to last.
7. Santa Cruz
To some people, Santa Cruz is the brand that sets the standard for downhill mountain bikes. This brand from California has always been trying out new options that make riders fall in love with these bikes. They can be pretty expensive, but well worth the investment for those truly invested in the sport.
Each new version that they put out continues to push the envelope for technology. They will make tweaks on just about anything to ensure that a person gets a fast, comfortable ride.
They also want to make sure that every downhill mountain bike they put out is going to keep people safe no matter what as well.
One way they do this is loading up on rear suspension with all of their bikes. If a person does not have a good amount of rear suspension, they are going to feel that it is a little painful to ride at times. Santa Cruz is well worth checking out, as long as their bikes fit into the budget.
8. Canyon
Finding a Canyon downhill bike can be a little difficult in some locations, as this is a German direct sales brand. They are able to keep prices very low because they are a direct sales option, but availability is a little hard to come by in some cases. They are a very specialized shop in so many ways, as they make sure every detail is correct on the line of bikes they release.
The Sender line is what they are known for at this time. The bike is only available in 27.5-inch options, but there is a chance that they will eventually try out larger options at some point. They seem to really want to focus on what they do well at first, and then branch out later on.
As one might expect, the Sender is very compact when riding, which means that a person could be very agile getting around. Their bikes are very stable as well, and the overall build is definitely one of the standout features.
They are never going to be a huge company as long as they stay in direct sales brand, but people who are getting their hands on this bike are definitely enjoying the experience from the very beginning.
9. Pivot
The final brand to make this list might not be known by everyone, but those in the downhill bike community are well aware of Pivot.
They have turned into a pretty major player in the last few years, and a lot of that is related to their phoenix 29 line of bikes. This 29-inch wheel option is fully carbon, and it provides some of the best comfort a person can ask for.
Think of Pivot as another company willing to put in the research and time with every type of bike to make sure that a person is getting the most out of their money.
It can be a little surprising to some people that certain companies do not make necessary adjustments when releasing new options. Pivot is always looking to innovate, providing shoppers with a bike that makes the most sense for them overall.
The carbon options are pretty affordably priced considering how expensive those bikes can get, but not everyone will have that type of budget.
Pivot tends to be on the more premium side, but they are worth giving a try if other bike options out there do not make sense. Their design and look screams premium, and they provide one of the best warranties out there for their brand as well.
Additional shopping tips within brands
Figuring out the brand of downhill bikes is one thing, but the next step is trying to decide on the actual bike. There are a lot of factors to consider, and it will dictate the price for a lot of shoppers.
What are the three biggest decisions for shoppers so that they get the right option for them? Just picking these three options can go a long way towards narrowing down what makes the most sense.
Wheel Size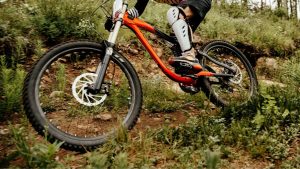 There are two main wheel sizes for downhill bikes people end up purchasing. The first is a 29-inch option, and that is the more popular downhill bike version.
It can get to higher speeds since the wheels are bigger, and riders will be able to feel a little more comfortable overall. They are a little more stable, which gives riders fall levels more confidence when they are going downhill.
A person might not always care about speed, but doing tricks and having some extra maneuverability might be intriguing as well. For those cases, the 27.5-inch wheel size is a better option. It is particularly great for people who might want to do some jumps and show off some style in general.
If possible, try to test ride both options locally to see how they feel. If this is the first downhill bike ever, the 29-inch is probably the best option, but some will gravitate towards the 27.5-inch.
Both are going to provide a good work out and get people into this type of riding, but personal preference can go a long way.
Frame
The frame of the bike dictates not only feel but overall weight. For a long time, aluminum has been the dominant option, as it is affordable enough for a wide range of bikes. However, if a person has money, a carbon frame is going to be better in a lot of ways.
Carbon fiber in a downhill bike frame can lower the overall weight, and also absorb vibrations when riding on any terrain. There is a reason why people will go with a carbon fork at the minimum, as that helps in some ways to balance out price and how everything else feels.
Aluminum frames have definitely made improvements over the years, and they are perfectly fine in a lot of cases. They are durable, and that is very important in downhill riding, as carbon options can be a little more delicate. To make repairs, carbon fiber bikes get expensive in a hurry.
Shocks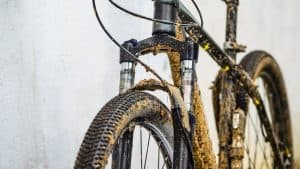 This is a pretty big decision for downhill bike shoppers, and it does not pertain to all the other bikes out there either. Coil shocks were all the rage in the early days of downhill bikes, but air shocks are becoming more and more popular. Technology is helping away, and people are starting to realize that they have two legitimate choices.
Coil shocks are going to be a tad more sensitive, and they also provide more consistency overall. They are pretty perfect as far as shocks are concerned, except for the fact that they tend to be heavy. With downhill bikes already carrying a little bit of weight, some people are looking to cut anyway possible.
That is where air shocks can come in to play. Air shocks are lighter and their adjustability is much better than coil shocks.mIt is a more modern set up overall, and most riders will love how this all comes together.
If a person is looking for a bit more of a performance option, the air shocks might be the way to go. Coil shocks tend to be slightly cheaper, and that can be a way to save some money if a rider ultimately does not care about the differences.
Trusted Brands In Downhill Biking
Find any bike from a trusted brand makes sense because eventually, repairs and upgrades are necessary. Even if a person takes great care of a bike, there will be times that something comes up. It is better to work with a trusted brand than something that is largely unknown.
The top brands are also more likely to offer warranties and additional coverage to stand behind their products. At the end of the day, they are all competing against each other, which helps the consumer.
They know that if the first bike that a person purchases from them works out, they are likely to stay with that brand when purchasing future downhill bikes.