Anyone who owns a fat bike understands that the more it is used, the more gear that is needed. Some of it is 100% practical, while others might be upgrades based on personal preference. Everyone is prone to buying a few things just simply based on looking cool as well.
Beyond the need for the #1 accessory every rider must invest in, a helmet, there are many valuable accessories riders have grown to rely on. Here is a closer look at some amazing accessories that are practical, affordable and focused on improving each ride.
1. Mud guard/fenders
Portland Design Works Mud Shovel (I call it a Snow Shovel!)
Just about anyone who rides a fat bike is going to be doing some riding in some pretty tough locations. Whether it be snowing and below freezing, or hot and muddy, A good set of mud guards/fenders for the tires will keep riders pretty clean.
These fenders are very easy to install, and this option from Portland Design Works is perfect, especially for wet, snowy conditions. I know, the back fender looks a bit odd compared to other bike fenders on the market but these are made specifically for a fat tire bike that is prone to adverse conditions!
You can also get a Front Fender from the same manufacturer for your fatty. The front fender looks much more like a conventional MTB fender. It is, of course, a bit wider to cover the tire fully.
2. Lights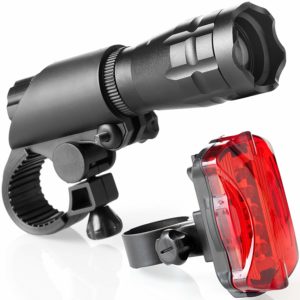 Even if there is no intention to ride the bike at night, lights are still essential for any rider. That is because a person can find themselves in adverse weather conditions, or a delay may cause a return trip at dusk.
Whatever the case is, every person should invest in a good set of lights. For an affordable option, TeamObsidian has a great set for people to use on any type of bike. The torch light for the front is particularly great because it's bright enough on the high setting to illuminate the area in front of a rider. The rear light is more for approaching traffic to make sure a rider is completely visible to them at all times.
Riders who don't like always to have these lights installed will love the fact that they have a quick-release system. Take them on and off in a matter of seconds, and move them to another bike if needed. These lights operate on battery and last a long time performing at a high-level.
3. Bike Stand For Fat Tire Bikes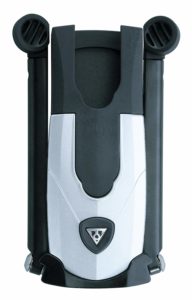 Topeak Flashstand Fat Bike Stand
A standard fat bike is not going to come with any type of kickstand, and a person will likely get laughed at if they install one on their own. A better solution? This fat bike stand from Topeak can handle many different types of bikes up to about 45 pounds.
Even though it folds up to be small enough to put in a pocket, the stand is as durable as it comes. Made of aluminum and polymer, it can hold a bike very easily for short periods of time, or storage. Every fat bike owner should have a stand for convenience alone. They can save a lot of time, and also prevent a person from having to lean it up against something or throw it down on the ground. Many people buy one of these, keep it in their garage/storage, and use it when necessary
4. Phone Bag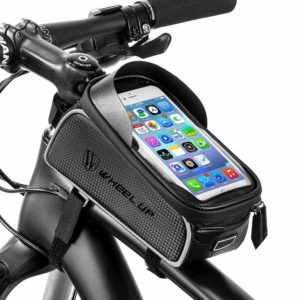 For people who need their phone for one reason or another while riding, it can get pretty difficult to pull it out of a pocket throughout a ride. A much better way to handle a phone is to invest in this small bag made by Rock Bros. This is a company that simplifies the entire process by putting the phone front and center, while still protecting it against the elements, crashes and more.
The bag itself has enough room inside to hold accessories such as a smaller tire pump, small repair kits, keys, a wallet, and more. This can completely replace a rear bag that some people use if they travel lightly.
What makes this bag different is just how focused it is on making the smartphone extremely usable at all times. It has a TPU film window that covers the phone so that a person can treat it like an added screen protector. It goes right up against the phone so that it is still completely usable at all times. Switch in between music, take important calls and check the GPS without ever having a break.
There are a lot of bag options out there, but Rock Bros really seems to be the best of the best right now. The combination of value and durability makes it stand out.
5. Bike Rack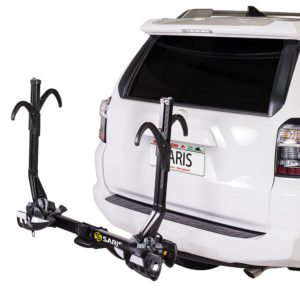 Saris Superclamp EX 2- or 4-Bike Rack
Unfortunately, there is no way to get around the fact that a good bike rack for a car or truck is going to cost money. However, the alternative is not to use one, and possibly scratch up or damage a vehicle, costing a lot more money in the end.
Bike racks usually come in sizes for two bikes at a time, or four bikes at a time. Saris makes a great option for both, and they are built to last. They come with a tilting feature that makes it
easy to access the rear of the car without having to remove the bikes every single time. It's extremely easy to load and unload as well, as long as a person spends a little time practicing.
This is without question something no one should go cheap on. Not only can a subpar bike rack do damage to the car it is attached to, but it could cause a severe accident on the road involving others as well.
Don't forget to buy the fat wheel adapter for wheels larger than 3.8″.
6. Protective Eyewear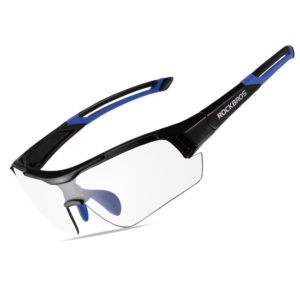 Having eye protection when on a fat bike is important, especially when off-road riding. No one ever knows when something might pop up and catch someone in the eye. Rock Bros makes a great pair of glasses that adjust automatically to the amount of light outside.
This is perfect for riders who always want to have protection but ride in different conditions all the time. During the dusk or night time, the glasses look like safety goggles in a lot of ways. When the sun is beating, they transform into a quality pair of sunglasses.
They only weigh about 24 grams, so it barely feels like there is anything on at all. Eyes always need to be protected, from the sun, but also from any type of debris that might fly down.
7. Rear Bag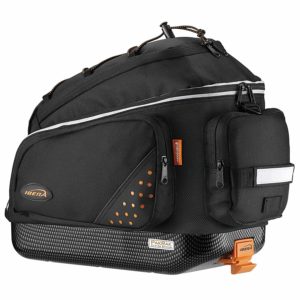 A commuter bag is something that not every fat bike user will need if you use your fatty for commuting of course. It certainly comes in handy for people who are using it as a main source of transportation. For big trips that require carrying a lot of stuff, this trunk bag is easy to take on and off at any time.
There is only so much storage when relying on small bags in the middle or front of a bike. Adding a bag to the rear allows for more space, more weight and a more balanced bike in general. Of course, this bag only works if it has made a quality material, and Ibera made sure that this was something that could hold up for years if not abused.
It looks a little bulky at first, but this is arguably one of the most lightweight and aerodynamic bags a person can buy at this price point. It also has a lot of reflective trim on it so that a rider is very visible during dark hours.
8. Gloves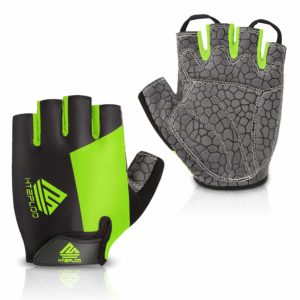 The majority of fat tire bike riding happens in decent weather, so these bike gloves are probably the best available for the price. They come in seven different colors, and they have some of the best grip and padding on the market.
Anyone who rides without gloves on a fat bike can understand the pain that comes with long bike rides. Not only do the hands feel fatigued, but it is no fun forming blisters halfway through a ride.
The bonus feature that stands out with these gloves is a finger loop that allows for the gloves to be pulled off quickly without going inside out. It might not seem like that big of a deal on paper, but as soon as a person uses the gloves, they will be very thankful for having this.
Even under heavy use, riders can get hundreds of hours out of these gloves before needing to replace them. They are affordable enough that even buying a few pairs a year is not going to set a person back too much.
9. Gaiters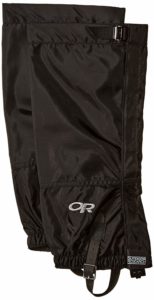 For those riders who really love off-road adventures, investing in a pair of quality gaiters might be the way to go. Outdoor Research has a great set made of nylon that is perfect for a strenuous activity like riding a bike.
These gaiters will protect most of the leg below the knee when riding. It helps to keep a rider dry, safe, and more. Not everyone is going to feel that comfortable using them, but they do come in handy for other outdoor activities as well. They are borrowed from hikers and climbers, but they work well for riding a fat bike.
This company isn't the cheapest, but they provide a very lightweight option that is perfect for bike riders. They are also extremely durable, made of high-quality material and match just about anything.
10. Fat Bike 
Bar Mitts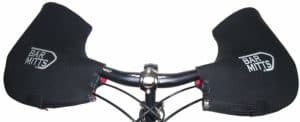 Bar mitts are a great piece of gear if you'll be riding your fat bike in cold weather. As I'm sure you know, riding a bike wearing thick winter gloves can be bulky and not very comfortable.
There is a Velcro strap on the inside to anchor the mitt to your handlebar. This is in addition to the zipper/Velcro tabs that secure it to the handlebars. There's a zipper that closes in the front so that no cold air gets inside (so that is essential while winter riding). Don't worry, the glove is large enough to let air circulate inside to at least keep your hands from sweating too much.
I have no problems shifting or braking or to even pull my hands out of the gloves, it's almost like they're not even there. I like to change my hand position on the bar, and these bar mitts allow me to do that.
To Sum It Up!
I hope this list helped you find some new gear for your fatty! My favorite fat bike gear of this list has to be the very first, the Mud Shovel! I find it ticks all the boxes and it also fits my MTB which makes it easy to swap from bike to bike depending on the season.
Feel free to visit our other articles focusing on everything fat bike!  Thank you for stopping by!