A newcomer to the fat bike world is usually going to attempt to stay under $1000 for their first purchase (Click here for our Top 5 best fat bikes under $1000). It makes sense to set somewhat of a budget, because the last thing anyone wants to do is throw away a ton of money on something that they might not be that into later on.
Once a person gets a little more familiar with the sport, they might feel like an upgrade is necessary. There are several fat bike options out there that provide a little bit of a boost but at a price.
What to Expect in a $2000 Fat Bike
Bikes in the $1000-$2000 range usually have quite a few upgrades, but they still aren't going to be the best of the best. Still, a lot of people will shop in this range and purchase the best bike they will ever own.
What exactly makes a bike worth that much money? Before examining some of the best bikes falling in this price range right now, it is important to know where that money is going.
Improved Frame
A fat bike in this price range will have a lightweight frame that is sturdy enough for any type of impact but performs at a high-level as well. An entry-level fat bike usually has a frame that is a bit heavier, and it might be made of steel or some other somewhat inexpensive material.
Make no mistake, entry-level fat bike frames are still solid, but people should expect a bit more once they start to spend more money.
Look for carbon fork options attached to the frame, as well as any carbon on the frame itself. Finding a fat bike with a lot of carbon fiber usually means that it will be north of this price range, but there are still some decent opportunities out there for people looking for a great deal.
Better Standard Tires
Buy a standard entry-level fat bike, and the tires are usually pretty average. It' is going to be just fine for a casual rider, but those logging a lot of miles need something a bit better.
It can cost a few hundred dollars to upgrade not only the tires but the tire tubes and wheelset in a cheaper fat bike. Not only that, but it takes a little bit of knowledge to handle that process.
A better way might just be to spend the extra money upfront for a bike in this price range. It might just end up being the same price in the end.
Better Components
To go along with better tires, there are also better components at this price range. There are still opportunities to customize how a bike looks and performs, but it will not be as necessary building from scratch as an entry-level model.
A mid-tier option in this price range will have a great frame to build off of, and numerous components fit universally for an even better upgrade.
Motors, and Other Optional Goodies
The final bonus in this price range is the opportunity for some fat bikes to have a motor attached (full article).
Not everyone is a fan of having a motor, but it does come in handy if a little bit of extra assistance is needed. It also adds to the versatility of the bike, helping more and more people get into the sport and stick with it.
A motor, or any other type of added goodie, will not make that big of an impact for the typical rider. It is one of those things that are nice to have, but not a lot of people go out of their way to spend hundreds of dollars more to get one in this price range.
Click here for some of the Best Fat bike motor upgrades from Amazon.
Top 5 fat bikes under $2000
The five bikes below fit nicely into the mid-tier range as far as fat bikes are concerned. A person can easily go out there and spend more money on a fat bike, but these are a step up from the entry-level models.
What people notice is that there are more specific sections in fat biking to go down once they become more expensive.
Specialization makes a lot of sense because not everyone wants to spend a lot of money on a fat bike built for snow, a fat bike with a motor, or something else like that. Knowing what type of riding is expected can go a long way towards making the right decision.
1. Kona Wo
For around $1500, a person looking to make an upgrade from an entry-level model can find a great fat bike that will last for years.
The Wo is capable of providing just about everything a rider could ask for, and it all comes in a convenient package instead of having to upgrade components here and there.
Customers will instantly have quality features such as a SRAM Eagle drivetrain, Sun Ringle Mulefut tubeless-ready rims, a 4.8 inch wide tubeless-ready tire, Shimano hydraulic disc brakes, and more. The components are great on this bike, and it comes with a sturdy aluminum frame as well.
Built for the snow, people can feel very confident when they are riding around in this bike every single day. It is very adaptable to the point that it is easy to use in summer months, attacking any type of terrain that it comes across.
With several color options to choose from, a person can feel like they truly have a unique bike to call their own. This is always a positive for people spending a little bit more on a fat bike. Instead of getting the norm, this adds a little bit of individuality to the mix.
Pros
Feels very high end for an affordable price
Vee snowshoe XL tubeless-ready tires can handle anything
Stylish color combinations available
Cons:
Could be just a little more lightweight
Built more for the winter months, meaning some customization needed for summer riding
Click here for more on the Kona Wo
2. Rocky Mountain Blizzard 10 – 2020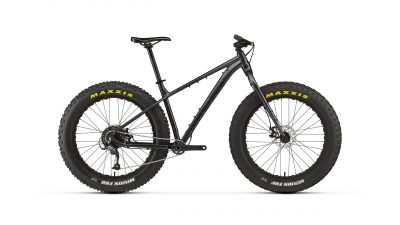 Rocky Mountain has some very affordable fat bikes for riders who want to take their exploration to the next level.
With several high-quality features to count on, this bike is also customizable if a component needs upgrading. What many find is that few upgrades are necessary, as the components that come with it are already a step above the rest in this price category.
For a little over $1000, people can expect a quality set of 4.8 inch Maxxis tires, Shimano drive train components, Altus 9-speed shifter, and rear derailer. The standard 26-inch wheels are solid themselves, but larger wheels can be added as well for a more customized ride.
The beauty of using very thick fat tires is that it opens up more trail opportunities. This bike can fight through a significant amount of snow, but it can also help riders go deep into the woods. It is all pretty smooth riding with a solid, soft feeling frame and shock-absorbing fork.
Pros:
Very affordable
Outstanding, thick fat bike tires included
Numerous Shimano components
Cons:
Disc brakes are only average
Not everyone is a fan of fat bike wheels that wide
For more on this awesome Fat Bike click here.
3. Diamondback El Oso Dos
Diamondback has gained a reputation over the years as one of the best companies for a mountain bike in the industry. As fat bikes continued to grow, Diamondback decided to transition a bit as well. They have quite a few different options, and in this price range, the Diamondback El Oso Dos is the best overall fit.
What makes it stand out? A lot of it comes down to the overall versatility. This is a fat bike that does very well in any type of tough predicament.
Riding on snow, sand, or mud is very easy thanks to the very solid set of tires that comes with the bike by default. Combined with a very lightweight aluminum frame and alloy fork, it is a smooth ride no matter what comes up.
Many appreciate that this bike is a step up from an entry-level option, but still keeps the same type of simplistic approach. It is not something that is filled with all the bells and whistles others might have, but it is a perfect solution for anyone who just wants something very dependable.
Some people will take advantage of the opportunity to add bigger tires to this bike, opening up more trail opportunities in the end. The opportunities for customization are endless, which really excites many when they make a pretty easy first investment.
Pros:
Versatile enough for any terrain
Plenty of size options
Excellent opportunities to upgrade components
Cons:
The stock saddle isn't the most comfortable
Not many bonus features
Click for more great reviews for this Fat Bike with an amazing price on Amazon.
4. Cyrusher XF660 fat tire bike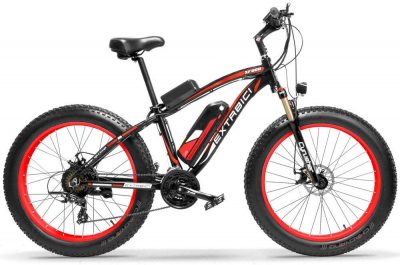 Coming in at just under $2000, this fat bike from Cyrusher must hit all the marks to justify the price. With the other options above being much more affordable, is there a reason to spend a few hundred dollars more on this fat bike? Depending on what the use is for, it definitely pays to have this bike ready to go for a ride.
The build of this bike is definitely for off-road use. It is capable of handling just about any type of terrain, and the parts are second to none in this price range. From the Shimano shifters to excellent dual disc brakes, people feel in control the entire time they are riding.
If it seems like it is becoming a bit too difficult to pedal, there is another option built into the bike that isn't available in many others in this price range. There is a full power-assisted mode powered by a 500-watt motor. It uses electric power and can run for about 35 miles at 25 mph. This allows people to really go out there and explore, or get that assistance they need when they are facing tough uphill battles.
Very few people use the motor all the time, more or less focusing on using it as a bit of a crutch. This means that if it is absolutely needed, it is there, but it does not need to always be on and helping out with the ride. Otherwise, a person might miss out on the actual exercise part of fat bike riding.
Despite the high price tag and the motor included, no one should ever feel like they need to baby this bike at all. It is very durable, and will have the ability to hold up against just about anything. When investing in this bike, it is going to cost some money upfront, but in the end, most are more than satisfied.
Pros:
Electric power available
Shimano shifters
Capable of supporting a lot of weight
Cons:
A little heavy with the added motor
Some traditionalist view using a motor as cheating
Click here to see what all the fuss is about for this Fat Bike on Amazon!
5. GRAVITY BULLSEYE MONSTER FIVE X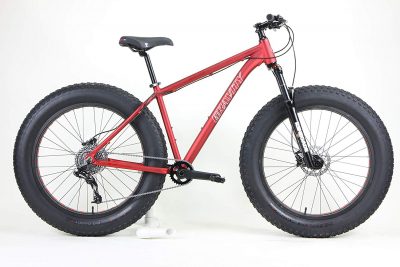 With a frame made out of 6061 alloy aluminum, people know right away that they have a very strong and lightweight bike to work with. Couple that with some great components, and this is one of the best values in the price range.
Components with this bike include Shimano hydraulic disc brakes for the front and rear, a 10 speed SRAM drivetrain component, RST renegade TNL front suspension with thru-axle, and more.
This is going to make a very smooth and enjoyable ride for people, especially when they come with standard tires that have 4.9 inches of width.
The design of the bike is a little plain for some people, but others might like it. There is something about simplicity when using a bike that is bound to get dirty out on the trail. Available in two different sizes, this is a great option to graduate to for people who have been in fat biking for a while
Pros:
Very lightweight frame
Stock tires have a lot of width and traction
Sizing and color variety
Cons:
Does not have any true standout features
Shifting isn't as smooth as someone like
Click here to see if this bike is on sale on Amazon cause it's sometimes up to 40% off, you might luck out!
Hope you find this list helpfull on your such for a fat bike thats under $2000!