After purchasing a gravel bike, people are looking at several different accessories to go along with it. Most already have some type of helmet, but it might not be specific for gravel bike riding.
What are the best gravel biking helmets out there right now? The Specialized Airnet Mips, Bern FL-1 Trail, MET Allroad Gravel Helmet, Zero Syntax MIPS and the Nutcase Metroride MIPS are the 5 best gravel bike helmets we chose. All the reasons we chose these specific helmets is explained below.
On the other hand, some might prefer a little more protection and overall ruggedness for off-road adventures. These five are great starting points to keep the head protected when riding short or long distances.
Click the link for my choice for the 8 Best Gravel Bike Brands for 2021!
1. Specialized Airnet MIPS
At the top of nearly any helmet list out there is some type of option from Specialized. They have once again made it on a best-of list, this time with an excellent and dependable gravel bike option. Some people like to look outside of the big companies, but it is hard to argue how much technology they put into this helmet for great protection.
Although it carries a pretty high price tag, most people are willing to make the investment considering the technology used. For starters, it is one of the fastest helmets out there produced by any company. They have made sure that everything in the helmet allows people to cut through the air and not have any resistance whatsoever so that they can continue to set new records.
A lot of companies try to say that they have a helmet that feels like there is nothing on, but this truly does match those expectations. It may seem a little heavy at 351 grams, but it fits perfectly after some adjustments and takes any pressure off of the head. With three different sizes, virtually anyone will have a chance to get the fit they want.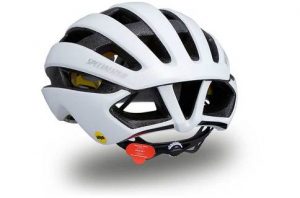 MIPS protection is another huge selling feature for this helmet, as everyone wants as much brain protection as possible. To put it in Layman's terms, MIPS protection is the best when it comes to making sure that there are no brain issues whatsoever. If the worst happens and there is an accident, people know that they do not have to worry that they are at a major risk.
Some of the smaller touches round out the helmet as a perfect solution in the eyes of many. The strap is comfortable and tucks away neatly. There are touches of technology such as drying
features in the fabric to keeping the helmet as odor-free as possible. With minimal care, this helmet can be used every single day to provide ultimate protection. To put it simply, gravel bike riders will benefit from this helmet and never look back at anything else if they make an investment.
Pros
Feels very lightweight on the head.
MIPS protection.
23 different vents for cooling.
Cons
Expensive.
Casual riders might not benefit as much from all the features.
2. Bern FL-1 Trail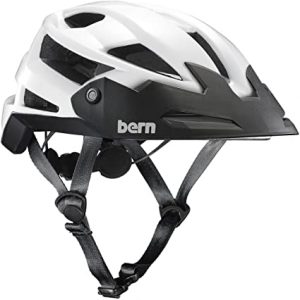 Bern has built a reputation as being dependable, affordable, stylish, and criminally underrated. A lot of people overlook the company for other more expensive options, but they provide a lot of the same benefits at a lower cost. From riding bikes to jump in on a snowboard, they make helmets and focus on helmet technology in numerous sports.
The FL-1 Trail (Amazon)  is certainly worth a look for gravel bike riders. Whether it is on the road or off the road, it is a performance helmet without a performance price tag.
The weight is the first thing that jumps out off the screen, as it weighs 281 grams. Lightweight helmets usually end up costing quite a bit of money, so it is a bit of a surprise to see them get their weight down this much. They did not sacrifice any type of protection or features for that matter, instead opting for materials that stack up against any company.
For a proper fit on any of the three sizes, the dial retention system is simple and effective. It also comes with a visor for people to count on if they need to. Being able to adjust everything on the fly is certainly a benefit, and one that should never be overlooked.
Finally, the vents on the helmet keep people as cool as possible. There are 18 in total, and the helmet never feels like it is a hindrance in any way. It would be nice if there were some additional adjustments such as changing the location of the visor or making the path a bit more comfortable, but overall, it is still very much worth the price.
Pros
Inexpensive
Lightest gravel bike helmet to make this list
Excellent ventilation
Cons
Pads are extremely comfortable
Lack of adjustment options with the visor
3. MET Allroad Gravel Helmet
Gravel bikes are designed to go everywhere, so it makes sense to get a helmet that can do the same. With the ability to fit in anywhere, the MET Allroad gravel helmet is a perfect solution for people wanting to stay as protected as possible.
The best way to describe the helmet is that it is modern, yet simplistic. It looks like a very premium option from the outside, as the matted finish in several different colors can really pop. It is a blend of sporty and comfort, which is perfect for the amateur riders who do not really care about getting the most performance out of their helmet.
Available to wear at all times of the year, most people who invest in this helmet will use it for other types of riding as well. It is true that it is versatile enough to be worn as a road bike helmet in a pinch, or even on fat bike trails. It might not entirely fit in, but it will still provide great protection and comfort.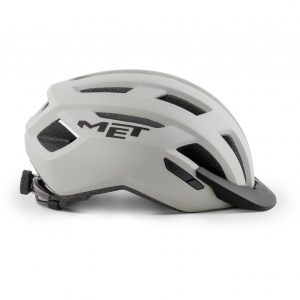 It is hard to find too many drawbacks with his helmet, but it is also hard to find any one thing that stands out from the rest. Maybe that is what it is meant to be since it is an all-road option in the first place.
It is very, very good at a lot of things, but not the best of the best in anything. That is certainly not a knock on it by any means, as the helmet is very dependable for any type of gravel bike rider out there.
Pros
Works on any type of surface.
Modern design.
Gel padding lasts a long time.
Cons
Visor is a little flimsy.
Some color choices sell out quickly.
4. Gyro Syntax MIPS
For a valuable all-around option that is perfect for gravel trails, the Gyro Syntax MIPS (Amazon) is certainly one not to overlook. It has been around for quite a while, and it is used for so many different types of riders.
Road bikers have no problem whatsoever using this helmet and feeling very protected and fast. The same goes for gravel bike riders, as it provides speed and protection that is hard to find at this price point.
Priced at just under $100 most of the time, it is a very protective helmet that still finds a way to fit 25 vents on the helmet. The polycarbonate shell keeps everyone protected, but the vents keep it very cool even during the hottest rides. It is something that a lot of people struggle with during warmer months, so have a lightweight options certainly helps.
Getting the right fit is also important, and between the foam and the retention system, the helmet never moves much when it is fit correctly. It also comes with MIPS protection, which makes sure that people are as well protected as possible.
It might not have the same type of full coverage that some people are looking for in a trail helmet, but it is perfectly fine for those who spend more time on the road than off. Commuters have counted on it for a while, and there is no doubt that more and more people are finding great uses for the helmet in the gravel world.
Pros
Versatile enough for road or gravel riding.
25 vents in total to keep things cool.
MIPS brain protection.
Cons
Does not have as much fall protection as trail helmets.
Foam could be a little comfier.
5. Nutcase Metroride MIPS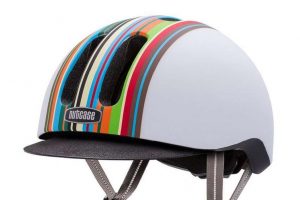 A great middle of the road option for people shopping helmets comes from Nutcase (Amazon). This company thinks a little outside the box as far as design goes, but they are able to carve out their own little niche thanks to looks and overall protection. The MIPS protection certainly stands out, but it goes beyond just that to keep people safe on or off trails.
Nutcase understood that they needed to come up with something that people could get behind that also has MIPS equipped with it. They settled on this Metroride option, which comes with quite a bit of technology hidden underneath the shell.
Comfort adjustments such as the spinlock retention system, the strap-in visor, the magnetic buckle, and more are all great touches with the helmet. It might look like a simple solution from the outside, but there is so much to uncover underneath.
For something different, it is definitely worth a try. Everyone will not appreciate the helmet, but the company understands that very well. It is comfortable during all times a year, and the vents keep air flowing through so that no one feels too hot.
Pros
Unique aesthetic.
Plenty of customization options for the perfect fit.
Ventilation system is excellent.
Cons
Style is not for everyone.
Can feel a little heavy at 391 g.
What to look for out of a gravel biking helmet?
Shopping for the best gravel bike and helmet usually comes down to personal preference. It also is largely determined by what type of surface a person finds themselves on more often than not.
For example, someone who is mostly riding on flat ground should probably lean more towards a road bike set up. On the other hand, one that likes to go off the road should look at mountain bike, or even fat bike builds.
Visor or No Visor?
One of the major differences between a typical road bike helmet and a mountain bike helmet is that the visor is optional on the road. Not everyone likes going with that, but does it make sense as a gravel bike rider?
Most people say yes. Having a visor does not cause much of an issue as far as distractions are concerned, and it protects people from the headwind and any type of debris that might kick up.
It is more important off the road, but still something that a lot of people care about when writing on flat ground.
Amount of Protection
Mountain bike and fat bike helmet provide more protection surround in the entire head, which may make people feel a little more at ease. Road bike helmets are streamlined a lot more, as most riders are trying to go as fast as possible and cut through the wind.
The helmets suggested above are all fairly lightweight, but also offer a decent amount of protection. Unless you're planning to ride a lot on roads, it makes sense to go with something that has the protection.
Conclusion
All in all, these five gravel bike helmet option will serve you very well on those long bikepacking trips! Let me know which one you chose and what you think about it!