There is no doubt that gravel bikes continue to take off as a legitimate bike option for many different riders. These drop bar bikes have a good amount of tire clearance and the geometry that provides a bit more stability and forgiveness than a more traditional road bike.
There used to be only a few companies that offered these bikes, and the price was a little tough to handle at times because of that. The good news is that more and more companies are providing some pretty nice options, which means that the best brands will rise to the top.
What are some of the most trusted brands for gravel bikes? Here are a few of the top options, along with some models that do very well according to reviews from customers online.
1. Canyon
The Canyon brand is a very reliable option for gravel bike riders wanting a quality option without having to spend a ton of money. They have one of the best values out there in the Grail AI 7.0, but the Grail CF SL 7.0 also stands out.
One of their biggest features is the fact that they have some different hover bar setups that certain people like. It is designed to add a bit more flexibility when steering and is particularly noticeable on the Grail CF SL 7.0.
The double-deck hover bar takes some getting used to, but it has received great reviews. Of course, it also helps that there is carbon on the bike, as any bike with carbon is going to smooth out the ride. Canyon offers one of the most affordable options when it comes to carbon, which should never be overlooked.
Canyon has switched up their look a little bit so that people can feel very comfortable with a modern design. They have a few different choices to choose from, and the overall look of their bikes feel a lot more expensive than they actually are. For great performance and affordability, it is hard to look past them.
2. Cannondale
Any person familiar with bicycles will certainly recognize the Cannondale brand. They have dabbled into the gravel bike industry, and they have put out some pretty good options for people to try out.
The most affordable option to check out, in the beginning, is the Topstone Apex. They have done a really good job with this alloy frame gravel bike, offering a pretty tall and relaxed riding position that people enjoy on longer rides. It shows that they were one of the first big brands to embrace gravel biking, and they have made some tweaks over the years to get to this current version.
The Cannondale branding gives the bike instant credibility, but otherwise, it is a pretty basic looking bike. The only real complaint people seem to have is that it is a little heavy compared to other options out there, so on hilly areas, it might be a struggle. There are plenty of gears to turn to when it gets tough, and that helps a bit.
An upgraded option that also makes a lot of sense for gravel bike riders is the Topstone Carbon Ultegra RX. It is a very fast gravel bike that is built for people who are trying to get into a more
racing type of mode. It has excellent suspension in the rear, and the carbon on the bike makes things pretty smooth overall. It cost a decent amount of money, but people who are taking gravel biking pretty seriously might decide to do the upgrade.
3. Specialized
They may not be the first big company to dive into gravel biking, but they produce a few solid options for people to consider. Maybe the best gravel bike for the money right now from them is the Diverge X1. It is their cheapest carbon model, and they can handle many different types of terrain so that people can enjoy their ride every single day.
With all of their options in the Diverse range, they offer a Future Shock suspension system. It makes a big difference in comfort and handling, as riders will not feel like they are on tough terrain at any point.
It is pretty easy to hop on and learn with his bike, and with premium parts from Specialized, people do not have to worry about anything failing early on.
Some people might be frustrated that they are spending a little extra because of the brand, but it is worth it to others. Specialized is one of those trusted names that live up to expectations, so spending money makes sense for something like this.
4. Fuji
Fuji gravel bikes are a lot like their line of road bikes. There are some really valuable options to choose from, but none of them are going to stand out as best in class.
People understand that Fuji bikes are pretty affordable, and they offer options that will last a long time as long as the basic maintenance is followed.
Their Jari line is certainly one that a lot of gravel bike riders love to ride, as it is priced affordably, provides some heavy-duty riding opportunities, and makes it pretty accessible to everyone. Some people are a little intimidated when first getting into gravel bike riding, but this is very user-friendly and comfortable even on longer rides.
The cheaper models are made of an aluminum frame with a carbon fork, which does just enough to smooth out the ride in a bit. There are plenty of options to add bags to the bike, which makes it perfect for those longer trips. All the parts with every bike in this line are good enough for casual riders, but people who take a little more seriously might decide to upgrade later on.
Fuji loses a few points just because they are a little heavier than most bikes, but they do a pretty good job of spreading out the weight enough that it is not that noticeable. Only those who are really looking to get up to high speeds are going to want to maybe invest in a few upgrades to lower the overall weight.
5. Enigma
There is certainly no enigma when it comes to this brand, especially with their Escape option. Many people like the simplicity of the gravel bike, and how it is a simple and easy way to get into this type of riding.
There are a few bikes that offer the same amount of overall versatility as this option from Enigma. It is one of the most comfortable rides out there, and people love using this for many different reasons.
People who invest in any of the gravel bikes from Enigma know exactly what they are getting, and while it may not be the flashiest, it does a great job of holding up over time.
People do not have to worry too much about putting a lot of wear and tear on a bike and not getting value out of it. These bikes are built to last, and there is no risk of them having any major complications later on.
Some people use their bike as simply a commuter, while others will use it for more adventures off the road or on specific trails for gravel bikes.
6. Genesis
A lot of people in the gravel bike community think of Genesis as a company that puts out high-quality bikes. In particular, riding on these bikes feel a lot different because of the way it is slightly longer in geometry, and a little lower as well. People can feel a bit more stretched out, which in turn works well in fighting against road vibrations.
The geometry of Genesis bikes is definitely one that shows off the history of these bike options. Some companies have gone in a different direction with geometry, but someone wanting a springy ride might fall in love with what they offer.
The top model in overall performance is the Datum 20. It is a fairly pricey bike when compared to some of their lower-level models, but this company really specializes in options that are a step up from entry-level.
They are companies that make better entry-level models, but someone who is really dedicated to riding on a gravel bike will appreciate all of this model provides.
7. GT
There are GT bike options for just about any type of rider out there, so it was only a matter time before they jumped into the gravel bike scene. They have put together quite a few different options for he will choose from, and all of them have that same level of specialization when it comes to the GT brand.
Known for having some pretty high-quality and a variety of affordable options, perhaps the best overall gravel bike happens to be on the high end. The GT Grade Carbon Pro brings a lot of versatility to the mix, having the ability to handle so many different terrains while staying incredibly comfortable. Riders feel like they are always in control, and it looks great on the trail as well.
All GT bikes come with that signature triple triangle on the back, as well as some quality components used throughout. They have decided to offer a bit more tire clearance for people who want to switch up options, which is always a good thing with gravel bikes. Not everyone is going to want to use the same type of tires, so having options is essential.
It seems like across all models, GT has lowered and lengthened the bike a bit. This is not the best news for people who want a more upright way of riding, but there are companies that offer that.
The GT Grade Carbon Pro is expensive, but it should only be compared to other bikes with this type of technology. When looking at other bikes full of carbon, it really is not that bad. It is just not going to be the first bike someone purchases, as a beginner will not get the same type of benefit out of it.
8. Trek
It should come as no surprise that Trek offers gravel bike options, as they are one of the leaders in bike manufacturing around the world. They have a few different options for people to pick from, and have any ability to go to a local bike shop and try some of them out is definitely great for some.
They may not be the first to the gravel bike craze, but they certainly have invested a lot of money into making sure they offer some great options.
Their entry-level solutions are a little higher than some of the competition, so a lot of people think the best value is a little bit higher in price range. The Trek Checkpoint SL6 sits near the top of the range, and it has everything a person could ask for in a premium model.
Some of the biggest selling features include an Isospeed decoupler, a dropped drive-side chainstay, premium parts everywhere, and a focus on overall stability. The sticker shock might be a bit too much for some people, but others are going to feel like it is more than worth it to go with an option that gives a good amount of flexibility overall.
Trek is a company that a lot of people do not mind investing in, as it is pretty easy to get them fixed at a local bike shop. There is something to be said for going with a bike from a known manufacturer, as shops will be able to know exactly what is needed if something goes wrong. With lesser-known brands, it might take a little bit of time to figure everything out exactly.
What Makes a Bicycle Company Stand Out Above the Rest?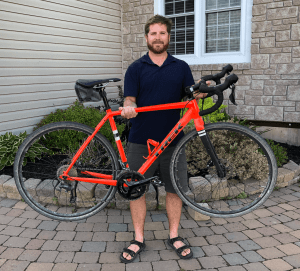 Since gravel bike riding is starting to really grow in popularity, many manufacturers are trying to capitalize. All of the manufacturers on the list above have been at it for a while, and they have a good reputation online and with experts in the industry.
It might seem like it is relatively easy to start developing a gravel bike, but a lot of things go into getting the right overall fit and look. Some people have gone through the struggles of certain manufacturers, trying out their first attempt at a gravel bike and not being satisfied.
Perhaps the biggest thing that is difficult for manufacturers to get right is the geometry of a bike. A gravel bike has a slightly longer wheelbase, and that means a longer chainstay and slacker head-tube angles. People are ultimately looking for a fairly comfortable ride that provides a bit more confidence than a road bike, but one that can still pick up some speed fairly easily. Tweaking the geometry a bit is something that a lot of manufacturers are always doing.
The suspension is also fairly tricky, as some companies will go with active suspension systems, while others will stick with a more passive approach. Features like skinny chainstays, a slightly bowed top tube, or the skinniest post for the seat as possible will make a difference. There is also the ability to look for a good suspension fork that is put in the bike.
Ultimately, features are going to up the price of any type of bike out there. Gravel bikes have entry-level models that are perfectly fine, and they also have some pretty expensive options that people can really start to rise at a high-level.
The best thing is to try to sample a few of these options before ultimately make a purchase. Not everyone is going to have the ability to try out gravel bikes before purchasing, but it does help to make the decision a little more straightforward. So many people are getting into gravel bike riding for the first time, and it just makes sense to spend time figuring it all out.