With more people interested in trying gravel bikes than ever before, several options are popping up already for 2021. A lot of people might be buying their first-ever gravel bike, and it is normal to want something that is affordable yet future proof in some way. For others, they might want something that is a bit more on the higher end.
The good news is that price keeps on falling for gravel bikes, and it is pretty easy to stay right around $1000 and still get a high-quality option.
The majority of bikes all hover around that price or below, allowing people to stay on budget while also getting something worthwhile.
If you're unsure on how to chose the right gravel bike for you, I suggest clicking the link. How To Chose A Gravel Bike – 8 Best Tips!
1. Poseidon X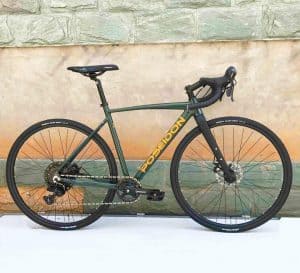 Known as one of the most affordable gravel bikes on the market today, there is very little to complain about with the Poseidon X.
It is an extremely lightweight option that has rear shift gearing. It might not provide the ultimate amount of shifting, but there is very little else to complain about overall.
It would be nice to have a little bit more adjustment for sizing, but most people are going to find something that works for them.
As for major selling points, this bike is very easy to climb with, and the gearing does work well despite its limitations. People who want to tackle a lot of hills or mountains can do that and not have to worry about getting something that is significantly more expensive.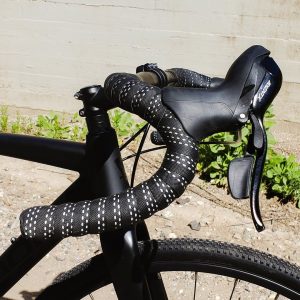 People who want to get a bike that is tubeless ready will have to look elsewhere. This can make the bike a little more expensive if a person insists on doing a lot of upgrades, but it is something that should be accepted no matter what. This is a bike that gets a lot right, and it becomes a great entry-level option for those wanting to stay under budget.
Pros
Full carbon fork available for a great price.
Very lightweight.
Easy to shift gears.
Cons
Tubes only.
Not that many adjustable sizing options.
2. Cannondale Topstone 4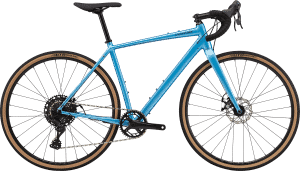 For slightly over $1000, a person can get a name brand gravel bike that gets a lot right. This 2021 option from Cannondale is another very lightweight gravel bike that has some quality parts for the price.
It is a little more expensive than some of the other entry-level bikes out there, but people are paying for a trusted name just as much as they are a quality bike option.
As one should expect at this price range, it does come with a full carbon fork. This helps to keep the weight down, and smooths out the right considerably.
It also comes with a microshift drivetrain that makes it easier to climb some pretty tough hills. In fact, some will say that it is the best climber around $1000 coming out in 2021.
It is a little bit frustrating that with all the features included on his bike, it is not ready for tubeless tires. It would make this a near-perfect option for those willing to spend a little bit more money, but it is still a valuable option for people to consider.
Pros
Outstanding frameset.
Very lightweight.
Gear quality is some of the best for 1 x 10.
Cons
More expensive than the majority of entry-level options.
Not tubeless-ready.
3. Salsa Journeyman Claris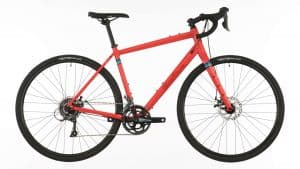 Salsa makes some very high-quality gravel bike options, and this is a perfect one for people who want something high-quality, but nothing too crazy. For right under $1000, it can perform well while giving people a pretty comfortable upright ride.
The bike does nothing extremely well, but it also does not have any glaring weaknesses either. Most people say that the frameset is nice, but the aluminum could be just a little bit better.
It is less than a kilogram heavier than a lot of options in this price range, so it is really nothing that will be that noticeable when riding. Some will think that having low gear ratios would be a positive, but Shimano Claris 2 x 8 gearing is adequate at best.
Where this really shines is that it is a tubeless-ready option for a pretty low price. This saves people a lot of money if they do not want to spend extra to get this feature.
So many people love the idea of tubeless tires, but they do not like the idea of having to spend a lot of extra money to get to this one.
Pros
Tubeless-ready.
Excellent gear ratios.
The aluminum frame is solid.
Cons
The quality of gearing is subpar.
Weight is a little heavier than some of the competition.
4. GT Grade Elite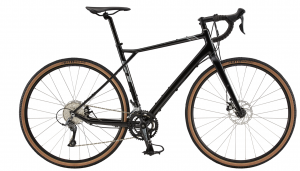 GT is another one of those name brand options that a lot of people have loved for a while. Most people had their first GT bike as a mountain option, but they have started to make some gravel bikes that are well priced as well.
The Grade Elite figures to be a very solid option in 2021, and people who want something they can trust on different terrains will fall in love with this.
To start with, this is one of the best aluminum frames a person is going to find for around $1000. It is high-quality and very lightweight, and it is topped off with a full carbon fork.
People are going to get a very smooth, comfortable ride from beginning to end as long as they treat this bike well.
Speaking of weight, it can stay pretty low for a number of reasons. Not only are there premium parts throughout the bike, but it comes tubeless ready with the tires.
Most people will go ahead and opt for that type of ride, as it just becomes a lot easier to handle if something does go wrong.
All in all, this is a pretty modern option that has a bit of a sporty ride to it overall. It is not going to be the absolute best with climbing, but people find that they can use it fairly well.
As for any negatives, it is a bit disappointing to see the gearing quality with Shimano Claris 2 x 8 gearing. It is not that it is terrible, but it does not match the rest of the quality of the bike. A lot of people end up being frustrated with using it like this and trying to get where they want to be.
Pros
Outstanding aluminum frame.
One of the lightweight bikes in this class.
Tubeless-ready.
Cons
Gearing quality is not the best.
The style of the frame is not for everyone.
5. State Bicycle 4130 All Road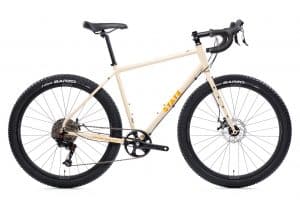 Another top option that many people have fallen in love with already is the 2021 version of the State Bicycle 4130. It is billed as an all-road option, which means that it can handle gravel bike riding pretty well.
It has a steel frameset that is pretty surprising for a lot of people, and it has a modern feel that will make it pretty easy for people to go wherever they want to with ease.
A lot of people will start to examine his bike because of its overall price. It is one of the most affordable options that have high ratings, so a lot of people will start here and start to compare with others.
State is not going to blow people away with the components, but it is a very solid steel frame and fork. The weight does not get too heavy and having the ability to go tubeless certainly helps.
They can keep the price pretty low mainly because the gears are the best. They use Sensah SRX Pro 1×11 gearing, and the low gear ratio is 27.7 inches.
This is not going to make it best to ride on really hilly terrain, but some people are going to be just fine not needing that extra bit of range.
There is something modern yet retro about the look of this bike, which a lot of people fall in love with. For a starter option that people do not have to spend a lot of money on, this is certainly one way to go.
6. Marin DSX2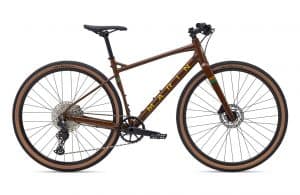 The final bike to make this list is a flat bar option that some people will just find to be a little more comfortable. It is an affordably priced option that has plenty of clearance, a smooth overall ride, and plenty of high-quality components for the price.
The frameset quality is one of the best a person will find in this price range. Like a lot of companies, Marin they use lightweight aluminum to make the frame, and it is durable yet comfortable.
People feel a little bit of giving when they are riding on tough terrain, and it can make it a lot easier to navigate. The carbon fork helps to smooth things out as well, and it holds up well under any pressure.
Gearing is another reason why people will invest in a bike like this. It has some great gearing overall, and the 22.9 inches climbing gear is excellent as well.
People can use this on just about any terrain and not feel like they are outclassed in the slightest. It is also pretty easy to steer and use overall, which is always a benefit.
Finally, most people love that it is lightweight enough to feel comfortable overall. Maybe it is not the lightest bike out there, but having tubeless tire options is certainly a plus.
Some people just will not ride a bike if it is not tubeless these days, which is reason enough to give this bike consideration.
As long as a person is OK with a flat bar option, this is certainly one worth investing in. People who want a little bit more of a road bike type of setup will not fall in love with this, but they are plenty out there that fit that style if that is what they want instead.
Pros
High-quality aluminum frame.
Outstanding gearing ratios.
One of the best values for flat bar options.
Cons
Could be a little bit lighter.
Frame set up is not for everyone.
What Dictates a Quality Gravel Bike
Shopping for a gravel bike is pretty similar to other bikes, and people are looking for a lot of the same qualities that make something great. Some factors matter more than others with the style, but being smart with research will go a long way.
Frame
Get in the right frame shape will dictate how the bike operates when a person is riding around. A lot of people want to have something that is pretty comfortable when they are going on long rides, and gravel bikes are designed to be better than a road bike in that regard.
The material used for the frame also makes a difference, but it comes down to how much a person is willing to spend when changing that up.
The majority of affordable bikes are going to have aluminum frames, and perhaps a carbon fork. This is a lot lighter than riding a steel frame, but what a person is giving up is a little bit of side to side flex. Some people prefer the steel feel, so look for that as an option as well.
A full carbon frame and fork is very comfortable, but also very expensive. Only people who have been riding for a long time should look into something like this, as most will be unable to afford this type of investment.
Fork
A person might not be able to afford a full carbon frame, but a fork makes a pretty big difference. It smooths out the ride considerably, and it makes it feel lighter overall.
Many bikes are affordable and offer a carbon fork to make it have a bit of a premium feel.
Wheels
To simplify things, there are only two-wheel sizes worth considering. The 700C option is slightly bigger, and most people run narrow tires in this type of set up. It is going to feel a little bit more like a road bike, as they are a little lighter and roll quicker on harder surfaces.
The 650B is more for a tougher gravel bike ride in general. If a person is going to be riding off-road quite a bit and dealing with various types of gravel, this might be a better overall investment.
The good news is that either wheel option has plenty of tubeless compatibility for those who want to ride something a little bit easier. The main reason why people like tubeless options is that they can be sealed up when punctured.
This happens more frequently than a lot of people want to accept, mainly because gravel bikes are always going over different types of terrain.
A good set of tubeless tires will be significantly lighter, and they usually perform at a higher level as well. When that is the case, a person feels like they are putting in less effort to get to the same type of speed. That is all anybody can ask for when riding on gravel.
Gearing
The final major shopping decision is figuring out if a person wants to have front and rear shifting, or just rear shifting. Most people who are advanced riders will likely go with front and rear shifting, also known as 2x.
This is because a person can get a more refined gear ratio and maintain speed a little bit better. It is not as challenging to go with rear only shifting set up, but it is not going to provide the same type of range.
The good news is that with all gravel bikes, gear shifting is made to be really easy. People do not have to fight against the bike too much to see results. It is something that can certainly be an added bonus for those changing gear a lot.