With gravel bike riding exploding over the last few years, a lot of people are looking to get into this fun and challenging activity. There are gravel bike options out there that can get pretty expensive, but no one just starting should be looking in that price range. Instead, keeping at or below $500 is entirely doable if a person knows what they are looking to spend money on.
Below is a look at the best options right now for those trying to stay on budget. While every shopper is going to have to make some sacrifices to stay in this price range, it is a good starter option for people to see if they want to continue down this path.
Most people are going to upgrade at some point if they stick with it. These are some choices for those who do not want to invest in a complete piece of junk right from the beginning.
1. Retrospec AMOK v3 8-speed Urbangravel Commuter Bike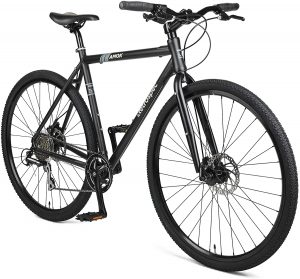 A lot of people have fallen in love with this simple, yet very effective gravel bike that also acts as a commuter option. The versatility is a huge selling point for the Retrospec AMOK v3 (Amazon), but what the company has figured out is that a lot of people want simplicity.
The bike has some very solid components overall, which is sometimes hard to come by in this price range. The aluminum alloy frame is pretty lightweight for its class, and it is also durable enough to handle a decent amount of weight.
This means that people can strap on bags all around the bike so that they can go on long rides and not have to worry about anything.
Aluminum alloy is also found in the handlebars, the double-wall rims, and more. While some riders will want to upgrade to something a little lighter in the future, the weight is pretty low with this setup.
Maybe the best selling feature is that this bike can be an option for those who want something to handle any riding. It can be perfect for commuting during the day and then going on adventures during the weekend.
It comes with tires that are perfectly fine going off of the pavement and exploring a little bit. The tires are firm and grippy, so no one has that uneasy feeling when moving around.
All in all, the eight gears, the mechanical disc brakes, and Shimano drivetrain and shifting makes this excellent value for under $500. A lot of people are surprised to see the low price tag considering all the different selling points this bike has in general.
Pros
Handles all types of terrain.
The aluminum alloy frame is very lightweight, yet strong.
Shimano derailer and shifters.
Cons
Some components are a little on the cheap side, requiring upgrades.
Tires might need upgrading to something wider.
2. Mongoose Elroy Adventure Bike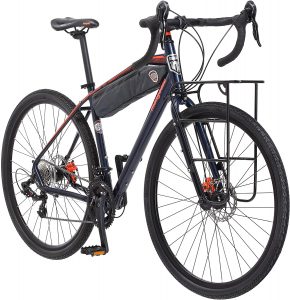 Mongoose might be known more for bikes in other categories, but they have shown that they are capable of making some pretty good gravel bike options as well. They have continually been praised for bringing new options to the table for those looking for something a little different.
The alloy frame and the steel fork of the Elroy Gravel Bike (Amazon) makes a very rugged option, but do not mistake rugged for extremely heavy. While it may not be the lightest gravel bike out there by any means, it can glide around pretty easily on different types of terrain.
It does not take much effort to get the bike going, and a person can feel very secure when they are in the saddle.
The build does make the bike feel like a jeep at times, capable of holding a lot of weight and material besides just the rider themselves. This is excellent news for those who want to go on long adventures on the gravel bike, instead of having some hard stops.
What stands out for riders is the geometry of this bike overall. It caters to the person who wants to put a lot of different storage options on his bike without it feeling too cumbersome.
The cables are even out of the way so that there are more storage opportunities without anything getting in the way.
All in all, people who have used Mongoose bikes in the past will love the fact that they bring so much to the table. It might not be the perfect bike for someone who has been riding on gravel for a while, but it is a great starter option.
Pros
Capable of handling a lot of bike storage at once.
700c wheels are of high quality.
Trusted brands people are most familiar with.
Cons
Peripheral parts not as great as the frame.
Some components bend too easily.
3. Schwinn Vantage F3 700c Sport Bike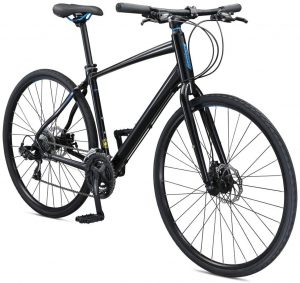 Schwinn is a name that is associated with many types of bicycles in the past. They have embraced this new wave of bike riding as a gravel bike producer as well. The Vantage F3 (Amazon) is one of the best overall options for the price, and people should be able to enjoy riding this for years to come.
There is probably not a more durable bike out there under $500 for gravel trails. It is one of the main reasons why people will invest in this rugged option.
It might not be the lightest or filled with top-end components, but it is not going to break down like some of the others out there.
Tires are also a huge selling point for a bike at this price range. While some people feel like they are almost forced to replace tires at some point with a cheap gravel bike, these 32c tires and double-walled rims should have no problem asking a long time.
Even on the top of the surfaces, a person will not feel that much of an impact if they have everything appropriately inflated. Some people go with a tubed tire, but a lot of people are using these as a tubeless option as well.
The final stand out feature is the soft tail suspension that smooths out the ride just a little bit more. A person can feel comfortable on this bike, which is sometimes a pretty big hassle when shopping for inexpensive options. One of the first things to go is comfort, but that is not the case with this bike.
It is not a perfect option, but it is one that many people are gravitating towards when getting into gravel biking. Schwinns are found just about anywhere, and a local shop is likely to have one just as much as ordering online. Make sure to get the right size, and everything else should fall into place.
4. Raleigh Bikes Talus 1 MD/17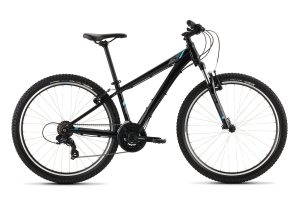 The fourth bike on this list comes from another dependable brand in Raleigh. They have always focused on producing quality over everything else, and that is not sacrificed at all with this inexpensive option.
People who are looking for an entry-level bike that is still going to feel like a premium option, this is a great place to start.
Raleigh keeps everything pretty simple with the design and color of the bike, but where it shines is under that paint. It is a very durable frame that uses high tensile steel.
It is the perfect material to make things comfortable and durable at the same time. In fact, it might be the best material found on a bike in this price range right now.
The fork is also very solid, which is going to smooth out the ride even more. They use an SR sun tour fork, which measures at 75 mm.
Out of all the different options in this price range, this is one fork that probably does not need any replacement whatsoever. Some of the cheaper gravel bike options go incredibly cheap with the fork, and it shows.
The final stand out feature is the fact that it has great brakes for this price range. They respond well, they are very durable, and it is also lightweight.
This is the type of braking system that is usually found on much more expensive options out there, but Raleigh decided to put it on a bike in this price range.
With a total of 21 gears to pick from, gravel bike riders tackling a lot of different elevations are going to be just fine. The important thing is to be familiar with the bike and understand what it can and can't do. So many people will jump onto a gravel bike, even like this one, and be a little bit overwhelmed.
Pros
21 gears to handle all types of elevations
Very sturdy frame
One of the better forks in this price range
Cons
A little hard to control compared to other options.
The bike can feel a little heavy on longer rides.
5. Diamondback Haanjo Trail 24 Alternative Road Bike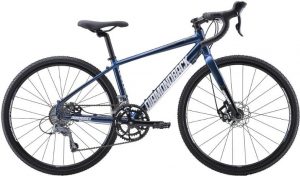 For the younger riders, there is nothing quite like this option from Diamondback. They have put together a very nice trail bike that is under $500 for the kids, while the adult version is over the price range.
Finding something that does so many things well is hard to come by at times. It is a very light and durable frame that can adjust to a younger rider's body very well. Instead of having to upgrade all the time, this is an excellent bike option that should be able to last a few years as they grow.
There are very few sacrifices made for the younger child version of this bike, as it still comes with Shimano components and high-quality aluminum tubing throughout. The handlebars are high-quality, and so are the stock tires that come with the bike as well.
More kids than ever are now going to have the opportunity to ride different styles when they are growing up. Some people are going to gravitate towards gravel bike riding, while others might find that they are doing a lot of urban riding on trails.
The good thing about this alternative road bike is that they can do so many things well, and it allows the child to discover what they truly enjoy. Once they figure that out, they can purchase a bike design specifically for those needs when they get a little bigger.
Pros
A built specifically for younger riders.
Works very well on all surfaces.
Same Shimano components as the adult version.
Cons
It is a child-specific bicycle.
This bike has been discontinued but can still be found on some bike retailer website.
Is It Ultimately Worth Investing in a Gravel Bike at this Price?
There are indeed a lot of gravel bike options out there that are not very good, yet priced affordably. It gives a lot of cheap gravel bike options a bit of a bad name.
That is a big reason why it was important to go through all of the good ones out there on the market right now. Between all the options above, a person has a pretty good starting point to begin finding something that works for them.
When gravel bike riding first started, it was restricted because of the price point to get a bike specifically for this type of riding. Now, it is more affordable than ever, and major companies are embracing it.
Do not be afraid to spend a little bit of money on an entry-level option that works well. It can provide quite a bit of value for a few years, and even work as a spare later on.
Sure, anyone who is sticking with the sport is going to end up upgrading at some point, but this is something to jumpstart a particular hobby.