Anyone who has shopped for a fat bike during their life understands that there is a wide range of prices. If a person really wants to, they can easily spend a few thousand dollars on a good bicycle for any need. With that being said, it's not exactly realistic for most to spend that type of money.
Instead, a good budget to work with is about $500 or less. Bikes in this price range are still affordable on nearly any budget, but they are not so expensive that a person is afraid of using them in inclement weather.
After all, one of the major advantages of a fat bike is that they are usable rain or shine, on the road and off-road.
Best Low-Cost Fat Bikes Under $500
Here is our full list for the best low-cost fatties under or around 500 dollars!
1. Mongoose Dolomite Fat Tire Mountain Bike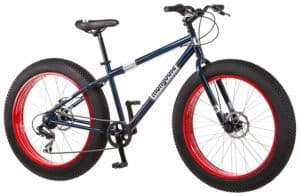 Overall, this might just be the best overall value as far as fat bikes are concerned right now. Priced at just over $300, Mongoose provides great value for not only beginner riders, but seasoned veterans as well.
As-is, this bike is going to satisfy a lot of people who are riding on different types of terrain. For the price, it has above average components, but the price allows for people to upgrade what they want and still stay under budget. Many people like to tinker with a bike and see how they can make small upgrades here and there to improve the riding experience.
The ability to adjust this fat bike to give a customized fit really sets this bike apart from a lot of the competition. Many affordable options lack the option to truly customize, but this bike has a threadless headset, pedals that can be switched out and a seat that moves up or down in a matter of seconds. A lot of bikes say that they can fit many different heights, but a person 5'6" can enjoy the same bike as a person who is 6'6" thanks to the level of adjustments.
Mongoose has built itself into a pretty trusted name in the industry, and they do offer a limited lifetime warranty if anything goes wrong. Available in three different colors, it's really difficult to find something to hate about this bike for the price. Is it a perfect bike for a seasoned veteran? Probably not as-is. However, there are enough ways to customize everything that even if something doesn't feel 100% right, the frame provides a perfect base for an affordable fat bike.
The Malus and Aztec are also great options from Mongoose in this price range, but the Dolomite is just slightly better. The others are worth checking out if the Dolomite doesn't seem like a perfect choice, but out of the three, it's going to be the preferred choice for many. Not only does it come with slightly better parts, but the overall aesthetic of the bike is something a lot of people gravitate towards.
Pros
Best overall Mongoose fat tire bike
Above-average components
Easy to adjust the fit
Cons
The seat is not the most comfortable
Upgrades can quickly kill the great deal
Click Here for the current price for the Mongoose Dolomite from Amazon.
2. Krusher Dynacraft Fat Tire Bike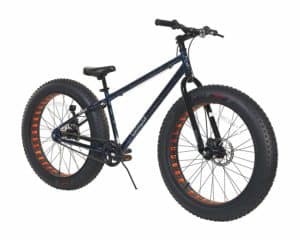 Despite the sizing flexibility of the Dolomite above, some smaller people want a smaller bike overall. The Krusher Dynacraft comes in a 24-inch and a 26-inch model, which means that virtually anyone will find a bike that feels right to them.
This is another bike that is right around $300, and it has a great frame for the price. Made completely of steel, it still has enough give that a rider feels like the terrain is smoothed out specifically for them.
Fat bikes don't always come with the best tires, but these true 4" fat tires will handle anything thrown their way. A lot of bikes in this price range usually need the tires to be upgraded, or replaced rather quickly when something goes wrong. This won't be the case after purchasing the Krusher.
Up to this point, it sounds like the perfect fat bike. However, there are some things people need to realize about this option. For starters, it is a single-speed bike. That means it's not going to do particularly well on hilly terrain, as it will prove to be a huge struggle. It does reduce the weight a little bit, but some people just have to have gears to survive on longer rides.
The rear coaster brake is also a little frustrating for people who aren't used to this style. It takes a little getting used to, but it does work well and keep people safe.
With any bike in this price range, there will be some sacrifices made. Anyone who lives in a relatively flat area of the world will come to appreciate the lack of gears getting in the way. It is a very stylish fat tire bike that stands out without being too obnoxious. Upgrades are always an option, but right out of the box it is ready to handle some pretty intense rides.
Pros
Available in 24-inch and 26-inch sizes
Quality, durable tires
Stylish
Cons
No gears
Rear coaster brakes aren't for everyone
Click Here for the current price of the Krusher Dynacraft from Amazon.
Kawasaki Mihara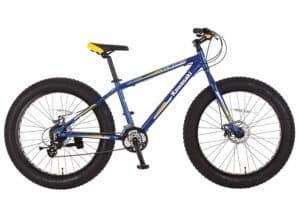 Noticing a trend here? Kawasaki is yet another brand that understands an affordable bike can still have a very good frame at its core. This is perhaps the lightest alloy frame a person can find in this price range, and it makes for a very smooth ride overall. Some people might not be completely satisfied with the entire bike, but a few upgrades can give a truly customized feel.
Any bike with Shimano components already stands out when it is just a few hundred dollars brand new. The front and rear derailers, along with the shifters, are all Shimano. It also comes with a high-quality chain that makes shifting a breeze. This bike is built for elevation, with 24 speeds to choose from. Most of the competition are lucky to have half that amount. This makes the learning curve a little easier for people who might be struggling with some elevation as well.
The frame and fork is what steals the show with the Kawasaki Mihara. Not only is the bike noticeably lighter than the others in this article, but the steel fork actually gives the bike a very carbon type of feel. No, it isn't the same as a true carbon fork, but it smooths out the ride and makes it very comfortable.
The front and rear disc brakes are good enough, but some people might decide to upgrade them at some point. They are a slight downgrade compared to the rest of the bike, but they are certainly serviceable for casual riders.
The Kawasaki Mahara is a little more expensive than the other two listed above, coming in at just under $500. It's also available in just one color, and it might not be something that everyone is completely crazy about. Still, it is very rare to find a lightweight option like this with quality components for such a cheap price overall. It's a great entry-level or intermediate fat tire bike people can get years of use out of.
Pros
Light steel frame
Shimano components
Smooth ride
Cons
Brakes aren't the best
Tough to customize sizing
Click Here for the current price of the Kawasaki Mihara from Amazon.
Qualities to Look For When Choosing the Best Low-Cost Fatbike
After diving into a list of the best out there, here are some general qualities people should expect from a bike in this price range.
Basic components
It's unrealistic to think that a fat bike in this price range is going to be made of the finest components in the world. The goal should be to find an option that offers pretty average components, and ones that can be upgradable in the future if a person wishes to spend a little extra money.
More weight
A lot of high-end bicycles can somewhat justify their price because of just how light they are. How do companies reduce the weight of a bike? Most of the time, it comes down to making the frame out of lighter material.
Fat bikes under $500 will often have a lot of steel in their frame. This is still a trusted material that has been used on bikes for decades, but it won't be the same as riding a more expensive option with carbon fiber.
A slightly bumpy ride
Speaking of carbon fiber, it helps to smooth out a ride on any type of bike. Since a fat bike in this price range will have smaller amounts of carbon fiber or none at all, it will be a slightly bumpy ride. It's not a night and day difference, but for some people, it is a reason to spend a little more money.
Final Thoughts
Most people shopping in this range are either casual fatbike riders, or they are looking for an intermediate option before fulling committing to another upgrade down the road. All three bikes do a great job of filling a need in this price range.
It should come as no surprise that for higher quality bikes, all three companies are trusted in that price range as well. If a person likes the overall look and feel of a Mongoose, for example, in the $500 and under price range, they will be extremely satisfied with an upgrade at some point.
For a pretty minor investment, all three will provide many quality rides with minimal maintenance. Have fun, and don't worry about getting an affordable bike dirty or slightly messed up.