Every time a person invests in a fat bike, one of the major selling points can ride anywhere. Fat bikes are designed to take on any challenge, but what about a lack of challenge?
Can you ride a fat bike on pavement? The short answer is, Yes. Fat bikes work just fine on smooth surfaces and pavement.
They are not going to perform as well as bicycles that are designed specifically for that surface, but most people find it easy to hop on a fat bike and commute around their area while still feeling comfortable.
Taking a Fat Bike Everywhere
One of the main reasons why fat bikes are popping up more and more on the pavement is that for some, it's the only bicycle they have. Instead of investing in a bike that can only handle a few types of surfaces, a fat bike is truly versatile.
It might not make as much sense to see a person riding a fat bike on a sunny day in the summer, but that same bike can undoubtedly be useful when it is snowing in the winter. Not everyone has the money or the space to invest in multiple types of bikes for different terrains. A fat bike handles everything well.
Fat bikes are also great for those who aren't sure what to expect when they start on their journey at the beginning of the day. It might be perfect weather in the morning, only to go south later on.
The person who has their fat bike ready to go will not miss a step on their return trip home. A snowstorm pops up in the middle of the winter? No one on a road bike will even attempt to navigate on snowy roads.
Why Aren't Fat Bike Tires as Fast on Pavement?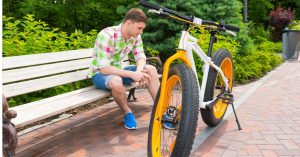 On a pretty clean surface with ideal weather conditions, a skinny tire with high air pressure is always going to outperform a fat bike. Not only are fat bike tires wider and heavier, but the bike itself is not designed for ultimate speed.
Think of a fat bike as more of a jeep that can handle so many different terrains, while a road bike is a race car built for specific surfaces.
A fat bike has more grip on the ground, which causes more friction and rolling resistance. A seasoned fat bike rider might be able to keep up with someone on a road bike, but not if both of them are of equal skill level. It's just too much of a gap to overcome.
If a person finds themselves riding on the pavement quite a bit, there is always the option of switching out fat bike tires for something a little easier to use.
Some people invest in an inexpensive pair of mountain bike tires to use during the summer months and then switch back to fat bike tires for the winter. It's not ultra-convenient for a lot of people, but it is usually a bit cheaper than investing in an entirely different bike.
Maximizing Speed On a Fat Bike
For anyone who wants to go fast, a fat bike needs to be tailored to fit the conditions a rider will be on. That means if there is heavy snow, the tires need an amazing grip, with the possibility of studs added. If it's a trail with a lot of twists and turns, it needs to be designed to handle that.
Another thing to focus on is the PSI of the tires. Most people don't monitor their tire pressure as much as they should with a bike. At the very least, people should be checking the pressure at least once a week.
This is because even if it is not used, temperature changes, tiny leaks can pop up, and more. Don't automatically assume the tires are fine before heading off for a long ride.
There is some leeway with PSI, but try to stay within the recommended range at first. It is recommended that people who weigh a little more should go with higher tire pressure. This is in part because the tire will flex a bit more and not be as stable as a rider would like. Just don't over-inflate, because that can increase the chances of a tire exploding. Not only that, but it negatively affects performance.
Riding With Tire Studs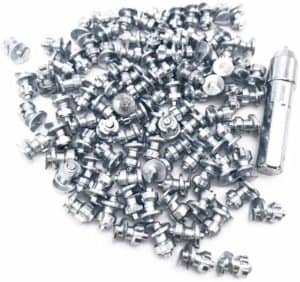 For fat bike riders who live in snowy/icy climates, it's not uncommon to have studs in the tires. This is to enhance performance, and in particular, grip. However, the tire studs aren't always needed on days when the weather clears up and riding on pavement.
Tire studs sound noisy, but it's fine to ride on the pavement with them. They aren't ideal since they add rolling resistance, but people should never shy away from riding on the roadway because they have them in their tires.
A lot of people might fear that they could severely damage the tire and bike this way, but that's not the case. Many people have two sets of tires to avoid too much riding with studs on the bare pavement, but in a pinch, keep riding.
What Fat Tire Bike Riders Have to Say
As one might expect, fat bike riders are pretty defensive about people who say that these bikes are very slow. There is a decent amount of judgment that goes on in the bike community, and a fat bike rider might get a few looks if they head to the local paved bike path.
While they may look slow, a lot of it ultimately depends on the engine powering it. That means, of course, the rider. Some people like the added challenge of riding a fat bike on a paved path. It is more of a workout since a rider is compensating for the heavier bike and more friction, and a bike is still able to go relatively fast.
A season fat bike rider will still be able to perform at a high-level if they put in the effort. Once a person can build up a decent amount of speed, it's just as easy to maintain as any other type of bike.
The jeep comparison once again comes in the play here. Will a jeep outperform a race car on the streets? No. Will a jeep outperform a race car on a course that is partly on the street, and partly off-road? Yes.
Speeding Around on a Fat Bike
Speed is relative, depending on where a rider is located. A fat tire bike dominates with speed in its element. That doesn't mean it can't fill in for a road or mountain bike when on the pavement. These bikes are fast enough to run errands around town or to tackle even the most challenging trail.
The best part is, a person doesn't have to get creative if they come across a challenging part in their journey. If a trail ends, or a person needs to make a quick move over to another paved area, a fat bike can handle the different terrain instead of being forced to dismount.
Most seasoned fat bike riders are more than satisfied with the speed they can achieve on different terrains. They are well aware that being on the pavement doesn't require this type of tire. There are some limitations to maximum speed on the open road, but it's still faster than most people give them credit for.
As long as the bike is fine-tuned to a rider and working with properly inflated tires, fat bikes will still speed around on the pavement and get a person from point A to point B quickly.