For 2021, people are very excited to see what Canyon has in store for riders. They have been keeping this popular option pretty basic with minimal changes throughout the years, but in 2021, the bike is getting a bit of a facelift.
Here is all the information you need to know about Canyon's The Dude Fat Bike! From our initial thoughts, Fork and frame, wheels, comfort, durability, and if it is worth buying!
Initial Thoughts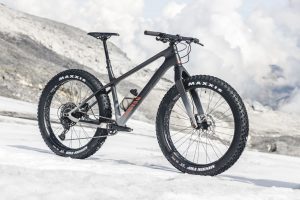 With a subtle, yet premium looking design, excellent components, and a build that looks ready to hit the trails right away, there are a lot of people who will be impressed with what Canyon The Dude fat bike looks like from the very beginning.
This is done by design, as Canyon wants to make a person very comfortable with his decision to go with this bike option.
It is impossible to judge a bike entirely based on how it looks from the beginning, but it passes the eye test without question. It looks the part of being a premium option, and the feel to it is very sturdy and ready to go.
People who want to go out there and explore on their fat bike instead of babying things around will have no trouble easing into how it performs.
Fork and Frame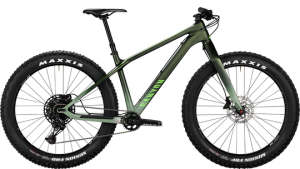 Frame sizing on the Canyon The Dude fat bike is very similar to previous options. There are some very subtle changes that many people will not notice that much, and the longer travel fork is definitely the biggest one.
Other small changes include a slightly shorter reach, a shorter wheelbase, and shorter top tubes. Riders also will notice a little bit of change in angles with the head tubes and seat tubes.
Once a person is able to make some adjustments to the stock settings for the bike, that should not be an issue at all.
A somewhat big change with the 2021 model is that the suspension fork gets a bit of an upgrade. It is a longer travel suspension fork on the bike. This is going to make the bike feel a little more versatile as well, slightly changing the overall geometry to make people feel like they can go anywhere they want.
The fork length change is slightly more subtle, so some people might not even realize the difference. It is still a very shock-absorbing option that smooths out the ride and makes people feel very confident on the road at all times.
Some people struggle just a little bit with changing up anything geometry wise, but the rest of the bike remains mostly unchanged, so it is still a pretty good option.
Wheels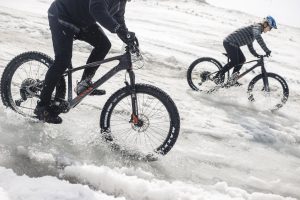 The biggest change that people notice right away with the new Canyon Dude fat bike is that the wheels have been upgraded in size.
For the first time ever, the wheels' diameter will jump to 27.5 inches, and it will be 3.8 inches wide. These wheels are bigger than the standard 26 inches that people have grown to love with The Dude, but it is a move that the company feels is in the right direction.
When a person can try it out, these tires do offer a lot more enjoyment when riding on different terrains and changes in weather.
People like to have versatility with their bikes, and the vast majority of riders will enjoy this change once they get used to it after a few rides.
The change comes with a completely redesigned wheelset from DT Swiss. All in all, the tires feel stronger, more durable, more comfortable, and sturdy enough for people to feel like they are always in control.
It can sometimes be very frustrating to deal with wheels that feel a little uneasy. Going up in size, people might feel like they have stability issues, but that is not the case with this bike.
Another thing to keep in mind is to make sure that people riding almost exclusively in snow have trails that will accept this bike.
Some have banned any wheels that are under 4.5 inches because it does tear up the trails in some scenarios. This is more for warmer rides with a fat bike, but it is good enough for all-around enjoyment if a person wants one fat bike to do it all.
If there are people who are still missing the smaller fat bike wheels, they can make the transition back with other fat bike options out there.
There are some people who would like to see the tires be a little wider, but most people find these to be perfectly fine even if they come under 4 inches.
Comfort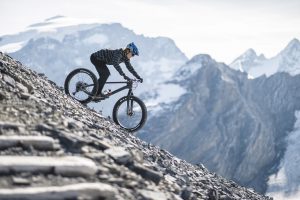 People fond of past Canyon The Dude fat bikes to be comfortable will really love how this one feels from the very beginning. While there are many customizable options to get the perfect fit that everyone should take advantage of, it feels pretty comfortable right out of the gate as well.
The big thing about Canyon is that they have built everything catered to the rider who likes to take chances and experience different types of terrain. Even though this is built more for a summer bike than a winter bike, there are still many people who get great use out of it.
From a geometry standpoint, this is about as comfortable as someone is going to find. They do not mess around with getting everything set up just right so that there is a good amount of versatility and comfort.
This makes it an excellent option for people who might not be particularly familiar with fat bike riding but want to get into everything a little better.
All components that come with the standard bike setup are pretty good, but people might want to upgrade a few pieces here and there with the contact points.
For example, there are more comfortable seats out there for people who really want a comfortable ride, and even upgrading the handlebars is something that some people do as well.
But in all honesty, the handlebars and seat will be fine for the vast majority of people, but those who want a little bit more customization will undoubtedly have that opportunity.
Options And Customization
It has been a complaint from some Canyon shoppers throughout the years, as they only have limited customized options available.
For example, the bikes come in two colors only per model, which might not be that much fun for people trying to find a little more from an options standpoint.
It is a little hard for a bike to stand out too much when there are limited options, and some people look at that as a negative.
There was some speculation that Canyon might be adding a few different options with this upgraded set up, but that is not to be the case. There is always the opportunity to customize in other ways, but this is a pretty bare-bones look for the most part.
Durability
Since this is a brand new option from Canyon, it is a little difficult to judge durability. However, the company has done a pretty good job of releasing bikes to have plenty of durability and reliability, which seems to be the case early in 2021.
The frame is very solid and should hold up for a long time as long as it can avoid major injuries or accidents. With all sorts of carbon fiber on the bike, it feels indestructible at times for people who ride challenging courses.
Once a rider gets to a certain level, it just makes sense to only go with a full carbon option.
Is The Canyon The Dude Worth The Price?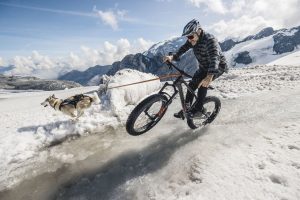 The final verdict for any fat bike out there is whether or not it is worth the price. The Dude CF 8 is the cheaper option, and The Dude CF 9 is the premium.
Compared to others in this class, both options are very affordable, but figuring out whether it is worth the investment is another thing.
One of the bigger differences comes down to the fork, as The Dude CF 8 comes with a rigid carbon CF fork. For the upgraded option, there is a 120 mm mastodon pro fork.
It will provide a little bit smoother of a ride, and it just feels better to use in general. It might be a bit much to justify the jump in price for some, but there are more subtle enhancements as well.
Not only is the braking system upgraded a bit, but the saddle feels softer and more comfortable as well. The Dude CF 9 weighs a little more, but they both feel pretty much the same on the trails.
Final Thoughts
All in all, this will be a solid upgrade for people looking for something slightly different from Canyon. They have introduced a few changes that should be for the better, and pricing has not changed to keep people from making a purchase.
Compared to other options out there, the only real concern is the overall weight. Some might feel turned off because it is a little bit heavier, which might seem like too much to put up with for someone investing over $2000.
It feels heavier picking it up versus actually being in motion, so once a person gets used to the weight, they should be fine.