Most people who have done any type of research on bikes know about Giant the brand. They put out quality products across numerous categories of bikes, and fat bike riders are not left in the dark by any means.
In fact, they have one of the best selling lines out there, as the Yukon 1 and Yukon 2 are both good options for riders at different skill levels.
People shopping for the first time might not know exactly where to start, or if they should invest in the Yukon 1 or the Yukon 2.
The goal with this article is to look at both independently and then give recommendations on who might benefit most. There are some similarities between the two bikes, but there is a reason why Giant offers both options to the public.
Giant Yukon 1 2021 Review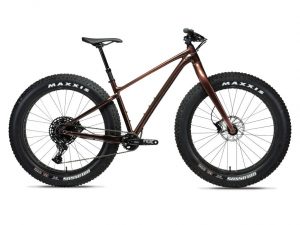 The Giant Yukon 1 is the expensive option in the Yukon line. Giant believes that they offer one of the most modern fat bike rides out there, providing comfort, speed, and stability in one package.
It is built as an all-around performer, and after giving it a test, it certainly stands up to that description.
Downhill Riding
The downhill experience with the Yukon 1 is one of the best in this price range. It is a very comfortable ride, and people will never feel like they are too unstable. It has a dropper seatpost that comes with it which is nice, and the quality of parts make it hold up very well.
The geometry of the fat bike is very good for people who want to have a comfortable ride at all times. There is always a chance to adjust the fit a bit so that everything lines up correctly, but components go a long way towards working as they should.
It is pretty easy to pick up a good amount of speed going downhill, but even under harsh conditions, there is enough confidence that the bike will not be slipping around much at all.
It is not going to be able to handle incredibly tough terrain, but the Yukon 1 does very well on well-groomed trails. Even if it starts to get a little tough on certain conditions, the tires are going to make sure that a person is not slipping too much.
A lot of people who are riding their fat bikes have less confidence going downhill, so having stability makes a big difference.
Uphill Riding
Both uphill and downhill riding feels very solid with the Yukon 1. The geometry helps once again, as a lightweight frame that allows people to pick up a good amount of speed while growing up.
Climbing can sometimes be very challenging, but there is nothing wrong with how the Yukon 1 bike feels even on large climbs.
The responsiveness of the bike when going up is great, whether a person is sitting down or out of the saddle.
It is easy to shift through gears to get the right peddling sequence down, and the stock tires provide enough traction so the people never feel like they are slipping at all. All in all, it is a solid climbing bike for fat bike riders.
Value
Fat bikes are notoriously expensive, but the Giant Yukon 1 is considered a good price for the components. It is very well designed, providing a dropper seatpost that usually makes a fat bike pretty expensive overall.
The components are built to last a long time, and there is also the opportunity to upgrade a little if a person wants to.
This bike is going to compete directly with the likes of the Trek Farley 7, Trek Farley 5, Rocky Mountain Blizzard 20, and Salsa Mukluk SX Eagle.
While some of these bikes might rank higher in certain categories, the Giant Yukon 1 is the most well-rounded in this price range for people who do not want to make any big sacrifices.
Giant Yukon 2 2021 Review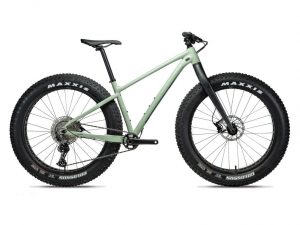 For people who want to save even a little bit more money, the Giant Yukon 2 is designed as an entry-level fat bike option. Its affordability is going to catch a lot of eyes, as fat bikes, in general, are fairly expensive.
Whether a person is trying to ride downhill or uphill, the Yukon 2 performs well in its own price category and might be a better alternative for people who do not need all the specs on the Yukon 1.
Downhill Riding
The Yukon 2 has a very low center of gravity, which comes in handy for people who want to have excellent maneuverability at all times.
No matter what type of terrain a person is dealing with, it is important to feel like a person is always in control and riding downhill.
This is especially true for people who are used to riding other types of bikes, but not necessarily fat bikes. They are getting a taste of it for the first time with this option, and they want to make sure that they are staying upright.
The comfort level of the bike is pretty good, but not as good as the Yukon 1. The geometry is just a little bit different, and the comfort level absorbing shock is not as great. Even the seat itself is a bit different.
Uphill Riding
The Yukon 2 is a little bit heavier than the Yukon 1, so people are not going to be able to climb as easily as they might feel. The good news is that most people looking into buying the Yukon 2 are beginners, so they are likely not tackling huge hills in the first place. There is less of a need to have high-level climbing performance, so keep that in mind.
If it seems like uphill riding with the Yukon 2 is a bit of a negative, there are some positive qualities that beginner riders should take advantage of right away.
Maybe the biggest one is that the tires that come with this bike are outstanding for the price, and that means that climbers are going to get every benefit a person could ask for when going uphill. Having that extra bit of traction when the terrain is a bit slippery comes in handy.
What helps some is that there is a way to customize the wheelbase and even change the tire size if necessary. Not all beginners are going to take advantage of this, simply because they do not understand what kind of benefits they can experience.
However, those who want to play around with the bike and extend its life a bit might go in this direction. It is a way to upgrade the bike slightly without having to make a major upgrade and buy an entirely new one.
Value
It is arguably the best value out there for fat bikes right now, which is saying a lot in a growing industry. People who are starting as a fat bike rider will not be able to find something this high-quality in a pretty affordable price range. The only way to find something similar is to shop used, which can be hit or miss, to say the least.
The components are a slight downgrade overall, but it is not like it is a totally different bike compared to the Giant Yukon 1. Most riders who are beginning will not notice that much of a difference in components anyway, so there is no reason to spend the extra money in some cases.
Is the Yukon 2 upgradable? It is to a certain extent, but most riders are going to look at this as a starter option. If somebody is starting to get into fat bike riding for the first time, they can make a pretty small investment and try things out.
If it is not something they like, they can stick with his bike for a long time. Those who really start to get into fat bike riding can upgrade to something else later on down the road.
This bike is going to hold decent value, so selling it off it is not going to be incredibly difficult.
The latest version of the Yukon 2 has a few different upgrades that are very enticing for riders. Being able to enjoy a comfortable experience at all times makes perfect sense.
Benefits to Shopping Giant Fat Bikes?
The reputation of Giant bikes across all different disciplines is very high. They are known for their value options, but they also have some high-end solutions for riders who are looking to push themselves to the limit.
What are some of the benefits of going with a Giant bike over some of the other options? To start with, the name alone is going to give shoppers a lot of comfort.
There is nothing worse than buying a bike that might not have the best of reviews, or little reviews at all. Taking a gamble on a relatively new company has some ups and downs, but most people would like to stick with something trusted.
Giant dealers are also very local, so finding a shop that will fix any problems certainly comes in handy. Some shops will not touch certain bikes, simply because they are a little bit different than anything else. A Giant dealer is likely close by, so getting hands-on help always helps.
Finally, Giant offers one of the better warranties out there for all their bikes. If something goes wrong, there is a good chance of being able to make a claim and being compensated.
The company understands that people are making a pretty big investment when they are by buying any one of their bikes, and they go above and beyond what some other companies offer as far as warranties are concerned.
A warranty comes in handy specifically for fat bikes, as it can get really tough out there on certain trains. Nobody wants to be the person who ends up crashing and injuring himself, but from a bike standpoint, the company will support certain claims if parts fail that should not.
Giant Yukon 1 Or 2 Is The Best Value For Price?

The Giant Yukon 1 and the Giant Yukon 2 are both great options for fat bike riders. However, at this point in time, the best recommendation is to go with the Giant Yukon 1 if a person can afford it.
It is really not that much more expensive than the Yukon 2, and the components are going to last a lot longer. Yes, it is about a $500 investment increase upfront, but the fat bike might be able to last twice as long.
Not only are the components built to last a long time, but a person will not feel like they have to upgrade as they get better.
Fat bike riding is always going to be an investment. A person needs to spend much more than just on the bike to get out there on the trails. At the end of the day, those committed make that slight upgrade when necessary.
Having a better base to potentially upgrade components later on helps as well. Giant seems to put more of its top-end technology in the Yukon 1, and that will not change soon.
Both are great options, and should be on the shortlist for any fat bike riders looking to stay on a pretty tight budget. At this point, the Giant Yukon 1 feels like one of the best overall values for a wider range of riders.