Even people who consider themselves pretty familiar with fat bikes do not always know everything about certain upgrades and options to enhance a ride. A fat bike dropper post is not first on the list of things to check out for most people, but it is important to look into for some riders looking to make an upgrade.
Not only do we explain what a dropper post is below, but we answer some of the other common questions people have when they are doing some shopping. The goal is to make people feel as comfortable as possible with their possible investment.
What Is A Dropper Post?
A dropper post is another name for a dropper seat post, which is a height-adjustable seat post that allows people to move around if they want to during a ride. Just about every fat bike has an adjustable seat by default, but this allows for adjustments by using a remote lever.
Most of the time, these controls are located at the handlebar, allowing for some rapid adjustments. Some people swear by them, while others ultimately feel like they do not make that much of a difference for how they ride.
Can a Dropper Post be Installed on Any Type of Bike?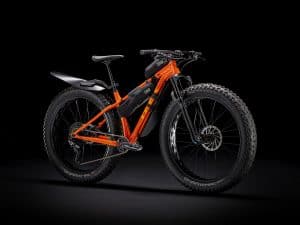 Technically speaking, a person could put a dropper post on any type of bike. However, they tend to be used on mountain bikes and fat bikes mostly. This is because most riders are looking for comfort and freedom when cutting and turning quickly on tracks. It allows people to get the saddle out of the way at times. In fact, it even helps with climbing as well.
In more recent times, road bike riders are starting to look into dropper posts as well. If used correctly, it can benefit any type of riding where people are getting out of the saddle and trying to maximize their performance.
How Does a Dropper Post Work?
The best way to describe a dropper post is to compare it to a standard office chair. They operate almost the same way, only the lever is located on the handlebar instead of on the side of the seat (in most cases).
Once a person pushes the lever and sits down on the seat, the seat will go down quickly. Lifting the weight off the post and pushing the level allows the seat to rise until it reaches its top height.
Why Fat Bike Riders Using Dropper Posts?
A casual ride on a bike is usually going to require just one seat position. As long as a person feels comfortable when they are riding, they will get a lot out of the trip in general.
However, riding with a dropper post can allow people to adapt to any terrain. It just takes one quick flick to have the option of either riding in a very comfortable position, a very efficient position, or freeing up as much room as possible so that the saddle is out of the way.
Fat bike manufacturers are really taking advantage of this, as they are creating some very steep seat tube angles for people to benefit from when riding. A better angle can help with climbing, but only if it can also get out of the way while descending when it is not needed.
Internal or External Cables?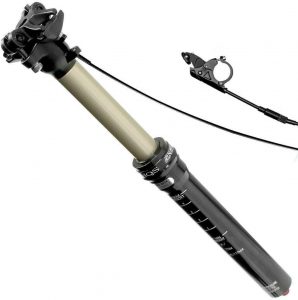 One of the biggest decisions a person needs to make when they install a new dropper post is to use internal or external cables. External cables are an easier way to get everything up and running, and it also makes it easier to repair or replace if needed.
It also helps quite a bit that most of those setups are cheaper, so those who are getting their first dropper post might want to go that way.
The vast majority of higher-end models are going the internal route instead. It allows people to keep their bikes looking cleaner than ever, and the cables are safe from any damage as well.
Just make sure that they are installed the first time properly because they can start to shake and rattle inside the frame if it is not done correctly.
With so many other cables and wires on a fat bike, putting them inside the frame makes a lot of sense for people. It might be a little more difficult, so do not be afraid to ask a professional to install the cables as well.
What Type Of Maintenace Is Needed For a Dropper Post?
There are not a lot of working parts with a dropper post, which is good news for people who might need to do any fixes along the way. Some things can go wrong just like any other addition out there, but the simplicity of how things work makes it is pretty easy to troubleshoot.
Cables are always going to cause a little bit of a headache, especially if they start to get tangled or even broken. The top companies all offer options for people to replace the cables if they are not working properly, so that is always a good way to go.
Is A Seat Post Lever Still Offered?
Most people have moved to a handlebar remote, but there are still some options for those who want a lever near the seat post. The only problem is, it becomes a little bit more cumbersome for people to make adjustments when they are riding. Most riders will begin to get used to the handlebar remote, and never look back.
It is a bit easier to set things up in a do-it-yourself method with a lever on the side. Not only that, but it is usually fairly cheaper, but remotes are pretty affordable these days as well.
Picking Out The Right Dropper Post
Unless a person buys a fat bike with a dropper post already installed, they are going to need to buy one after the fact and have it installed. There are numerous options these days, and it can vary quite a bit in price as well. That should come as no surprise, as the seat post can make a huge difference on our bike rides in general.
The entry-level options for a dropper post are pretty much anything that is listed under $200. They are heavier compared to everything else, and no one is really going to find lightweight material for such a cheap price. Also keep in mind that the cables are almost always going to be outside, not inside and hidden away.
With all that said, there are plenty of companies that have put money into creating some budget-friendly options for people who want to try out a dropper post for the first time. There is no reason to spend a ton of money the first time, especially if the fat bike is only used sparingly.
When looking beyond budget options, the price jumps up pretty quickly. There are some top end dropper posts that are well over $500, but those are going to be professional level in every way. Not only do they use the best technology, but everything is hidden so that it seems like nothing was ever installed.
Some of the top high-end options right now are the Thompson Elite Covert Dropper, and the Fox Transfer Factory Seat Post. These two companies also make some cheaper options if a person does not want to spend quite that much, but they really seem to focus on high-level products in this department.
DIY Installation, Or Take It To A Bike Shop?
Once a person decides on the fat bike drop post that they want to use, the final step is deciding how it should be installed. Despite the cost, it is a pretty straightforward process to install everything if a person wants to try to do it themselves. However, some people do not want to mess up their fat bike, so they go to a bike shop to help out.
The good thing about going to a bike shop is that they should be able to get everything just right. This includes making sure that the cables are not tangled in any way when they are going through parts of the bike. It might seem like a fairly simple process, but a lot of people do struggle to get it right the very first time. This means that the longevity of the dropper post might not be quite at the same level people are used to.
Final Thoughts
Anyone who is thinking about taking their fat bike to the next level should consider investing in a dropper post if they do not have one already. It offers a lot more flexibility on riding around, and people are usually pretty impressed with the upgrade once they get used to it.
The only people this does not make much sense for are those who do not plan on doing too much strenuous riding on the fat bike. If the goal is just to have something that is more of a commuter, it might not be worth investing hundreds of dollars into and upgrade that is only used sparingly.
The good news is that there are companies that are starting to include a dropper post with their bike already, so people do not have to spend money to upgrade after. Having his ability to save some money, in the long run, is considered a good thing for most.