In just a short amount of time, Kona has turned into one of the top fat bike manufacturers out there. They have two distinct fat bikes that a lot of people have gravitated towards, as the Kona Wo and Woo are very popular.
There are some differences between the two, and they are meant for different types of riders. Which one works best? It is entirely up to what a person plans on doing, but the good news is that the company continues to innovate. They are poised for these two new releases in 2021, with the upgrades for each model.
2021 Kona Wo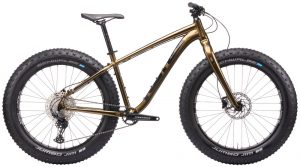 The entry-level option of this kind of fat bike is certainly one to check out. A lot of people have fallen in love with this option, which falls considerably under the $2000 threshold.
Many people want to start with something pretty standard, and go from there if they get into the sport more. For those who are just starting out, this might be the way to go.
First Thoughts
This fat bike might not be as eye-catching as the Kona Woo listed below, but it is still one that looks a lot more expensive than it actually is. Part of that comes down to the design of the bike, while components play a role in that as well.
The bike feels a little heavy when first picked up, but it operates as if it is a little bit lighter. This is good news for people who might be scared off, as a super heavy fat bike, even for a beginner, can be a bit frustrating to deal with.
There are upgradable options on the bike, but most people are going to stick with what comes with it in the beginning. There is no reason to tinker with things too much, especially if a person does not know how much they will be riding. It is a decent investment, but tinkering with it a bit will put it well over $2000 total with the investment.
Pros of the 2021 Kona Wo
There are some subtle changes to the Kona Wo in 2021, but nothing is going to stick out too much. That is a good thing overall, because it was one of the most positively reviewed bikes in 2020.
The frame is the same Kona Fat 6061 Aluminum Butted option that many people love. The wheels are pretty much the same and the drivetrain is still operating as it should. It makes the whole bike operate smoothly, even with minimal tweaks.
There are always going to be people who are looking to make some tweaks here and there to make the bike their own. Bike riders have the option to tinker if they wish, which is a nice way to add some life to the bike. It has a good base overall, which is a positive for those who do not want to make too many changes.
The Schwalbe Jumbo Jim 4.8-inch tires are one of the best a person will find when looking at base options. They come with tubeless-ready rims as well, so people are going to get a very solid, durable ride the entire time.
There is nothing worse than buying a fat bike, only to have to replace the tires on a pretty consistent basis. They should be able to hold up over any type of terrain, and that is exactly what people will get out of this.
This is a great value bike overall, as people can get really comfortable riding a fat bike for the first time in their life.
Maybe people will upgrade at some point, but it is going to last a long time as long as it is kept in pretty good shape. The frame is lightweight, the tires have great traction, and there are solid components all around.
Maybe the most underrated thing about the Kona Wo is that it has really caught on as an option for taller riders. It is pretty tough for fat bike riders who are tall to find a bike that fits them the right way, but this remedies that situation right away.
There are a lot of different people who jump on this bike simply for that reason. Anyone who is as tall as 6'6" will be able to find a size that works for them.
Anyone taller than that will perhaps need to make some additional changes to get to where they want to be.
Another benefit is that the hydraulic brake system is excellent for stopping on a dime. There are a lot of people who have trouble learning how to brake and brake consistently when riding a fat bike.
It can be very overwhelming, especially for beginners. There is a certain technique to braking the fat bike, and it comes with a lot of practice.
Cons of the 2021 Kona Wo
There are no real negatives with the Kona Wo, other than the fact that people might be expecting more out of a fat bike in this price range then they will actually get.
If a person is looking to upgrade and have something that will last a long time, this might not be the bike for them. Components are going to cost extra money, and it might be frustrating to pay for an upgrade shortly after making a purchase.
Weight is also a little bit of an issue, as no one likes to ride a fat like that feels heavy. It is most noticeable on snow and sand, so keep that in mind if that is where a person plans on riding consistently.
Other than that, this is a great entry level bike, and the negatives are not going to hold many back from giving it a try.
How It Rides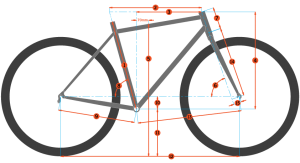 Simply put, this is how an entry-level bike should perform. It is not going to be the most comfortable ride the world, but people should not have that expectation in the first place.
It does a good job with what it has to work with, and most people are going to get a good value out of riding on any terrain.
More specifically, people are not going to notice that much of a difference between riding on fairly easy surfaces like gravel and dirt compared to more expensive options.
That is because the bike does not need a lot of extras added to it, so it is a little easier to handle. For snow and sand, it struggles slightly, but not too much that it is unusable. Just do not expect to set speed records.
Final Verdict
Is this the right fat bike for beginners? A lot of people believe that is the case. Getting under $2000 is a huge plus, and the components are some of the best out there when compared to other brands.
It seems like Kona is focused on continuing to upgrade this option as a solution for people who want to stay under budget. It is nice to have so many upgrades for the cheaper option, as some companies do not want to upgrade too much so that they cannibalize other sales.
2021 Kona Woo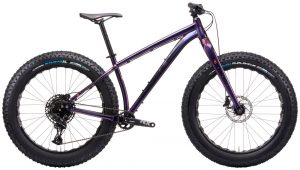 Recently, the 2021 Kona Woo was released to the public. Many people are anticipating this release, as it is one of the top fat bikes out there right now for people who are looking for an affordable, steady ride. There is so much to like about this bike, and it is an eyecatcher from the very beginning.
First Thoughts
Taking the Kona Woo out of the box for the first time is a pretty remarkable experience overall. It is a bike that is painted to stand out from the crowd, as it comes in a purplish-blue paint that has a few graphics splattered around as well.
The color changes a bit when it is under sunlight, which is a little bit of a perk for those who are riding around.
The way that it is finished off is pretty remarkable, and makes it seem like a high-quality fat bike from the very beginning. Maybe some people will not think that this is the best color out there, but it is a nice option to try out.
The next thing people will notice is a pretty solid frame that is built for adventures on different terrains. The aluminum butted frame is a very solid option, and more will be discussed on how it performs below.
As for the carbon on the bike, a lot of people noticed right away that the fork makes a significant difference. So many people do not understand the importance of having some carbon on the fork, as it can make people ride longer and feel better overall.
Everything else that is easy to look at before taking it on a ride is pretty standard. There are two water bottle mounts for people to use for longer rides, and there is an option to attach cargo cages pretty easily.
This is great for people who plan on making the most out of their fat bike, but those who want to keep the weight down a bit can decide to go without.
Pros of the Kona Woo 2021?
The aluminum used for the frame of the bicycle is a very solid option that many people are going to love. It is tough and durable for rides on any type of surface, which is a must for fat bike riders in general.
They can keep things pretty light as well, which helps with picking up speed as well as performing at the highest levels.
Simply put, at this price range, there is no other option that truly out-performs this aluminum. Kona takes a lot of pride in what they put out, and it is clear that they are one of the specialists in building quality frames.
Internal Headset
Coming over from the 2020 model, people are going to be very happy with the internal headset. The cups are going to be pressed into the frame, and they are also removable.
This makes the internal headset capable of reducing stack height, offering a bit more adjustment overall.
The goal with the internal headset is to give each rider the best fit possible. It can sometimes get a little annoying if a fit does not work as it should, but this is a great option to have and fall back on.
Improved Tires
It is always nice to hear about tires being a little more improved in 2021. These new tubeless compatible rims available on the bike offer a better puncture resistance.
It also helps the tire perform a little better, cutting down on weight and just performing better overall.
It might not seem like it makes that much of a difference for casual riders, but the faster a person tries to ride, the more tubeless compatible rims matter.
Everyone should try to go tubeless if possible, as it is going to be a better ride overall. It is also going to add some durability to the tires, which is always a nice thing to have.
What is not to like about the Kona Woo??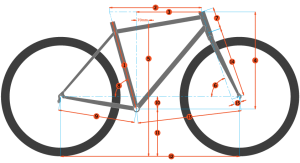 There are so many positives, so there have to be some negatives with the bike in general, right? There is a ton to like with the bike, but there are a few things that stand out that could be a little bit better.
Even with moving from the 2020 version to the 2021 version, there are still some issues with the bike that people are going to be crazy about.
Drivetrain
The bike has so many quality components, but the drivetrain comes up a little bit short, even if it is upgraded. There are better options out there on cheaper bikes, and it is very frustrating to have to deal with.
It just seems like it does not match up with the rest of the bike, which is frustrating for people who are happy with so many other qualities.
The only way around it is to either replace the drivetrain, or constantly do some alignments to keep up with everything. It gets frustrating after a while, and some people will actually go to the point of looking at other bikes if it becomes so much of a problem.
The good news is that the 2021 version is an upgrade over the previous option, so it is not as bad. The SRAM SX/NX Eagle 12 Speed drivetrain is an upgrade that will allow people to operate at a more efficient rate.
So many people were extremely frustrated with what they offered last year, but at least they are making some inroads. It is not a positive just yet, but they are starting to get there.
Weight
As it is, the bike is around 33 pounds. Is this a little too heavy for some? Yes, but there are some ways to get around the weight a bit. The most obvious change is to go tubeless, and that is what most people do for other reasons anyway.
Upgrading to lighter components will take some weight off as well, but that is going to add to the price of the bike and kill the value some.
Maybe the most frustrating thing is that even at 33 pounds, it seems like a very heavy 33 pounds. There are other bikes in this price range that way in about the same, but it feels lighter because of the geometry.
In particular, this bike feels heavier towards the back, and lighter in the front. There are a few different tricks to changing how the feel of the bike goes, and that includes placing the water bottles in the right locations so that everything is a bit more even.
Since a lot of people who are riding this fat bike are not doing so competitively, a lot of these minor issues are not going to make or break a sale. However, as riders become a little more competitive overall, it is something to keep in mind that there are options out there.
How It Rides
The sizing takes a little bit of time to adjust, just like any fat bike out there. People want to do some subtle adjustments here and there before they go on a long ride, because that way they can get a pretty good feel for how it performs.
The first real test occurred on gravel and dirt. That is because of the weather, as it was a little milder out in general. It feels really nice on both gravel and dirt, and people can pick up considerable speed if they want to.
Climbing and going downhill is very easy to handle as well, which is a nice positive for many out there.
What really is a game-changer is trying it out on tougher terrains such as snow and the beach. With the snow, the tread on the tires do a very good job of handling everything thrown its way.
The components do a very great job of handling anything else that might be under the snow, which can cause problems with other bikes.
On the beach, it is not quite as effective, but still is a better performer out of two bikes listed here. For people who want to go on tougher terrain, this is definitely the option to go with as a few hundred dollars extra will make a difference.
Final Verdict
Anyone who has the option of trying out either bike will understand that this is a significant upgrade. It performs well on all different terrains, and people are going to feel very comfortable from beginning to end.
They can ride longer, feel more comfortable overall, and understand that they have a bike that should last a little bit longer in the end.
Yes, it is going to be a more expensive upgrade, but people who plan on riding longer should consider it from the very beginning.
They have made enough upgrades from the 2020 model to the 2021 model that people should be satisfied. The drivetrain might not be perfect, but it is a significant upgrade, and might be worth the price in general.
2021 Kona Wo or 2021 Kona Woo Better Value?
Out of the two bikes, the Kona Woo is obviously the better of the two. It is higher priced, has better components, and performs well in real-life situations. However, does it have the best value?
There is not enough difference in the price to have too many people sway away from the slightly more expensive option. Yes, it crosses over the $2000 price point, but for a few extra hundred dollars, a person does not have to worry about upgrading their bike nearly as often.
Not only that, but they can feel comfortable that they are making the right decision, and they can stick with it for years to come. With the entry-level model, it might make it more frustrating to upgrade at a faster rate.
Both are great options, and they bring a lot of positives to the table. If a person can pull it off, paying a little bit more now is going to be the better option.