A company that has turned into one of the most trusted in the fat bike industry is Norco. They are building such a trustworthy name thanks in large part to their line of bikes known as Bigfoot.
However, with several different aluminum frame rigid fat bike options to choose from, it might be tough to decide what is best for an individual.
The best way is to take a look at every single bike that is currently in the range. Not only is there the Norco Bigfoot 1, Bigfoot 2, and Bigfoot 3, but there is also the Bigfoot 1 suspension model.
First, we will take a closer look at all four, and then give recommendations on who might benefit most from them. This Fat bike brand is making big advancements in the fat biking world!
Norco Bigfoot 3
The Bigfoot 3 from Norco is meant to be the entry-level model for those who are just starting to get into fat biking in general.
It is going to have entry-level components across the board for the most part, but when compared to other companies, this proves to be a pretty good value overall. The MSRP is just over $1000, and that is a very competitive price for what is offered.
With a double-butted X6 aluminum frame and a Norco 6061 alloy fat fork, this bike is very stable and comfortable for those starting now.
They have decided in 2021 to make it a little more balanced with weight distribution so that riders get great traction and the best pedaling position one can ask for.
By putting beginners in a better situation, they can reach the type of speeds they are hoping for without feeling like they are struggling all the time.
Shifting is also very simple with the setup of the bike, and riders have the opportunity to take advantage of a slightly smaller wheel size that should be pretty comfortable overall.
Instead of going with 27.5 inches like with the Bigfoot 1 and Bigfoot 2, the Bigfoot 3 just goes with 26 inches. It is a little less overwhelming, and most reacted very positively.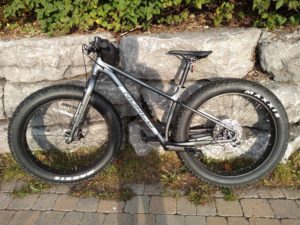 Eventually, most people are expected to graduate from the Bigfoot 3 at some point. This is a way to try out fat bike riding on a solid option overall, but there are better ones available that are not that much more expensive.
If a person feels like they never really get into fat biking, they are not out as much money. However, those who really want to take things to another level will go to something else.
The full setup needs to be dependable for 12 months of the year for them to really hold their value. That is exactly what people get with the Bigfoot 3, and the 4.5-inch tire width certainly helps beginners as well.
Whether someone wants to upgrade it or stick with the entry-level version as-is, it is definitely on the shortlist for most.
Pros
Shimano components are great for the price.
Very large, steady tire set up.
Lightweight for the price.
Cons
Stock tires could be a little better in the snow.
Pedals are subpar.
Norco Bigfoot 2
Many look at the Bigfoot 2 as something that they hope will someday evolve into the Bigfoot 3. It is still something that has a little bit of that entry-level feel, but it comes a little bit closer to the Bigfoot 1 that people are pretty impressed with.
The biggest example of it being close is that it comes with the same wheel size, but what it lacks is a high-end groupset, and an upgraded fork riders will see at the next level.
The geometry of the bike is identical to the Bigfoot 1. Riders have the opportunity to take advantage of a pretty rigid fat bike frame with components that are not going to blow people away, but they are not bad either.
The group set is Deore and Praxis, and the fork, while aluminum, is one of the best performing options made of that material.
Anyone jumping from the Bigfoot 3 to the Bigfoot 2 will feel like this is a considerable upgrade. Not only does the bike feel differently as soon as it is mounted, but it appears nicer and performs at a higher level as well.
Even the little things like climbing and jumping are made much easier with the entire setup on the bike.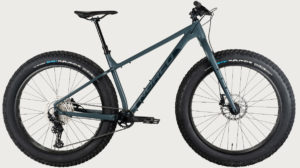 For the bike to still come out well under $2000, many consider this one of the best deals on the market right now.
There will be naysayers who wish that it had a carbon fork or dropped a little bit of weight, but that is just not realistic at this price point in 2021.
Norco has priced all of their bikes very competitively, and this one stacks up with any other option in that sub $2000 range.
Pros
Has the Exact same geometry as a Bigfoot 1.
Deore, Praxis groupset is of great value.
Feels more premium than the price tag.
Cons
Not the lightest in this category of fat bikes.
Might feel too rigid for some.
Norco Bigfoot 1
Those wanting to jump straight to the top option from the company as far as standard options are concerned will enjoy the Bigfoot 1.
The biggest selling point compared to the others is that it does come with a carbon fork, but there are upgrades across the board that make this a great value of just over $2000.
The first thing is to examine the carbon fork and what it brings to the table overall. The Norco carbon fork is 15 x 150 mm, and it is going to smooth out the fat bike ride more than the cheaper options.
Unfortunately, once fat bike riders go to a carbon fork, they often have a hard time going back.
Using a group set of XT and SLX comes in handy as well. These are very high components, and it really does not cost too much of an upgrade compared to the Bigfoot 2.
Hydraulic disc brakes are definitely a positive for those who have never used them in the past. While the hydraulic disc brakes work well with the Bigfoot 2, these seem to be a little bit better at stopping on a dime and having as much control as possible.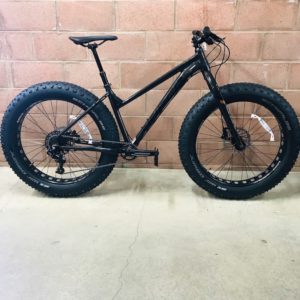 Maybe this has more to do with having upgrades surrounding the rest of the bike, but having confidence with breaking is never a bad thing.
Norco should receive a lot of praise for being able to keep the Bigfoot 1 at a pretty affordable price. While it is more than twice the amount of the Bigfoot 3, most people will realize that it is worth the investment.
Riding both of them back to back will show so many differences, and a more seasoned fat bike rider would likely lose interest with the Bigfoot 3 after a while.
When shopping for a new fat bike in this price range, the Bigfoot 1 should definitely be on anyone's shortlist.
The company has shown that they are really focused on making this a flagship option for the masses. Available in modern color choices, it is truly one of the best for 2021.
Pros
Carbon fork works extremely well.
Hydraulic disc brakes are very dependable.
A high-end groupset makes this bike feel premium all-around.
Cons
Still a little heavier than some of the competitors.
Tough for people who do not appreciate rigid setups.
Norco Bigfoot 1 Suspension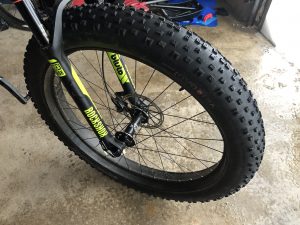 Not all fat bike riders require suspension, but those who want the upgrade can do so by spending a few more hundred dollars.
It is the exact same option as the Bigfoot 1 with the same components, with the only difference being the suspension that turns it into a pretty nice, modern adventure fat bike.
The tires are 5 inches wide, and riders have the opportunity to smooth out things even more by absorbing any bumps along the way.
Some fat bike riders do not mind those bumps at all, and they think of it as part of the experience. For those who are looking to tackle more challenging terrains, it is becoming more and more apparent that suspension of some sort matters.
This is exactly what Norco is trying to accomplish with this Bigfoot 1 suspension option.
If there is a drawback to this option compared to the other cheaper standard version, it is that the bike feels a little heavier when in use.
That is the case with any bike or suspension and is part of the trade-off in general. There are of course the extra costs that go with it, as people need to balance whether or not they are willing to make that investment.
All in all, the Bigfoot 1 suspension is for a very specific type of fat bike rider. Those who are looking for added suspension for a better and smoother ride will be satisfied.
Pros
Fairly light suspension to keep the overall weight down.
Significantly smoother ride compared to the Bigfoot 1.
Stays true to the Bigfoot brand otherwise.
Cons
Hard for some to justify the extra cost.
Added suspension needs additional maintenance from time to time.
What Type of Norco Fat Bike is Best?
Now that the four have been detailed, it is time to actually figure out what fat bike works best for a specific rider. Everyone is different, and people are at different stages of learning how to ride a fat bike in general.
Those who have never owned a fat bike of their own in their life should go with a Bigfoot 3 or Bigfoot 2. Smaller individuals will probably benefit more from the Bigfoot 3 since it has smaller wheels, and it is just easier to maneuver overall.
Larger individuals will have more success with the Bigfoot 2, and it will also be easier to transition to something better down the road.
For a traditional type of fat bike feel, the Norco Bigfoot 1 is the best way to go. This is how fat bikes have felt for a long time, and most people appreciate that rigidness that they bring to the table.
It gives riders feedback that allows them to gauge exactly how they are traveling, and the tire set up smooths out rides enough that it will not make that much of a difference.
If traditional fat bikes do not seem soft enough for riders to enjoy on tough terrain, it might be worth the investment to go with the Bigfoot 1 suspension.
It is certainly an investment, but it is right there in the middle as far as pricing is concerned for similar models.
Riders will get all sorts of premium components, which is too much for those who are just starting now.
However, those who know exactly what they are looking for can come to appreciate a fat bike that is still under $3000 despite bringing so much to the table.
The Future of Norco Fat Bikes
While Norco has seen a ton of success with their big line of fat bikes, they understand that the industry is growing and people are looking for bigger and better things all the time.
It will not be a surprise to see a carbon fork make an appearance on the Bigfoot 2, or even a Bigfoot 3 in the near future.
As components get cheaper and companies continue to push limits, a carbon fiber fork would make a truly sensational mid-tier or entry-level model.
The quality suspension seems to be in demand more and more with each passing year, so that could be another focus of the company.
Although some people are strongly against having that type of suspension installed, others are willing to try things out and see if it is more comfortable for them overall.
If possible, try to demo these bikes in a store locally. It is the best way to get a feel for how they handle, and if it is worth the investment overall. They do offer very favorable return policies, but it is still going to take some time to go about it that way.