Anyone who has paid attention to fat biking, in general, has noticed just how fast the industry has grown. There used to be a time where there were only a few different options out there, but more brands than ever are making their mark in the industry.
Despite new companies dipping their toes in all the time, a few brands stand out from the rest. Each one brings some different qualities to the table, and it is always recommended to try out some of their products and make opinions that way.
With that said, all the brands below are great starting points for people either just getting into fat biking, or looking for something a bit better. They have built up their reputation, and turned into a very dependable option.
These brands are not in any particular order. 
Mongoose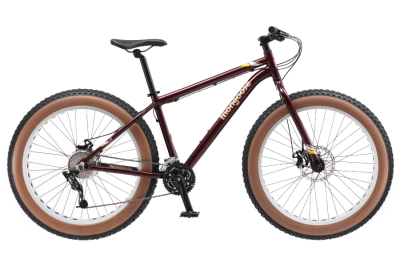 There used to be a time where Mongoose was actually known more for their dirt and BMX bikes than anything else. It is true that they still put out some wonderful options in those categories, but they have evolved into a pretty popular fat bike option as well.
Those who want to get into this type of riding will find some pretty nice options that will not hurt the budget at all. Maybe it is not enough bike for a seasoned rider, but for those looking to stay on a tight budget, the options they offer are a bit more unique than the other four on this list.
What are the top mongoose fat bikes right now?
Vinson
For a fat bike that hangs around $500, this is the overall best option to go with right now. It might not have the same capabilities as some of the other bikes on the market, but it is good enough for an entry-level option.
What makes it different than the other affordable fat bikes? The aluminum frame feels lighter than one would think, and it comes with a perfect set of tires for the price.
Everything just works together well, which is about all a person can ask for at this price point. There is no reason to be forced to upgrade anything, although there is always that opportunity if a person wants to put more money into it.
A Mongoose Vinson is not going to outperform bikes that cost several thousand dollars, but that is really not what their design in the first place. It is a low entry point for people who want to try riding a fat bike, but they might not be sure if they are 100% in just yet. Most use the fat bike for a while, and then make a move to something else later on.
Argus 26 Sport
This bike is still one of the most affordable fat bikes out there from any company, but it is an upgrade over the Vinson. The aluminum frame cuts weight a bit, while strengthening the ride and giving people a bit more response. Most riders love the fact that while it is not carbon, it does a pretty good job of absorbing all the bumps along the way.
Components are upgraded across the board, which is another great selling point. The 10-speed Shimano deore derailleur and shifters make it very easy to go on different terrains and elevations without much of a struggle.
This fat bike does allow for riders to get a bit more long-term use out of it than the Vinson. It will eventually need to be upgraded at some point for most, but holding onto it for an extra year or so may be worth it to some people. It is built to last, and first-timers will have no problem jumping on and having some fun.
Trek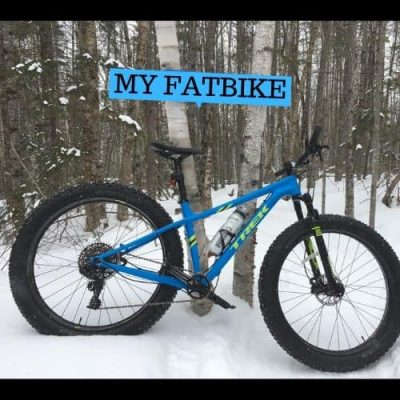 Anyone familiar with riding bikes has probably heard of the Trek company. They make bikes for many different surfaces, including fat bikes. They always tend to be a bit on the higher side from a price perspective, which is going to turn some people off initially. However, they put out some high-quality fat bikes, including one of the most popular options in the Farley.
What people seem to really like about Trek is that even their low-end options can compete with the very best riders out there. A person can get a bit out of hand when they are spending a lot of money on the best of the best, but an entry-level model is still priced relatively well enough for people to buy.
Brand loyalty also helps a lot of people make the transition. Maybe someone has had experience with Trek in the past, so they stick with what works for them.
What are the top Trek fat bikes out right now?
Farley 5
As the entry-level model offered by Trek right now, the Farley 5 is still going to cost just under $2000 for most people. However, it is something that can easily work for years, and some people never upgrade from that original purchase.
What makes the entire Farley line perfect is that it comes with everything a person needs. There is no reason for a person to feel like they have to make modifications to ride on any type of surface.
The tires are 4.5 inches wide, and handle any kind of terrain. Sure, there are lighter bikes out there, but this is still one of the lightest for an entry-level. It has an aluminum frame, a carbon fork, and a level of stability that is hard to top without spending thousands more.
Click here to read my full Farly 5 2020 review!
Farley 9.6
There are a few Farley options out there to choose from, but other than the entry-level one, the Farley 9.6 probably has the best value. It is a full carbon fat bike built for speed and performance. Riders will be able to go anywhere on their bike without any issues whatsoever.
Full carbon and outstanding performance do come at a pretty high price, but it is looked at as a real investment for people who enjoy their bikes in general. This is built to last, and about the only thing that people will update from time to time is a different pair of tires to use when it is really snowy out. Other than that, this bike is good to go and will handle anything.
Surly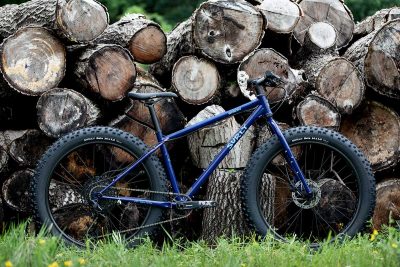 The competition is much stiffer in today's market, but Surly is still hanging around as one of the best brands out there. They are known as the originators of the fat bike movement, and most people know them as one of the best bangs for your buck right now.
They've evolved a bit over the years, but they are still the same company that brought in this new way of riding on trails. Their bikes are known as being stable, steel-framed, and capable of handling anything.
They are also a bit on the cheaper side, which is good news for people who are stepping into this type of rain for the first time.
What are the top surly fat bikes right now?
Ice Cream Truck
One of the more unique names in the industry, the Ice Cream Truck trail-ready bike has some of the best tires you can find on the market. It has the capability of going just about anywhere, and people love that they can use it 12 months out of the year.
Every single year, it pops up as one of the best overall fat bikes in the industry, and it is ready to go as-is instead of needing upgrades out of the box.
It runs right around $2000, which is about average for a bike with these features. Some people are not going to be crazy about the lack of carbon on this bike for that price, but other than that, there isn't much to complain about.
Wednesday
A slightly cheaper option for fat bike riders is the Wednesday from Surly. It is a very versatile option people use not only on the trails, but as a commuter as well. It is pretty affordably priced and comes in three colors, and it is about as classic of a fat bike one can find.
When a rider first hops on this bike, they think that it is very similar to a standard trail bike with some performance upgrades. It does a very good job of making a person feel very comfortable when they are riding, allowing them to ease into using a fat bike instead of feeling overwhelmed.
If a person decides they do want to do some upgrades, that is totally possible as well. Most of the time, people are satisfied with this as a starter bike, but they do upgrade if they start to get into it.
Rocky Mountain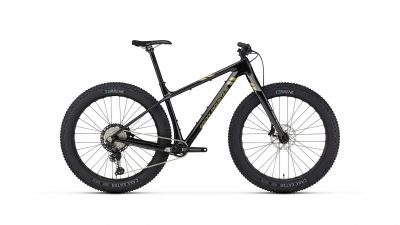 It might be confusing to some people that Rocky Mountain is actually the name of a company, but they put out some of the best bikes out there for fat bike lovers. What's even more confusing is that they own the domain bikes.com.
Despite having a pretty generic name, their bikes or anything but. They have been producing some quality options for over 30 years, and they are now a leader in the fat bike industry.
Why do people like their bikes? Many believe that they are very affordable, and they also offer enough versatility for people who are just starting out, or want something that is a little better without having to spend a ton. It is a good way to jump into riding a fat bike without having to make a huge financial commitment. It also helps that they design bikes to handle inclines very well.
What are the best Rocky Mountain fat bikes out right now?
Blizzard
Their Blizzard fat bike, as one might expect, is capable of handling the tough winter weather in any location. It is a challenge for people who really like riding, but live in a location where they can't get out as much as they wish.
The alloy frame feels a lot lighter than some people think initially, and their components, in general, are pretty high-end for an affordable option. There are obviously better options out there, but it is an excellent bike for people who really do not want to have any type of limitations.
Having the ability to switch wheel sizes is certainly an advantage of this bike as well. A person can order one that either has 26 or 27.5 inches, but it is 29+ ready as well. It is just another bonus that people really like when shopping for fat bikes and having options to customize for unique conditions.
Suzi Q
Following the trend of different names for fat bikes, the Suzi Q is a bit of an upgrade over the Blizzard. The biggest difference people will notice from the beginning is that the frame and fork is made of carbon. This is going to smooth out the ride, give it a little more versatility, and make things a slightly more lightweight.
It is a fantastic fat bike built for any type of terrain out there. They come equipped with Cake Eater tires, capable of handling soft and hard surfaces. The brakes, brake levers, shifters, cassette, and rear derailleurs are all Shimano, and they do not cut any expenses whatsoever with this option.
Framed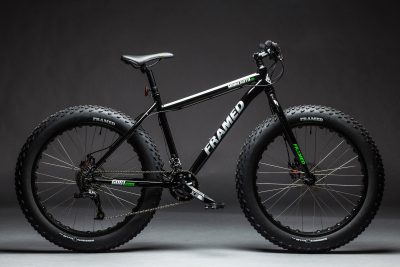 There are plenty of Framed bikes out there, but they are really starting to solidify themselves as one of the best fat bike options out there. They offer very affordable options, including a few that are under $1000 when on sale. They also offer higher-end models depending on precisely what a person is looking for.
Framed might not have the same type of high-level reputation as some of the other options out there, but it certainly does not mean that they are not at the same level. In fact, some people believe that they are only going to continue rising up the ranks as they continue to elevate. If they can keep prices down while doing that, it is going to open up a new window for any type of riders out there.
What are the best framed fat bikes out there right now?
Minnesota 2.0
The Minnesota 2.0 fat bike might be one of the most popular fat bikes out there across any company. It seems like they are selling these at an alarming rate, and when a person checks the price point, it is easy to see why.
Right now, it is one of the best values out there, and it does not seem like Framed is going to stray away from those great prices any time soon.
Available in kids, women's, and men's sizes, the whole family can get a Minnesota 2.0 and enjoy that bike riding. It is not going to have components that blow a person away too much, but it is not a cheaply made bike either. It is great to get out there and experience fat bike riding, as some people want to know if it is the new sport for them or not.
Alaskan carbon fat bike
Keeping with the theme of affordable options, the Alaskan carbon fat bike is a great way to experience carbon without having to break the bank. People love how fast they can go on a bike like this, and also the versatility it provides.
They increased the tire diameter a bit, which helps smooth out the ride and also speed things up ever so slightly. The contact patch is what makes the difference with that.
There are higher-end options from the company that people can consider, but this is a good starting point for anyone who just wants to sample a bike with carbon on it. At the same time, this could be more than enough bike for any person out there.
Not everyone needs the best of the best, and it is hard to complain about a bike that sits at this price, and can be ridden by casual riders and even professionals.
Are there any other fat bike brands to look out for?
As the industry grows, there are going to be more and more companies out there worth checking out. Some people want to stick to the most well known and popular, but there is some good value out there with smaller brands as well.
As far as bigger brands are concerned, there is never anything wrong with going Specialized. They have a variety of options, and are usually compare directly to Trek as far as company reputation. Norco and Canyon are also pretty well-known out there in the fat bike world.
Some smaller companies to look out for are Salsa, Transition, and Guerilla Gravity. None of these might grab the attention of the beginner rider, but they also offer something a little different. It is worth testing out at least, and maybe a person falls in love with a certain design.
The most important thing is to find what feels comfortable, and falls in the right price range. Most people do not want to spend a ton of money on a fat bike, especially when they are still learning about the entire process. Do not be afraid to check out a local bike shop, and see what they have available. Most of them will have a few well-known brands, and maybe a few other smaller ones as well.
Fat bikes are still a little under the radar, so the best deals and best selection will still be online. There is the case of ordering it, having it shipped, and then assembled, but it is worth it for some when they invest in this sport. Going with a trusted brand that has great reviews is always the best way to go, as it takes away a little bit of the fear of ordering something blindly online.