Most of the best fat bike lists out there on the Internet tend to focus on bikes for men. Fat bike riding indeed has a bit of a stereotype that is more geared towards men, but there are plenty of women who love hitting the trails as well. That is only going to become more and more of the norm as people discover the beauty of riding all times of the year.
While a woman can use a bike that is technically built for a man, more and more companies are putting in the effort to create quality options for females. Not only is the geometry bit different, but the look and feel of the bike is not the same either.
What are some excellent bikes to take a look at? All of the fat bikes listed below are going to fall between about $1000 and $3000. This is a good range for the vast majority of riders, but it ultimately depends on what makes the most sense from a user perspective.
1. Alaskan Carbon Women's Fat Bike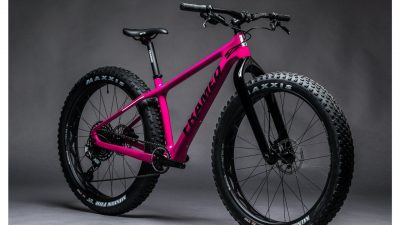 Most people who have done any type of research in fat bike riding whatsoever knows about Framed as a company. It is one company that has spent quite a bit of time on bikes made specifically for women. They understand that for the sport to really grow, there needs to be more options for such a growing part of the community.
The Minnesota 1.0 was the first to offer a women's version, and many people instantly fell in love with it. Not only does the bike have a shape for women with quality components, but the colors are solid as well. Now comes the Alaskan Carbon Women's Fat Bike.
With the Alaskan, they made some great improvements over the minnesota. One of the complaints with their previous fat bike was that it was a little on the heavy side, especially in the gearing area.
They reduced the weight in that area using better components, and they also made the bike a little more flexible when trying to get the right fit. People come in so many shapes and sizes, so customizing as much as possible can make people feel comfortable and pain-free on long rides.
Of course this bike is also lighter due to the carbon frame they now introduce. This does increase the price of the Fat Bike but it is still bellow most of the competitors carbon framed fatties on the market. This is no longer an "entry level fat bike" but is still affordable, especially when it comes on sale from their website!
Finally, what is a fat tire bike without quality tires? The Maxxis Minion FBR/FBF 27.5 x 3.8in are perfect for not only winter riding but are also an agile size to rip down the trails in the summer months as well!
The current MSRP is around $2100 USD, for a carbon fatty, that's a darn good deal!
Pros
Affordable for the quality of the bike.
Premium components with an option to Upgrade & downgrade
Trusted brand
Cons
2. Salsa Mukluk
The Salsa Cycles Mukluk is built with adventures in mind. Everything a person can actually want out of a fat bike is available in a compact size option built specifically for women. They have a few different sizes to choose from, and while it is not the cheapest fat bike in the world, it squarely falls right in the middle.
The aluminum frame is solid, which means that this lightweight bike will not run into too many issues when riding around. It is a concern for some women when they get a very lightweight fat bike, because they might feel like they will not be able to navigate as they should.
One of the biggest selling features of the Mukluk is the geometry with the bike. They use very short chainstays with a head tube angle and fork offset. This puts the center of gravity while riding the bike a little more over the rear wheel. Some people like this field, while others might see this as a major turn off.
The carbon fork used on the bike really smooth out the ride considerably. Since it is a bike that does not come with suspension, similar options sometimes become very bumpy. Of course, it also helps that it comes with a 4.8-inch wheel that offers plenty of traction and stability while floating over different surfaces. It is a very comfortable ride on just about any surface with the right PSI.
Not everyone is going to be completely familiar with Salsa as a brand, but they have been around for a while. They have great customer service, and they offer different warranties with every bike they sell. It is definitely an option for any women to check out if they want something that is squarely in the middle of both price and performance.
The current MSRP for this bike is $3150 USD
Pros
Carbon fork smooths out the ride considerably
Internal housing for cables
Works well with several different add-ons
Cons
Geometry is a bit hit or miss
Does not really do that one thing very well
3. Specialized Hellga

Specialized was not the first company to start putting our fat bikes, but they are certainly turning themselves into one of the biggest players in the industry. They have long been counted on for road bike and mountain bike riders, and this option built specifically for women is certainly one to check out.
One of the most mesmerizing things about this bike right out of the gate is the look. It is going to be hard to find a better-looking bike at this point. They have done a great job with the different color schemes, and Specialized will probably continue to put out different options as time goes on.
It does more than just look good in the corner of a room or on display, as this bike was built with performance in mind. Women will love the fact that they can get nearly a perfect fit with all the customization options, which is all anyone can really ask for.
Everything is tailor-made for a woman with this bike. It has a lower standover, a saddle that is shaped perfectly for the body, a smaller bottom bracket, and just a more compact feel overall without feeling cramped up. As long as a person gets the right size, they will have no problem whatsoever as far as comfort is concerned.
The wheels on the tire are pretty average for a fat bike, coming in at 4.6 inches wide. They are not anything too crazy, but they perform well on any type of surface. The drivetrain is also very reliable for a stock option.
The pictures online do not really do it justice, so try to check it out in person to make a decision. Specialized really put a lot of effort into making sure that the Hellga is a major player for any woman trying to get a full package.
Pros
Beautiful
Quality components
Excellent drivetrain
Cons
Sometimes tough to find
Sizing is a challenge when only going off of online recommendations.
4. Borealis Crestone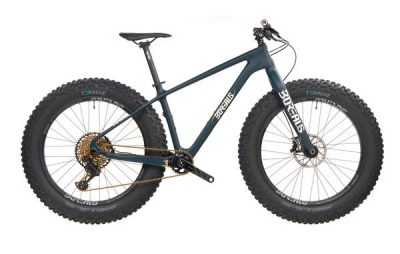 To finish off this list, this is perhaps the best option overall in this price range. It is going to cost right around $3000, but it has some of the best specs one can find.
What makes it stand out so much? For starters, it is a full carbon frame with a suspension fork and a high-quality drivetrain. On top of everything else, a person can do a lot of different customizations so that they can get just the right fit for them.
There are too many people who settle for a stock option, and then they wonder why they might not be getting the same type of enjoyment out of the bike. Taking advantage of some adjustments here and there make a difference.
When riding on a fully carbon frame, it is a very smooth ride overall. It also helps with speed, so anyone taking their fat bike rides seriously will notice the difference the most.
As durable as this bike is, do keep in mind that it costs money to get it repaired if something does go wrong. The components are not cheap. However, those willing to stretch their budget will not be let down at all with the Borealis Crestone.
Pros
Full carbon frame
Suspension fork
Very lightweight
Cons
Expensive
Tough to make repairs
Common Factors to Keep in Mind When Shopping for a Women's Fat Bike
Since there are so many options now that are available for women, the same general tips can be used to shop for just the right fit. Everyone is going to gravitate toward something different, and that is perfectly fine.
Companies continue to release new options that are meant to fit a specific type of rider, and once a person finds what fits the best, there really is no limit to how everything performs.
Price tag
Anyone new to fat bike riding might initially be shocked by just how much they are. It is generally considered that a fat bike that is under $1000 is not going to last that long. It might need some upgrades sooner rather than later. That is why all of the fat bikes listed above are higher than $1000 in price.
Of course, things can shoot up in a hurry depending on the type of components and the material used for the frame of the bike. Generally speaking, the more carbon that is on the bike, the more expensive it becomes.
Think about how much riding will happen weekly to determine a price range. Those who take fat biking very seriously will want to go with a pretty good option out of the gate, because it just makes the most sense. Others will want to stay a little budget conscious in the beginning, and then upgrade later if it feels like the right move.
Wheel Size
Most women shopping for the right wheel size will look for either a 26-inch wheel, or a 27.5-inch wheel. There are a lot more 26-inch fat tires for women out there, since they are generally smaller than men. It is easier to maneuver, and it makes sense to go with a smaller tire during the winter anyway.
Be on the lookout for frames that do offer people the opportunity to swap wheels if they want. If it can handle both types, it might be worth investing in different tires to use on different surfaces.
Tire Thickness
The defining feature of a fat bike is a tire that is at least 4 inches in width. Anything below that, and it pretty much falls in the category of a mountain bike. However, it can go up to 5 inches easily if a person wants an even smoother ride overall.
Keep in mind that a thicker tire usually means that the maximum speed will be reduced. As long as a person does not really care too much about that, they can stick with a tire size that is comfortable and makes the most sense for the surface they predominantly ride on.
Suspension, or No Suspension?
A lot of fat bikes are of the fully rigid variety. A rigid fat bike can work pretty well because it is a softer surface many people ride on anyway. In the winter, snow can make things pretty easy without the nead for suspension, and people will ride with very low tire pressure as well.
For those who just can't survive without some type of suspension on their bike, there are options out there as well. This might be a little bit better for those who plan on riding all year round. It does make things more comfortable, and that is never a bad thing on some of the more casual rides.
Frame Size
The final major thing to keep in mind when shopping for a fat bike is frame size. Smaller women love the fact that there are more women-specific fat bikes out there than ever before, because they no longer have to struggle to find a frame size that fits them.
The last thing a person wants to do is not have a comfortable position when they are riding on trails. It makes no sense to be very stretched out on a big bike, or cramped up on something too small.
There are ways to take measurements online to get a good idea of what size might work best. However, the best recommendation is to go to a local bike shop and try to figure things out there. They are usually accommodating with everything so that a person can get just the right fit.