In any type of bike, tire pressure is extremely important. No one wants to have a tire not inflated to the recommended pressure every time they take off for a ride. If it is just a little bit off, not only can it make a negative impact on performance, but it could put a person in a vulnerable position and cause a bike to not operate correctly.
Most people who are relatively new to fat bikes are surprised to hear initially that fat bike tires are inflated to a very low pounds per square inch (PSI). This happens by design, as the shape of a fatbike is in a way that they don't need tires filled with a ton of air.
Determining tire pressure for fat bikes can be a little tricky, depending on what type of riding a person plans on doing. What is the ideal PSI for certain situations? Some of it comes down to finding a personal preference and having a good feel on what seems to feel just right.
What Makes Fat Bike Tires Different?
Most people can tell right away that fat bike tires are just a bit different than other bikes out there. The most obvious difference is, of course, the width, as fat bike tires can sometimes be 4 or 5 inches in width (3.8″ in my case). This means that big tires will allow for big air volume and a large surface area, not on other bikes.
Having a tire like this allows for excellent tread, a comfortable ride, plenty of shock absorption, and more. Of course, it only works if the PSI is low. Depending on what type of conditions a person is riding in, it can easily go into the single digits.
What is the standard range for typical fat bike riding conditions?
Keep in mind that all of these numbers below are a range. It might not always fit into these categories, but it's a good starting point for anyone to see what works for them.
1 to 8 PSI – Soft Conditions (Snow) (Yes…1)
8 to 10 PSI – Trail Riding
10 to 15 PSI – Pavement, or Similar Surfaces
The goal with any terrain is to float over it instead of bounce up and down. Many people fall into the trap of overinflating their fat bike tires at first, and the bike becomes a little too bouncy for people to like.
Another risk when overinflating fat bike tires is the possibility of one busting. Fat bike tires are very durable and hard to damage, but they become just a bit more vulnerable when they are filled with air too much.
How to Put Air in Fat Bike Tires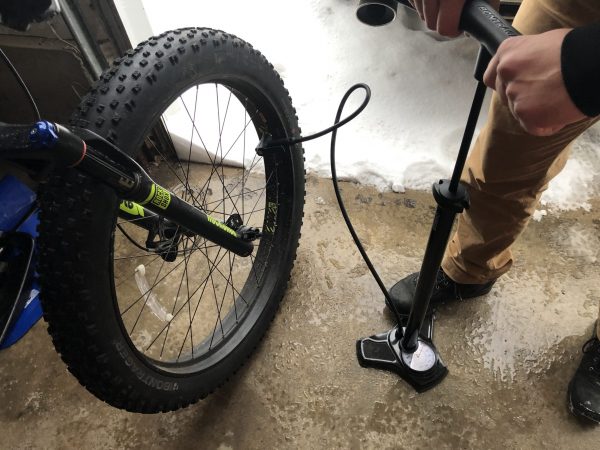 Filling up a fat bike tire is something a person needs to get down just right because it usually requires some type of pressure maintenance before each ride. Unlike other tweaks to the bike that needs doing as part of regular maintenance, it would be a hassle and a waste of time to take it to the shop every time for tire pressure adjustments.
Some people are very particular with the exact PSI, while others will go on a few rides without making any huge adjustments. The more competitive a rider is, usually, the more they pay attention to PSI.
1. Using The Proper Pump
Fat bike tires, and all bike tires, for that matter, use one of the main types of tube valves. There is a Schrader valve which is a bit wider and flat, and a Presta valve which is narrower and has a nut to lock everything down.
They both do virtually the same thing, but a pump that is designed for one will not work for the other. Some pumps have adapters for each type of valve for people who own bikes that use both.
Make sure to take note of which option is on the fat bike currently. If a rider doesn't know, there is always the option of taking a picture of the valve or bringing the tire in. Ask somebody at a local bike shop, or compare to pictures online to see which version is being used.
Here is the bike pump I recommend from Amazon for an accurate reading.
2. An Accurate Pump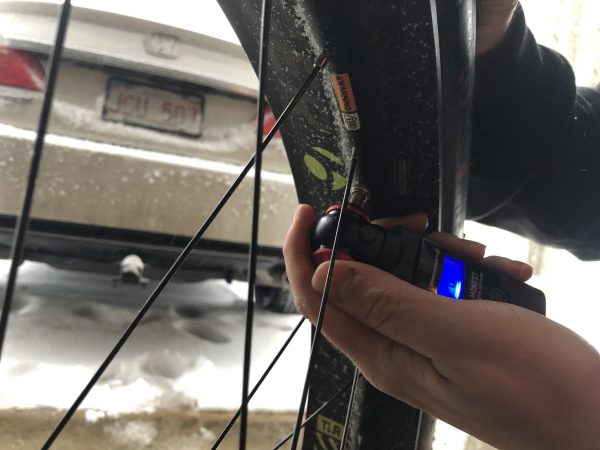 Air pumps vary in price is quite a bit, and it is very tempting to get the cheapest one possible. After all, how much effort does it take to inflate a tire to 15 PSI at the most? While it is not that hard to pump up a fat bike tire, one reason why many people invest a little bit more money in a good one is to get an accurate reading.
Some of the cheapest ones make it very hard to tell the difference between 4 or 5 PSI at any time. The difference between an extra 4 or 5 PSI for a fat bike can make a pretty big difference. An accurate reading makes more sense and allows riders to make that adjustment that they need.
I use a separate digital pressure gage to overcome the inaccuracy of my bike pump. A gage like this is great while on the trail and looking to get rid of just a couple of PSI to comfortably ride on the groomed snow trails.
3. Attaching the Pump
Every pump comes with a pump head, and that needs to be attached properly onto the valve. Some pumps will have a switch that flips up and down, allowing for a locked-in experience before pumping. After locking in the pump, the amount of leaking is cut down, making it a lot easier to fill up.
Other pumps have a top that screws in for a secure pumping experience. This works the same way, and although it's a little harder to get it locked in, most people figure out how to do things just fine to the point it becomes second nature.
4. Pumping Up or Letting Air Out
With the pump head attached to the valve, a person should take an initial reading to see where the tire pressure currently stands. If it is extremely low at around 1 PSI and it needs to go up to 5 or 10 PSI, go ahead and do a few pumps before checking again. It's fine to go quickly in the beginning, because it will take more than a few pumps to get to that number.
If it's already very close, try doing just one pump at a time to see how much of a difference it makes. It might only need a slight tweak, and no one wants to go overboard so that they have to let some out and play the balancing act.
If the air pressure is a bit too high already, air needs let out of the tire. The methods differ quite a bit between a Schrader valve and a Presta valve, so let's break down how those to work.
5. Schrader Valve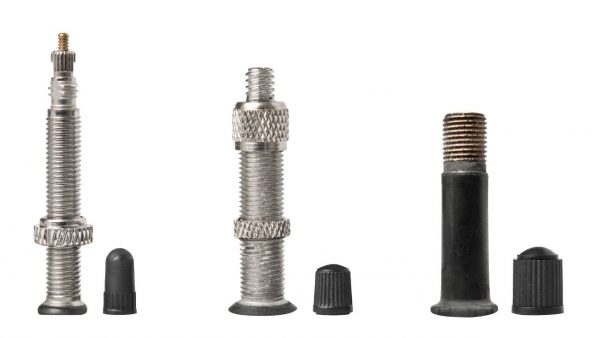 To open up the Schrader valve, remove the rubber cap on top to start with. Use either a small piece of metal or even a fingernail to push down on the stem of the valve. It's very easy to hear it working, as there will be a hissing sound from the air escaping.
Depending on how much air needs let out, only do it in small increments at first to see what type of impact it makes on the PSI reading.
6. Presta Valve
The Presta valve has an external valve stem that makes it a little easier to remove air. Unscrew the brass cap on the valve stem, and then press on it to see if there is a hissing sound coming out of it. Make sure to balance the amount of air let out of the tires as well to see just how effectively it is working.
Common Questions in Regards to Fat Bike Tire Pressure
It is relatively straightforward to pump up or deflate fat bike tires once a person does it just a few times. However, some riders end up having a lot of other questions that pop up from time to time. The answers to some of these common questions can help fat bike riders see the difference in tire pressure and have a more enjoyable ride.
How Hard is it to Measure Extremely Low PSI?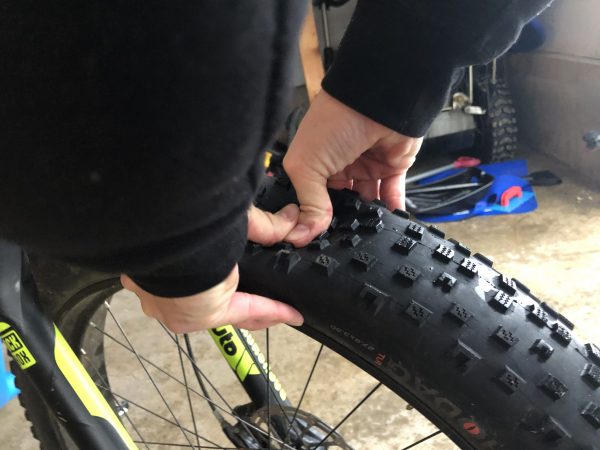 A typical tire pressure gauge doesn't accurately provide perfect readings all the time. That can make it a little difficult for people to make slight adjustments, but most of it is about feel. For example, trying to get exactly 5 PSI in a tire might seem difficult, but it doesn't make that much of a difference if it is slightly off.
When fine-tuning the tire pressure, focus more on feel than the actual number. Most people are swaying too far away from the ideal PSI anyway, so it isn't an issue.
Is Traveling With a Tire Pump Recommended?
If possible, every person who is riding a fat bike should have a small tire pump (Amazon) with them at all times. This is because, at any moment, something could happen to the tires in general. Not only does it come in handy for emergencies, but it can help people who want to make adjustments on the fly. It only takes a matter of seconds to pump up the tires a bit more or let some air out.
Most people end up having the main pump, and then a smaller pump for traveling. Getting one that can fit in a pocket is ideal, or even one that can attach to the body of the bike for easy storage.
Is it Fine to Ask Other Riders About Tire Pressure?
The fat bike riding community around the globe is pretty friendly, and most are willing to help out other riders when they can. No one will know more about what tire pressure to use for certain trails than people who ride them consistently.
When out on the trail, look for opportunities to strike up conversations with people who seem to be regulars. They might be able to provide a great overview of a trail so that a person knows just how many different types of terrains are out there.
Some might not realize that there is a big part of the trail with hard pavement on it. That might mean a person bumps up their PSI just a bit to handle that stretch.
If everyone else is going with a lower PSI, it might mean heavily considering a drop as well. Don't ever feel like it is too much to ask for help on the trails, even for something as relatively small as this.
Can the Same Tire Pump be Used for Fat Bikes and Other Types of Bikes?
Absolutely. There is no reason to go out there and buy specific pumps for specific types of bikes. A Schrader valve pump will work for anything with that valve, and a Presta valve pump will do the same.
If a person is looking for one truly versatile pump, search for one that has the versatility for either valve. It saves time and space, and the pricing is usually not that much more.
Should Both Tires Have the Same PSI?
The common thought is that tires should be evenly inflated at all times. It seems like this carried over from automobiles, but it is not the same with bikes.
A good amount of people likes having slightly more air in the back tire compared to the front. This allows for a slightly more comfortable ride, better maneuverability and more. It might seem like a subtle change, but if the ride isn't going quite as smoothly, try the set up out and see if it works.
What Adjustments Should be Made Specifically During the Winter?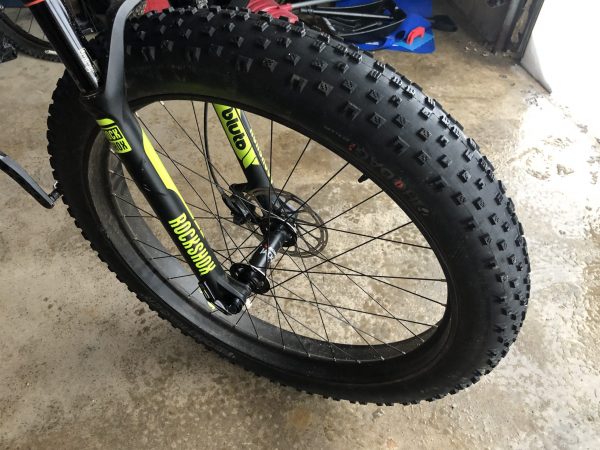 One of the best things about riding a fat bike is having the ability to go out in winter weather. If there are fresh snow and ice on the ground, it might seem like a complete hassle with any other type of bike. With a fat bike, people want to tackle it head-on.
Before going out in the ice and or snow, make some adjustments. Generally speaking, the more lose the snow is, the lower the tire pressure should be. This might just be a slight adjustment of 1 or 2 PSI, but it does make a difference as far as tire contact on the surface of the snow is concerned.
With ice, it doesn't matter that much with PSI. Instead, the biggest difference-maker will be having studded fat bike tires or not. Some people might think that they don't need studded fat bike tires, but all it takes is one wipeout to realize that is not the case. This just adds so much more stability to the ride, especially trying to cross a very icy path.
How Does a Rider's Weight Change Tire Pressure?
Generally speaking, heavier riders need to bump up their tire pressure. It might just be the case of a few more PSI, but it does make a difference. No rider wants to feel like they are sinking, or putting themselves at risk by riding with tires that are a bit too low.
How Can a Person Tell if they Have the Perfect Tire Pressure?
Getting the perfect tire pressure for a ride might seem difficult, and it is for beginners. However, as soon as a person gets that perfect tire pressure, it makes all the difference in the world.
The ride feels smoother; a person can maximize their speed; every pedal is feeling efficient and more. It's a huge surprise for some people when they finally realize they have done it, which is why so many people are chasing that feeling.
A Final Look at Tire Pressure
Tire pressure makes a huge difference in a rider's experience on any type of bike. Although there are great recommendations, a lot of it comes down to trial and error to find the perfect fit. Mess around with different tire pressures and see what provides the best ride overall.