Running right through the heart of the United States, people get a little bit of everything when they are doing the TransAmerica Bike Trail.
It was put together by the Adventure Cycling Association, and it officially goes from Astoria, Oregon, all the way to Yorktown, Virginia.
Known for its rural route along two-lane highways, it is mostly for summer riders with some time to get in the mileage. The average rider will need anywhere from 2 to 3 months to complete, with the route totaling in at 4228 miles.
With a few different options to travel across the United States, why is theTransAmerica Bike Trail worthy of the ride? These reasons are all convincing enough for the average rider looking for a new type of challenge.
1. Easy to Avoid Big Cities
The route is designed specifically to avoid as many big cities as possible. That is good news for those who do not like to ride with many cars (who does?), although they do have to deal with two-lane highways for the most part (which sucks a bit).
It is a true camping experience for a lot of people who are trying to spend time off the beaten path. These are all areas of the country where a lot of people do not go and visit, but they still feel like it is picturesque enough to entice people to hang out.
2. Meeting Other Cycling Enthusiasts Along the Way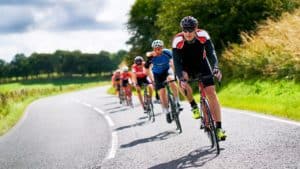 Since this is a pretty rural route in general, there are a lot of opportunities to meet people who are doing pretty much the same exact ride.
This means having a chance to maybe meet people who could be friends for future rides. Since the window of riding this trail is only about three or four months, everyone is flocking to the area so they can get things completed.
Almost every rider starts in May or June so that they are able to finish in time.
There is something to be said for having strength in numbers on any type of bike ride. Some people actually become good friends with strangers and go along with them for the rest of the trip. As long as everyone is at relatively the same skill level, that is a great way to go.
3. No Pressure For Pace
Most of the rides that go across the United States are pretty easy for people to make their own pace. As long as riders find somebody else who is willing to go roughly the same speed, everything is good to go.
This has a very relaxed feel to the rider overall, partially because it goes through such smaller and less populated areas.
It is generally recommended to go anywhere from 50 to 70 miles per day if that is doable. Climbing can sometimes get as much as 3000 feet in a single day, but there are plenty of flat stretches as well.
Mixing in some rest days once a week or at least once every 10 days is also recommended to not only sightsee, but give people time to recover a bit.
Drivers all along that stretch are pretty good about yielding to cyclists, which is also pretty nice to experience. When going into bigger cities, it can sometimes be tough getting a lot of honking and angry glares from drivers.
4. Discovering the Charm Of Small Towns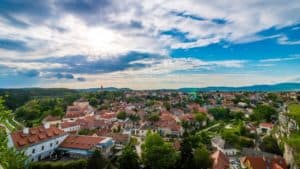 In every state, there are numerous small towns people can stop by if they wish to grab a bite to eat or explore something locally.
Whether it is in the plains of Kansas or all the winding roads in Kentucky, there is something unique about every new location along the way.
There are articles out there that detail some great food options, but one of the best suggestions is just to go with where the trail takes riders.
Everyone gets hungry at different spots, and there is a local restaurant or two pretty close by almost the entire ride.
5. Better Options at Affordable Prices
Another advantage to riding in pretty rural areas is that people can stay in proper beds without breaking the bank.
Avoiding big cities means that the big city prices for hotel rooms and Airbnbs do not come along with it. Instead, riders can get great deals in a lot of different areas, which helps save money.
Some people will opt to stay in hotels once in a while, but then camp on the other days. It is probably a good idea to at least go to a proper hotel a few times during the trip, as it allows for more proper clean up and a more refreshing experience as well. It is a great way to boost your inner battery!
That is not to say people can't get a good night sleep at a campground, but it is not for everyone.
6. Tolerable Weather Conditions
The trail goes right through the middle of the United States, which means that it does not get as hot as it would on some of the southern trails out there.
With that being said, the weather is pretty unpredictable, so things could change in a short amount of time if riders are not too careful. It is best to pack a few different styles of clothes, as there could be some cold nights as well as some really hot days.
All in all, the weather is pretty good compared to a lot of other trails. Some do not like just how cold it gets when riding in the north, even in the summertime.
In the south, the humidity can be so crazy that riders have to have to take additional breaks just to get through everything.
7. Yellowstone National Park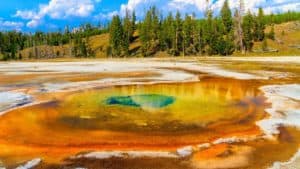 There is nothing quite like riding through a well-known national park on a bike. Yellowstone National Park is the country's first, and many believe it is the best one in the United States.
It seems perfectly made for riding on a bike as well, giving equal amounts of picturesque views and a challenge for the legs.
It is not uncommon for riders to come across their fair share of wild animals when they are on a ride through the park. While it might be a bit spooky at first, most of them are going to be perfectly fine to ride right past.
Travelers do need to be a little bit understanding on where to camp out when they are spending the night at Yellowstone National Park, but those in charge do a good job of making sure everyone stays in particular areas that will keep them out of harm's way.
8. Mammoth Cave National Park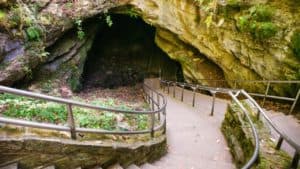 Mammoth Cave National Park is one of those locations people have to truly see to believe. Located in the west-central part of Kentucky, it is known as the longest cave system in the entire world.
It makes for an excellent rest day for a lot of cyclists, especially those who have never been anywhere near this area in their life.
Keep in mind that there is a decent amount of walking to appreciate Mammoth Cave National Park, so it is not exactly the best rest day as far as that is concerned.
However, it allows people to see the unique part of the world that is truly remarkable. There are many different entry points as well, so there is no need for people to go to one particular area and hope for the best.
There are some pretty significant spots that people gravitate towards, so make sure to research the most intriguing section if a particular area seems cool.
9. Grand Teton National Park
Compared to Yellowstone and Mammoth Cave, Grand Teton National Park is the least known of the three national parks this trail goes through.
That does not mean that people can't take in some pretty amazing views along the way. Located in northwestern Wyoming, there are some peaks and valleys that make this a pretty challenging cycling experience.
Along the way to help motivate cyclists are some extremely scenic views that have drawn many people to the area for a vacation or even another home.
The weather in the area is pretty perfect for the summer, which is another reason why so many people like this national park.
It is surprisingly not that well-known in traveling circles, making it one of the true hidden gems of the experience. In fact, some cyclists do not even realize it is on the trail until they begin.
10. Blue Ridge Highway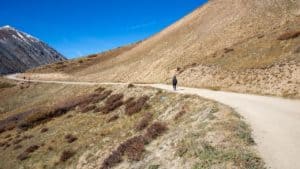 There are a ton of great views along the way, but the Blue Ridge Highway is definitely a beautiful stretch located in Virginia and North Carolina.
This goes almost 500 miles, and riders get a look at the Appalachian Highlands along the way. It is a bit of a hassle to climb that elevation in the beginning, but it starts to smooth out for a while to reward riders.
It is not incredibly challenging, but it can be tough to get through if riders are getting towards the end after going from West Coast to East Coast.
11. Monticello
Just because the route avoids a lot of major cities does not mean that there is not a bit of history along the way. Located in Virginia, the Monticello plantation is a major part of United States history.
It is very close to the University of Virginia, and riders love taking a day off to explore the entire region.
There is a lot of history in this part of the United States as well, which is pretty cool for riders to take in. It is also a bit of a reward for those who are going from the west to the east, as riders can start to smell just how close they are to the finish line.
Checking out the old home of Thomas Jefferson is something most travelers want to experience at some point in their life.
12. Hoosier Pass
Yes, the Blue Ridge Parkway is the cool stretch of riding on the east coast, but Hoosier Pass is definitely worth it on the West Coast.
Passing through the Rocky Mountains in Colorado, Hoosier Pass is known by a lot of travelers as a way to get from Denver to major ski areas.
Cyclists understand that this is the highest point of the TransAmerican Trail, which also means that it proves to be one of the biggest challenges a rider can find.
There are some amazing views in this area, and is well worth it for those who strictly want to do some challenging rides locally. Those who are in the area will sometimes go on a short stretch just to get a bit of a challenge and some practice.
Final thoughts on the TransAmerica Bike Trail
There are plenty of bicycle touring routes in the United States, but the TransAmerica Bike Trail will always hold the distinction of being the first.
Those who really enjoy staying off the beaten path will without question enjoy this experience. Getting the opportunity to see three different national parks is a great bonus for a lot of riders who normally would have to plan several vacations separately to do so.