When a new bike is purchased for the first time, it can be a thing of beauty. Bikes these days come with beautiful looks overall, and people love the way that they can stand out from the crowd. A freshly painted, brand new bike is just different.
However, the harsh reality is that bikes are never going to look great for too long, especially if a person is riding them every single day. Whether it is a road bike or a fat bike, the wear and tear are going to age a bike considerably.
What is the best way to keep a bike looking as good as new? Touch up paint for a bicycle is one option to turn to.
There are a lot of people who want to make sure that it looks as good as new, and touch up paint is pretty easy to use to do exactly that.
For smaller issues, a person can do it without having any professional help, which definitely comes in handy.
These are some of the best options for small touch-ups, as well as other tips on how to keep the paint looking as good as new.
1. Condor Touch Up Paint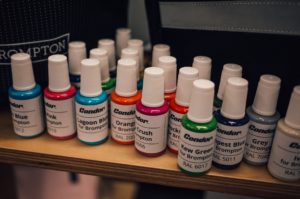 Touch up paint options from condor is perfect for the cyclist who wants something specific for bikes. While a lot of people will end up buying paint that is for automobiles and other types of things similar to that, it is nice to have something that caters towards the riders on two wheels.
Available in many different colors, the paint options come with a brush that is very easy to use and apply at all times. It is easy to store, and it goes on smoothly as long as the area is cleaned up. There is no need for a primer or anything similar to that, and the drying process only takes a couple of hours.
The key to success with the Condor touch up paint is to apply several layers and let them dry in between sessions.
It not only allows for everything to be very smooth, but a person will realize exactly how much they need to apply. There is no reason to overdo it in certain situations, as it just ends up being a mess more than anything.
It seems like a struggle at times for people to apply paint properly when they are treating a chip for the first time, but it is actually a very easy process.
Condor is trusted for many different things that they have put out in the biking community, and this touch up paint option directly from them is the highest quality.
Pros
High-quality touchup paint.
Built specifically for bikes.
No need for a primer or any other additional tools.
Cons
Bottles are a little more of a challenge to store.
Color choices are more limited than other options.
2. My Perfect Color Touch Up Paint for Bikes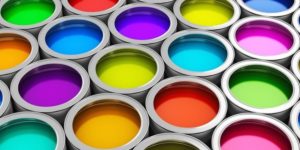 My Perfect Color is a company that promises to offer exact match paint color solutions for many different needs. They can help people who own bikes, as they have a special formula to fix chips that might need assistance.
The process is a little bit different from purchasing touch up paint directly online. What ends up happening is the company takes the time to actually match the color and create something unique for a shopper.
That means if they can't find a more unique color out there, they can still get exactly what they need from professionals who do this every single day.
The entire process takes about a week, and there are some minor inconveniences that people need to deal with to get exactly what they want.
For example, to match a color properly, the company does need to have a part from the bike sent to them so they can't tell the exact color.
Something that is the same color as the bike but not always used is the best way to go. Sending in a part makes it so much easier instead of going off of pictures.
This is a somewhat expensive option as well, as the company is putting in a lot of work to get a color to look exact. Maybe some people want to avoid the headache of trying to perfectly match things themselves, so this is a convenience factor more than anything.
Pros
Genuine exact match for any bike.
Easy to apply.
Available in many different types of applicators.
Cons
Takes time to receive.
Expensive.
3. Ibis Touch Up Paint Bottles

Another bike company that puts out specific paint bottles to match top manufacturers Ibis. They offer a lot of different options that get people to look they need, and their affordability makes it worth checking out for those who do not want to spend a ton of money for smaller fixes.
This paint is meant to be very durable, and as long as a person follows directions, they can get a pretty much perfect match at the end of the day.
It is made possible with very high-quality gloss acrylic enamel paint. It applies very easily to clean surfaces, and the smoothness of the paint means that the sanding process is not nearly as necessary.
Once it is applied, everything should last for a very long time. This is a paint that does not age quickly at all. Having just one bottle is going to last a very long time when stored properly.
Just make sure that everything is done properly and the instructions are followed. This has a chance to be the only type of touch up paint a person ever needs.
Pros
Built specifically for bikes.
Color choices match some of the top bike options out there today.
Capable of holding up on any type of bike.
Cons
Slightly more expensive than similar options.
Non-ibis bikes are harder to match overall.
4. Yeti Touchup Paint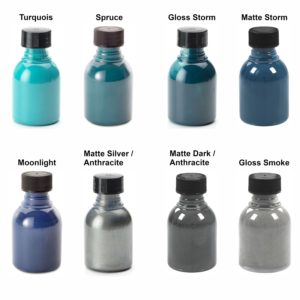 Yeti makes a lot of touch up paint options for their bikes particularly, but it is one of those brands that does such a great job overall that people are gravitating towards exactly what they offer.
That is because a person can mix a few colors if they want to get a perfect match for another type of bike, or they can make other subtle adjustments so that the paint looks it's absolute best.
As a bike company, Yeti has some outstanding bikes out there on the market today. They understand that their riders are going to be a little harsh on their bikes overall.
When things happen out on the road or trails, they need a bit of tender love and care. Paint comes in handy, and Yeti knows as much as people spend on a bike, they need something that is going to match up to the premium feel.
The company is quick to point out that it works best as long as a person will follow all instructions. That means applying coats one by one, sanding things down once it is done, and perhaps even using polish in the end.
It might seem like a process, but it all starts with high-quality paint that is meant to last. Yeti Cycles is perhaps the most trusted name specifically in the cycling industry that will help with paint.
5. MBI Auto Touch Up Paint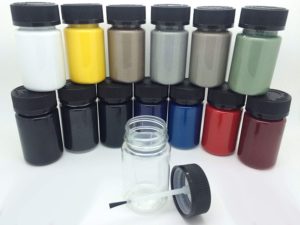 Color choices are plentiful with MBI auto (Amazon), as they offer an affordable solution for those who want to have touch up paint available for their bike.
They tried to make things as simple as possible, and even though it does not come with an easy to use applicator, everything else is pretty straightforward.
The touch-up paint comes in many different colors, and there are ways to combine colors to get the perfect match as well. Maybe people will need to mess around with different colors and combinations to get that exact match, but the good news is that even purchasing two or three different colors at a time is still very inexpensive.
Applying the paint and waiting on the necessary time for everything to dry in between coats is going to provide excellent results. It is meant to hold up on automobiles, which means that it is very strong and durable.
People who are riding every single day, on tough terrain, will still be able to have something that lasts a long time. This might not be the flashiest or easiest to use touch up option, but their colors are very rich and look great.
6. Dupli-Color Universal Scratch Fix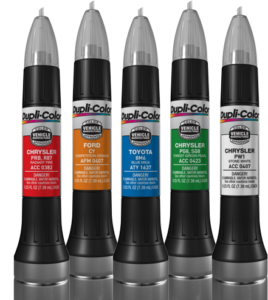 Whether it is auto or bike paint fixes, Dupli Color touch-up tool is one of the most popular options out there right now. It comes equipped with a very precise prep tip that makes it very easy for customers to use on their own, and they can start to really get the look they want and need without putting in too much of an effort.
The colors they offer are perfect matches from some of the top companies in the auto industry. While that might not make that much of a difference for bike riders, there are still ways to match up the color and get something that is very close.
One of the major differences is that the touchup tool has a combination of paint and a protective topcoat in a single package.
That means that there is less work overall for individuals, as they can get exactly what they need, when they need it. It is easy to store and have around at all times, and it will last a long time as well.
Availability for certain colors can be a little troublesome, but it is pretty inexpensive when in stock. The paint stays sharp for a long amount of time, so a person does not have to worry about purchasing a touchup option and then having it sit around for a while. Even after years of storage, it is still working well.
Pros
All in one touch up paint option.
Capable of getting exact matches to certain manufacturers.
Very easy to store.
Cons
Popular colors are hard to find at times
Exact color matches are for automobiles, not bikes
7. Touch up Paint From the Manufacturer
The final option might be worth exploring for certain people who have a fairly new bike, and a company embraces offering assistance.
Some will actually provide customers with the opportunity to buy touch up paint that matches what they purchased. They usually are available in some of the more popular colors, so now every color can be matched, but it takes the guessing game out of finding something that is a perfect match overall.
Manufacturers will usually end up charging a little bit more premium, but the good news is that people do not have to hunt around for something that looks great.
Some of the top manufacturers that make universal paints are already listed above, but companies like Specialized, Trek, Giant, and other main manufacturers have started offering color correctors as well. Explore the company's website, or even try to contact someone directly to ask any questions about matching up paint.
Other Tips on Using Touch Up Paint for Bicycles
Picking out the proper touch up paint for bicycles involves much more than just matching color and buying the right option. In order for the fix to actually work, it is important to keep these tips in mind as well.
Cleared Up the Area
Touch up paint is not going to work properly if the area is not cleaned up properly. That means using something such as a standard cleaner, or alcohol to take away any lingering dirtiness on the bike where the paint needs to be applied.
Not only is it going to allow people to understand exactly how much paint they need to make a repair, but it is going to allow things to be as smooth as possible.
So many people try to put touch up paint on something that is dirty, and it ends up not being as nice with the look as some might want.
Use Small Amounts
It is better to use small amounts of touch up paint and see how it looks, rather than put on a bunch and overdo it. There are way too many people who will try to put as much paint as possible to fix the problem, and it ends up standing out a little too much.
By adding things gradually, a person can really start to understand how much is needed to keep things matching up as much as possible.
Adding different layers to touch up issues is very easy. There is no problem adding five or more layers and everything still looks great. Part of it comes down to the depths of the chips, but once a person gets things down, they should be fine.
Sand Down the Paint
Use sandpaper to sand down the paint and smooth everything out to match up with the existing bike. It might seem a little more difficult than it actually is, but people will find out that they can get it looking pretty nice overall.
While it is not absolutely necessary to use sandpaper, this is the best way by far to make sure that the fix makes the bike look as good as new.
Polish
The final step is to polish off the new paint and match up with the frame as much as possible. Using a wax polish is usually the best bet for any type of bike material out there.
It is similar to what is used by manufacturers in the very beginning, and it just makes sense to apply a little bit and smooth everything else in that area.
As long as everything is sanded correctly, it should match up very well with the existing polish. While it might still be noticeable to some that the bike went through some issues, most will not have any clue whatsoever that there was a significant paint chip.
Ride Normally
The best sign of a great fix with a paint chip is that person returns to riding just the same as they always did. It is important to feel confident in how the bike looks overall because no one wants to be babying something that they are trying to push the limits with.
Getting a paint chip or two is inevitable for any type of rider. The harsh reality is that the bike is never going to look as great as it does as soon as it steps off of the assembly line. That does not mean a person needs to live
with a bunch of paint chips, as there are ways to fix it and make it look really great. Affordable options make the most sense, as people can handle everything themselves and get back to what they enjoy most