Socks may not seem like they are that important when it comes to cycling, but they play a vital role in making sure that a person protects their feet properly and is comfortable the entire time.
In the winter, it is all about having that extra layer of protection against any damage to the feet and staying warm enough that a person is never too uncomfortable. After all, there is nothing quite worse than having toes that feel like they are frozen the entire ride.
When shopping for the best winter cycling socks, there are a few distinct options out there. Most notably, people can stick with more traditional socks that are thick, or they can go with the electrical route for some added heat.
Which heated socks make the most sense for winter cycling? These socks below are great choices for people who want to stay as warm as possible.
Keep in mind that the electric options are always a bit more expensive, but they can really come in handy depending on the weather situation.
1. Giro Winter Merino Socks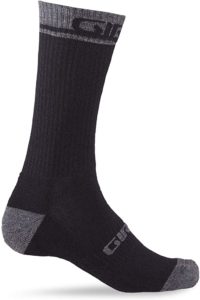 As a trusted name in the industry, Giro has done a lot of good in making people have a more comfortable ride overall on their bike.
The Merino Winter Socks by Giro (Amazon) fit in perfectly for those who are wanting to go on long winter rides and feel comfortable the entire time. Packed with a lot of elastic to keep things in place, it never feels like it is too tight on foot as long as a person gets the right size.
At first glance, these are some of the most normal-looking winter cycling socks out there. The traditional look still has plenty of high technology in the sock, making them fairly expensive for those looking for great protection.
The merino wool is very comfortable, and the elastic is hidden inside for the perfect fit. It is not too heavy and can be counted on time and time again. The mixture of merino wool and polyester ensures that it is not too fragile, but people should be washing it gently so that it does not fall apart.
Pros
Classic look.
A few different colors.
The sizing is solid.
Cons
Somewhat fragile.
Expensive for a simplistic winter sock.
2. Follow Hollow winter socks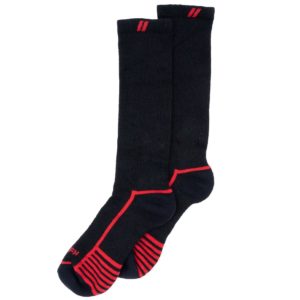 A natural fiber feel is something preferable for some cyclists out there. As long as a person is not allergic to sheep wool, the Follow Hollow winter socks are great options to go with.
They are designed with athletes in mind, but they feel much like the same type of socks a person would wear around the home if they are a bit chilly.
There might be some people a little bit worried about natural fibers being too itchy or uncomfortable when worn for a long time.
That is not the case at all, as these continue to say soft wash after wash. People need to be a little bit careful about keeping them clean, but they should hold up just as long as any other pair of socks.
The technology behind alpaca wool is that the fiber can hold more air, keeping it warmer than the average sock of similar weight. It might seem like a pretty minor detail, but every little bit matters when riding in the cold temperatures.
Pros
Extremely soft.
Natural fibers feel right.
Cuts down on moisture.
Cons
Ride a little taller than other socks.
Not everyone can handle natural fibers.
3. Gore M Thermo Mid Socks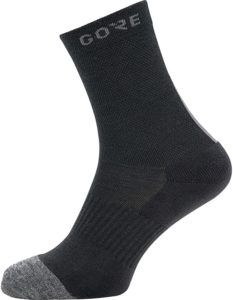 There is a ton of technology packed into the Gore and Thermo mid socks (Amazon). While people usually think that they have to go with really thick options in the winter, these are one of the latest options out there that still protect well against the winter.
There are all types of extra insulation in the foot areas that get the coldest, which is great news overall.
They also use natural fibers with a sock, which keeps it comfortable enough for riders going out there on long rides. There is just enough wool in the mix to make it feel natural, but there are synthetic fibers to help with performance as well.
It truly is a blend of two worlds, and it works well. With elastic in all the right areas, the sock is going to stay put. Riders will not have to tug or pull at the sock at any time, and they can worry more about their ride in general.
Pros
Lightweight for a winter sock.
Added warmth in the most vulnerable areas.
Minimalist logo.
Cons
Might not be warm enough for everyone.
Pretty expensive.
4. Showers Pass Crosspoint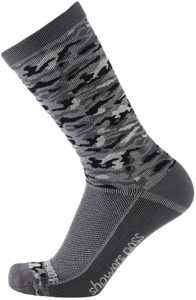 A lot of socks like to claim that they can keep a foot completely dry, but this is a completely waterproof solution than a lot of cyclists have counted on in the past.
The Shower Pass Crosspoint (Amazon) is very comfortable and feels less like a plastic option than so many other waterproof socks feel like at some point.
In total, there are three layers of protection with the sock. The outer layer is a knit fabric that makes it look much like a typical sock. It is meant for the protection of the other two layers, and it does a good job with that.
The inner layer is where a lot of the magic happens. It is waterproof, breathable, and capable of holding up wash after wash. The final layer that touches a person's skin is a very soft fabric that makes a person feel like they are wearing a typical sock. Put them all together, and it is one of the best waterproof solutions out there.
Anyone riding in wet weather certainly needs to opt for a sock-like this. Couple them with shoes built for the winter, and it is impossible to feel that coldness goes through the body.
Pros
Completely waterproof.
Comfortable.
Lighter than most think.
Cons
Feel slightly stiffer than other socks.
Hard to find in popular sizes.
5. Lenz heated socks 5.0

For the final option, some people will go with an electric winter cycling sock to get that extra amount of warmth. As one might expect, they will be a little more expensive than the average sock, but they can provide some benefits that are simply impossible without some extra power.
The Lenz heated socks 5.0 (Amazon) is one of the best for those who are participating in a number of winter sports. It is a premium type of sock that feels very comfortable, is pretty lightweight, and has a battery that will last for even the longest ride.
There are three heat settings levels, and the battery life will last up to 14 hours as long as it is not on the highest level.
There is the chance to use Bluetooth connectivity so that riders do not have to make any difficult adjustments either. It makes for a very hands-free experience, which is definitely a plus for cyclists.
Spending hundreds of dollars on socks might not be what most people have in mind, but they are very durable and will do the best job out there. There are more affordable electric options out there, but they are not really built for such heavy use when cycling.
Pros
Three heat settings.
Specific region heating for ultimate warmth.
Durable.
Cons
Very expensive.
Ride up higher than some people like.
Winter Socks Buying Tips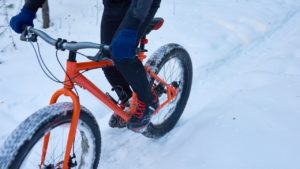 Staying warm is obviously a huge priority when shopping for winter cycling socks. However, a person should not sacrifice all the other needs they need out of a pair as well. Keep these tips in mind to ultimately get the pair that works best.
Fiber
There are two distinct options when it comes to winter cycling socks. People go with natural fibers or synthetic fibers. There has long been a debate on which is the best way to go.
Natural fibers tend to be the better option for pure warmth, but they do not come without negatives. They can be a little delicate when washing, and there is also the chance of having an allergic reaction. Not many people will be allergic to the fibers using socks, but it is worth considering.
Synthetic socks are built more for performance, and they generally have a little less warmth overall. However, they do a pretty good job of being built for ultimate performance, and they last longer.
Synthetic materials are also getting better and better with comfort, which is definitely encouraging.
Sock Cut
The cut of a sock makes a big difference during the winter. In the summer, people might opt for a low-cut sock since it is warm.
There is also the opportunity to get a little bit of sun on the legs. However, in the winter, the vast majority of people will go with either a crew cut or a knee-high cut.
Not only does this provide the most amount of leg coverage, but there is less of a chance of sock slippage. A sock that is too low cut might start to slip around and be a general problem to riders.
Since the sock will go up past the pants, there is that extra layer of warmth in the lower leg area.
Fit
No matter what socks a person goes with, they will have them on for hours at a time. Socks come in a few generic sizes for the most part, but it is important to get in the right range to feel comfortable the entire time.
The common thought with warmer socks is to get something that is very thick, warm, and tight against the body.
The fact of the matter is, when a person is moving around and cycling a lot, they need something that will be able to offer a little bit of flexibility as well. Socks that are too small will compress the feet and the legs a little too much, and it might become uncomfortable.
One easy way to figure out if the socks are the right fit or not is to look at the legs after taking them off. If there are a lot of lines from the elastic of the socks, that means that they are probably too tight. It could also mean that a person is a bit dehydrated, so keep that in mind as well.
On the other hand, socks that are too big are going to get in the way as well. Baggy socks can start to sag and not feel comfortable, and there is nothing worse than having to adjust socks in the middle of a ride.
Simply put, it is not going to be able to happen without making a stop, which is going to be very tough to keep up on time.
Socks Are Only Part of the Equation
A great winter cycling sock helps tremendously, but for extreme temperatures, more is needed than just that. In fact, there are a lot of other solutions people can turn to if they really want to stay as warm as possible.
Wearing specific cycling shoes will make a huge difference, as they will be warm and protective against any moisture getting inside.
If a person is willing to invest in winter cycling socks, they should really try to save up enough money to have these types of cycling shoes as well.
For a slightly more inexpensive option, there are overshoes built for the winter as well. They are a little bulkier and take a while to adjust to it first, but they are worth looking into if that seems like a solution.
Upgrades to the bike such as putting the fender on to help funnel any moisture that is coming right at a person's feet help. A lot of bikes already have a fender or some other setup that helps with this, but it is worth exploring just the same.
Finally, some smaller options for quick warmth include using hand warmers as part of a pack for a ride. They are pretty inexpensive, and they do not take up much space at all.
The problem is, they are only going to do so much if a person has wet feet because there is no way to dry them all. The warmth will be a temporary solution, but nothing out of the ordinary.
Final Thoughts
Dressing up for the winter months when cycling should include socks that are dependable enough to wear every single time. People can adjust the level of warmth they need, and there are more affordable options out there than ever before.