Downhill bikes can get pretty expensive, pretty quickly. There are a lot of people out there who are starting to really get into downhill bike riding, and they want to have something that is extremely high-quality. That is where this price range comes into play.
There are several high-end downhill bikes out there that are well over $5000, but that is out of the price range for so many people. Instead of going up to that number, there are people who try to stay slightly under and see what they can find.
What are the best downhill bikes under $5000? This is a great starting point for people who might not understand what to look for and want to make sure they are spending their money wisely.
1. Ibis Mojo 3 GX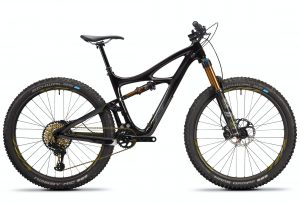 Downhill biking is made a lot easier with this mountain bike option. Even though a lot of people may not be crazy about the price tag, which is right at around $5000, it comes with everything a person needs to perform at a high-level.
People can get the best of the best in components, and they know that is going to last a very long time as well. Some of the little things from Ibis that is put on this bike makes it one of the better values overall.
Maybe the most standout feature on the Mojo 3 GX is that it comes with a GX Eagle Drive train that puts it near the top of any performance list.
It is going to operate exactly how it should, and it is going to feel lightweight and easy to control at all times.
The drivetrain is built to handle any and everything thrown its way, and that is great news for people who do not want to worry too much about babying their downhill bike.
2. Commencal Supreme DH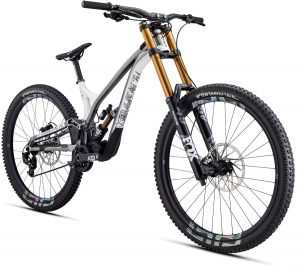 Those looking for a premium downhill option from Commencal will be very happy with the downhill bike overall.
It comes in with the 27.5 inch and a 29 er wheel option, and the package of components is very good for the price. They also tend to sponsor a lot of different professional downhill riders, which never is a bad thing either.
Maybe the standout feature for the bike overall is that it has a slightly different type of sizing compared to the more traditional downhill bikes.
There is a little bit more length and slack overall, which provides people with a feel that seems to be the more modern-day to ride. Maybe casual riders might have a little bit of a learning curve when it comes to this, but they will figure it out eventually.
It is a little bit hard to find in some parts of the world, but Commencal seems to be very dedicated towards growing their brand overall.
The Supreme in general is one of the best of the best, and people are using it for more than just downhill riding as well. As long as a person is willing to do a little bit of work and find what works for them locally, they can find a pretty good deal.
Otherwise, ordering online is the only way to go, and it is usually a little more expensive.
3. Canyon Sender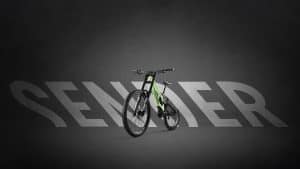 This bike sometimes jumped over $5000, but if a person shops around long enough, they will find something that stays under this price range.
It is a great option overall, coming from a trusted brand that so many people have loved throughout the years. It comes in both aluminum and carbon fiber options with frames, and that obviously directs the price point in general.
The reason why people are able to get a good bang for the buck is that Canyon is a direct sales only brand.
That means that a person gets to skip a little bit of the markup, capitalizing on great components and other options that are a bit better than what they would get from a bigger name.
This bike seems like a very premium option overall, with so many people like when they are riding around. Not only that, but it holds up in all different types of conditions, and controls extremely well when coming down all types of angles.
If a person does spend the extra bit of money and go carbon option, they are going to get a much smoother ride overall. Even with the aluminum frame, it is a very smooth option all things considered.
A lot of people are going to figure out that they do not need to do too much to control where they are going. As long as they have a little bit of discipline overall, they should be able to fit in nicely.
4. Pivot Phoenix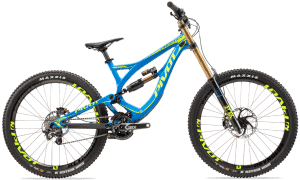 The carbon option of the Pivot Phoenix is going to be a little more expensive than $5000, but they have an aluminum version that works very well.
This is a great option for people who want to have all the benefits that come with this carbon option, but do not want to spend a few thousand dollars extra.
All of the beauty of this bike comes in the details. This is an option that is ready to go on different terrains, and it handles different challenges very well.
As far as downhill riding is concerned, it is very good at being able to understand exactly where a person is trying to shift their body and control everything.
It can sometimes seem like downhill bikes are a bit uncontrollable, especially when it is a tough scenario overall. A person never feels like they are out of control with this option, which is always a nice touch.
The rest of the performance of this bike is definitely geared more towards people who are trying to put up solid times overall.
They can maneuver extremely well, cutting corners and never having to feel like they are about to fall. The ride is never too bumpy, even on the toughest terrain, which is always a positive as well.
It is going to be very tough to hold off from upgrading to the carbon option, but it is one way to stay under budget. As long as people are willing to understand that it might not be quite smooth, they are going to be just fine with the aluminum option.
5. Trek Session 29 9.9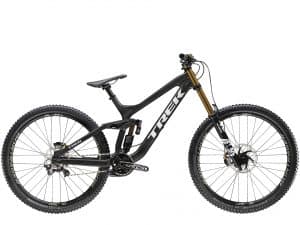 Anyone who has ever been on a bike of any sort understands that truck is one of the most recognized brands out there. They have fully gone in with a 29 inch wheels for downhill riding, a lot of people love the fact that this is a bike worth investing in.
Maybe someone will have to look for a previous year's model to stay under $5000, but it is worth even mentioning because it is such a Premium option from a trusted brand.
With no aluminum option, a person has to go full in with carbon. This is what makes the Trek Session such a legendary downhill bike overall. It has barely changed in the way it looks over the years, but people love that it performs well and they make subtle upgrades here and there.
29 inch wheel options might seem like a bit of a jump for some people, but others are embracing it completely. The frame is also very long, so people are going to have a good amount of slack to work with.
As long as people are fine with a little bit of a different feel overall, they should be very happy with what Trek has been able to do with his bike.
If anything does go wrong with the bike, it is very easy to get anything fixed locally since there are people who work on Trek bikes all the time.
6. Yeti Cycles SB130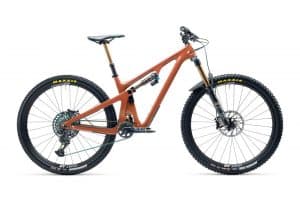 A lot of people look at the Yeti Cycles SB130 as one of the best all around downhill mountain bikes out there today. It is a carbon fiber frame that holds up in many different conditions, and it performs pretty well going both up and down on elevation.
It qualifies as a downhill performer, and many people have shell out the money to upgrade to a bike that could last a very long time.
It is one of the most outstanding bikes out there, simply because people can get on and start to ride in so many different directions without having to fear much at all.
What that means is that the bike is very strong, yet lightweight because of the carbon fiber frame. It maneuvers very well, smooths out certain sections on the trail, and can feel like a breeze compared to some of the other challenging downhill bikes out there.
When carving through a trail and trying to navigate a downhill ride, every bit of maneuverability matters.
If it seems like the perfect bike, it does come at a pretty high price point. Yeti is known as a bit of a premium brand, as people are going to pay a bit for the name.
As crazy as it might sound, this is actually the entry-level option that Yeti offers. They always use high end parts, even on their entry-level bikes, and that is the reason why it priced very competitively to some of the other options out there.
Warranties are something that are hit or miss with downhill bikes, but it is nice to have something available from Yeti in this regard. They do a great job of making sure the people have the protection they need, and that means less worrying when going downhill.
7. Giant Trance Advanced 2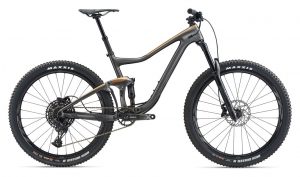 For a lot of people, Giant is a brand that they have used in some way in the past. They have relied on building quality bikes that are affordable, and even if this is very much getting up there in price, there are many reasons why it is worth investing.
For well under $5000, the Trance Advanced 2 is one of the best values in the game today. It is a full carbon frame with a fork and shocks that are very tough to beat. Not only is this built to last and perform, but it is a very versatile option overall.
A lot of people will use this as an all-around bike, and it is going to hold up extremely well. No one wants to be spending too much money on a lot of different bikes, so having something like this makes a lot of sense.
If a person is going to shop for downhill bikes like this locally, there is a good chance of finding it in stores. That is good news for people who do not want to buy something blindly, which is not always recommended in this price range.
There are so many people who end up buying online, only to not be that satisfied with your purchase. It becomes very difficult to return a bike that size, and it is costly as well.
As one of the cheapest bikes on this list, it is still a quality option that has components that make this something that will last a very long time.
Giant is a brand that everybody is familiar with, and they have done a great job with this downhill bike as they are premium options that people have fallen in love with.
$5000 Downhill Mountain Bikes – What to Look For
Here is a list of important to look for when choosing a downhill mountain bike!
Get the Sizing Down
A huge investment like a $5000 fat bike means that there is no reason for a person to not get a bike that is the size they need. Take the extra bit of time to do exactly that, as no one wants to be running around and stretching themselves out for no reason.
This is a mistake that a lot of people live with if they are using a handed down mountain bike, or something else that is a pretty good deal overall.
When investing thousands and thousands of dollars, it needs to be properly fitted beyond just getting the standard sizing in the beginning.
Once the sizing is down, take the edge of the time in the beginning to make sure that everything else fits as it should as well.
It might seem a little bit tedious, but him if done correctly, it is only going to matter one time. From then, a person can then move on and really start to maximize their ability out on the trails.
Pick a Wheel that Works Best
There are a few different wheel sizes out there that people enjoy with downhill bikes. Some are going to settle with a 27.5 inch option when it comes to downhill riding, but more and more people are trying to gravitate towards 29 inch.
Getting a wide rim plus size works in especially muddy conditions, which is why people are making a move.
Ideally, it makes sense to go with a frame that is going to be able to handle both types of tires. If a person is not able to pull that off, make sure that they know exactly what they want before jumping in. It is only a little bit of a hassle, but worth the extra bit of time from the beginning.
Don't Fall for Flashy Components
There are some companies out there that will use some tricks to draw people in. Maybe they will try to advertise that they have some flashy components that are going to make a world of difference, but they really do not in the end.
People should not fall for this, as they usually add price to the set up without really making much of a difference at all.
Just make sure and do the proper research, and try to comb through any marketing talk. They are trying to do their best to get exactly what they want, but it is a lot of marketing that sometimes be a little over the top.
Iportance of Quality of Components
At this price range, it makes no sense to not consider quality at every step. Demand some of the best quality out there, because that means less work in the long run.
Not only that, but there is less money to pay for any upgrades and to make changes to the stock version on the bike again.
A lot of people who ride downhill bikes end up making changes to what they already have. It becomes a more and more expensive option overall, but something that they believe is worth it in the end.
Instead of being nickel and dimed for a while, some people like purchasing a brand new bike that has everything they need in the beginning. Do not fall for a flashy option that does not seem like the best components are used.
Budget the Entire Biking Experience Purchase
Buying a bike that is so expensive seems like a big risk overall. It becomes even a bigger risk if a person forgets to budget all the other things that go with riding downhill.
Most people already own a few items that they need to enjoy riding and getting the most out of it in general, but they might need more when purchasing a more expensive bike.
For example, a lot of people will purchase a brand new helmet, because they want to have something that offers more protection and feels more comfortable overall.
Things such as shoes, petals, outfits, and more all play a role in the total price as well. In general, people are probably going to spend at least $1000 when it is all said and done. Some people will go beyond that as well, so do not think it is a true $5000 total budget.