Riding a mountain bike can be extremely enjoyable, but it is also a bit of a safety risk. Going on uneven terrain at high speeds can put a person in quite a bit of danger, especially if they are not particularly familiar with riding consistently.
It can get a little expensive buying protective gear for mountain bike riding, but it is for the best stay protected. By making the right choices and purchasing the right items, a person can feel much more comfortable when they are out riding around.
There are some essentials, and then some optional items that can help provide even more protection overall. Make sure to get the right fit for the essentials, and then fill in the gaps whenever a person feels like it.
Essential Protective Gear For Mountain Biking
All of the options below are considered essential for mountain bike riding. While there are no rules or laws in most cases that require this protective gear, it is a huge risk to go without any protection.
When investing in protective gear, this is where to start, so do not skimp on quality.
Helmet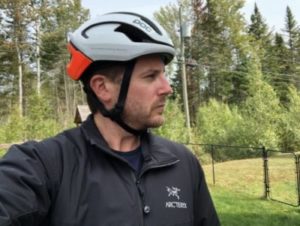 A helmet is by far the most important piece of protective gear not only for mountain biking but all types of riding. If a person has to purchase one item only, the helmet is where everything starts.
Depending on how a person rides and what feels most comfortable to them, there are several types of helmets that work best.
Mountain bike and Enduro helmets work best for mountain bike riders, simply because they offer a bit more coverage. They are a little bit longer on the sides and back than many other helmets, which come in handy if there are any crazy crashes on different elevations.
Mountain bike riders have a higher risk of falling down in any direction, which is why this much protection is necessary.
If a person is mostly on flat terrain without many challenges, they can go for something a little sleeker that might not be as bothersome.
The reason why some casual riders will stay away from mountain bike helmets that they can be a little on the heavier side. Technology has gotten to the point that it is not too much of an issue, but it is not as light as a road bike helmet by any means.
Mountain bike helmets should come with a chin bar for added protection, but the high-quality ones will have a detachable option.
This comes in handy for people who do not want to ride with a chin bar all the time, but they have the option to pop it in place when they are in particularly vulnerable situations.
Finally, whenever a mountain bike helmet is picked, it must fit correctly. Helmets come in a few basic sizes, and then there are ways to fine-tune for a good fit overall.
It needs to stay in place and protect the parts of the body that need to be protected, so take the time to try it out before hitting the trails.
This is especially true if the helmet is purchased online, because sizing can be tricky. It is between two sizes, go with the smaller option so that it is a tighter fit.
Eye Protection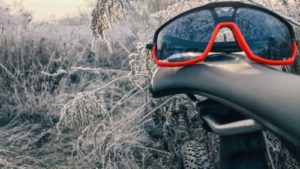 Just about everyone knows that a helmet is very important, but eye protection is not too far behind. The eyes are very vulnerable when riding any bike, but there are even more risks when mountain biking.
That is because a person needs to worry about the same sun and other elements as other riders, but they also need to worry about adding dirt, dust, and other random pieces flying up and potentially doing damage to unprotect dies.
The most convenient option for eye protection is to invest in sunglasses that have interchangeable lenses. This way, a person can pop in the right lenses for the right time of day.
If it is sunny, having sunglasses in will help. Some lenses work for low light conditions, and then completely clear ones as well for strict protection.
Make sure that the glasses cover the eyes completely, and they are a good fit. Glasses that do not fit properly will bounce around and become a distraction when riding.
6 Best Mountain Bike Anti Fog Glasses 
Mountain Bike Shoes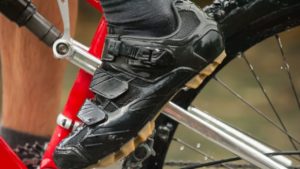 The importance of mountain bike shoes as protective gear does not make the essential list simply because other shoes can provide similar protection.
The most important thing is to make sure that the shoes have protection all around, and plenty of grip for the feet to stay in place.
Way too many beginners make the mistake of wearing any athletic shoes for mountain biking. This is going to hurt performance first and foremost, but that is not the major reason why people should stay away from casual shoes.
The more important part is making sure that the foot is not slipping under less than ideal conditions, and it does not break at the worst time. Any type of shoe malfunction can be devastating for riders, putting them in a position that they do not want to be in.
Some people go the extra mile and invest in clip-in pedals for mountain biking. This helps a lot in pedaling efficiency, but they are a bit of a safety issue if a person does not know how to use them.
Learning how to unclip when necessary is a crucial step in making sure that this protective gear does not lead to a crash.
8 Best Downhill Bike Shoes – Flat & Clipless
Mountain Bike Gloves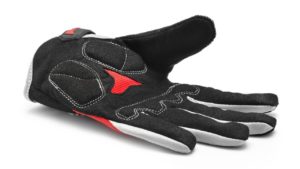 Some riders would put this higher on the list of mountain bike gear, but not everyone feels comfortable riding in bike gloves. It is a matter of personal preference for the most part, but tougher conditions usually call for better gloves.
Mountain bike riding is very demanding on the hands. Riders are continually gripping harder when changing directions or elevation, and there are minimal times where a person can relax a bit. It is not a smooth ride found on the road that some people might be used to.
Gloves work as a way to protect the hands during a normal ride, and if something happens. During a regular ride, every single mountain bike rider will take a good amount of shock to their hands.
This can make their hands go numb in some cases, which nobody wants to deal with. Gloves with a fair amount of padding and built specifically for keeping everything comfortable makes sense.
If there is a fall from the bike, bike gloves help brace a person's fall. Basic instinct leads to people putting their arms out when they start to crash, and gloves can protect against cuts or something even worse.
Best Gloves For Mountain Biking!
Padded Cycling Shorts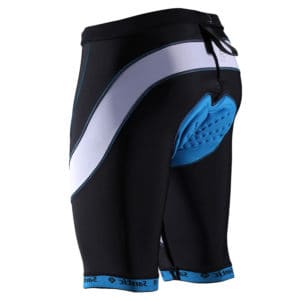 Are padded bike shorts considered protective gear? Ask anyone who has suffered from soreness or chafing after a long ride, and they will be very eager to put these shorts under this category.
They may not come in handy if there is a crash, but padding can make a world of difference for people who might be struggling.
The liner inside of the pants will help with comfort and reduce the amount of chafing that goes on when riding a bike.
On the outer layer, the fabric can show extreme durability by holding up under any conditions. Bike shorts are meant to be abused, and they are only going to be valuable if they hold up over time.
Make sure to get a well-fitting pair of padded bike shorts, and invest in a couple of pairs if riding occurs multiple times a week.
Being able to switch them out will keep everything a little cleaner, and people can even vary up the amount of padding for a customized fit.
Best Insulated Cycling Padded Shorts
Elbow and Knee Pads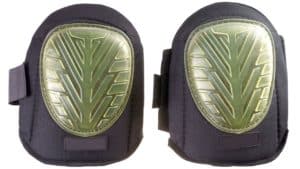 Every time a person gets on a bike, they run the risk of potentially getting in a wreck. Wearing Elbow and Knee Pads (Amazon) can help protect if something like this happens, although some people might think they are a little cumbersome.
The more risks a person takes on a mountain bike, the more important it is to have these elbow and knee pads put on.
Much like the gloves, elbows and knees are one of the first to make contact in most crashes. Being able to rely on a good amount of padding can be the difference between a few bruises, and a bone break.
Do not overlook the importance of protecting some of the most vulnerable parts of the body.
Mountain Bike Jersey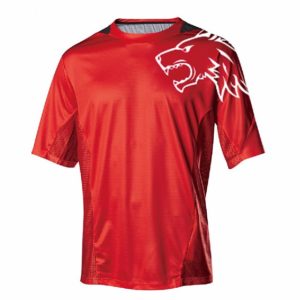 The jersey (Amazon)  bike rider needs to provide comfort and protection from familiar elements, and some people go the extra mile by getting some padding and coverage in case a crash happens.
It all comes down to personal preference, and what a person is willing to wear depending on the weather.
Some people like to go as minimal as possible with mountain bike jersey options. Others want to have that extra layer of protection for one reason or another.
No one is incredibly right or wrong. It just becomes a matter of wearing a ton of clothing or not. Some people feel like they can really start the way down if they have padding and extra layers under their mountain bike jersey, but in the eyes of safety, it obviously helps.
First Aid Kit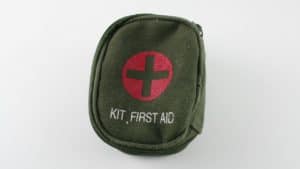 Going on a long ride far away from others? A first aid kit becomes more important on longer rides, as people need to do their own work to get themselves back to health.
All it takes is one viable situation where a first aid kit can come in handy, and people realize the importance of packing something lightweight.
Just make sure that a few essentials are in the first aid kit to help with protection. This might not totally be protective gear per se, but it helps to clean up any situations that might pop up.
Mountain Biking Protective Gear Shopping Tips
Quality and fit are the two biggest tips for people to keep in mind. Quality matters a great deal, because protective gear that will not hold up during the most challenging situations is practically useless.
Make sure to get a trusted brand with many reviews online that ensure that the product actually works. As enticing as it might be to get a super cheap deal on a helmet or eyewear, it is not worth the risk if it does not work as expected.
Fit has been talked about a bit already, but everything needs to fit correctly to work properly. This is where it comes in handy to try something on either in store, or from a company that offers free returns.
Purchasing online is done more than ever, but pay close attention to measurements to get the right size right away. Too many people are just trying to make things work, but it is better to wait the extra time to get a properly fitted protective gear item.
You can also build your very own kit by clicking this link!
Best Place to Shop for Mountain Bike Protective Gear?
Most bike retailers are going to have a decent selection of mountain bike protective gear there are a lot of people who want to go into a store and shop in person, because they get a chance to feel and even try on certain items.
There is more selection online, and prices are typically a little cheaper, but there is a delay in receiving the product and trying them on.
Keep an eye out are any package deals when purchasing a new mountain bike. Some companies are willing to throw in some protective gear for free or at a heavy discount after the purchase of a bike.
They know that people are going to be shopping for additional accessories, so they try to entice people to stay with the company in that regard. If shopping locally, try to push for some deal as well, as a lot of places will offer a discount to get people started.
Why Protective Gear Matters
It might not always look the coolest, but protective gear when Mountain biking makes a ton of sense.
Nobody wants to be in a challenging situation where they fall and put themselves in grave danger all it takes is one mishap to put a person in a terrible situation, and starting with protective gear from an early age will build good habits.
It is fine not to be completely decked out in protective gear from head to toe, especially if a person is only going on casual rides. Make sure to invest in the essentials, and then itemize from there.
There are more protective gear options out there than ever before, which can keep the entire family safe from danger and encourage mountain bike riding without fear.