Mountain bikes are available in many different price ranges. All it takes is a quick search online to see that number can quickly go up in price.
For most riders, they set themselves a budget when they are shopping and go from there. For $1000, a person can get a pretty good mountain bike that will be more than sufficient for the vast majority of riders.
Is it going to have all the bells and whistles that the top performers love out of a mountain bike? There will be some sacrifices that riders need to make. It will be a great bike choice for beginners at the end of the day, but seasoned riders as well.
These ten below are all models to look out for in 2021, and they come from some of the most trusted names in the industry.
Schwinn Axum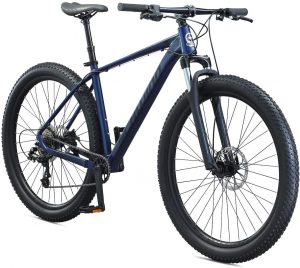 For so many years, Schwinn has been a very trusted name in the baking industry. Their mountain bikes can vary quite a bit in performance, but they have a few lines that are great value under $1000.
The best overall bang for a person's dollar in 2021 will be the Schwinn Axum. It is a pretty standard mountain bike with some upgraded components to make people fall in love with what it brings to the table.
Falling well under $1000, this is a budget option for people who want to spend a little more money than entry-level. A person will find that it is very much worth the extra bit of money, as they are getting a lightweight aluminum frame and a pretty nice suspension fork.
The 1×8 speed drivetrain works as expected, and other components like the mechanical disc brakes are all a step up from some of the lower options from Schwinn.
To round things out, Schwinn gets the tires right from the beginning. It can sometimes be frustrating to go with a budget bike option in this price range because some companies put subpar tires that need to be replaced instantly.
The 29 x 2.6-inch tires do a great job getting the job done, and they should last for a long time by smoothing out the ride.
This might not be the top overall choice on this list from a speed or performance standpoint, but it ends up being around $600 retail.
Those who want to stay on the low end of this price range will feel more than satisfied with this option. Schwinn has made a few bikes that are very attainable for shoppers not wanting to break the bank.
Pros
Very affordable.
Stock tires are nice.
Works for cross country riding.
Cons
The standard version does not come with a dropper seat post.
Basic colors and design.
Click for Current Price of the Schwinn Axum fro Amazon.
Cannondale Trail 8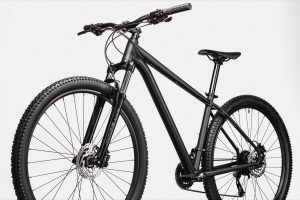 Cannondale does a pretty good job sticking to their road bike connection with the Cannondale Trail 8. It is fast enough for people who plan on spending a decent amount of time on pavement, but it is capable of tackling off-road riding as well. It might not be the best of the best for those going to ride exclusively on trails, but it is a nice versatile bike to have fun riding.
A lot of this bike feels like a hybrid option to certain riders. Whether it is the geometry, the lightweight aluminum frame, or the solid suspension fork, it is one of the speedier options in this price range.
That is great news for people who plan on using this bike as a commuter, but it might not be something that people will love if they are on tough trails all the time.
Cannondale keeps things pretty simple with the components, giving people some standard options that should last quite a while. It is another bike that falls well under $1000, and that is good news for people who do not want to go all the way up to the top of this price range.
It is a pretty simple bike that does not have anything that really catches the eye of shoppers, but the strong reviews and the dependability of this bike are what sells it. So many people have held onto the Cannondale trail line of bikes for several years. It does not seem like 2021 is going to change that at all.
Pros
Very fast.
Lightweight frame.
Strong, dependable mechanical disc brakes.
Cons
Not the best for exclusive off-road riding.
Tires wear out slightly faster than they should.
Trek Marlin 7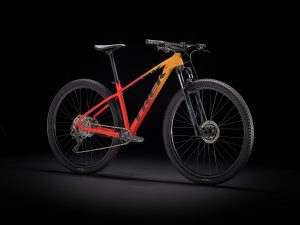 Many people look at the Trek Marlin 7 as a starting point for those who really want to get into different forms of mountain bike racing. It has the geometry to allow riders to go fast, and it has some premium parts that make it worth the investment as well.
Many people believe that they can really start to notice a difference between different mountain bikes out there by utilizing this one, and it provides a smooth, comfortable ride from the very beginning.
What makes it such a comfortable ride on any surface? A lot of it comes down to the fork provided. It is a very comfortable fork overall, helping to absorb a lot of the rough things that people experience when they are riding on trails. It can be a pretty bumpy experience at times, but people do not feel the bumps nearly as much if they have the benefit of a solid fork.
The good thing about the Marlin 7 is that there are plenty of upgrade options if a person still wants to go better than this entry-level choice.
Many riders will get hooked on once they try it out for the first time, and then they will begin to use it for the rest of their life. With some other premium options going through thousands of dollars and still having the same geometry with improved components, it is easy to see why Trek keeps this one around.
Pros
Very lightweight.
Has racing geometry.
Fork smooths the ride very well.
Cons
Many are tempted to go with an even better option from Trek.
Tough to find in popular colorways at times.
Giant Talon 3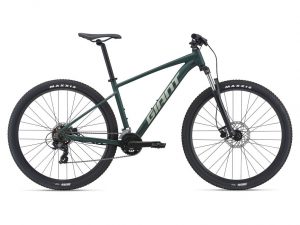 There are always people who will gravitate toward certain brands, especially if they grew up with them at one point in their life. The Giant Talon 3 is a pretty affordable option in this price range and is a perfect solution for those who are just starting.
It might be the best for beginner riders since it has a good amount of stability and comfort built into the ride from the very beginning.
It is considered more of a beginner mountain bike than anything else because most people will not be able to pick up the high-end speed they are looking for.
However, there are some nice components on this bike, mostly coming from Samano and Tektro. The aluminum frame is also very lightweight and strong, which is perfect for keeping everything as comfortable as possible when riding off-road.
Giant can handle both pavement and trail riding with this bike every single day. Some people turn this into their commuter bike if they are looking for something like that, and it certainly comes in handy.
It is not overwhelming in any way, but it gets the job done and provides people with a bike they know they can count on for a long time. In the past, the Talon line has lasted for years and years, and there is no reason why the 2021 version will not do the same. Keep with the regular maintenance, and everything else will fall into place as it should.
Pros
Simple, elegant design.
Provides a very comfortable ride.
Great value considering the components.
Cons
Can't reach top-end speeds.
Might be a bit too relaxed of a ride for my competitive riders.
Specialized Rockhopper Elite 29"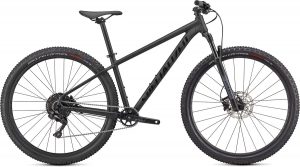 If there is one company with a strong reputation as far as mountain bike riding is concerned, it is Specialized. They are considered one of the best in the industry, as they have been putting out quality mountain bikes for several decades.
They have options and just about any price range, and the Rockhopper line, in particular, is very popular. The Specialized Rockhopper Elite 29 might be the best value in this price range, as people can start to benefit from all the different qualities they bring to the table.
For right around $1000, people can start to experience a Rockhopper option that is very close to what professional racers use. It is a hardtail option with outstanding components, making people fall in love with the brand and all it provides.
Everything from a 1 x 10 Shimano drivetrain, hydraulic disc brakes, and RockShox Judy SoloAir make this one of the better values.
There is also that draw that people can really have a lot of fun with a bike that has been around in some capacity for a while. Specialized is so well known in the biking community, and some people dream of having something like this for most of their life.
It might be a little too much of a bike for those riders just hanging out, but people looking for a good option that will last for a long time and still stay relatively expensive will find this to be a good solution.
Another positive is that if a person does not want to fully upgrade, later on, they can always switch out some of the components and go from there.
It is effortless to upgrade a few things about his bike without really having to put too much time and effort into everything. Some of the upgrades might become a little expensive and push it over the $1000 mark, but it still makes the list because most people will not upgrade until much later into the cycle.
Pros
Excellent components.
Build of a racing hardtail mountain bike.
Easy to upgrade.
Cons
Jumps over $1000 after a few upgrades.
29-inch wheels may be too much for some.
Rocky Mountain Fusion 30 2021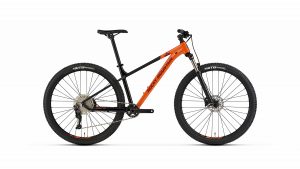 The Rocky Mountain Fusion 30 is the newest version of this popular line of bikes. The company has kept things pretty simple throughout the years, and the Fusion 30 for 2021 will be a little bit better than anyone ever released.
They have made some changes that will make it a pretty good value, but most people understand exactly what they will get when they go into the buying process.
The build of this bike is to allow people to have a pretty comfortable ride on the trails. It does not have the aggressive style of a racing option, but it is more for recreational riders who want to have reliability while staying as comfortable as possible.
They have made sure to put some of the best technology on his bike and make it a great value that does not force a person to spend money on upgrades at the very beginning.
 The 6061 aluminum frame is very lightweight, and it relies on air-sprung forks to help keep all the bumps very comfortable. When trying to stop, the Shimano MT200 hydraulic disc brakes really come in handy.
A few other features like the Shimano Deore 1×10 speed drivetrain and tubeless tires make this one of the best values on the market right now.
Most people would expect to spend at least twice this amount to get something of this high-quality, but Rocky Mountain has shown that the future is now with some new options.
Pros
Excellent components.
Tubeless-ready tires.
It keeps the ride comfortable and easy for beginners.
Cons
You can't pick up huge speed.
Tires do not seem built to last too long.
Rocky Mountain Growler 20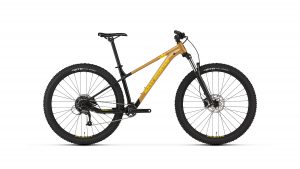 If the option from Rocky Mountain above might not satisfy those looking for speed, the Growler 20 is certainly one to check out. This has very aggressive geometry and a strong aluminum frame that makes this a perfect bike for people wanting to push the limits a bit more.
It becomes a very fun ride overall, and a bit of an introduction for people who are really starting to become advanced riders.
There comes the point in time when people are looking for a little bit more out of their mountain bike. Maybe they had an entry-level option that does a pretty good job of offering a fun ride, but now they want a little bit more.
This is where the Rocky Mountain Growler 20 can come into play. It is really great for people who want a single track option.
Like the Rocky Mountain option above, there is the Deore drivetrain that many people love utilizing. It is a very dependable bike that people can use from the very beginning without making any upgrades whatsoever.
It is a very strong build overall as well, allowing people to get a lot of use out of his bike without feeling like they need to baby it at all. People can feel free to go out there and explore as much as possible, which is a huge benefit for many riders.
Finally, the tubeless tire option is something that most people will jump on right away. There are so many benefits to tubeless tires when it comes to taking things to the next level as a mountain bike rider.
A lot of companies are now offering this option with the stock tires, and it is one of the best upgrades a person can find in this price range.
Pros
Great geometry for speed.
Very strong, durable frame.
Tubeless-ready tires.
Cons
Fork could be a little better.
Lacks a dropper seat post.
Marin San Quentin 1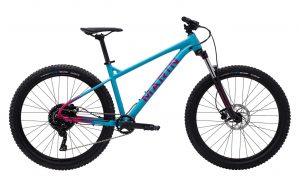 Another great bargain option for riders looking to get a pretty solid option under $1000 is the Marin San Quintin 1. People are initially pretty shocked by all the components used on this bike for an inexpensive price.
Still, the company has always been focused on providing excellent value for the riding community. As they prepare for 2021, this version is no different.
It all starts with the bike's geometry, as Marin made sure they had this option, in particular, is built for performance. This does not mean that riders who have minimal experience will not get something out of spite, but it allows people to grow and start making some solid changes overall.
People notice that the head angle comes in at 65 degrees, which allows people to find the right type of balance to maximize their pedaling skills every single time.
Hydraulic brakes are also another selling feature of this bike, even if they are pretty standard overall. It is tough to find hydraulic brakes in this price range in the first place, and they do a good enough job that most riders are going to feel very safe and comfortable when they need the most.
If there is one thing that might frustrate a few people, is that the fork is only subpar. It is not a terrible option that people need to switch out right away, but some will spend the extra money so that they have the perfect bike option for them right away.
The fork could indeed be a little better from a comfort and durability standpoint, but beginner riders will not notice too much of a  difference to make a change. Just keep in mind when investing, and the upgrade is not that expensive if a person is sold on riding pretty consistently.
Pros
Great option for consistent trail riding.
Close to the perfect geometry for an aluminum bike.
Hydraulic brakes are solid.
Cons
Only provides riders with nine speeds.
Fork could be upgraded.
Diamondback Overdrive 29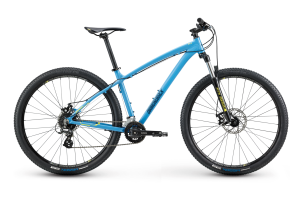 The Diamondback Overdrive 29 offers a quality bike option in this price range for people who are looking to step their game up a bit. The company has a pretty strong tradition throughout the years of offering quality components at an affordable price.
This is a great well-rounded option right around $1000, and people can really start to notice a difference compared to entry-level models.
The aluminum frame is one of the best on the market right now, and it is the starting point of a pretty great bike. The 29-inch wheels allow for a premium type of performance, so people willing to step their game up, in general, will love what it offers.
The components, across the board, are also excellent, which is all that a lot of people can ask for. There are no true flaws that stand out, other than the fact that the upgrade if a person wants to spend more money.
With a few stand out colors and a way to test the geometry a bit, there are plenty of people who can benefit from what his bike provides. It is worth giving a try as a true upgrade over anything in the entry-level price range.
Pros
One of the best aluminum frames in this price range.
Solid braking system.
Geometry is easy to change.
Cons
Some of the more popular colors are sold out frequently.
Might be a bit challenging for beginner riders.
Felt Dispatch 9/80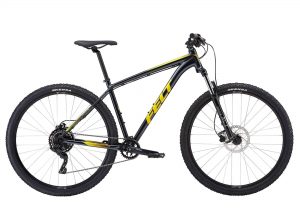 The final bike to make this list is perfect for those looking to save money while still upgrading to a 29-inch mountain bike. The Felt Dispatch is one of the faster options to make this list, and it is perfect for riding on pavement or going on hard-packed trails.
Versatility is the name of the game, and it will hold up for a long time as long as a person generally takes good care of it.
Felt uses its F-Lite aluminum frame that is very strong and durable over long years. It should be no different with this latest version, as they have not changed the technology too much.
The fork is solid that comes on the bike, and the tires are one of the best stock options as well. A person will love the fact that they do not have to make any serious upgrades t the bike as soon as they get it. Instead, they can start enjoying how it performs from the very beginning.
As long as a person is fine with adjusting the sizing a bit to get the perfect fit, they should have no problem with this bike. It is a very comfortable ride that can make beginners fall in love with the sport. It is also challenging enough that seasoned veterans do not feel like they are limited in any way.
Pros
Excellent frame.
Built for versatility.
Comfortable enough for beginners.
Cons
Not everyone is ready for 29-inch wheel mountain bike at first.
Minimal changes compared to past versions.
What Should You Expect From a $1000 Mountain Bike?
When a person starts creeping up to around the $1000 range for any type of bike, they expect a pretty solid option that checks a lot of boxes. It might not be the best of the best, but it should be able to perform fairly well and allow people to take their riding to the next level.
For mountain bike riders, they can certainly get a lot more in today's world than just a few years ago. A lot of companies are figuring out that people love having a mountain bike as such a versatile option.
While some people are going to stick to riding on the pavement, for the most part, some are going to take their chances on off-road trails as well.
So what exactly does $1000 or less get you for a mountain bike? There are no guarantees that every single company will stick to this method, but this is a closer look at pretty general information across the board.
Wheels
They are three common wheel sizes for mountain bikes, but most people tend to shy away from 26 inches after they have gone on rides for a while. It just makes more sense to upgrade to 27.5 inches or 29 inches to really benefit from the components.
Those who want a bit more performance will enjoy 29 inches, while 27.5 inches is good for shorter people or those who want to feel a little more comfortable on casual rides.
As for rubber, mountain bike riders will not be too disappointed with what a lot of companies will offer. They might not be the best of the best tires overall, but they will last a long time even on rough terrain.
They are usually lightweight and tubeless-ready, allowing people to feel like they are graduating to a more modern version of riding. There are very few bikes in the entry-level price range that offer tubeless tire options. Especially for mountain bikes, tubeless makes a lot of sense.
Suspension
There are a few options out there that offer full suspension in this price range, but most of them are only going to do it in a mediocre way. It is a little out of the price range to get quality full-suspension on a mountain bike, which is why most people are just going to look for hardtail options.
That is not a bad thing by any means, as some people actually prefer the style in the first place. It is better to get a high-quality hardtail set up with great components instead of settling for something that is pretty mediocre and does not provide the benefits some people might think it does.
Suspension matters to some people who are looking for a lightweight and efficient ride. Hardtail options can really provide a good amount of value, and it allows people to develop their skills as well.
Those who start on hardtail options end up being better riders overall, which is always a positive thing to see if a person absolutely insists on using a full suspension bike and staying under $1000, the best option might honestly be to look for a used bike on the market.
Some people may be against going that route, but this will allow for better full suspension that actually allows people to feel the difference.
Brakes
Disc brakes come as either mechanical or hydraulic. Most people think that hydraulic brakes are the better of the two, and companies include them in this price range for most models.
Why are hydraulic brakes considered the better of the two? A person does not have to apply as much pressure to get the same amount of braking power for starters. It takes a little bit of getting used to initially, but most people find this to be a pretty big improvement.
They also work better under tough conditions, which is what many people are looking for if they are riding on trails. The weather can get pretty tough at times, and the last thing a person wants to do is have brakes that are not working as they should.
Frame
It would be nice to find carbon fiber frames in this price range, but the technology is not quite there yet to bring down the cost. With that being said, aluminum options are stronger and better at performing at a high-level than ever before. People will still gravitate towards carbon paper options, but an aluminum frame is a solid option in this price range.
Not all-aluminum frames are made the same, so pay attention to the weight and the flexibility of the frame before purchasing. A few factors really make a difference, and getting a quality frame is essential for mountain bikes. Unlike a lot of the components, upgrading the frame is not easy or practical at all.
Geometry Variations
Mountain bikes price a little lower than $1000 is generally geared towards those who are just starting or want to ride casually. Once a person gets up to this price range, it is a matter of deciding what type of geometry fits best.
Some people are ready to take a ride to the next level and push for speed and performance. The bike that has the right geometry for this makes a lot of sense. Riders can make adjustments if they are positioned correctly, and can even feel more comfortable in certain scenarios.
There is still a chance to go for bikes that also offer a more relaxed feel, as this is offered as a solution as well. Some people just care about being comfortable and a little upright when they are riding, and they do not want to set any speed records. Couple the geometry with better components, and it is a smooth ride that people can really enjoy.
The geometry of a bike in between a little bit after purchase, but it is important to pay attention to the limitations before investing. The last thing a person wants to do is buy a bike that can only be adjusted in a few different ways, and they might not be able to get what they are hoping for.
Components
Some people pay very close attention to components on a mountain bike, while others know that they can upgrade if they do not like it. For people trying to stay under a specific budget, it is nice to shop for mountain bikes that come with many standard components that do not need any upgrading.
This is definitely something to keep in mind when looking at different prices. If one mountain bike is very close to $1000, while the other is around $700, it might seem like the latter is the best deal. However, if the components are already upgraded on the $1000 bike, it might cost more money to get a $700 option to that level.
All the bikes listed above have great components so that people do not have to worry about upgrading my way. For people who are shopping off this list, make sure to research all the components before pulling the trigger.
Who Should Buy a Mountain Bike Under $1000?
This is one of the most versatile price ranges out there, as there is a mountain bike for just about any type of rider.
Some people who like to ride casually, but plan on doing so on a pretty frequent basis, will feel like there is no problem investing a little bit extra to have a bike that will last a long time. These mountain bikes will indeed last longer, look better, and allow for upgrades down the road if needed.
The person looking to start racing and really push the limits on an individual level will love bikes in this price range. There are many people who get frustrated with entry-level bikes that have limited options, so spending a few hundred dollars more to get to this price range makes a lot of sense.
It is sometimes hard to fit different riders in the different boxes, but everyone is looking for an enjoyable ride that works for them. The versatility of the different bikes in this price range makes it very popular.
Brands know that they must put out some quality options to get people into their ecosystem if they ever want to upgrade later on.