Focusing on downhill riding on a mountain bike means that a person should invest in the right tires. Failure to do so is going to put a person at a bit of a risk when it comes to control, maneuverability, and safety. Not only that, but a person will never achieve the type of speeds they are hoping for.
With so many different types of mountain bike tires out there, it can seem complicated to find options for downhill riding to make the most sense.
The good news is that as long as the person is willing to look at a few options out there and try out what is available, they are likely to find what works for them.
After highlighting a few of the top downhill bike tires, we then look at buying tips everyone should keep in mind. It is sometimes a little difficult to find tires that work as they should, but through trial and error, most can at least pick a good starting point.
1. Maxxis High Roller II

Known as a great all-around tire that excels with downhill rides, the High Roller II (Amazon) is an improvement over the original. They mostly focus on braking as well as cornering from a traction standpoint.
They also spread the tire up a bit, making it more of a performance model than ever before. Available in either the 3C Triple Compound or a more durable 60a Rubber, this proves to be a major player in the sport right now.
If there is any complaint about this new option, it is that it is still not a true all-around option for every condition. They are getting closer and closer to offering something that all types of riders can benefit from, but this is geared towards downhill riding.
There is nothing wrong with that, but a person should be aware if planning other types of riding.
Pros
Much improved from the original version.
Comes in different compounds.
Trusted brands.
Cons
A little expensive.
Could be a bit more well-rounded.
2. Maxxis WetScream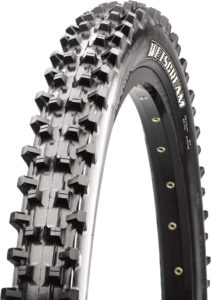 If the conditions for riding are incredibly wet and muddy, the WetScream (Amazon) option might be the best of them all. Maxxis put a lot of thought and effort into these specific tires, and there is a set amount of people who love them.
The grip is the most significant selling point for these tires, as a person will always feel like they have the right amount of stability when they are riding around.
They really tear up muddy terrain, but people can use them on dry ground as well and not feel like it is a complicated situation.
For these tires to survive such muddy terrain, they do need to have a little bit about them. That means that anyone looking to set speed records is probably going to need to invest in another pair of tires.
These are more for surviving out there and hoping for the best, while also pushing limits as far as writing is concerned.
Pros
Grips just about anything.
Spikes work very well.
Does not feel that heavy wind and muddy to rain.
Cons
Rolling resistance is a bit tough when the ground is dry.
Fairly expensive for specialized options.
3. Maxxis Assegai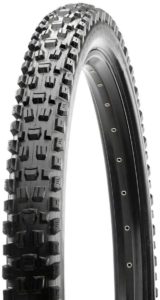 The third and final Maxxis option to make this list comes from Greg Minnaar's signature tire line (Amaz0n). It is a very comfortable option that is also extremely durable, and people like the fact that it brings a level of durability not seen in many other areas.
Maxxis understands that to stay on top, they need to keep innovating in a variety of ways. By working with the World Cup champion, they were able to put together a tire that really outperformed anything else out there.
It has a tall amount of knobs on the tire that provide outstanding traction. There is support for all different weather conditions, and the main focus is always going to be on speed.
As one might expect, they are going to have to pay a little bit of a premium because of the name associated with these tires. Most are fine with that, as they understand it is one of the best overall options out there right now.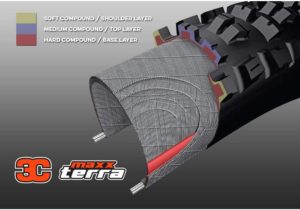 No matter what type of challenge a person wants to take on, they can count on the 3C MaxxGrip rubber compound and apply downhill casing explicitly built for this type of riding.
Pros
Built with the help of Greg Minnaar.
Speed on any type of ground.
Very durable.
Cons
Premium price.
Only seasoned riders will notice major differences.
4. Schwalbe Magic Mary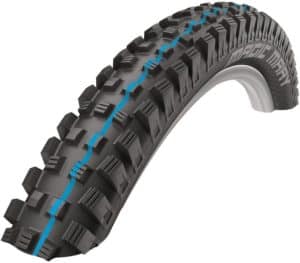 A lot of people love the German company Schwalbe, as they are neck and neck with Maxxis as far as the top brand in downhill racing right now.
Out of the different options they put out, the Magic Mary tire (Amazon) is the most popular. The majority of people will find this to be very beneficial, as it has well-spaced out knobs that easily shed mud and provide outstanding grip on the course.
One of the major changes in recent memory has been how Schwalbe is handling compounds with their tires. They now have three different classifications for the most part, as a person can pick ultra soft, soft, or performance bike park.
Ultra soft is the option that most people will go with, especially if they plan on racing a little bit.
Like a lot of these downhill-specific tires, they are a little bit expensive, but they are worth the investment if a person plans on going out on rides quite a bit.
For those who want to see a little bit of money, put one of these tires up front and go with the cheaper option in the back.
A person will still notice a pretty significant jump in performance, which is what a lot of people can truly benefit from and feel comfortable riding. They just will not have to pay quite as much money at the end of the day.
Pros
An extremely popular option for all types of riders.
Sheds mud quickly.
Holds up well.
Cons
A little pricey.
Profile is a little different than other downhill bike tires.
5. Schwalbe Dirty Dan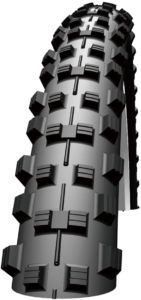 Another tire built for adverse weather conditions, the Dirty Dan (Amazon) is a little tougher when it comes to extreme mud and wet terrain.
A lot of that comes down to the rubber spikes that are incorporated in the tire, as riders will have the opportunity to go wherever they want to with ultimate stability.
It might seem like this is a very specific type of tire, but it is a good option for people who want a well-rounded mountain bike tire as well.
They are going to get pretty low rolling resistance despite the spikes, and everyone knows just by looking at them that they will be great for grip and overall safety.
The tires themselves are pretty heavy, which can be a little problematic for people who are trying to get used to this new way of riding. Some people will gladly take a heavier tire to feel safer overall, but others still want to feel like they are going a little faster.
It takes a little bit of time to get the right PSI for certain terrain using these tires, but once a person finds a happy spot, they will be more than satisfied.
Either option from Schwalbe is a good decision for downhill bike tires, but these handled mud and wet conditions just a little bit better.
Pros
Handles any muddy conditions.
Versatile enough for other riding scenarios.
Very durable.
Cons
Heavy.
Will not be setting any speed records with the rolling resistance.
6. Specialized Butcher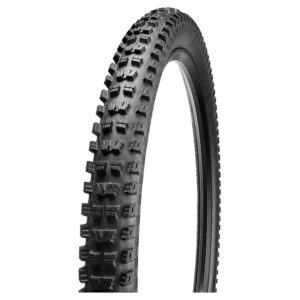 Whether a person decides to put a Specialized Butcher  just in the front or for both tires, this is a very aggressive tread that will work for downhill riding.
A lot of people like that it is a little more affordable than some of the premium options out there, and it performs at a lot of the same levels so a person never feels like they are compromising.
Specialized has always tried to make things as simple as possible, and that starts from the very beginning when putting the tire on.
In just a few minutes, the tires are ready to go and can be used for long rides. It is a little lighter than the average downhill bike tire, but it still has some great durability to it.
From a performance standpoint, the cornering traction is much improved, which is something that people have expected from Specialized as a mountain bike company in general.
Overall, it scores very well as an excellent downhill bike option that is still good for general riding as well. No one has to feel like they are making any compromises, although the durability for the tire itself might be a little average.
This mostly comes down to the side knobs on the tire, as they wear out quickly and start to lose effectiveness.
Specialized will always be a very trusted name in the business, and it is without question worth getting these tires a try since they are a little more affordable.
The people looking for ultimate performance when riding downhill might not like how effective they are, but everyone else will be satisfied.
Pros
Easy to install.
Good value.
Improved cornering traction.
Cons
Durability takes a bit of a hit on the side knobs.
Rolling resistance is tough to get through.
7. Bontrager G5 Team Issue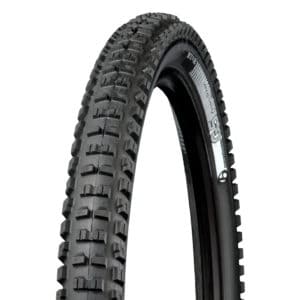 As the brand for Trek bikes, Bontrager has always put out some solid options for all types of riders. From a downhill riding perspective, this might be the best one they offer right now.
It can excel in some pretty tough situations overall, and the improved center knob tie-bar has significantly improved traction while braking.
Bontrager is always going to be a pretty affordable option for people who do not want to spend a ton of money on high-quality products.
The G5 Team Issue is something that a person can use for all types of riding, but downhill riders will definitely notice a difference.
They can feel at ease even on high speeds, as a person will be able to maneuver and make quick changes when they need to. It never feels like a person loses control of the bike, which is always something that feels great while on the trails.
If a person decides they do not want to go with one of the premium options, this is certainly a tire worth considering. It may seem a little too basic and well rounded for some, especially if they want to have a downhill bike tire that feels a bit more premium.
Pros
Built specifically for Trek bikes.
Improved braking traction.
Stays relatively clean.
Cons
Is not the best on drier conditions.
Can feel a little cumbersome in action.
8. Vee Gravity Snap WCE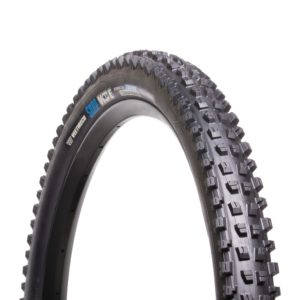 The Vee Tire Company has certainly made a splash on the downhill community. Even though they are still relatively new, they have sponsored a few top riders who have given themselves brand recognition.
The Vee Gravity Snap WCE (Amazon) option is definitely one to check out as something people can benefit from right away.
Even though they are brand new to the scene, it is pretty impressive to see how closely they work with professionals to get their tires just right.
They have made a few tweaks already over the years, putting together a tire that is a bit more unique than the rest. They use extremely strong casing with a soft, durable compound that can help a person ride on in any condition.
No matter what level of rider a person is, they can start to take control of their ride and feel like they are improving every single day.
This is built to be a pretty fast tire overall, but there is enough sidewall protection that a person does not feel like they are unstable on any terrain.
It might take a little bit of getting used to for new people using this type of tire, but the majority will appreciate all that it offers.
Pros
Very fast.
Outstanding sidewall protection.
Tweaks have helped improve the tire over the last few years.
Cons
A little hard to order at times.
Take some getting used to.
How To Choose Downhill Mountain Bike Tires?
There are a lot of variations of mountain bike tires, but downhill options are a little limited compared to the rest.
That is good news for people who do not want to be overwhelmed by so many options, but the negative is that a lack of options tends to make them a little pricier.
When shopping in person or online, keep in mind a few basics to get exactly what makes the most sense. Getting a solid tire the very first time will help a person fall in love with downhill riding and feel the urge to go out there every single time.
Terrain
It is highly unlikely that the person is going to ride on the same trails every single day, but there is usually a somewhat predictable pattern.
There are different tires options out there for any condition, ranging from hard and dry ground to extremely wet conditions. The difference comes down to the rubber compound used to make the tires.
To take measurements of rubber compounds, companies use a durameter grading scale. This is a scale from 1 to 100, going from soft to hard.
Downhill tires fall right in the middle, usually in the 40 to 60 range. When shopping as an amateur rider, trying to stick within this range and everything should be good.
Width
Downhill bike tires do not come in many variations of widths, but it is important to try our different options if possible.
IT used to be the riders taking downhill riding seriously would go with a skinnier tire so that they can go faster and knife through certain areas.
However, racers are gravitating more and more to a wider tire so that they have added stability and a little bit of a smoother ride.
The width of tires mostly comes down to personal preference, as some people grow up with a certain size and never want to switch. It is not that big of a deal to make changes once in a while, but it should not hurt a person's overall performance too much.
Durability
Downhill riding is a rough type of ride overall, so every tire is going to be pretty durable compared to other options out there. However, if the tires are too durable, it usually means that it is heavy and sometimes you maneuver.
Keep that in mind when shopping around, and Pecos attention to wait. Another thing to keep in mind is how easy it is for the tire to shed mud. If they have a lot of knobs that are close to each other, that could be trap areas for mud.
Mixing and matching or sticking with one type of tire?
As a way to save money, or to get a more customized fit, there are a lot of people who will mix and match between the front and back tire.
For the most part, riders want to have more traction in the front tire, and maybe a little less rolling resistance in the back. That is why a downhill-specific tire is important at least in the front, but the back might not be as much of a big deal.
Are Downhill Bike Tires Worth the Investment?
If downhill biking is the most enjoyable type of ride, it is worth getting specific tires to make everything so much better. Tires explicitly designed for downhill riding will make everything smoother, safer, and more enjoyable.
Most people will find that their speeds can increase, even if they do not have a top-of-the-line option. It is a lot like buying shoes specific for a type of sport.
As long as a person takes decent care of the tires, they should last a long time even on rough terrain. Riders will also switch them out if they are doing a different type of riding and do not want to mess up their downhill options.