Downhill biking has exploded in popularity over the last few years. Not only are more adults getting interested in this specific type of riding, but the kids are also starting to gravitate towards seeing what they can do with the help of gravity.
The downside to a newer type of riding is that there might not be as many options out there for kids at the moment. Fortunately, a few companies are starting to put out options that fit this particular age range.
What are the best downhill bikes for kids right now? Give these a try first before opting for anything else. Understanding how to shop for these specific types of bikes is also important, so we've put together a guide for you to read through at the end as well.
Why Are Downhill Bikes So expensive?
20-Inch Downhill Bikes
Since kids vary so much in size at this age, most will either be riding a 20-inch or a 24-inch downhill bike. Both can be suitable to a certain degree, but it's important to be realistic with how the child is sized currently.
A 20-inch downhill bike is going to be much easier to maneuver, but it might not allow for much growth. Kids who are starting out will have more control over where they are going with a smaller bike, but it doesn't take long for them to graduate to something bigger and better.
1. Norco Fluid FS 1 20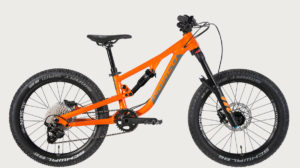 Norco has been very well known as one that is not afraid to help out with growing riders. They have always opted for a full function bike instead of a stripped down solution, which is perfect for kids who take downhill biking seriously.
The newest version of the Norco Fluid FS 1 (has a much better fork, and better rear shocks as well. This makes it a much more comfortable ride than ever before, and kids can feel like they are on top of the world when they are really pushing themselves.
The color choices are a little bit limited with the Norco fluid FS one, but not to the point that it is a true negative. Most people will find something that fits exactly what they are shopping for.
2. MeekBoyz Mini Beast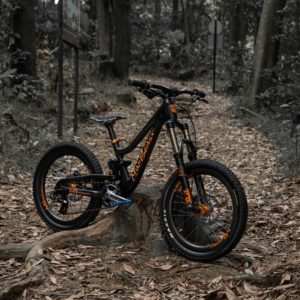 Parents have really fallen in love with this Mini Beast bike option for serious riders. It's going to cost a decent amount of money to get a child out there riding the way they want to, but it is designed with safety and growth in mind.
First things first, parents are pretty well aware of just how safe this bike is in general. The suspension works very well, there is plenty of adaptability for sizing, and it has the ability to do much more than just downhill biking.
In fact, parents may initially be turned off by the price tag, but when it can work as a cross country or dirt jumping bike as well, it turns into a much more versatile option.
The company spared no expense when it comes to the specs on this bike. The frame is made of carbon, the wheelset has carbon rims and high-quality hubs, and the tires are designed for ultimate comfort and safety.
All the smaller things have great detail as well, which is very refreshing for parents who might be a little bit skeptical about other expensive choices.
A price tag like this is a tough pill to swallow, but one that isn't too bad when compared to adult downhill bikes.
This is an expensive discipline overall to get into, and what better way to help a child fall in love with it than to spend this extra amount of money?
3. Lil Shredder Prodigy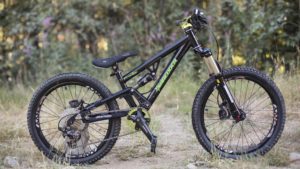 The final 20-inch downhill bike to make this list is the Lil Shredder Prodigy. They were a leader in the industry as far as getting younger kids involved with downhill biking.
Up until they were released a few years ago, there weren't very many options for kids wanting to learn this specific type of discipline.
It cost a little bit more than some of the bikes out there, but each bike they end up shipping out is custom-built. People can determine whether or not they want a pure downhill riding bike or one that caters a little bit more to trail riding.
The company bills itself as the most adaptable full suspension bike out there for kids. If someone wants to go down to 16 inches for the wheels, they can even do that if they want.
This makes it a very flexible option that will allow kids to ride just like their adult inspirations.
24-Inch Downhill Bikes
Kids who are growing at a rapid pace might need to use a 24-inch downhill bike to get started at this age. It's definitely not for everyone, but there are some benefits to using a setup that is much more like an adult.
For starters, it allows kids to feel like they are a bit more grown-up. This should never be overlooked because kids don't want to be seen as a major distraction as far as that's concerned.
There's also the case of being able to keep up at a faster rate and not have to put in so much effort. When a kid finally outgrows their bike, it becomes a pretty big nuisance to try to keep up with everyone else with an inferior product.
Finally, a 24-inch downhill bike allows for a lot more natural growth as time goes on. It's definitely more future-proof than the 20-inch option and can be used for a few years as long as there are no major growth spurts.
4. Transition Ripcord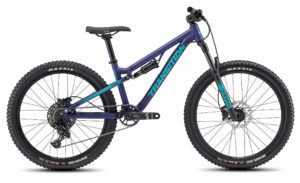 The Transition Ripcord can do just about everything that a kid could ask for at this age. It is strong enough to handle downhill riding with ease, but it's also versatile enough that it can be used for other rides as well.
Instead of parents having to buy multiple bikes, this can be a solution that is a bit better overall.
Everything from the drivetrain to the brakes is high-quality options offered from this bike as well. Many people are surprised by a pretty affordable price, well under $2000, for something like this.
It's definitely a bike that taps into a lot of different technology that riders have fallen in love with.
5. Spawn Rokk 24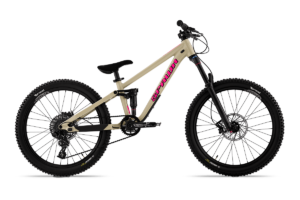 A full-suspension option that can be perfect for downhill riding at this stage, the Spawn Rokk 24 is definitely a perfect solution for riders.
They offer anything from a 12-inch option all the way up to a 24-inch option, so kids can get exactly what they need without having to feel like they are overwhelmed.
The suspension design and shocks are definitely stand-out features, but they also come with a default thick tire.
Instead of having to invest in a different set of tires like some of these bikes out there, this is a nice bonus so that there are no upgrades needed before even hitting the trails.
6. YT Jeffsy Primus JP 24
For people unaware of YT as a brand, they are a direct sales company that has made a big splash in the mountain bike market. They have bikes for different types of riders, and this one does very well for downhill rides in particular.
What people like about this bike is that it is another one that is pretty versatile enough for younger kids.
Since most kids are going to do more than just ride downhill all the time, it becomes much more valuable to go for something like this compared to an option that is a bit limiting.
Since shoppers are working with a direct sales company, they don't feel like they are spending as much money overall on superior features.
It is a lightweight option that has great suspension, durable wheels, a drivetrain that is rated one of the best in the business, and a durable build for kids to go out there and abuse it.
Instead of feeling like they are just one bad spill away from completely destroying a bike, this one is built to last through the rough times praying
How To Shop For a Downhill Bike For Kids
With some of the top choices listed below, there still might be a lot of people out there who are not quite sure on how to pick out the right downhill bike for the kids.
There are a few different choices out there for people to pick from, and narrowing everything down might seem like an impossible task.
Follow these tips to figure out more and more information so that everything falls into place. This way, it feels like a more comfortable decision made by a shopper instead of just going with whatever happens to catch the eye that day.
Understand The Compromises
A downhill bike is not going to have the same versatility as some of the other bikes that are out there for younger kids.
This is a specialty bike first and foremost, so understand that instead of spending a lot of money and then having to scramble a bit to find something else for a different discipline.
Most kids are going to want at least one other bike, but there are some exceptions to that rule. In fact, with kids, there is a bit more versatility, which is a selling point a lot of brands are using.
Allow For Room To Grow
It's always a difficult situation for parents to shop for a brand new bike for a child still growing. When in doubt, go for the bigger bike that the child will be able to grow into as time goes on. At the same time, don't get anything too big, or they won't be able to ride it currently.
Bike manufacturers do a good job of making sure that there are enough adjustment options on each bike to make it pretty easy for every kid to fit in as they would like.
It can seem like a frustrating experience for those who have never shopped before, but bikes are pretty adaptable.
Bikes have a large variety as far as sizing is concerned as well. It's inevitable that people are going to have to spend a decent amount on bikes when a child has a growth spurt, but other than that, the transition period should be pretty smooth.
Weight Matters a Lot At This Age
The weight of a bike can make a pretty big difference in how it performs when a child is young. Don't get a downhill bike that weighs too much, or they are going to feel like they are getting pushed around and completely out of control.
This can be a very scary situation for younger kids as they learn how to be comfortable on a downhill ride, and no one wants to scare their child off.
Versatility Matters
Adults shopping for downhill bikes are a little bit different from kids wanting to get into the discipline. As adults, most are pretty well aware of exactly what type of riding they want to do.
If downhill biking is the way to go, then they need to make sure that they get very specific bike setups for that.
Being able to spend a little bit of extra money as an adult is mostly because there's no extra growth happening.
A person who is full-grown can start to make investments in things knowing that they will last a lot longer.
Even if the best downhill bike in the world is purchased for a six-year-old, they only have a couple of years before they are way too tall.
Downhill bikes for kids should be more about versatility than anything. Some people may feel like this is robbing children from all the unique aspects of downhill biking, but it is a safeguard instead of investing in something way too particular.
Shopping Online Versus Shopping at Bike Shops
People are very comfortable shopping and purchasing many items online, but a bike can be pretty tricky.
It's true that in most cases, kids want to at least try the bike out and see if it works for them. However, since that can't easily be done online, some creativity is necessary.
One way to do that is to try out bikes at first in person, and then go elsewhere online to make a purchase.
Another option is asking other parents who have made a purchase to let them try out a bike. Some locations for downhill biking even have options to rent for kids.
Is a Downhill Bike Really Necessary?
Downhill bikes are admittedly very specialized for certain types of riders. It's not a bike that is generally going to do great in all other types of riding, so make sure that the child actually wants to use it for its intended purpose.
As the sport continues to grow, more and more people will start to invest in bikes that perform in a specific manner.
They might not be the most flexible to go for a ride in every situation, but there's nothing quite like being able to carve up declines with relative ease, even at a young age.
Final Tips On Making a Purchase For Younger Downhill Bikers
Ultimately, the only people who are shopping for these types of bikes for their child are those who know that they will enjoy them. This is not a bike for a child to learn on, but more for those who want to push things to another level.
A downhill bike for a child his age is not going to last a lifetime. They might end up growing out of this as quickly as one year. Try to be as flexible as possible with the sizing, and that will help to maximize the value of the bike overall.
In the end, it's important to have fun with bike shopping in general. Spend less time trying to find a perfect fit, and more on getting out there and learning the intricacies of downhill biking.
If a kid really enjoys it at this age, they have a lifetime of pushing the pace and really seeing how much fun can be had.
Downhill biking continues to grow at a pre-rapid rate. As that happens, that means that the resale market for a used bike is going to be pretty strong.
Even though it's frustrating to have to buy a brand new bike for a kid, some of the money can be recouped by selling off the old one.
It is a tactic that a lot of parents have been huge on in the past for other types of bikes, but downhill bikes should be able to hold their value pretty well.
This makes it a little bit easier to swallow the pill of having to spend more money in the near future when that time comes.