As Trek fat bike riders get ready for 2021, the big debate is surrounded around which one makes the most sense. Every person has different needs, and it can be challenging to find what bike fits into a particular lifestyle.
All three Trek Farley options are great to have, but getting too much of a bike can be a quick way to spend a lot more money than anybody wants to spend.
When looking at the Trek Farley 5, 7, and 9.6, are they all worth the investment in 2021? All bring different qualities to the table with different price points.
It is a matter of finding a quality fit for each individual, and then graduating to something better when the time comes. Some will start at the Farley 5, while seasoned riders will jump to a more sophisticated option.
Trek Farley 5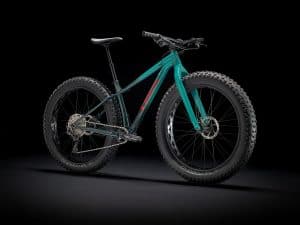 The 2021 Trek Farley 5 is expected to be a big seller once again thanks to its affordable price, brand name recognition, and overall performance.
Like previous models from Trek, this one is all about getting people into fat bike riding with a durable entry-level option. Some people will stick with this for quite a while, while others will use it as simply a bike to get started before graduating to something else.
Riders love the fact that they will be able to get quite a bit of value out of a bike like this without having to spend a ton of money. It does not have the best components ever, but it is still a lightweight aluminum frame including a dropper post that is pretty comfortable.
The carbon fork smooths out the ride, and other high-level components make this a bike that seems well worth the money. Some people have a very hard time finding anything like this under $2000, but Trek has always made the Farley 5 a pretty affordable option overall.
Who Is The Farley 5 for?
Anyone who is getting into fat biking for the first time does not need to spend an arm and a leg on the best of the best. This is affordably priced for people who want to ride all year round, as they can handle the snow or the dirt with ease.
The traction is outstanding, the geometry of the bike is great, and it just feels very comfortable no matter where a person goes.
Even advanced riders could find a lot of value in the Trek Farley 5, as it could be used as a training bike or one that does not have to be treated quite as well.
Having multiple bikes can preserve the better one's life, and it still provides a good amount of value for riders who want something consistent. It is always worth checking out if this is something that can financially be accomplished.
Is It Worth The Price?
Having a fat bike that can truly be ridden during all four seasons certainly helps. Some fat bikes are a little more geared towards a specific type of riding, and it can be frustrating for people who are starting out. This will not necessarily replace every other need for a bike, but some people will only use this one no matter what they are doing.
The components that a person gets with this Farley 5 is certainly great as well. The Shimano Deore 1×10 drivetrain is outstanding, and the wheels that come with the bike by default work very well also.
The components will not really be that much of a difference compared to some of the higher-level options, making it a great bang for the buck overall.
Is The Farley 5 The Best Fat Bike For The Price?
If the goal is to stay on budget, the Trek Farley 5 is the way to go. It is going to be one of the best value fat bikes out there, and it still provides enough benefits that people will use it for a long time without issues.
Those looking for a more specific type of fat bike riding, or wanting better components overall, will be better off looking at the Farley 7 or the Farley 9.6.
It is not as though the Farley 5 is terrible, it is just not going to get that same level of overall feel and grip that people are hoping for.
Trek Farley 7 2021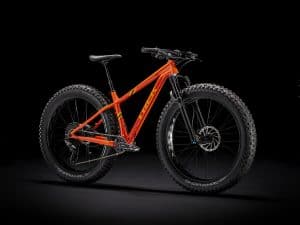 The best way to describe the Farley 7 is that it feels a lot like a traditional mountain bike, but with a fat bike build overall. It handles very well on all different types of surfaces, but it has that ability to feel very comfortable on sand or snow.
The geometry is a little sportier compared to the Farley 5, and better components across-the-board make it a solid option as well.
It is a matter of making a few sacrifices with any mid tier range and hoping that it works out for the best. People know that they are not going to get the fastest fat bike out there. But they are still going to control the weight and get to where they want to be in an efficient manner.
Being able to climb and go downhill makes a big difference for riders as well, and the Trek Farley 7 2021 does exactly that.
Who Is The Farley 7 For?
People who really want versatility will love this mid-tier option from Trek. It can perform well in just about any situation, and it really keeps a person on the right track when going downhill. With a strong all-around build, it is something that is definitely one of the best values out there.
Another huge positive with this bike is that it has a great suspension fork that provides good overall comfort. Having a fork that can be very dependable on all different types of rides truly helps out.
It is not the most agile fat bike a person can find in this price range, but its versatility with a fork and a dropper post makes it one worth testing out.
It is still user-friendly enough for beginners, but the price range might be a little too much for people to jump on right away. This is why the Trek Farley 7 caters to a slightly more sophisticated crowd, but one that does not feel like they need to go all the way to the top in the price range.
Is The Trek Farley 7 Worth The Price?
The price is very much justified because of all the different components that make up his bike. Not only does it perform well from a cruising and exploration standpoint, but the little things like the tires they come with and the crankset matter as well.
People sometimes find it very difficult to find a bike that is ready to go from the very beginning, but a person does not need to make any other upgrades to get it going as it should.
Durability also makes it a true one-time investment for a lot of people, which certainly makes the price point that much more tolerable.
It is never easy to make a huge purchase for any type of bike riding, even if a person knows they will use it almost every day. Getting quality components from the very beginning ensures that a person does not have to replace components and make some tweaks along the way constantly. That can make an already expensive bike that much tougher to maintain.
If the bike has a little bit more carbon on it, it would be the best value out there. Some companies out there do put a bit more carbon on their mid tier option, which means a slightly lighter and more comfortable ride.
With that being said, it is still one of the best options out there with the Alpha Platinum Aluminum Frame.
Is the Farley 7 The Best Fat Bike For The Price?
The Farley 7 is a little bit more expensive than some of the others in this price range, but its versatility and well-rounded performance make it one of the very best.
There might be companies out there that offer better fat bikes at a lower cost, but brand recognition does make a bit of a difference.
One thing to keep in mind is that getting the opportunity to get this fixed at a local bike shop is much easier thanks to the Trek brand. Since so many places are very familiar with the brand, it is easy to slip in and get work done correctly right away.
Trek Farley 9.6 2021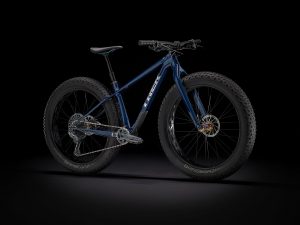 As the most expensive of the three options in 2021, the Trek Farley 9.6 better live up to expectations. The good news is that this carbon fat bike is one of the best options for its price, even if it is over $3000 retail.
It is not for everyone, as beginner riders will not get that much value out of it, but it definitely brings a lot to the table.
Is The Farley 9.6 Worth The Price?
It really comes down to how often a person rides a fat bike, and if they are looking for performance that can take things to another level.
Spending over $3000 on a fat bike might seem absolutely crazy to some people. For others, they know that this is a pretty expensive sport overall, and a person needs to pay for quality.
Considering all that it brings the table, getting some of the top technology out there right now and a fat bike is worth the extra price.
The first thing people notice when they get a chance to ride the Farley 9.6 is that it is built for speed on any surface type. It is a very light and fast ride overall, and the tires are built to handle just about anything thrown its way.
Being able to knife through different surfaces is certainly a huge advantage, but will keep things lightweight because there is all sorts of carbon on the bike.
Having a bike that is truly built for all four seasons helps tremendously. Some people will invest in two different fat bikes so that they can go riding throughout the year.
That is not necessary in the scenario, as the bike can do just about anything so the riders are having a fun time.
Little things such as the dropper post that allow for a way to lower the saddle, and horizontal sliding dropouts that can help people get the right geometry make a difference.
There are plenty of customizable options with this bike, and anyone who really wants to take their riding to the next level should make sure that they are giving every single thing a try.
Who Is The Trek Farley 9.6 For?
Performance riders in the fat bike community will love how this bike is positioned to succeed at all costs. It really feels like a totally different bike compared to some of the entry-level options, as the Farley 9.6 can make a huge difference with all the carbon. Not everyone is going to appreciate the difference truly, but people pay a premium for a reason.
Even beginners will still find it to be fairly nice to ride around since it does not have a huge learning curve. The 27.5-inch fat bike tires are very efficient, as people want to roll fast and have that level control they are looking for.
It does not overcomplicate fat bike riding in general, which is great for people who just want to go out there and tackle what is in front of them.
Price will hold up some people, but what they are paying for mostly comes down to the OCLV Mountain carbon. This is a mountain-specific carbon fiber with a few unique materials thanks to what Trek has worked on over the years.
They went through a lot of testing to make sure that this is a build that a lot of people will get plenty of use out of.
What Makes The Farley 9.6 Worth The Price?
Carbon is hard to argue with when it comes to any bike out there. Having carbon fiber built specifically for mountain bike riding makes this a fat bike worth checking out.
It is nearly indestructible and will provide a comfortable, lightweight ride, and it keeps people stable at all times. That for many is worth the price alone, as people are pushing speeds and trying tough trails to push their limits.
This is a bike with all the premium touches, and that is just about anything that a person can ask for. There are fat bikes out there that charge more, but no one will have a usable bike out there that does much better than this.
Trek has been able to fine tune the 9.6 over the years, and now they feel like it is one of the best values a person could find as long as they are willing to push the limits and see what it brings to the table.
Is The Trek Farley 9.6 The Best Fat Bike In That Price Range?
The usual competitors are once again putting up strong challenges to the Trek Farley 9.6. Whether it is Salsa, Giant, Rocky Mountain, or any other company for that matter, competition continues to get tougher and tougher.
Just like all the other Farley options, there is something to be said for buying such an expensive bike that is also well known in case anything goes wrong.
Repairs can get pretty expensive if the bike is really rare as it is much better to go with a trusted brand that has years of reputation delivering what people have come to expect.
Final Comparison
It can be confusing for some people to try to figure out what Farley bike from Trek makes the most sense for them. They all bring something different to the table, but those who can afford it should probably look at the Farley 7.
It seems to be the most versatile option overall, and it is a bit cheaper than the Farley 9.6. It is not going to be perfect for every type of rider out there, but enough people will get value out of it that makes it worthwhile.
If possible, try to get a chance to ride on any of these fat bikes first to see how they feel. There will always be opportunities to make some tweaks along the way, but a person can get a pretty good idea with an easy ride.
Most bike stores will allow this, and there is not a need to buy the bike from them in the end. The best prices are found online in most cases, but getting a chance to at least see the style up close is worthwhile. Since Trek is such a popular brand, a lot of companies carry these bikes as well.
Whatever a person goes with, they will have the opportunity to have a solid fat bike for a long time. They can hold up for very long periods of time, and that is all people can ask for in the end.